Raven Alexis is one of Digital Playground's newest stars. She is obsessed with technology, loves twitter, World of Warcraft, video games, and runs her own website. How is technology and social media changing her career as an adult film star?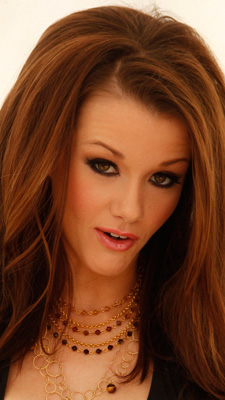 Raven began her career in a traditional manner. While attending college, she was asked by a Playboy photographer to pose for the magazine. Soon after, it was bye-bye law school, and hello modeling career! Raven made the progression from glamour shoots to adult films, and is a self-described "reality porn star." After her recent signing to Digital Playground, her career has really taken off. Among other projects, she can currently be seen alongside Sasha Grey in Fly Girls. Beyond that, Raven is something of a technology nut and an avid gamer. She's a mainstay on Twitter, and manages her own website outside Digital Playground. And she does the internet with style—she built her own PC, complete with water-cooling unit, baby blue Plexiglass case and a dual boot-up processor. Her long-term goal is to become a crossover star, not only on-camera, but off as well. Raven's ambitious and determined, and we sure wouldn't bet against her.
Thanks for coming by!

What's the most important thing you've learned about "the biz" you've learned so far?

Hi there Mr. Sauce,

You're welcome - I'm glad for the opportunity to be doing this project and really looking forward to all the questions I'm going to get to answer!

I would say that the most important thing I have learned is to research everything for yourself and to stay true to what you are. People like myself in the adult entertainment industry are putting everything, (sex, acting, their entire body) into every single performance, and it's paramount to me that everything I put on camera is 100 percent real and not some fake persona that I could adopt.

Raven


Have you been approached by toy companies yet for personalized toys?

What kind of toy would you design? Would you want to get in there and design it yourself?

Have you tried out some of the more popular toys yet (Ohmibod, Better than Chocolate)?

Hello again Mr. Sauce

I am very much looking forward to doing my own toy line in the very near future. I think toys are a very integral, important part to a woman (and a man's) sex life. I would want to design and put my name on a product that is designed specifically with the gender of the user in mind, something that is incredibly high quality, and something that is new and unique. Products like Ohmibod are so exciting to someone like me, because they combine technology with sex, and I would love to have that in my line of products. The new line of Pirates toys from Digital Playground is the latest and greatest thing that I have tried out and I have got to say, one of the first toys I've ever tried that truly is able to please a woman.

Raven

Ok...you play WoW...

Elves or Dwarves...which is hotter?

Elves! For sure...

I have a Blood Elf Mage that I am currently leveling to epic proportions, and I have to admit to perving on her frequently.

What were your goals in life before bumping into that Playboy photographer?

What are they now? Where do you see yourself in ten years?

Hi Cynthia! Thanks so much for your question!

My goals in life before modeling and becoming an adult performer were several-fold. I wanted to pursue a career in law and/or psychology during college, but once I got out, I was at an impasse in the regard that I wasn't sure which road I wanted to take, and was feeling a lot of reservations as to whether I wanted to do it at all. I had always fantasized about a career in entertainment, but would have never taken the steps myself. All I knew is that I wanted the best out of myself, and I have always had a drive to be at the top of any given project that I undertake.

As my career stands today, my goals are several, most importantly being to break down stereotypes and the stigma attached to the adult entertainment industry. Secondly would be to star in and direct adult films that are more aimed towards couples and women in particular, one of the biggest reasons I signed with Digital Playground, because of Samantha Lewis' ability to produce these types of movies. Of course, technology is a huge love of mine, and one of my goals is to combine tech and porn, and to be on the cutting edge of advances in my field. Especially with the piracy problems that we face today, I think that there are a lot of ways in which technology can protect the art that entertainers and musicians work so hard to make.

And last but most certainly not least, I aim to be one of the biggest adult stars in the world - which will of course, facilitate all of the goals listed above.

Raven

Who are your role models, both inside the adult film industry and out?

Cynthia,

Another great question!

I have many role models, both in and out of the adult industry. In my own industry, I look up to people such as Joone, Samantha Lewis, Sasha Grey, and Jesse Jane. As far as role models outside of the industry, I would list people like Tenzin Gyatso (the current Dalai Lama), Bill and Melinda Gates, and anyone who practices true altruism. I am not impressed with celebrity or money - just the ability of the human spirit to champion, defend, and care for its fellow man.

Raven

How bad is piracy in the world of digital information, in your opinion?

Have you ever come across some of your own material on someone else's site without your permission?

Mr. Sauce,

I think that piracy is one of the biggest problems facing the entire entertainment industry, if not the world. I hate to quote those advertisements on DVD's that come across as silly to most, but most people wouldn't honestly walk into a store and steal a piece of clothing, or jewelry, or even a DVD. So why do these same people find it perfectly acceptable to log onto their computer, and steal a music album, or a movie? Every time someone downloads one of my videos online and doesn't pay for it, it makes it harder for me to make a living and provide for my family. I would highly encourage people to not pirate movies or music, so that people like me can continue providing our talents to everyone.



One of the biggest threats to the porn industry is the amount of free porn that can be found online, how do you feel about free porn sites?

JonsBabydoll,

I kind of answered this question above when talking about internet piracy. Simply put, I believe that free porn, or pirating movies or music, is stealing. It takes revenue away from the artists and companies that have worked so hard to put out a good product, and it leaves everyone involved feeling cheated. Plus, a lot of the free porn that abounds on the internet is very amateur, unprofessional product, and it makes it harder for high quality studios such as Digital Playground, and myself, to continue putting out the type of content that we are known for.



Do you friends and family know your profession? How did they react when they found out?

Everyone that I know is informed as to what I do. In my experience, the fact that I am proud of my career, and that I have no reservations about it, has caused those around me to have less of an issue with it. Honestly, I don't believe that there is anything about my career to be ashamed of, and I'm still not quite sure what the taboo surrounding sex is all about. Everyone in this world (with the exception of a few people), has sex, I happen to film it and let others watch. Sex never has been an issue that I am embarrassed about, or wish to hide, and it never will be.

Who has been your favorite adult star to work with? Have you met anyone who just put you in awe?

I have so many favorites, it would be hard to list them all. A few of the people that I admire would be: Manuel Ferrara, Mick Blue, Sasha Grey, Jesse Jane, Kayden Kross, and Tori Black. When I shot the scene with Sasha and Manuel for Fly Girls, I have to admit I was pretty blown away. I have loved and watched Sasha for about 4 years now, and Manuel has always been one of my favorites. Being with both of them in the same scene was a huge honor, and the chemistry was electric.

One of the greatest experiences of my career, for certain.

What is your favorite genre of porn to watch? to make?

My favorite genre of porn to watch is a hard one to pin down. I'm a huge fetish lover as well as a nerd, so my tastes are very diversified. I love everything from mainstream, couples oriented porn to hardcore BDSM, even bukkake. Then of course, there are the things that have never been done on camera yet - for instance, I would absolutely go nuts for an "Eyes Wide Shut" style porno. I have a huge mask/Victorian clothing fetish, and to see that on camera would be an absolute dream come true. I also love combining porn with humor/comedy - hence why I loved being involved with Fly Girls so much. It's so awesome to be able to take a role and really have fun with it as an adult actress.

You said you were Impressed by "the ability of the human spirit to champion, defend, and care for its fellow man"

That being the case what causes most move you?

Jay,

I have a spot for the underdog. Whether that be children in the foster care system, abused pets, or helping with the relief effort in Haiti, I believe that humans should look after their fellow man. You may have seen my rant on Twitter the other day talking about those that don't feel we should help in Haiti because it is not our problem. I think that human afflictions belong to everyone, and that just because a problem is not directly related to us, doesn't mean that we shouldn't step in and attempt to lighten the load or help someone in need.



Do you have a significant other? How do they feel about the industry you are in? Has it put any strain on your relationship?

I am in a happy, committed relationship, and he completely supports my career in the adult industry. We are both very open, honest, and non jealous people. He enjoys the fact that I am happy and successful, and I encourage him to follow his passions and dreams as well. In many ways, the fact that I am in the adult industry has made our relationship 10 times better, because there is absolute honesty and openness about both of our sexual needs and desires. There is never a question of whether one or the other is going to cheat, because if we had a desire to sleep with another person off camera, we would simply talk about it and make it happen. I think that is the key to any relationship, is to completely trust your partner and to have the utmost respect for each other.

You talked in a previous answer about sex toys, what is your favorite toy to use? What was your first toy?

My first sex toy was a Hitachi, and I still use them frequently. I also have an Eroscillator, and my new favorite line of toys, the Pirates line from Digital Playground, which I've been using more and more.

I wore the pink vibrator necklace every day at the Adult Entertainment Expo, even on the red carpet at the AVN awards, and let's just say that I got very close with it during that time.

What is your favorite part of being an adult star? Your least favorite part?

My favorite part would be the sex.

I am a nympho, and if that wasn't the case, I wouldn't be doing it. I don't believe in doing something just for the money. I also love being able to express one side of myself, the more raw, reality side, on my website, www.ravenalexis.com, and then turning around and doing huge feature films for Digital Playground, which allow me to show fans a completely different side. I also love interacting with my fans, and meeting all of the awesome people that enjoy my work.

My least favorite part would have to be the fact that there is such a stereotype, and stigma attached to the adult industry. I have never understood why porn is considered to be a dirty, or wrong thing. Sex to me is beautiful, and should be celebrated and enjoyed, not hidden and pushed under the rug.

What is your personal relationship status and how does it affect your work or your work affect your relationship? Is it easy or difficult to separate the two?

I am in a committed relationship and I would have to say that it has positively affected our relationship in so many ways. Having an openness and an honesty about both of our sexual needs and desires has broadened our horizons and allowed us to create and maintain a sexually positive life together. I don't try to seperate the two - they are both parts of my life that I love and am very proud of, and there would be no reason to compartmentalize my life.

Do you ever plan on going back to finish law school, or is that now ancient history?

I have thought long and hard about going back to graduate school - I enjoyed school immensely, and I love studying, although I probably would not go into law at this point. I would probably go back and study psychology more in depth, and it would probably be more for the interest of it, than to pursue a career in it. I am very happy being in adult entertainment, and I plan to step behind the camera as my career goes along, and eventually, become solely a director/producer of films.

If you could star in a film with anyone, who would you choose and why?

Hey!

Well, starring with Sasha Grey and Manuel Ferrara was one of the most amazing times of my career - it's hard to top that! I really want to do a scene with Kayden Kross - I think she is absolutely amazing. Gorgeous, articulate, intelligent, and a successful businesswoman. All of the things that I admire in a performer. I also want to work with Jesse Jane and Evan Stone; they are two of the most dynamic, renowned performers around today.

If you were to ever have children, would you tell them about your profession? Would you try to dissuade them from following in you footsteps, or would you support them if they wanted to pursue the same career?

Like I have stated on many occasions, I am proud of my career, and I am a supporter of complete openness and honesty. I will most definitely share with my children what my profession is, when they are at the age where they fully understand what it involves. I would encourage them to first go to college and get as much education as possible, and then I would support them in whatever sort of career they choose. What is most important to me is that my children are truly happy, and doing what fulfills them as people. If that thing is porn, then by all means, I will stand behind them 150 percent.

You seem like an intelligent woman, especially with your knowledge of technology. Do you ever encounter people who assume you are less intelligent, because you are a woman in the porn industry?

Yes, there is a tremendous amount of stereotyping surrounding the adult industry.

People assume all sorts of things about adult performers - that we are less intelligent, that we do drugs, that we were all abused as children, or that we are so desperate for money that we have no other choice. This couldn't be farther from the truth for a large percentage of us. Most of my friends in the industry, including myself, are not drug users. A high number of us are very educated, even college graduates. And more over, most of us could do a lot of other jobs that would make us just as much money that wouldn't carry with it the stereotype that it does. We choose to do this because we love it, and because we are proud to bring a sex positive message to people.

What was your biggest misconception when entering the adult industry?

My biggest misconception was that I thought that all of my fans would be men, and I always thought that porn was more of a man thing. I have so many loyal, incredible female fans, and that has blown me away and made me so happy. When I make appearances, or do signings, I would say about half of the people that come to see me are couples or women. This was especially apparent after signing with Digital Playground - thanks to Samantha and Joone's vision of making couples and female oriented films, they have brought a whole new following of women and couples to their company and to their contract stars.

Growing up, what was your family's attitude about sex? How do you think that affected your own attitude about sex and the adult industry?

Cynthia,

I had a much different upbringing than most, and therefore, was not really taught any one way of believing or doing things. This was probably the best thing for me, because it allowed me to form my own opinions about how I wanted to live my life, and I formed my own basis of morals and ethics (which by the way, my code that I live by is probably more strict than most would think)

Because I never had anyone instill in me that sex was wrong or bad, I grew up thinking that sex was just a normal part of life, and that it should be celebrated and enjoyed by everyone. Even though I never dreamed that I would become an adult actress, the transition was not difficult in any way, because I had no reservations to overcome.

So.....Horde or Alliance? Is World of Warcraft your first main venture into Warcraft or had you played the non-MMORPGs? And how'd you get to be a geek and a porn star? That's pretty rare and pretty hot.

I know both of my parents were gamers and that's how I got into it. What was a big influence in your gaming interest?

HORDE!!! Haha ... I am a diehard.

My first venture into gaming was Age of Empires, the second was the Sims, in all of its addictive glory.

Ever since I started playing Warcraft III- Reign of Chaos, I've been completely enthralled by the game, and have played every expansion/upgrade since. I am really looking forward to Cataclysm, and will probably have to monitor myself so that it doesn't consume every waking minute of my life.

I first started playing Age of Empires in early high school, and by college, I was really immersed in the gaming culture. I started attending LAN tournaments, and this sparked my interest in games like WoW, Halo, and console gaming. Ever since then, it's been the thing that grounds me and allows me time to unwind. I also have always been a shyer person than most, and gaming was a great way for me to build friendships and network. When you grow up as a shy kid who is different than everyone around you, gaming is the first thing I think that you naturally gravitate towards.

What kind of games do you play?

Add me on Twitter, we can talk

Okay, you're officially my second geek-girl crush now, right after Felicia Day!

Possibly off-topic question: As a gamer and a writer who often tackles the world of gaming, I've noticed that more and more of us sexy, successful girl geeks are joining the leveling revolution. This is a huge leap from the stereotype of teen boys in the basement. What do you think the appeal is for women? What's the appeal for you, specifically? Where do you see women and gaming going in the future?

Yay! See, how cool is this? I get hot girl crushes

I think that teen boys aren't the only ones who go into their basements and play. I know that I was an incredibly shy kid growing up, and I was always different, and I was always friends with the gamers and the geeks. We all banded together. Hence why I would never have dreamed in a million years that I would become an adult entertainer.

A lot of girls that I know feel the same way, and gaming is an incredible way to have fun, unwind, and find friends that enjoy the same thing. Some people join book clubs, church groups, or sports leagues - and some of us bash and raid on WoW.

I think that a large number of women enjoy gaming, and as gaming becomes more of a mainstream hobby, that more and more women, especially younger generations, will develop a love of gaming.

Who can you consider to be your "best" friend, and why does that person deserve that title?

I have so many amazing friends, and I try not to qualitate a relationship by putting the label "best" on it. If I even mention names on here, I'm certain to leave one of my pals out, so I can't do that. I will just say that I am blessed to have amazing, trustworthy, honest people in my life that I treasure more than anything.

This is a tradition here... please complete this sentence: "Sex is..."

Sex is... Beautiful.

How do you stay connected to your tech outlets? What are some of your 'must have' gadgets? And is it hard for you to go 'off the grid' when traveling or on vacation?

When at home, I have all of my computers on at once, and they all have different functions. My laptop is to carry to different rooms of the house, my Mac is for editing, and my PC's have all of my social networking/pictures/personal stuff on them.

When I'm on the road, I take my laptop and my iPhone with me at all times, and I have WoW loaded on my laptop, so I can even game on the road. Once in a great while, I will truly go off the grid and turn everything off, and usually people think something terrible has happened to me, LOL.

Hi, I'm Penny, the apparent obligatory chubby big breasted friend all pornstars must have. *giggles* Dia Zerva has decreed that you are the awesome sauce, so since I never say no to Dee, I'm saying hi to you. My question though is how open-minded are you in your work? Would you ever work with a trans woman? As a woman with outdoor plumbing I'm always depressed that there's almost no lesbian oriented porn with Trans Women in it, and what few scenes I've found with a trans and a cis girl working together were exclusively tailored to a male audience. Would you ever work to change that? Girls like me and the women who love us would buy it in droves if it was made AND respected us as just regular women with extra parts.

Hi Penny!!!

Dia Zerva is in an incredibly talented performer

And hi to you back!

By the way, I got curious and read some of your blog that I found on Google.Your writing is incredibly strong and powerful, and beautiful to me. I think it's amazing that you write about yourself and what you've been through.

I have worked with all kinds of performers, lesbian, gay/bisexual, and straight. I think that sexuality and love are things that cross gender boundaries, and just about any other boundary a person could think up. I would be honored and aroused to work with a Trans woman.

And for what it's worth, I would really enjoy chatting with you more.

Also, do you play on DDO or Second life?

I used to play Second Life - now I play Red Light Center/Utherverse, in which I did a huge movie launch the other night!

What do you do with your free time besides gaming?

When I'm not on my computer working or gaming, I am usually doing something outdoors related. I love camping, hiking, off roading, snowboarding, go cart racing, horseback riding, etc. I also enjoy reading.

Have you ever had anyone recognize you when you were out and about? Any funny stories?

Yes I have, I get fans come up to me occasionally, some ask for my autograph, some just want to say hi.

I love it when fans say hi to me - just as long as they're not rude about it. I had one guy in an airport bar recognize me, and then his wife walked back from the restroom and chewed him out big time for talking to me - that was pretty funny, although I felt bad for them.

When you grew up, how was sex handled? Were your parents open with you or did you learn about it in school/peers?

I grew up as a very free spirit, so sex wasn't really handled at all. I formulated my own opinions about it, and never really got the big deal about why it was so taboo. I was younger than everyone else, so all of my peers were more sexually experienced, and so I learned a lot, although I waited to lose my virginity.

What is something you have not done sexually that is on your to do list?

Definitely want to attend/participate in a masked/Victorian-wear masquerade ball.Eyes Wide Shut taken to the next level.

I also want to have sex with Kayden Kross. Hehe.

What was your 2010 New Year's Resolution? Have you kept it?

I didn't make one.

I know, I'm boring in that way. I just don't believe in making resolutions one time a year - I make resolutions and goals all the time. It's more fun that way!

What is the most difficult thing about being an adult star?

I would have to stay the stereotyping and the negative connotations that go along with being an adult star. Getting to know people for what I am and what I stand for, not for what I do and their preconceived notions of the thing I do. But all in all, the good things make up for the one thing that could be construed as a negative - and I'm glad to get the chance to let people see that adult film stars are just like everyone else.

When cuddling do you like to be big spoon or little spoon?

The little one!!!

I love spooning!

With 3D television and players ready to release, there will be a market for 3D movies for the home. What do you think about movies in 3D, and do you think this will become a popular way of filming porn movies in the future?

I definitely think this will be something that porn goes towards in the future - even though it will be expensive and a lot of time invested into the film. I hope to be part of a 3D film at some point in my career, hopefully many! What I really want is some good Star Trek holodeck technology though.

From what you did experience in law-school...what advice would you give someone looking to do it?

How bad was that dreadful Lsat lol?

Well, I only did undergrad, I didn't attend law school. But I would definitely recommend if someone is passionate about it, and feels that it is their calling, to go right ahead!

Are you the one considering it, and if so, what type of law are you interested in studying?

And try not to stress about the LSAT - I'm sure you'll do great!

Raven, When did you build your first computer, and what made you want to do that ????

Vampyre,

I built my first computer in college, and I have to admit, it was for bragging rights at first.

I was attending LAN tournaments, and all the guys had sick ass computers, and I wanted to have one too! LOL. So that started it, and obviously it was a lot of fun, and now I do it so that I can have slick work machines that work well too.

What is your biggest guilty pleasure?

My fans on Twitter will recognize this weakness from the pictures and incessant posts about my love for Starbucks - my extra, extra, extra caramel macchiato!!!

What is your favorite song to do the horizontal mambo to?

Haha, I love that expression. Good one.

I actually don't like to listen to music usually when having sex - although I did have an evening marathon of love making to Seal a couple months back.

In your personal sex life, do you like lots of positions and crazy sex, or do you stick to simple stuff that you know will get you off quickly?

I try everything from the fast and easy to the extreme, hardcore, and kinky. I think that they key to sexual satisfaction is to never get in a rut - always explore, experiment, and be willing to try everything at least once. If you don't like it, at least you've experienced it and you're better for the knowledge!!!

If you could change anything in the porn industry would you, and if so what would it be?

I would definitely want to, and plan on having a hand in, changing the way that people think about the adult industry and those of us that work in this industry. There are a lot of stereotypes and negative connotations surrounding us, and I would love to bring porn to a more accepted place in todays society.

You have mentioned Eye's Wide Shut several times above. Stanley Kubrick was one of the great film directors of all time. What are some of your other films, actors and directors that you love or are inspired by?

Drew,

As far as movies that I find sexually arousing in the mainstream genre, yes it is pretty much at the top of my list. Concerning other directors that I enjoy and aspire to be like in terms of my own directing, I would list Quentin Tarantino, Roman Polanski, Sam Raimi, and Zack Snyder.

hey Raven

if you got asked to go on star trek would you do it? and what role would you want?

Shelby,

It would be one of the biggest honors imaginable to be asked to be in one of the upcoming Star Trek films. With the new altered timeline/reality that they introduced, it would be hard to anticipate what kind of roles they are going to be adding or working with, but I'd take anything! Even just a cameo!

I have a love affair with all things Vulcan, so if I got to wear those pointy ears, I'd be a happy clam.

(No pun intended).

You mention Eyes Wide Shut in a lot of your answers, is it your favorite movie?

As far as a movie that sexually arouses me, yes it would be my favorite.

Hi there Raven!

I was wondering, who is your favorite female and male costar?

I have way too many "favorites" to even list them all. All of the people I've worked with so far have been incredible, but I would have to put my scene with Sasha Grey and Manuel Ferrara very highly at the top of my list of amazing sexual encounters.

Is your partner in the adult business too? Or is his exposure to the biz limited to your personal site?

With regard to what you do on your films, who decides what you can/can't do? Do you consult with your partner? Everything is up to you?

Yes, in a matter of speaking.

He works a lot with me on the sites, and also does most of the editing and a lot of camera work too.

Every film, I put myself into it 150 %, and every single time, I do different things that I enjoy. No one tells me what I can or can't do - I just have fun with the role and immerse myself in it as much as I possibly can.

Last one... for now. LOL

You mentioned your family knows you're in the business, what material do you think they have seen? What's their reaction to the bondage/kink scenes you do?

Haha, ask away!

I love these questions.

I am very open with what I shoot, and I don't try to hide anything that I do. If people want to see it, it's there to look at. I don't ask which things they have seen in particular - I just do what I love and I remain proud of it.

What would you say is the biggest thing you have learned from being in the adult industry?

How to adapt to crazy new situations and find sexual arousal and fulfillment in every scenario.

I love my job because every day is completely new and exciting - and I never know what is going to happen.

If you could work with any non adult star [hollywood star] who would you choose?

Gerard Butler! I absolutely love him and think he is a very attractive person.

What is your personal motto? What keeps you motivated?

Never give up, and always strive for improvement. I keep myself motivated by remembering all of the wonderful friends and loved ones that I have, and how much they mean to me. I also keep myself motivated by constantly setting the bar higher and higher for myself, and attaining to new goals and milestones.

What is something that would surprise a non adult industry member about your job?

I think that a lot of people associate adult film sets with drugs, debauchery, and all sorts of illegal activity. I think people would be surprised just how fun and sexually positive the sets of our movies are. There are just a lot of great people, doing what they love, and making each other cum on camera!

If you are ever uncomfortable doing something that a shoot requires, how do you handle that?

Being an actress, adult or mainstream, is about pushing oneself out of their comfort zone. I constantly challenge and pressure myself to put something new and different into a scene, and to completely immerse myself in the role that I am playing.

However, if I'm doing something sexually that's highly uncomfortable and is not feeling good, I immediately change it. That doesn't happen often, but sex shouldn't be a painful or bad thing.

Hi Raven!

Im currently studying Games art & design at Uni here in the UK and one of the big things designers want to get across is interactivity, do you think the adult industry will try to envolve in the same way?

Ollie
x

Ollie,

How are you enjoying your studies?

I think that the adult entertainment industry is definitely concerned with interactivity - one of the main reasons I signed with Digital Playground is that they are always on the cutting edge of technology. They made the Virtual Sex series with interactivity in mind, and they continue to find new and exciting ways to bring the viewer into the porn, most recently was the launching of my movie "No Love Lost" in the online world of Red Light Center. www.redlightcenter.com



Doing fringe fetishes like erotic death and working while pregnant, how are those experiences different than doing normal worn?

Do you feel blessed to have a husband that supports you so much?

Every sexual experience or on camera experience is different for me. I enjoy fetish as well as mainstream work, and so I have done a lot of either genre. I don't prefer one more than the other, I just have different tastes at different times.

And yes, I am incredibly blessed to have my husband. He is the most amazing person I have ever met, and people like that make the world a much better place.

Hey there - two questions:
1. I am a current law student, and while I enjoy school, I hate the environment (but this is another story). The advice many blawgs give is to run, far far away. You did (which is great since you're clearly happy and enjoying life). What made you decide not to go to law school?

2. Now with the same sex marriage debates, and especially with Lady Gaga's and Beyonce's Telephone, there is increasing discussion about LGBTQ rights/issues. How does that fit into the adult entertainment industry? How do you think the adult entertainment industry can help change the misconceptions about LGBTQ, do you think it can help with these questions in society?

1. When you say the environment, do you mean the environment of law school? Or the environment of what will be your job eventually? I decided not to go to law school for a couple of different reasons. One, I wanted to go into criminal law, and I was unsure that I could be either a prosecutor or a defense attorney. I really could never prosecute someone that I knew was innocent or felt might be, and I couldn't defend someone who I knew was guilty. Secondly, I wasn't sure that it was what I wanted to do every day for the rest of my life, and I felt it was wiser to not do it at all than do it half heartedly.

2. There are many, many LGBTQ's in the adult industry, but even so, some people in the industry are still close minded to it. I feel that as a society, we should champion the rights of people to love and life with whomever they choose, and I would hope that the adult industry, being one of the most nonjudgmental factions of society, would play a major role in causing that change.

You're picture here shows you as a redhead. Your site has pics of you as a brunette. Which hair color do you prefer and why? What's your natural hair color? LOL (BTW I like you as a brunette)

My hair looks way different depending on what light I'm photographed in, and what kind of highlights I have in at that particular moment. I've never dyed my hair red, but my hair has looked reddish in certain photos.

I'm naturally a dark brunette, and I try to stay that way, with highlights of a caramel color.

Who or what has given you your best orgasm?

This is such a hard question to answer!

I have had so many amazing orgasms, but I would have to say that the best orgasms are always caused when I have the most stimulation - especially if I'm being fucked and my nipples are being sucked/licked/pinched at the same time. I am a very lucky girl in that I have multiple orgasms and it is very easy for me to climax!

This has been great so far! Thanks for doing it!

another question:
Where is your line? At what point do you say "Ok, I can do handcuffs and elf ears...but I'm not touching that ____"?

yet another question:
How do the everyday people get movie ideas to the studios? Email?

Thanks!
Hope you had a good St. Patty's day!


haha, I will not touch that poopy! I do not do scat, or anything to do with children. Everything else (as far as I know), is something that I would try at least once.

If you, or other people out there, have scripts or movie ideas, yes, you can email them directly to the studios.

You never know what could happen!

What do you think is the sexiest part of your body? The least sexiest?

I would say either my smile, my eyes, or my boobs. As far as the least sexiest, I used to not like my feet, but now I like them a lot, and feel very comfortable with them, so I would have to say that I'm not sure!

You built your own PC, are a gamer, and enjoy the geekier side of life. There are many women out there who are similar to you, but not as "popular" or seen as sexually appealing. How would you suggest a woman similar to you express that, just because she is geeky and enjoys technology, she is just as sexually appealing as a woman who is not?

I would say that she should just be herself, let her true personality shine through, and sincere people will see that and find her sexually appealing. I was not a popular person growing up - I was very shy, very geeky, and very awkward.

Still am, once in a while

"Are you the one considering it, and if so, what type of law are you interested in studying?"

I'll answer your question lol. Yes me. I just finished my double bachelor's in sociology and Law Enforcement. I am doing my masters in Soc right now. I want to do criminal procedure law and become a prosecutor after I am a probation officer. Being a probation officer is so much fun!

What did you intend before your plans changed?


Wow, that's really awesome.

I wanted to become a prosecutor as well, but realized that I didn't think that I could ever prosecute someone if I wasn't 100 percent sure that they were guilty. And even then, I didn't know if I could handle someone getting a sentence that didn't match their sentence, and ultimately blaming myself for it.

How do you feel about pegging, do you see it breaking out from fetish porn and becoming more mainstreamed?

I know a lot of people who enjoy strap-on play, and it is definitely becoming more of a mainstream occurrence.

Since you're tech savvy - I'm looking into buying my first laptop, can you give me any suggestions?

It would depend on what you're doing. If you're gaming with it, or just surfing, I would recommend either an Alienware or a modded PC laptop. If you're doing photography, video, or a lot of high processor activities, a MacBook would be better.

What is your favorite song of the moment?

Right now, I'm listening to Rob Thomas a lot - the whole latest album that he came out with. My tastes change quickly.

Are you a foodie?

If so, what's your favorite thing to make/eat?



I do love food yes. I love cooking and baking - and usually I make a lot of Mexican and Italian food. Burritos, pasta, breads, cakes, etc.

mac or pc?

It depends on what you're trying to do. For gaming or surfing the net, PC, for editing pictures or video, Macs.

Since you are so tech savvy I'm assuming you have an awesome phone... what phone do you have?

I am attached at the hand to my iPhone. I absolutely love it, and I can't live without it!

How do you feel about music in porn? Do you think it has a place or is it just a distraction?

I feel like a lot of music is done badly in porn - so it depends. If it's done well, it can be a great addition, but mostly, I prefer to just hear the sounds of the scene.

Raven - I meant the environment of school itself, lots of gossip and spreading of rummors and the like. To follow up on your response to my second question about the adult industry playing a role in changing the views on LGBTQ, how do you think the industry can help change society when the industry itself isn't well accepted in many places? And how would you go about helping the industry become better accepted and getting rid of the stereotypes and social stigmas that go with being an adult entertainer?

I think that the stigma surrounding the adult industry as well as the LGBTQ community, is lessening every year. I think that we all need to be more involved to help rid these stereotypes. I think that a lot of adult performers have tried to seperate themselves from society to not deal with the issues surrounding us, but I think that the more that we get out into the world and let people know our viewpoint, the more we will be accepted.

What do you feel is the most taboo fetish in the porn industry?

I don't know that I can answer that. Taboo depends on the person, and what some people find extremely different, is completely normal to others.

I've always wondered how adult stars keep fit. I can't imagine how hard it is to bob up and down a pole in high heels or tippy toes.

Any industry secrets? Special workout programs or diets?

I just try to eat healthy and get good exercise. I do a lot of martial arts, pilates, yoga, meditation, and pole dancing as well. I eat very healthy, no junk food, no soda. Lots of veggies, fruits, and non processed foods.

All women suffer from body image issues at one time or another - being an adult film star, do you still feel plagued by these issues or have you managed to get past them?

Also, I love that you play WoW! I hope you're a Horde player!

I think every woman has issues with their bodies at different times. My biggest concern is just making sure that I'm eating properly and getting exercise. I had an issue with my smile, and I did go get veneers and implants done. I don't believe in complaining something - if I have an issue with my body, I get in the gym and I fix it. Past that, I don't let what people say or think about my body, affect how I live my life.