What goes into the making of modern lingerie? As an award winning intimate apparel designer at Fantasy Lingerie, Sarah Norris knows and does it well. What is it about lingerie that makes a person feel sexy? Why does Sarah think a piece of lingerie can turn a night into something special and how does that affect her designs?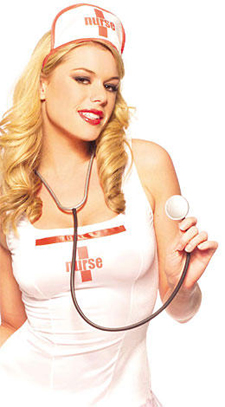 From a young age, Sarah was interested in clothing design and by the time she hit her junior year in college, she was sure lingerie was the apparel for her. She describes her career as fun and exciting – which sounds like living the dream. Sarah finds the most challenging part of her job is creating something sexy for the tastes of many different people, with many different sizes and body types. Knowing that lingerie can make her feel ultra naughty and desirable drives her to create that same feeling for others.

Since Sarah started working for Fantasy Lingerie over two years ago, she's designed for almost every catalog and has created alluring Halloween costumes, bridal lingerie, bustiers, bra and panty sets, flirty clubwear, teddys, babydolls, and even some hosiery pieces. Her work is highly detailed and very seasonal oriented, which means deadlines and long hours. From making the apparel fit a variety of body types, to making the fantasy real for the customers, Sarah enjoys the journey that each new line and new season brings.

Have you ever been embarrassed by your love of gorgeous lingerie?

I also hope you have some gorgeous and affordable plus sized lingerie out! I'm 5'10ish, 40D's and size 16-18 in jeans. I need to look good too! <3

Hi There,

I've never been embarrassed by my love of lingerie. Lingerie can be a foundation piece, as well as a create a sexy mood. And yes- We do have afordable lingerie for plus sized girls. Check out our Pink Box Collection and the Especially Yours Collections.

How did you get started designing lingerie in particular? I mean, most people want to get into fashion, but why specifically lingerie?

Lingerie always seemed really fun for me. Lots of my teachers and classmates thought I was weird becuase I was one of the few people that had lingerie collections. I started with underwear and bra sets and then moved into the more risque pieces once I joined Fantasy.

Victoria (host): "We're glad you pursued it :)"

How difficult is it to design something that's going to flatter everyone? How do you end up going about it? I mean, I've read (and done) lingerie reviews, and it just seems like something like this is going to be difficult to end up flattering everyone that purchases it, but ultimately, that's what lingerie is supposed to do.

It's super difficult to design something that will flatter everyone. There are so many different sizes and shapes and areas people are sensitive about. We always try and create collections that offer a little something for everyone. For example, a normal collection will include a bra and panty set, and flirty skirt set, a babydoll, a teddy, and a long gown. A little something for everyone!

Were do you get your gorgeous supply of lace?!

We get lace from TONS of different places. Most of it comes from local wholesale vebdors that specialize in lace. However, you can find it in almost any fabric store (even Joanne's). If you're lucky enough to love near LA or NY, you can hit the garment district for great prices on super cool lace patterns.

Victoria (host): "Don't forget online too!"

When you start your design process do you have a certain women in mind? What inspires you?

Usually when the design process begins we start with an assignment- Bridal or Costume for example. From there I begin looking at fabrics to find something that inspires me (and is easy to work with!). Having a nice stretch is really helpful when working with lingerie pieces. Then I look for trims and begin putting the "look" together. Once I've got that down, I start drawing. I draw multiple designs I think will work with my fabric and trim choices, in a way that will be sexy and inspire lust. The certain woman I have in mind in the one that wants to feel incredibly sexual. And of course, I think a little bit about the guy. LOL.

Do you listen to music while you work? If so, what do you listen to?

I ALWAYS listen to music. My music choice depends on my mood. If I'm working on costumes I might get silly with kids songs or 80ies classics. If it's Christmas I listen to my favorite Holiday tunes. If it''s regular sexy wear I change it up. I definitely like a variety of different music and keep it fresh with different radio stations and lots of international bands.

What inspires you in a certain design? How do you come up with that perfect design that you know is going to be a hit?

When I really, really love an item, and lots of other people at the office love it, I usually know it will be a hit. Sometimes everything just comes together perfectly and- BAM! - You've got a winner.

Which do you enjoy creating more: the really skimpy pieces that don't leave much to the imagination, or something more along the lines of the gowns or the capri shorts and other body suit type things.

I really enjoy creating a little of everything. When I'm designing a long gown it feels like princess mode. Then I move onto a crotchless teddy and all of a sudden I'm in this raunchy naughty girl mood. I love designing lots of different things because it keeps things fresh and allows me to experiment with all my different sides.

Hello Sara! Corsets are very popular style today lifting and pushing busts and squeezing bellies, not much changed from the medieval days. From my untrained eye in 2010 there are many different styles of intimate apparel constantly changing, however, there must be some classic design principles that have held over the centuries - which classic principles do you keep coming back to?

thank you! - Bill

You're totally right- many of the classic principles haven't changed. A bra cup is a bra cup and there's only so much we can do to it. We might learn new sewing techniques or change fabrics, but the basics are the same. I'd say the most important principle of lingerie design is making sure the fit if good, the fabric feels nice against the body, and a girl feels ultra sexy while in it. It doesn't sounds like much, but believe me, it take a lot to get a garment to that point.

Victoria (host): "I like the idea of some classics always being around. I can imagine building a bra or a corset is a complicated process that most us take for granted."

It is a pleasure to have you with us Sara,

My question is... what are you wearing? *wink*

Also do you ever wear your lingerie under your normal every day outfits to feel sexy for yourself? And if so, like what?

Thanks Sara

Right now I've got the most gorgeous lacey bra and panty set on! Super duper sexy.

And yes- If I'm feeling frisky I'll wear some lingerie under my clothes or as part of my outfit (lace shirt and bodysuits are totally in, right?). I think it's also impoartant to test out te products and see how they feel, fit, and stand up during.... well you know what.

Did you dress your Barbie dolls in peignoirs and heels more often than tennis togs?

When I was little I didn't do this. Although I did cut all their hair off and make funny hats and costumes for them.
Here at the office we have some Barbie Dolls in the design room. These girls are super decked out in the hottest little numbers.

Victoria (host): "You should post pics ;)"

What's the hardest thing you've encountered in your tenure as a designer?

Sometimes it's hard to take an idea from the original sketch all the way through to a finished garment. There are so many steps in between. We have to create the pattern, find fabric and trims, construct in just the right way, and fit it on a person- and that's all before we receive the boss's final approval to include it in the photo shoot.

I am getting married this fall, I want my honeymoon to be unforgetable.My question is with your bridal collection what would be your favorite piece and why?

My favorite piece in the 2010 Bridal Collection is the "Something Blue" Lacey Demi Cup Bra, Keyhole Ruffle Panty, and Garter Belt Set. For me wearing garters and hosiery feels incredibly sexy, especially with a nice pushup bra and super cute panties. All the bases are covered.

I would like to ask, what is the most unusual thing that inspired you to create something, and what did it inspire?

I created a special item for a private label company that was a strap-on harness set. It was inspired from a dress up collection I designed. I think most of the sample makers thought I was nuts, but it really turned out cool and unique.

What would be your advice for a woman interested in wearing one of your designs but also shy about doing so?

Practice. Watch videos. Take a strip tease class. I think the most important part of wearing lingerie is being confident in it. You make the lingerie- it doesn't make you.

Victoria (host): "So true - it's all in how you feel and carry yourself, that's what 'sexy' is!"

When designing your lingerie line, do you only use models with specific body types or do you use a variety of body types? What about fabric? What is your favorite fabric to use and why?

We use Wolf Forms to design lingerie. They are the industry standard for all types of apparel. We actually have three sizes, including a plus size form.
My favorite type of fabrics are stretch laces, lycras, stretch satins, and power mesh.

I want to do a fantasy outfit for the first time. What do you suggest for your first timers. I am a 36DD and have a slight stomach that makes me self concscious

How about a naughty nurse costume? Most of these come in one pieces with covered middles to hide any tummy shyness. Nurse Pumpkin Pie you have a sick patient waiting....

Victoria (host): "Great suggestion! I love those little low cut A-line dresses!"

Have you designed anything for guys? What's the challenge in designing sexy clothes for guys?

Yes- I made lots of sexy underwear and Halloween costumes. The biggest challenge in designing men's clothes is that we just don't do it that often and I get a little rusty. Plus, I can't keep a straight face while I'm fitting male g-strings!! LOL.

Has your family been supportive of your career?

Yes- they have been supportive. I think at first they were a little nervous about what I was getting myself into, but now they see that I'm happy and I enjoy what I do.

What is the most time consuming lingerie to create? Conversely, what is the most costly to manufacture? I am curious to see if they are similar

Halloween Costumes take a lot of time to create. We have a rule that if someone doesn't instantly get what the costume is, we can't produce it. We also have limitations on how many different fabric we can include, and how many accessories come with the costume. All these elements can make it pretty tricky to design something cool and unique.
Regarding cost- The most expensive things to produce are those with high end fabrics or with lots of sewing techniques (we call it operations). Since Halloween Costumes usually use basic fabrics and sewing operations, they are not nearly as expensive to make as a embrodiered lace gown with and underwire bra.

How many pieces of lingerie do you personally own? Do you enjoy wearing it just as much as you would if you didn't work there, or does it seem like more of a chore?

I can't even begin to count how many pieces of lingerie, hosiery, or sexy costumes I have. I actually own a 4 drawer chest that is dedicated to storing it!
It doesn't seem like a chore to wear it, but it does seem like I have more than I'll ever have time to wear.

I you had to describe yourself (personality and all) as one piece of lingerie, what would you be?

Lace and silk, slinky black babydoll. A classic piece that can be dressed up or simply sexy as is.

Can you tell me why manufacturers continue to create clothing in sizes and proportions that the average woman cannot wear? To me, it seems to be especially problematic in lingerie in that if you are blessed, as I am, with ample proportions it is next to impossible to get lingerie to fit correctly!

In that same vein, why is it that plus sizes cost a few dollars more then regular sizes? I actually find that insulting and find it highly discriminating!

There are standard sizes that the fashion industry uses to create clothing- like a common agreement that specific measurements are a size S,M,L, etc. In school, often that all we're taught to work with. Once I joined Fantasy, they insisted that the majority of their styles be made available in 1X, 2X and 3X. They have been making plus size lingerie for over 20 years.
However, this isn't the norm. Most designers just aren't taught to work with larger sizes and depending on the design house they work for, might not ever be asked to do so. I think this trend is changing and I'm begining to see a lot more manufacturers offer larger sizes. We make about 75% of our line available up to 3X and sell lots of Queen size hosiery.
Also- your pricing question really comes down to the amount of fabic that is used and how long it takes to sew the garment. We call the amount of fabric used for a garment "consumption". If it takes more fabric to make a garment and longer to sew, it will cost us more to produce it.

Victoria (host): "Thank you for this answer! It's definitely something people have wondered about a lot, and it's good to know!"

Hi, Sarah :]

Did your Halloweens when you were younger tend to resemble the Halloweens in Mean Girls (put on some lingerie and animals ears and voila! You're a cat!)?

I don't think I could have gotten away with that in Middle School- LOL. My parents would have grounded me for weeks. I was actually quite the opposite and dressed up in full pirate regalia or crazy clown costume. I might wear that this year though....

Did you start your lingerie design career with Fantasy Lingerie? If not, what was your first job and what was it like?

My first lingerie job was with Fantasy. I had previously designed swim wear and some juniors sleepwear, but nothing like this!

What is your favorite type of lingerie to wear and your favorite type to design? Babydoll? Gowns? Corsets?

I really believe variety is the spice of life. I wear a little of everything. Whenever I see a design I really love, I take it home.

When it comes to design, my type of lingerie might change from collection to collection. I will usually love the teddy in one fabric/ color and then really dig the babydoll in another. This gives me a lot to choose from, no matter what mood I'm in.

What is the most challenging project you've ever worked on, and what made it so?

My most challenging project was a group of petticoats I worked on for specific client. I designed over 25 different styles. It was narrowed down to 10. And then there were only 4. Then all the colors had to be changed. Next the client wanted different sizing. Two days later they wanted to change the colors again... Errrrr. What made it really challenging is that the client didn't know exactly what they wanted. A few changes are ok, but nonstop changes are really frustrating.

Do you, or have you thought of designing and producing lingerie for pregnant and breastfeeding women? Women often feel unattractive when they are gestating and lactating, and sexy lingerie can often help boost our feelings of sexiness and attractiveness. I found it difficult to find ANYTHING that was attractive and sexy when my children were being brewed and fed.

Yes- We actually have designed lingerie for pregnant women. It's something we've gotten a lot of requests for and I know there is a strong possibility that we'll have at least a few pieces available next year.

Hi Sarah Out of everything you've designed, what's your favorite and why?

Do you wear your own lingerie designs? If so, which one is your favorite?

It's so hard to pick just one design! I think my favorite would be a simple black lacey babydoll I made for the Simply Sexy catalog. To me if was like the "little black dress" of lingerie.

Victoria (host): "The little black dress will always be a classic!"

Do you test drive (for lack of better words) your lingerie on different body types?

We sure do! We bring in fit models, that are all different shapes and sizes. We also do office product reviews where we encourage employees to take pieces home and try them out- especially if we think there might be a possible fit problem.


I see that you design apparel to fit a variety of body types. Why do you think it is so difficult to find good quality and good fitting plus-size lingerie that also looks sexy?

I think a lot of companies have only recently begun to include a wide variety of plus sizes in their collections. I also think that since the demand for plus size lingerie is strong, we'll begin to see a lot more quality and well fitting pieces in stores. Not many designers learn how to work with plus size garments in school and I really believe that will/ has started to change.

What is your favorite aspect of the designing process?

I really enjoy being able to take a sketch and turn it into something someone loves.

Why is it so hard to find a corset that fits properly?

What kinds of fit problems are you having? Have you looked at speciality corset stores? I find it really helpful to be fitted by the store anytime I'm buying an expensive item, like a corset. If you're buying online, have you been able to find size charts to give you some direction?

Whats your opinion of "green" fabrics? I know some designers are moving away from PVC as the chemical byproducts from the materials production are rather nasty, and instead are favoring "wet look" polyester / spandex blends. Do you think it's important to use sustainable fabrics like rayon, cotton, and viscose?

I LOVE green fabrics. We've actually been experimenting with recycled fabrics (made from old clothing and recycled plastics) and eco-friendly dye processes, as well as recyled packaging with soy-based inks. The main problem we run into when using these is not their availabilty, but rather the customer demand for them. Green fabrics are more expensive to produce and are not made in as large quantities as regular fabrics, which makes them more costly. It's kind of the same arguement as buying organic vegetables. It's better for you, but costs more. I'm hoping more people will demand these types of fabrics and we'll be able to get a line launched.

Victoria (host): "It would be very cool to see some earthy green pieces. Keep us posted!"

Hello Sara!

My question would be how do you create the designs that ensure perky perfect and prestigious boobs with every wear?

Amanda

I have to hand this one to our pattern maker. I create the design, once I've chosen the fabric my design goes to a pattern maker (who specializes just in making patterns). This person is the genius behind creating perkey perfection. We also use a lot of the basic tricks- like adjustable straps, underwire, and padding.

Is there a particular routine you go through when designing? Such as do you have a room you design in, a particular time of day, mood lighting, particular inspirational music, etc.

I definitly have my rountines. If I'm at work, I set up shop in the design room- which is a huge space full of markers, paper, fabric samples and trims, stacks of magazines and catalogs, patterns, and of course computers and a radio. I drink lots of tea (yes- I'm a nerdy tea drinker), turn on music or NPR, and just get in the zone.
I love to have visitors and a lot of the employees here come in and chat with me. Everyone comments or makes suggestions. I love it because many of the sewers and production staff have been here for over 20 years. These people really know what they're doing from a techniqual stand point and that is really helpful.
If I'm at home, I usually turn on the TV and just sit on the couch drawing and drawing.

Victoria (host): "That's so awesome that making the piece is sometimes a team effort - that really says a lot about your company's culture. Love it!"

What inspirational advice would you give a woman that is bashful/apprehensive about trying on lingerie?

I think about it this way- you wear pieces of lingerie every day (You wear underwear and bras right? LOL). You're just taking it to the next level. Try something you can ease into and won't make you feel out of place. Maybe try a cute little nightie and slowly work your way to more adventerous pieces like teddy's or bedroom costumes. Just do it!

Are you inspired by current trends such as music, movies or books? If so, what are some of your favorite inspirations lately?

I'm inspired a lot by current fashion trends. Movies, fashion magazines, music icons- all of them have a huge impact on what I see as current and exciting. I think it's important to be in touch with what's happening in popular culture, and translate it into bedroom wear. Some of my favorite recent inspirations are Lady Gaga and her ultra sexy bodysuits. I also love all the sexually suggestive clothing from True Blood. There are so many flirty dresses, lace pieces, and form fitting latex wear.

We have a tradition here at the Eden Fantasys Community Interview. Please complete the following sentence: Sex is ____.

...the best part of my day!

Have any of your designs ever been inspired by or intentionally for a relationship you were currently in?

Absolutely. My guy loves bedroom costumes and role play. As soon as we started dating I became a lot more interested in creating new styles that I could wear.

Victoria (host): "An added bonus for your relationship, I'm sure!"

Also, do you ever use a certain body or personality as an inspiration? Whether it be your own body, a friend, co-worker, or model?

Sometimes I'll watch a movie, flip through a magazine, or see a hot chick go by and they might be my inspiration. I think... Wow! She's smoking. I bet she'd look great in this. Or if the person has great style I might use their look as inspiration for whatever I'm working on.

Are there any other designers who inspired you to pursue this career?

I just love Agent Provocateur and Coco De Mer. Both design houses have super sexy pieces and really push the limit for main stream lingerie designers. I went into Macy's in New York city and saw Agent Provocateur pasties displayed in a glass class (as if they were expensive jewelery) and it was love at first site...

Victoria (host): "Pasties in a Macy's? Wow! That is definitely a step forward!"

Would you consider ever making an entire line of lingerie for girls with implants? I have a very hard time finding lingerie. I'm a 32DDD and since they are made of silicone, I don't need as much support. Do you have any suggestions for finding lingerie for women like me or any suggestions on how to create my own?

We don't have anything in the works specifically for women with implants. I'd suggest looking for tops that are made of stretch lace or lycra and do not have any under wire. You might also want to check out Le Mystere Bras. They are designed specifically for women with breast implants.

My wife loves lingerie and getting all dressed up and looking sexy. She always has a hard time finding new and sexy items as she is a plus sized woman. Do you have any plans to start a line for the plus sized woman out there who are begging for someone to cater to their needs.

We actually have a line of lingerie dedicated to plus size women. It's called Especially Yours and we fit and photograph it on plus size women. Right now there are about 20 styles in the collection. In the coming months, we will be adding an additional 50 styles!

Victoria (host): "That's great news!"

Wow! So many questions regarding plus sizes. I think the idea behind lingerie is to make us feel sexy and confident, while also being visually appealing for our partners. Do you think that a line of mix and match pieces like different styled bottoms i.e. boyshort, thong, bikini) and different styled tops (corsets, camisoles, chemises, bras) would serve customers well in achieving this? Why or why not? and is there anything like this in the works?

I think it's a really great idea. The new catalog will feature over 50 new styles that range from 2 pieces sets to long gowns. None of these are mix and match, but there are a lot of different options of styles.

Which Items in you line would you reccomed for the woman who is a 36DD and has a stomach that would be appealing to my husband but not make me feel self conscious. I want to put spice and fire in our marriage.

We got quite a few pieces in our Especially Yours collection that will work perfect. There are lots of babydolls and chemises that keep the breasts perky, hide the tummy, and still feel sexy. We're featuring a product review of a plus size piece that one of our customers reviewed (who is a 2X), on our Facebook page. It's going up tomorrow. Check it out at:
http://www.facebook.com/album.php?profile=1&id=100001209831490#!/LiveTheFantasy?ref=ts

What lingerie will send my man into an hour of ecstasy just looking at it?

The piece that will make you feel like the ultimate bedroom diva.

What, to you, when you are designing defines sexy?

Being confident in your body. To me it's all about how a girl (or guy) holds herself. I think if you believe you're sexy, then you are.

Victoria (host): "Exactly! People remember how you make them feel, more than anything else :)"

For the fantasy outfits, do you start with a fantasy and then design the piece to fit the fantasy? What's been your favorite fantasy/role play outfit you've designed? Have you lived out that fantasy with anybody?

I usually begin with the fantasy. Sometimes we're get asked to design a costume and it'll be a fantasy I've never though of before- like Wonder Women.
My favorite design is a bubblegum pink school girl set that even comes with ruffle bum panties. I just love it because it is simple and classic... and I love spankings! I've used this set at home and it's hanging in the closet ready for the next time I'm feeling like I need the Mont Senior to set my straight. LOL


I love to sew and I have and lingerie is definitely one of my guilty pleasures. I am excited to see that you actually design the lingerie yourself! That is so excited! I have been curious to try to make my own for myself but I have noticed that there aren't really any patterns out there. Are there any tips and tricks you can offer me for designing and sewing myself some great lingerie pieces?

My best advice would be to take apart and analyze your favorite pieces. Or if you can't stand the thought of destroying your old favorites, go to a thrift store and buy old lingerie. Try looking at the pieces and how they are put together. Then copy it to see if you can recreate them. I learn some of the best tricks by looking at how great styles are made.

Victoria (host): "What a great suggestion! Who would've thought of 'reverse engineering' lingerie to learn how to make it? Most people struggle with patterns, so this is a great idea :)"

Men and women have very different ideas about what's sexy when it comes to lingerie. What do you think men should keep in mind when buying something for their partners?

I think men need to be aware of a woman's basic size. He should steer clear of pieces that are complicated and might be hard to fit. Instead stick to easy pieces like tops that have tie fronts or are easily adjustable.
I think it's also a good idea to make sure he picks a piece his lady will be interested in and want to wear. Most importantly, he should find a piece that's really going to turn them both on... So they'll want to do it all over again.

What was the first piece of lingerie you ever created, and how old were you?

I started making myself cute panties when I was in middle school. My mom had a sewing machine I would just go at it with her left over fabric. I must have been about 12 or 13. Some of them were totally silly and almost none of them fit right.

What type of lingerie do you recommend for full-figured women that is flattering and slimming?

Babydolls and Chemises are the most flattering and slimming. However, if you're ok with wearing some more elaborate styles, I think Bustiers and Teddy's look really hot on fuller figures.

What is your lingerie best seller for bigger women?

Our best selling plus size piece is flirty long gown with lace panels. It's been in our line for over 15 years and is still a best seller!

Will there ever be a good, comfortable alternative to the under wire in bras? I love the way under wires make my bust look, and frankly, I need them, but they are often uncomfortable.

Anything new that would replace the metal but still give us the boost and support?

There are a couple great alternative to underwire. Victoria's Secret makes a couple bras that are called "wireless". My personal favorite is from the Biofit collection.
Also, Cosabella makes several really well fitting lace bras that just have the casing (the fabric that is under the cup where the wire would normally insert). Because the casing is still there, you get the support and a nice shape with out the frustration of the wire.

If you had all the resources (money, materials, skilled workers) you needed, what piece of lingerie would you create? In other words, if you were just designing for yourself and your fantasies instead of for customers and deadlines, what sort of "dream lingerie" would materialize?

If money wasn't an issue, I probably design products made from really high end fabrics. I would go nuts and make a whole line of with silk, emboridered laces, and satins. I've always wanted to design a 1940's thrownback line using really fine materials.

Why does so much plus sized lingerie turn out to be old and dated looking? Is it much more difficult to design? More the companies choosing products than the designers choosing designs?

It isn't much more difficult to design plus size styles. What we very often do at Fantasy is take our best selling syles and adjust them to fit a larger size.
Sounds like the old and dating looking styles come from a company just not updating their line. It could also have a little to do with the designer just repeating the same thing over and over again. Or, it could be that the company chooses designs that are outdated.
There's lots of factors. I think you'll see that a lot of companies are working towards hotter and sexy plus size styles because of the demand for them. We actually make about 75% of our new collection from a Small to a 3X.

What drives you to create sexy lingerie?

Wanting to feel sexy myself, and share that with other women.

It sounds like designing lingerie is a really interesting line of work, what is your typical (or not so typical) day like? What is your favorite part of your day?

My typical day goes like this... Arrive at the office. Check emails and then head to Creative Directors office to see what her agenda is for the day and if she has any special projects for me to work on. Next I meet for a brief team meeting with design staff and sample makers to discuss what needs to be completed today. I usually review any of my projects that were completed and fit them to see if any changes are needed. Then I'll take care of anything that came up in my meetings with the Creative Director or design meeting (I might need to draw new styles or talk to the pattern maker about adjustments for a styles).
The secnd half of my day is usually pretty techniquial. I'll fit samples that arrive from producting to make sure they are just perfect and then work on building tech packs (the blueprint for a design).
Other days might be more exciting- like shopping for fabric or working on a photoshoot. But most days go just like that.

Victoria (host): "It sounds like a pretty varied day, which is way better than doing the same old thing every day all day long."

As someone with a large cup size, but small chest diameter (34-DDD) I find lingerie shopping really frustrating. The S-M-L-XL thing only goes so far. What shopping advice would you give to women who aren't standard off-the-rack (pun not intended, LOL) sizes?

I would suggest finding a lingerie boutique or store that specializes in larger breasts. It worth the effort to find something that truly fits and that you'll love forever.

You said that you knew lingerie was the apparel for you by your junior year in college. How did you approach your family with that, and what were their reactions to it?

My family was actually ok with it. Both of my parents are pretty liberal and they felt it was important for me to be happy.

Have you ever put any thought into taking the time to design for more specific body shapes such as smaller framed women with larger busts, or lingerie that looks good on smaller busts? I'm about a B cup and I have a hard time finding any lingerie that doesn't make me feel inadequate in the bust area.

I wish I could do something along those lines. We have to work within a size chart and aren't able to vary outside of those guidelines. I can suggest that if you find a piece of lingerie you love, take it to a seamstress to have her adjust it for the perfect fit.

The second part to above question that didn't make it in

Do you think it would be worth the extra costs to produce lingerie for more specific shapes like those mentioned above> I know that I would pay a little extra if I knew everything was going to fit properly and make me look stunning at the same time.

The easiest solution is to find a great seamstress that can help achieve the perfect fit in any garment. Buy it a little larger versus smaller and have it sewn just for you. It's very expensive to make custom lingerie and also takes a long time.

How difficult is it to take a design from concept, to creation? What are the steps involved?

The process may vary with designer and manufacturer, but here's how it works for us:
1- Flat Sketch is created with initial design concept
2- Fabric and Trims are chosen
3- Techniqual flat and pattern is completed
4- Initial samples are made for review
5- Garment is fitted and any needed changes are made
6- Final sample is presented for approval
Taking a design from concept to creation always takes a lot of hard work, and there are many steps involved. However, if you have the right people, anything can be done!

If you could only own 1 piece of lingerie what would it be and why?

A fantastic, well fitting bra- because it's the foundation for everything else.

Victoria (host): "Totally agreed!"

when you design your lingerie do you approach it with the goal of creating "bedroom" wear, or do you try to design something that not only looks sexy, but feels sexy and and can be worn as foundation garments. Do you try to incorporate form with function or is lingerie just the frosting on the birthday suit?

I work towards all of those goals. Everyone uses lingerie for a different purpose, whether it's bedroom wear or a foundation garment. It's important for us to cover all the bases and create a little something for everyone.
If it were only about me though, I would focus on bedroom wear!

Do you ever get "designer's block"? What do you do when you hit a wall, creatively, and need to take a break? What do you do to de-stress and have fun when you're not working on designing the next piece of sexy lingerie?

Ahhhh designer's block. It creeps up on me more than I'd like to admit. I find the best way to relieve myself of it is to check out designers I love, look through old catalogs, or browse fashion magazines.
My outside interests are outdoors stuff like hiking and camping, I love to cook, make cards, read, hang on the beach, and do lots of yoga. I guess I'm not that exciting- LOL.

Victoria (host): "That made me smile, thinking of outdoorsy lingerie ;)"

Did you start in regular fashion? If so, what vision did you have for what you were going to design? Dresses? Skirts? Shirts?

I started in regular fashion, designing swimwear and juniors pajamas. My first visions were of high end dresses and sportswear.

How do you go about figuring out the right fit for all of your designs and styles? I'm a petite woman and I am curvy in the way that I am smaller up top and wider at the bottom. This can cause issues for me with some lingerie brands but with others they fit fine. Do you make sure to try to take into consideration that all the women that wear the lingerie won't always have the stereotypical "perfect" body image and will have varying body types and sizes?

We try to use fabrics that have a good stretch, but are still strong and retain their shape. It's hard to fit for so many different body types, so we try our best to create extra give in just the right places.

Having a bit of a fetish for retro and vintage lingerie myself, do you have a specific time period that you admire most/like to pull in aspects of for your design and personal lingerie wear?

I try to pull a little inspiration from each time period. The 1950's has the great pinup looks, while to1980's is full of tutus and bright colors. If was creating a line just for myself, I would focus on the Victorian period. It's when early corseting began and huge petticoats with bum rolls were in. The style is so over the top that I don't think it would work for anything today, but it's gorgeous and a designers dream to create...

Would you consider doing a line of lingerie designed for the petite figure? As someone who's 4'10" I find that 90% of lingerie doesn't look right on me. I end up looking like my big sister lent me her lingerie.

Bummer!! I would suggest taking the lingerie to a seamstress or someone how can hem or take in the garments. I know it sounds weird, but if you really love a garment it's worth it to have it customized for you.
We don't have any plans to make a line for petite figures right now, but I'm going to suggest it at our next design meeting.

This seems to be a common theme: not fitting the given proportional sizes. Myself for example: 34B-30-33. When I buy something it is either way too large in the bust - to fit my waist or too small in the waist to fit my bust. Most designs hang off my hips. What would you suggest for someone oddly proportioned? Thank you.

Yes- seems like this is a really common theme. Sorry if I keep repeating myself, but I really believe if you want something that fits perfect you need to take it to a seamstress/ tailor. This way it is custom made for you. If you don't want to spend the money to do so (which should cost no more than $10 a garment), look for items that have a lot of stretch or that lace up. These items tend to be more giving and the lace up part will allow you to manipulate the fit.

What is it about your designs that would keep it in use and not just something that gets worn once and buried in a drawer until the next special occasion comes around?

I think that one is up to you... You have to plan, and make the time, to keep the lingerie in action. Also, feeling sexy and creating a special mood the while you wear it the first time will definitely keep you both begging for more.

Hello Sarah,
I have na rather normal size body with extra large (all natural) breast. If I buy something that fits me in the breast area then its usually too large for the rest of my body. If I buy it to fit my body then it's too small in the breast area. What can I do about this without having to have specially made outfits just to fit my body size?

I have also noticed most outfit come in smaller sizes. Why is it hard for me to find something that actually is large enough too fit my breast into?

tata for now,
~Christy~

Hi Christy,

A couple solutions- Buy a size that fits you in the breast area and have it taken in my a seamstress/tailor around the body. Or, try to buy garments that are two piece sets- Styles were the top is sold separately from the bottom.

It's hard to fit you breast because most girls aren't as lucky as you to have big, natural breasts!

I'm of the belief that confidence is the sexiest damn thing you can wear. When designing, do you try to focus just on accenting a person's body, or creating pieces that bring out that flare in them as well? Lingerie that doesn't just show skin, but instills confidence and pride in oneself?

Confidence is supppper sexy and is such a turn on. I really try to make a garment ultra flattering, while making them feel totally naughty. It's all about creating a special feeling in someone that brings out that confidence. I feel like lingerie can be a costume that opens the door for someone to explore their sexuality.

Did you always want to be a lingerie designer, or did you have other aspirations before discovering your career? Have you ever had doubts about your decision to pursue design? If you weren't designing lingerie (or any other variety of clothing), what do you suppose you'd be doing?

I've been the creative type, and never the math or science kind of person. I knew I'd always do something art related, but it wasn't until my mid-20ies I was sure about lingerie. I thought about so many other things (like becoming a chef for example!), I don't know what I would have ended up doing if I didn't head into design. What I do know is that even if I wasn't doing this professionally I would still make my own clothes, costumes, and housewares at home. I just love working with fabrics and design.

I see a lot of fun, bright, bold colors in the fantasy line that I don't see from many other designers. Are you seeing an increase in popularity and demand for these colors or do the blacks, whites, and baby pinks still reign supreme in the end? And from a design perspective, what's your preference?

Blacks, reds, and pinks are still the best sellers. But we've really been seeing an increase in the bright colors and funky patterns. I think stores are expending their collections to include some more colorful pieces. Personally I think nothing is better than a classic lacy piece of lingerie in black or red, but love to break out of the norm and work with more colorful pieces.

Victoria (host): "I think most people just naturally think of black and red as sexy."

How much of your work constitutes using engineering principles as opposed to strictly creative design? Meaning which comes first - the vision or the laws of physics you have to work with?

The vision comes first, but the engineering takes precedence once the initial design is complete. I can draw the most amazing piece, but I have to use basic principles to make it work.

Since this is EF, and lingerie is just one of the many things this community loves, do you have a favorite sex toy, and if so would you mind telling us what it is?

I really love the vibes from Fun Factory. They make such nice products. And from a design prospective, they totally rock.

Victoria (host): "Awesome choice!"

Do you consider how lingerie will fit someone who has real breast compared to fake breast?

Yes, we do. Sometimes we make item that are great for both and other times we know a garment will look better on one or the other. Because there are so many different shapes and sizes out there, we try to create a little something or everyone.

Wow! Well I know that over the years you have made quite a few beautiful pieces. Some were sexy. Others were out of this world and still others were too hot to handle (I mean literally the people who brought those pieces probable couldn't keep them on too long because there skin was on FIRE)! But what I would really like to know is of all those pieces which one do you feel came from your oddest or most off the wall inspiration! And would you say it is one of your favorites? Or maybe even top ten matrial.

Well- it's not lingerie exactly- but I made a "sexy" Halloween costume that no one else thought was sexy. It was a lunch lady, complete with a hair net. I was so inspired by this picture of the lunch lady from Adam Sandler's Lunch Lady song. I really wanted to make it work, but no one else got it. I was able to beg and plead enough that my boss let me shoot it on a model (who was laughing uncontrollably the whole time). Sadly it was cut out of the catalog and never got made. I loved it so much though, even if it wasn't stereotypically sexy. To me it was absolutely top ten material because it combined humor with sexuality. Maybe I'm crazy...

Since you design for Fantasy Lingerie, is there a specific fantasy that you have? Do some of your designs come from your own fantasies?

I'm a girl who loves to be tied up or get a good spanking (our secret ok!). I love school girl outfits and french maid pieces. I'm classic in that sense and I absolutely make pieces I know I would love.

Victoria (host): "Shhh...don't worry, we won't tell ;)"

I have the opposite problem of Judy....
I have a large diameter (40-44 depending on my day ) and only a B cup. Any suggestions for that as well?
I am very much looking forward to checking out your designs!

My problem is that I am large all over (38d Cup) but most lingerie doesn't have enough support up top or is hard for me to get into. Why is that and what would you recommend?

Why don't plus size lingerie ever fit right? Say if I were a gown it is always comes short on me.

I would suggest you always make sure that you read a manufacturers size chart before you purchase a garment. This will be your guideline to the measurements they use to create their styles.
Also, if you find something you love and it's a little off try to find a tailor or seamstress that can take it in a little. Always buy a little larger versus smaller as it's easier to take a garment in.
And when you're shopping with a special issue in mind (like support or length), look for specialty items or websites that make garments geared towards your body type.
Hope that helps!

Out of all the pieces of lingerie you have made or tested what was your favorite and why?

A little pink school girl set that I had the best time in... Ohhh I was such a bad girl! LOL.

Since a lot of your designs are based on seasons, do you have a favorite season to design for? If so, what season and do you have a favorite piece?

I really love designing for Fall/ Winter. Long gowns and corsets feel like fashion pieces to me. I really love a V-Plunge Corset I designed in our "Nude Affair" Collection. It's really stunning and could be worn underneath a garment or as a garmnet itself. Is really sexy and elegant.

How do you go about testing the lingerie before it's fully complete? Do you bring in different girls and have it try it on, or is it just something you "eyeball" to figure out if it would be a good piece?

We use what are called "forms" for the initial samples. They are life size replicas of a woman's body and are perfect for the first set of samples. Once we get the initial samples finished, we bring in fit models to see how it looks on a live girl. We like to spend a little extra time in the beginning to make sure folks are happy in the end.