Jaiya is a New World Sex Educator, which for her means a natural and hands-on approach. But, what is holistic sexuality? She recently had a baby and attempted an orgasmic birth. How did the birth of Jaiya's baby affect her sex life? What advice does she have for parents with young children who want to reclaim their sex lives?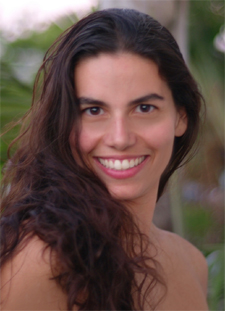 Jaiya has always been fascinated by the science behind sex. She prefers to "teach from the table"; she doesn't just talk about sex, she shows her students what she is teaching. Living in the state of California, Jaiya has a special license that allows her to actually touch people. She can teach penis massage or help a woman heal scar tissue from birth, and actually demonstrate. Jaiya started out in Sacred Sexuality, teaching Tantric, Taoist and Shamanic approaches. Drawn to Tantra by her interest in enlightenment and spirituality, Jaiya found that it allowed her to embrace her sexual aspects. Prior, she had always kept sex and god separate (as an exotic dancer on the weekends years ago, she would show up to church on Sunday morning with her pockets for full of money) but this was an opportunity to mix sex and spirit.

Now, Jaiya teaches a holistic approach to sexual wellness and pleasure, blending both western sexology with eastern philosophies and practices. She loves making videos and using them as a teaching tool, always looking for another opportunity to "show and tell". Her latest passion is her new web show, Erotic Intelligence TV. Jaiya thrives on working in the media and helping people to change their overall lives through improving their sexual relationships, not just with a partner, but with themselves. Ultimately her work is all about the freedom to fully express our aliveness.

Could you tell us about Tantra - for those who nothing about it at all, what are the key things you think they should know?

Most people have heard about Tantra from Sting, in an interview he claimed he could have sex for 8 hours because of his knowledge of Tantric practices. (Not that it's a competition, but I'm proud to say that my partner Jon and I have about 12 hours on Sting- we once did it for 20 hours!)

Besides helping you to prolong your sexual experience Tantric Sex Practices can really improve your sexual life and you might also have a spiritual experience to boot. It's important to make the distinction between Tantra and Tantric Sex. In our western culture and media there is an inclination to make Tantric practice all about the sex, but Tantra is a path. The word "tantra" actually means "to weave". Tantra is a often referred to as a science- the science of weaving the sacred and the sexual. Tantra is not a religion, but can be a path to enlightened states of consciousness and spiritual growth that does not deny our sexual natures. The practice of Tantra involves mediation, yoga, breathing techniques, arousal, and transmutation (movement of sexual sensation throughout the entire body).

In making the distinction between Tantric Sex and Tantric Practice as a path for spiritual growth, I would say that Tantric Sex is all about deepening intimacy, connection and pleasure through practices that allow you stay in pro-longed states of arousal. The benefits of Tantric Sex are many fold (being orgasmic, improving health, becoming a better lover). As a practitioner of Tantra you can choose to dive into it as a path to enlightenment or you can take the sexual practices and apply them to your love life, it's just wise to know the difference and to know that there is a lot more to Tantra than just sex. I have been practicing since I was 19 years old and have attained enlightened states of consciousness through the sexual practices. Tantra is now part of my everyday existence and not something separate from me.

Here's a quick and simple "Tantric" exercise to try at home. Contract and relax your pelvic floor muscles. If you are male bodied, concentrate on the area between the testicles and the anus. For those of you who are female bodied, focus high inside of your Vaginal canal on the back wall. Male bodied, exhale and contract, inhale and relax or push out, female bodied, inhale and contract, exhale and relax or push out with your muscles. This helps to build arousal and also strengthens your pelvic floor for better sex!

*Note- one of things that has irked me over the years when it comes to many Tantric practices is that it is very male/female centric, which leaves out the rest of the gender spectrum. If you have a female body but feel more comfortable with the male body breathing then go with that. Ultimately you have to listen to how your own body is wired regardless of technique.

In our orgasm centric culture we often forget about how much pleasure there is in the journey to the orgasm. Tantric sex is about "no goal", just enjoying where you are in the moment. I request that we listen to this Tantric teaching and become more pleasure centric. After all, pleasure can last a lifetime, but orgasm is usually a fleeting moment.

Victoria (host): "So much to comment on here! 20 hours = whoa! That is just amazing! Thank you for the differentiation about Tantra and practices, the exercises to try, and for pointing out how to make these exercises work for the gender spectrum."

Can you tell us more about your new web show? What topics do you have planned for episodes?

Oh Yes! I am launching a new Web TV show. You can check it out at www.eroticintelligencetv.com . The content will all be free to anyone who visits. Each week I will do a segment to help educate people about sex and hopefully this will result in raising the sexual IQ of our society at large. My goal is also to help give people permission to enjoy sex an release shame. I'll be covering just about every topic under the sun when it comes to sex and intimacy. And, people can write to me with questions which I will answer one episode each month. I also hope to feature a special guest on one episode a month, so that other experts can get their voices out there. It's all about education, which is why I'm calling it Erotic Intelligence TV.

I am also launching a Web TV journal that is a video blog about an experiment that I am doing. I am going to do a daily video as I go through 101 days of self pleasure practice. Yes, I am committing to 101 days of masturbation and then talking about it publicly. May is Masturbation month, so it's the perfect time to kick it off. I was inspired by Doug Brown's book JUST DO IT. In his book he describes an 101 day sex marathon that he and his wife of 14 years did. They had to have sex every day for 101 days straight. I was so inspired that I decided to try it solo. I am still working on the guidelines for myself, so feel free to help me out here. Do I have to have an orgasm each time? How long do I have to masturbate? What counts as masturbation? Etc. I am also building an arsenal of great sex toys to aid me on my journey. I hope that I learn a lot in the process and that inspire others to love themselves through pleasure. I want to give people permission to touch themselves and learn about their bodies. I also hope to continue to reclaim my sexuality after becoming a mom.

Victoria (host): "So excited for this and 101 Days of Self Pleasure! So glad that Eden is sponsoring it too! :)"

How has the birth of your son affected your sexuality?

Great question! And something that I am so passionate about sharing right now.

First a little history- The birth of my son what a shamanic experience to say the least. We had planned an orgasmic birth. My partners (I have two, aren't I a lucky woman) supported me so beautifully throughout my labor and delivery. I had anal massage, clitoral stimulation, lots of kissing and nipple stimulation. My son was born completely natural, at home in a pool of warm water in a furry of ecstasy. During the delivery of his head my pelvic floor was completely in tact, meaning that I had no tearing. But his umbilical cord was wrapped around his neck, so the midwives advised that I push him out quickly. I have very strong pelvic floor muscles (it's all those Tantric Kegels!) and so when I pushed I blew out my pelvic floor. I sustained an L shaped injury, that wen inside of my vagina (vaginal sulcus tear) and then all the way down to my anus. I healed up pretty quickly, but started growing intense Keloidal (raised, purplish scar) scar tissue in my pelvic floor. Needles to say, sex after giving birth was traumatic for me. It was three months after the birth of my baby and I thought my sex life was over and that I was going to have to have reconstructive surgery on my vagina. My vulva was purple still and held open by the scar tissue that was growing over the opening to the vaginal canal. I am lucky that I have a community of Sexological Bodyworkers here in LA. I immediately called on my friend and colleague Ellen Heed. She specializes in working with scar tissue. Long story short, after just three sessions with her I was having intercourse without pain. It was an absolute miracle.

My son is now 14 months old and I happy to say that I am having the best sex ever! Even better than before I gave birth, which is hard to believe (I was having some really great sex!). It has been a huge journey to reclaim my sexual life and I am still on the path.

The birth of my son gave me something so profound and affected my sexuality in ways that I couldn't have expected. First of all I learned about the affect scar tissue has on our sex lives (inability to lubricate and engorge with blood) and how to overcome it. Secondly, I have had to figure out how to be a mom and a sexual being, how to get my "sexy back". With a new baby it can be really difficult to find the time for intimacy with my partners, but we now schedule our intimacy which is very, very helpful. I also have dealt with body image stuff, pretty intensely. I gained a lot of weight with my pregnancy and of course my body isn't the same. In some ways though, I feel sexier than ever. And I have been lucky that my partners are so supportive and loving. That helps a lot. Third, the birth of my son affected my hormones. This causes a little dip in my libido (although it stayed higher than what I hear most women report), my hair to fall out and not grow back, and my ability to lubricate like I used to. I have made good friends with a variety of personal lubricants and that has helped with the dryness. I am very lucky that I still desire sex, lots of it! And finally, the birth of my son has changed my orgasms. Clitoral orgasms used to put me to sleep at night, now, if I masturbate at night I am wide awake- up all night long and unable to sleep. I can also have these amazing rolling clitoral orgasms, on after the other, after the other. after the other. Then there is the affect on my G-spot and my ejaculatory response. I can ejaculate so easily now, whereas before it was difficult for me to have these kinds of orgasms.

I am grateful for all that I have learned and for the passion that my experiences have given me to help other women and couples with young children. It can be very hard and without support and education I see why so many relationships end up sexless and passionless. I've been conducting research for the last 6 months and am currently working on my dissertation for my Ph.D. on the topic of Postpartum Sexuality.

Do you have a short and simple answer you give folks who are skeptical about Tantric sex? What one thing convinces people to give it a try?

I ask people if they want to improve their sex lives (and maybe life in general). If the answer is yes, then it's worth a try.

It's important to note that you "weave" Tantra into you love life, it doesn't have to be some big spiritual "to do". Practicing Tantra can be as simple as a breath.

I also encourage them to find the right type of Tantra that fits them. Not all Tantra teachers or tantric practices are the same. There are many different lineages. You have to find what resonates with you. If you are looking for something to enhance your sexual life then I would guide you towards more westernized relationship enhancement Tantra teachers. If people are looking for spiritual growth that honors sexuality then they need to do research and find teachers who are more based in the Tantric Path.

Tantra is experiential, once most people try it and feel the effects of the practices they get really into it. Who doesn't want more pleasure in their life?

As you get more and more popular and take on more projects, do you ever struggle to keep work from having an effect on home? What are your favorite strategies for battling this type of thing?

I am a HUGE workaholic! My career has taken off this last year and I have more on my plate than one person can possibly handle. If it weren't for my amazing partners I would probably never eat, sleep or do anything except work. The are always encouraging me to take breaks.

It helps that I love what I do so much! Teaching sex is my favorite thing in the world (besides having sex).

My partner (D. Love) recently sent me an article about taking breaks every 90 minutes. I argued with him about it because I often believe that everything that needs to get done won't get done unless I work like mad. But he's right, I need to take breaks and I think it will make me more productive in the long run. I don't want to burn myself out.

That being said I have copious amounts of energy. I am lucky that I don't require much sleep and that I am a very high energy person. I think that all the Tantra, orgasms and healthy eating has a lot to do with it.

My work is very tied into my home life. I have a home office and studio where I do a lot of writing, seeing private students and working on various media projects. Schedules help a lot. We schedule out time for intimacy, time for spending with baby, and date nights. Date nights are really important.

It helps that there are three of us. My partner Jon stays home with the baby most of the week. I am there too, but usually in my office (i'm still breast feeding so it is is so great that I can be home with my son.) My other partner, D.Love, has his own business and also works out of our house. So we're a really tight family and we make it all work in a very harmonious way.

I do get overwhelmed sometimes, but I can't help but continue to create. I am full of ideas and things that I want to put out into the world. My partners help me to say no sometimes and they often remind me to keep breathing.

Victoria (host): "Such a real and practical answer! Taking breaks every 90 minutes is really good advice. Working from home makes it harder to separate work time and personal time - I know that all too well ;)"

Is there educational DVD's to practice semen retention for couples. Healthy body, mind, spirit and healthy understanding is the outcome I am looking for in my relationship.

Thank You.

I get this question all the time and I have yet to come across an educational DVD that has a "heathly" approach to this practice. (Perhaps that's a message that I should make one). However there are lots of good books on the subject. I recommend looking at Dr. Metz's book entitled Coping with Premature Ejaculation (I'm not a big fan of the title, but the info inside is great.) I also interviewed Dr. Metz on my radio show and he has a lot of great stuff for men's sexual health.

I also recommend the work of Destin Gerek. He has created the Orgasmic Mastery course for men and it does have video tutorials on it. You can find him at www.orgasmicmastery.com

Otherwise, give me a year and I'll come out with a video on the topic!

Victoria (host): "It is so refreshing to see you eagerly tackle any issue in your DVD series!"

hiii .... i never feel an orgasm with my partner during sex .. i ve some doubts on presence of g spot .. on clitoris stimulation i do feel that but during inter course or vaginal stimulation i nerver have orgasm.. i saw ur video on you tube about g spot stimulation and female ejaculation n tried it with my partner n by myself for several times but ... it did nt workkkk ...could u please help me about this .. i want to enjoy sex but i never feel tht pleasure .. waiting ...

Great question!

Many female bodied people don't experience orgasm through intercourse. There are many different types of orgasms and there are many factors why a woman might not experience certain ones. Yes, every female bodied person does have a g-spot and the potential to ejaculate if they want to.

But there are factors that can affect your pleasure (bio-mechanics, bio-chemistry, emotions and scar tissue). In working with you I would have to ask you a number of questions to find out more about what may be causing your lack of pleasure in these areas. Have you had any trauma to your pelvic floor or lower abdomen? What is your diet like? How is your overall health? I would also do a physical exam to find the exact location of your G-spot body and if there is tension or any adhesion that may be affecting your pleasure potential.

Keep trying and finding out what works for you. When I interviewed women about female ejaculation on my radio there were so many different ways that they learned how to do this. You may want to listen to that episode for inspiration. It took me about a year of regular practice to find out what worked for me and my body.

Here's an article that I wrote on the G-spot which may help you. Good Luck on your journey and let me know if you need extra support. There are a number of people that I would recommend who specialize in Female Ejaculation and G-Spot orgasms- Tallulah Sulis and Deborah Sundhal

Women Speak Up about the G-Spot

By Jaiya

There was a recent study in the UK that questioned whether or not the g-spot existed. The findings of the study suggested that the g-spot was a myth. The premise of the study was to ask female identical twins if they had a g-spot. If both twins didn't say that they had one, then the study went on to form a theory that the g-spot may be a figment of our imaginations. Of course the media got hold of the study and went wild with it. Headlines began to appear stating that the g-spot didn't exist, that it was all in our heads. We were contacted to comment on it and many of our fellow sex educators began a counter attack.

Here's our two cents.

Of course the g-spot exists, but here is what most people don't know and why it is so hard to find. First of all it isn't a spot at all, but more like an area or a crest of sensitive tissue. Most people think that they are looking for a localized spot with a certain shape or size. The truth is that every woman's is different, just like we have different fingerprints; our g-spot prints are different. The reason why the study isn't very good science is that they don't take into account the fact that women experience this area in very different ways and may have different levels of sensitivity based on bio-mechanics, bio-chemistry, emotional development and scar tissue. In other words, the g-spot will be different in every single human being, so we aren't all looking for the same thing or the same sensation.

Here's what we are looking for. The g-spot has a head, body and tail that make up the entire area. The head is the Urethral Opening, every woman will have one unless there has been some major trauma to it or she has a birth defect. You can see the Urethral Opening just above the Vaginal Opening. It is a tiny hole from which urine or female ejaculate is expelled. The body of the g-spot has a number of different anatomical names. Deborah Sundahl calls it the Female Prostate. It is also known as the Urethral Sponge, and is located on the front wall of the vagina or roof of the vagina if the woman is lying down. This is a tube of erectile tissue that surrounds the urethra and fills with fluid during arousal. The important thing to note is that women have higher concentrations of this sensitive tissue in three different areas. The majority of women have most of the erectile tissue near the opening to their vagina, the second place is further inside near the g-spot tail (more on that later), and the third area is in the center of the urethral sponge. This sensitive tissue will feel similar to the ridges on the roof of your mouth when it is aroused. And finally, the g-spot tail, which is about 3-4 inches inside of the vaginal cavity on the front wall. This is also referred to as the Anterior Fornix Zone or the A-spot. This area is even more sensitive in some women who have concentrations of erectile tissue closer to the back of the urethral sponge.

Secondly, the g-spot or g-area will have a variety of sensations based on the type of woman. A g-spot may feel numb, may feel pleasurable, may feel painful, and/or may have the sensation of having to urinate. This variety of sensations is based on many things. Does the woman have scar tissue from an injury, trauma or chronic infection in the area? Are there tight muscles or ligaments affecting the area? What is her emotional state? Is she relaxed or afraid? What is her blood chemistry like? Where is she on her cycle? Is she fully aroused when she is touching her g-spot? Has she recently ejaculated? These are all things to take into consideration as they all affect the look, feel and pleasure available in this tissue.

Thirdly, how is the g-spot being stimulated? The use of fingers will produce a much different sensation than that of a toy. And not just that, but how is the finger or toy being used. The best way to touch the g-spot area is to move the tissue as opposed to just moving friction over the area. To do this, anchor your finger into the tissue by pressing into it and then move the surface tissue over the deeper structures.

It is most important to be aware that the g-spot area will change with different arousal levels, just like the firmness of an erection changes in a male penis. The level of pleasure will change. Take time exploring and finding what is most pleasurable on any given day.

Don't just take my work for it. I interviewed women who talked personally about their g-spots and shared how they discovered female ejaculation. Listen in to their interviews by visiting my radio show archive www.sexwithjaiya.com




How did you overcome the body issues you described during/after your pregnancy? What advice do you have for other women who are struggling with body issues (even if not related to pregnancy) and finding they limit their sexuality?

I have had such an amazing relationship with my body. I have been 210lbs and an exotic dancer. I felt sexier than ever when I was a bigger girl, than when I shed 95lbs and had more admirers than ever. This told me that my issues with my body were in my head more than anywhere else.

Then I moved to LA. I was in the best shape of my life and I felt amazing about my body. Most importantly I felt healthy. I exercised, I ate well and I kept my mental "shit" in check. LA is full of magazine beautiful people and lots of plastic surgery to create them. I'm not totally against plastic surgery if it helps you to love yourself more fully, but in most cases I have seen it doesn't. So anyway, I was in LA for about a year when I got pregnant. When I found out I decided that I was going to be the sexiest pregnant mamma ever! A few days later the Morning Sickness kicked in and my butt stayed in bed for almost 4 months. Needless to say I had another radical body transformation. I went from 16% bodyfat and 130lbs, to 180lbs and 35% bodyfat.

I was pregnant and that was what was supposed to happen, I understood that. My body needed the extra fat and I was growing a baby, but that didn't stop my mind from freaking out as everything changed. When I was four months pregnant I became conviced that my body was ruined and no one would ever find me attractive again. I felt like a house. My partner's both thought I'd gone crazy and one suggested that I talk to a therapist. So I did. It was profouind. I discovered that my identity is really tied into my body. When prenant our bodies change every day. I couldn't grasp who I was anymore because my body was in flux.

Another thing that really helped me both durring and after my prenancy was being photographed. Often, the image in my head is not what is captured by a photographer. In my head I'm an old house with ugly stretch marks and sagging breasts, but them I see a photo of myself and that's not at all how I see myself. It is good to see yourself from another person's perspective. Being on camera has been an absolute healing process for me. I love how I look on camera and it helps to me to shift the image of myself in my mind.

I notice sometimes that when I am making love with someone that my mind catches onto some part of my body that I percieve to be unattractive. Suddenly I am no longer feeling the pleasure, suddenly I am thinking how unattractive I am and my mind spins. In that moment I catch myself and I make a choice. I make the choice to let go of the fear and self judgement, to dive deeper into the pleasure and my connection with my partner. And sometimes I just ask him what he's thinking. No once has he said- "Oh, I'm thinking about that stretch mark on your inner thigh and how that other woman I'm seeing doesn't have that mark, so I have to break up with you and go be with her." He's usually focused on pleasuring me, his connection with me, and his own pleasure.

I recently took a teacher training workshop with Misty Tripoli, she's a Nike Elite Instructor. She also battled bulimia for 16 years and overcame it through letting go of fitness training and just moving her body in free form dance. From this she created the Groove Method, which is a great way to be fit and healthy through movement. She has a lot to say about body image. I love her 5 truths, and have added some of my own comments:

• Every BODY is unique!

Of course, yes, we are all different. But this truth simply states that each of our physical bodies is unique to us. You body will have different experience of pleasure, you body looks, moves and feels unique to you. When it comes to your partner it is important to note that they too have a unique body that will fit with your body, and move with your body in a certain way.

• There is no right and wrong. Just your way!

So many of my students want to learn how to become better lovers, they are looking for that specific technique, that sure fire way to bring their partner to that mind-blowing orgasm. Perhaps you have tried something you read in Cosmo and it didn't happen the way they promised it would. Maybe you felt as if you did it wrong, or that you are failure or even worse an awful lover. The majority of sexual techniques taught in pop culture make most people feel like they have failed in the bedroom. I am here to tell you that there is no right or wrong, only your way of expressing yourself sexually. This also ties into religious beliefs that dictate what is right or wrong morally. Ultimately though you have to decide within yourself, you have to find your way, your personal moral code.

• No one can do it for you! It's your choice.

This one may well be one of the most important truths when it comes to sexual pleasure. You may think that you are responsible for your partner's orgasm or visa versa, they are responsible for yours. I work with a lot of women who can't have orgasms. I start by telling them that ultimately they are the ones that have to find out for themselves what pleasures them. I can't do it for them, nor will my experience be theirs. Therefore, they have to start by touching themselves. You have to consciously make the choice to enjoy sex, to learn about sex and to find greater and greater pleasure through your unique body. And that begins with you do it for you.

• No one truly cares what you look like and if they do, it's their burden!

When I first heard this it sent my mind reeling. "Of course people care what I look like!" I screamed to myself, "That's what sexual attraction is all about!" This one may be the hardest truth for you to accept, but once you do, it will completely set you free and allow you to really enjoy without the body worries or body shame. I would like to add however that it is vital for you to look and feel like your healthiest you, and if we go back to the second truth, then there is no right or wrong, just your own way. I would also like you to apply this to your genitals, where it feels like a deeper truth. For the most part our partners don't really care what they look like, and exactly as the truth says, if they do, then it's their burden to deal with, not ours! Try this on and see what shifts in your sex life.

• Every moment gives you another opportunity to choose and practice self-expression! You don't truly understand it until you have made the choice, gone beyond the initial fear reaction and been courageous enough to explore and practice it.

Just know that your own self expression is what will make sexual techniques go from just techniques to an exploration and practice of pleasure. That exploration may lead to an ecstatic orgasmic erotic experience which came from making the technique a choice to practice self-expression. In other words, be you, make the techniques your own and move beyond fear.

So, hopefully this helps you. For, me it is an on-going practice and training mostly of my mind. I recently read a book on NLP or neurolinguistic prgraming, which has also been a help for me. Visualization can be powerful and helps bring me back to my own unique body, which I am learning to love deeper everday (if only it would stop changing!

)

Victoria (host): "I love EVERYTHING about this answer!!! Your truths, your past experiences, Misty's 5 Truths and your extrapolations of them. LOVE it! I am totally embracing the 5 Truths!"

Does holistic sexuality involve a partner, or all aspects of the individual - body, soul, mind, spirit...
Jim from OH/NC

Holistic Sexuality includes your own self exploration or exploration with a PARTNER or partner(s), of sexuality based on what my research partner Ellen Head and I are calling the 4 Elements of Sexual Health.

The 4 Elements Include
Bio-Mechanics- the physical body -flexibility, stamina, strength, resilience etc.
Bio-Chemistry- the hormones and blood- toxcitiy, hormonal flux, drugs etc.
Emotion- the mind and spirit- communication, thoughts, feeling, relationship, spirituality
Scar Tissue- adhesions and scarring from trauma- keloids, hypertrophic scars, emotional scars etc.

So, for example if someone has pain during intercourse, we would look at all of these aspects to help individuals and couples to remedy the pain and move into pleasure. In some cases pain may be due to toxcity, in others it may be due to emotion, and yet others to a physical trauma or scarring. Once we uncover the possible cause of the pain we would them move to helping the resolution through diet, exercise, massage, herbs, oils, emotional clearing etc...

This doesn't just apply to people who are having issues, it can apply to anyone...for example, your diet affects your blood chemistry. The cleaner your blood the more you able to engorge upon arousal. Cleansing can help you to improve your ability to get a "hard on" or a "hard around".

I could go on, but I'll leave it at that!

Great Question, JIM!

I see from one of your other answers that you breastfeed. Do you also co-sleep? How does that affect your sex life?

Yes, I am still breastfeeding and yes, we do co-sleep or bed share.

Both of these things have had a big affect on my sex life. Anyone who says that bed sharing with a child doesn't have some affect must not have had an active sex life before having a child!

For one, breastfeeding for the first time is confusing. First my boobs were sexual objects, then they became the things that feed my baby. So it's weird, you're suddenly leaking milk and you've got a baby attached to you every few hours. I felt like a milk cow and was embarrassed by all the leaking. Luckily my partner was great the first time we went to have sex and he really helped me relax around it. Sometimes when I get aroused it's like a faucet turns on. I joke now that I lactate, ejaculate and menstruate...that can make for some messy stuff and I am fortunate that both my partner and I have worked on being okay with body fluids...but it took some conversation and getting used to.

As for the co-sleeping, it seemed impossible to have a sex life with a baby in our bed. It was just so easy to have him there, especially since he is a really active breastfeeder at night. I can't imagine having him in a crib all alone in another room. It just didn't work for us, so we opted for getting sleep and having him close to us at night. At first we didn't know how to negotiate sex. We both were uncomfortable making love with a baby in the room and as he gets older he would wonder what's happening, so we started by accepting that we wouldn't be making love at night or cuddling like we used to. This was really hard, but we realize that it is temporary. Next we scheduled time when we could make love and cuddle. We get a sitter and we share this time each week. We also were fortunate enough to move to a house where our bedroom has a loft. We call it the "love loft". Some nights after the baby is asleep we craw up to the love loft where we can cuddle, make love or share pillow talk. I recently decorated the love loft with Indian Saris, liberator furniture and fancy sheets, so that we feel luxurious when we go up there. It's a perfect solution.

We definitely could use more time up there, more time cuddling and enjoying sex...but for now we'll take the quality time that we do get. And eventually the baby will have his own room...

Victoria (host): "Your love loft sounds heavenly. What a great idea for new parents, to have a place that is just for them to connect."

I know you have experience and training as a Raw Food mentor and chef. Do you incorporate this into your workshops, and what benefits can it have?


I started eating Raw Foods in 2000 and lost 90lbs over a year. It was amazing to see and feel the transformation. I have been 100% Raw at times, mostly around 85% Raw, up until I got pregnant...then it all went out the window because every time I at something green I threw up! YUCK!

To answer your question, yes, I do incorporate healthy eating and raw foods into my workshops. It just so happens that my partner Jon went to the Living Light Culinary Arts Institute and also is a Raw Foods Chef. He makes a lot of really yummy stuff. And we wrote an e-book together called "You're Sexy When You Eat Like That".

I do have a workshop coming up with Sheri Winston and Ellen Heed. It's all about Making Over Your Sex Life, and healthy eating is included. We'll have lots of Raw Foods for meals. But we are also about decadence. Jon loves Chocolate and high protein desserts. So even though we're eating raw and healthy, we'll also be eating YUMMY!

*Food and Sex- always a great topic!

Here's a little recipe to try:
Super Sexy
Smoothie (for 2)
2 cups rice or almond milk
1 teaspoon Maca Extreme Powder
¼ cup of Raw Cacao Powder
Up to ¼ cup of Agave Nectar (Make it to your desired sweetness)
2 Frozen Bananas
½ teaspoon of Cinnamon
1 teaspoon vanilla
Pinch of Salt
Blend on high power until creamy, you may need to add more liquid if your blender can't handle the thickness.

Victoria (host): "The raw diet sounds very effective! And that smoothie sounds delicious! Thank you for the recipe :)"

Thank you for joining us!

How did your "Big start"...um..start? Where do you see things going for yourself in the future?


I think things really got going for my career when Random House approached my partner Jon and I about writing Red Hot Touch. We had just finished our training for Sexological Bodywork and touring the country for almost 3 months straight. Our friend and mentor Joseph Kramer told us that we should make DVDs to go along with the book. We moved to LA and the rest is history!

As far as the future? That's a great question. I've got so much in the works- 101 Days of Self Pleasure- Erotic Intelligence TV- Oral Sex Series for Couples- Reclaiming Sexual Vitality Postpartum (RSVP)- and my Ph.D... And I'm sitting on 13 scripts that I'd like to shoot. I also really want to do some volunteer work with women. I would love to help women who have had their clitorises removed to heal scar tissue and emotion. And I'd love to go more into sex research. I guess for the future, I'll just keep doing what I love doing!!! And, I'd like to take a vacation with my family one of these days

How does tantra and trantic sex blend in with all of the "facets" of human sexuality like bdsm, toys, group sex and all the other fetishes out there? Do any of these fetishes clash with trantic practices?

I used to be very Vanilla when it came to my understanding of sex (I was only 19 when I got involved with Tantric Practices). I did a lot of eye gazing and deep breathing, a lot of yoga and meditation- all of which included my sexuality.

Tantric Sex doesn't exclude. Tantra is about saying "yes". There are many different lineages and practices. ( I am simplifying here) White Tantra is more of a spiritual/meditation type of practice. Red Tantra is where you will see more group sex, blood rituals, and blatant sexual pratices. Pink Tantra is something in between and usually very "heart-centered". My original training was in Pink Tantra- Ipsalu Tantra Kriya Yoga. I have since explored other types of Tantric, Taoist, and Shamanic Practices.

It wasn't until the last four years or so that I started looking at other aspects of sexuality. I joke that I have lived on Tantra Island for too long and now I am traveling to BDSM island or Sex TOY island. I was once interviewed by a comedian who joked that New World Sex Educator meant that I was like Christopher Colombus! I am very happy to be off of Tantra Island, but everywhere I visit I see some aspect of Tantra that deepens my understanding of it. Another meaning of Tantra is Liberation through Expansion. The more we expand our ideas of our sexuality the more liberated or free we become. The freer we are the more we can expand...

So, when I started learning BDSM, I discovered Tantra in that world too. I could see how the senses were such a big part of the play. How role play also tied in (Masculine/Feminine- God/Goddess- Divine/Human- Sub/Dom). I've also explored group experiences (with other Tantra Practitioners) and they have been very powerful ways see the divine in everyone.

To answer you questions...Tantra can encompass alll of it. Tantric Sex says yes to all of it. What may be different is the frame of ritual, of sacred. It's like dance. You can go out to a club for recreational dance, or you can go to a 5 rhythmns experience for re-creational dance...or you can go to a club for re-creational dance if that is what you intend it to be. Does that make sense?

I've notice that most of the questions are geared towards heterosexual couples, do the same principles apply to same sex couples?

Oh, I am so glad that you asked this!

Yes, Yes, Yes!

One of my big peeves about the sacred sex community is that everything is so male/female dominant. I think that they are getting away from this more and more, but I would like to see an even greater shift around languaging and more awareness and classes for same sex couples. The very first Tantra classes I started teaching were for female to female couples. It was a very powerful experience to share with other women. I am also really proud of the Femme-a-Femme project that I did with Kenneth Ray Stubbs showing female to female erotic massage. I spent 5 days sharing touch, energetic orgasm, and meditation with 5 amazing women. I hope someday to make some of my own educational films for same sex couples. We were going to shoot a male/male oral video and a female/female oral video, just for same sex couple, but budgets didn't allow for it this time...it's on the list of things to do

There is a gender spectrum and I try to honor it as much as possible. I think we still don't have the correct languaging and it needs work. We still don't even have the correct names for our anatomical sexy parts, but I am seeing a shift and that is really great.

Thank you soooooooo much for all this great advice. I have had 2 babies (now 9 and 5) and with my first pregnancy, it was horrible... vaccum extractor, huge episiotomy, severe scar tissue..the most painful sex for a year (Doc said it was all in my head, I think she cut a nerve) and my second was easier, but now my vagina is like the Grand Canyon and I can't feel my husband at all. He has premature ejaculation and I'm left frustrated. We are from a traditonal christian background and I have a lot of past issues with date rape etc...It was weird, I wasn't married and I was sexually active, I'm married and I totally want nothing to do with sex or him or any of it. That's why I'm here and trying very hard for both our sakes to get to a place of pleasure. I bought the Hitatchi (but can't use it yet as I am menstrating) plus I have a plethora of medical issues that would make your head spin. Sex is the furthest thing from my mind. Am I a hopless case or am I someone you could help?

First of all, no, you are not hopeless.

I can't tell you how many times I have heard from women that a Doctor told them it was all in their heads. One woman who filled out my postpartum sexuality survey said that not only did her doc tell her it was in her head, he then proceeded to give her numbing cream to put onto her clit so that she would feel anything!!!

I have other women also talk about feeling loose, the get surgery to correct it, but end up with pain or inability to have orgasm due to scar tissue etc.

It sounds like you could use a make-over for both you and your husband. I hear a lot going on in your story: Emotions, Trauma, Scar Tissue, and possibly so Bio-Chemistry issues going on. You would be a perfect candidate for our RSVP program. We have been doing free work with women here in LA for about 6 months as we gather information for research and our dissertations for our Ph.Ds. My research partner Ellen Heed is currently teaching in Hong Kong so we are taking a break, but if you happen to be in California we could work with you.

If it isn't possible for us to work with you, we are offering a program to help women. It should be out in August. You can see a free video at www.reclaimsex.com

I would recommend you start with the scar tissue as it will keep you from getting engorged and having that tight feeling or pleasurable sensation. I would be happy to help you or recommend someone who might be able to work with you in your area.

I would also recommend doing pelvic floor exercises or getting some sexercisers (smart balls by fun factory are great).

Your husband can also learn how to work with his PE (premature ejaculation). I highly recommend Destin Gerek as a resource or Dr. Metz if you feel more comfortable working with a doc.

There is hope. It only took me 3 sessions and I was scar free and able to engorge.

Hi Jaiya! I really love reading your answers to the questions asked so far. One of the things that caught my eye was when you said that you and your partner Jon have once had sex for 20 hours (!!!) I feel silly for asking, but how is that possible? Do you take breaks to eat and go to the bathroom, etc.? Is it 20 hours of straight sex, or do you account for "recuperation time" as well? How does incorporating Tantric exercises prolong the amount of time you have sex for? I'm not very well-versed on the subject matter, so I apologize if my questions seem silly.

When our 20 hour escapade happened we were newly in relationship with each other. We met at a Tantric Yoga teacher training...this was over 8 years ago and we love to tell the story of our meeting- how we always stayed in that space of Tantric lovemaking...

When we first started having sex we couldn't keep it under 12 hours, it was marathon sex! And it was fantastic. Every time that we decided to make love we would shut ourselves away, prepared with food, water, and yes, the bathroom was across the hall from the bedroom, so we did have bathroom breaks periodically.

During this particular session though I have to give Jon kudos. He planned it all out for us. He set up his bedroom like a temple- fabrics draping the walls and around the bed, candles, dates and mangos cut up to enjoy. I had told him that I a fantasy that I had had about being a Courtesan, he played on this idea. When i arrived to the house he took me into the "temple" and for the next 20 hours I was a courtesan. He played many different characters to draw on my fantasy. He even had little costume pieces ( a baseball cap, a tie, a baker's hat, glasses, etc)

We did eat the dates and mangos during the experience, but it was just part of the sexual experience- feeding each other while making love, eating off of each other's bodies etc. I don't remember bathroom breaks, but I do remember sensual bathing as the first part of the experience. He played a king and I was to bathe and pleasure him in the bathtub. It was so much fun!!!

The big thing that allowed us to make love for such an extended period of time is that Jon has great ejaculation control, with small refractory periods. So if I recall correctly he had about 3 ejaculatory orgasms during that period. I remember one, where we decided to see how quick he could ejaculate, just because we knew he could go on forever! That was fun!! The other thing is that our definition of sex really expanded because of our tantric training, although he penis may be inside me we didn't always have a lot of motion. I've gotten to the point where I can contract my vaginal muscles around him so that he has the sensation of movement, but he doesn't need to move. (Of course I am now rebuilding this, after giving birth, I lot a lot of my muscle strength and control.) So during those 20 hours we weren't always having "friction sex". We also shared in oral pleasure during refractory periods, but our bodies were constantly in contact and constantly receiving or giving pleasure. I also think that there was a moment when we fell asleep with him still inside me, only to wake up and start all over...

What about Tantra prolongs the experience? Well, for one, I talked about not need motion all the time due to the building of vaginal muscles to "milk" his penis. Two, we do a lot of breathing together to help move the sexual sensations throughout the rest of the body, so that we have full body orgasms as opposed to genitally focused orgasms. This allowed Jon to have orgasms without ejaculation, and lessen his refractory period. Three, we go slow, very slow in some instances. Four, we include the whole body, with touch, with kisses, with oral pleasure. Five, we use our senses- taste, smell, sight, sound, touch and energetic awareness. Six, both of us used our intentions, we both had the intention to explore, to play and to stay in the moment with each other. This creates a sense of timelessness. Neither of us could believe that 20 hours had gone by so quickly. Learning Tantric Sex involves being present, breathing, whole body awareness, transmutation of sexual sensation, sacred space setting, and mulabhanda (root lock- vaginal strengthening exercises).

Thank you, this has been fun to remember and to write about!

Victoria (host): "I am so glad this question was asked, so we could hear about the role playing that was involved in your longest marathon to date! Very cool!"

Hi Jaiya,
Thank you so much for very informative answers. I would be very interested in your opinion on [Carlos Castaneda's| http://en.wikipedia.org/wiki/Carlos_Castaneda] Don Juan Teachings. Is it a myth or reality?


Wow, didn't expect a question like this!

I am familiar with Carlos Castaneda and his work on the teachings of Don Juan. This may be a long answer- but requires a little background about my relationship with magic and spirituality.

I separate my life into two phases, on in which my life was filled with magic, spirituality, wonder, goddess worship, innocence and the beauty of living in a completely different realm. I talk about living on "Tantra Island"- it's a beautiful place and it served me well for many years of my life. The other period of my life is where I am now- which has been very much about living in the "real" word", speaking to the mainstream, learning science and doing research, being a mom and running my company. This period of my life started when I had a miscarriage a little over 3 years ago. At the same time a lover left me, a friend died and a few other "traumatic" episodes occurred. It was at this time that I realized I am human- I bleed, I shit, I have pain- and I began to question the truth of everything I ever believed. Since then I have been de-coding the magic...

Back to Casteneda...

That being said, at one point I would have told you yes, it is real. Very REAL. I would tell you that my life too looks like that, filled with magical, unexplainable experiences- A dance between worlds...
There is another book that you may be interested in called Don Juan and the Art of Sexual Energy by Merilyn Tunneshende that you might want to look into. I was reading this around the time of my shift...

Now, I might say that perhaps these stories are myth or powerful symbols of something for us to use to move through life if we feel called to use them. Myth and symbology has been used to move people for centuries. One of the strongest symbols in our culture being a Cross. We all have symbols in our heads- just think of your idea of yourself as an awesome lover- what symbol or image pops into your head? You can change the symbol or story your tell in your head and change your life. I do believe that and have seen evidence over and over to prove that is true.

Reality or Myth? What does it matter? What matters is that you find what works for you and that you enjoy the process, that you have fun, that if you find aliveness in the teaching of Don Juan and they resonate with you then use them. It's like energetic orgasms...it might be all in our heads, but hey, if it's fun and you enjoy the sensations, who cares?

Okay, I think I'll go finish that book I started three years ago (Don Juan and the Art of Sexual Energy by Merilyn Tunneshende) and see how I feel now. Maybe it's the start of integrating magic into the real world!

Victoria (host): "What a great perspective on myth, magic and reality. It is true, that everything is a matter of personal perception!"

As a Tantric person what do you do when you feel angry or sad? How Tantra helps you to resolve conflicts?

Oh YES! Tantra is a path that embraces all emotions. It says "YES" to every feeling and allows you to go fully into experiencing those feeling.

One of the biggest things that the Tantric Practices gave me was an understanding that emotion is momentary. If you pay attention to the moment you will see that everything changes. There is an exercise we call "What's Present?" where you are asked over and over again what is present for you in the moment. It might be a body sensation (tension in my shoulders), an emotion (I'm sad), something you notice outside of yourself (music in the room), a thought (I'm thinking of my mother) or something else. This exercise taught me that although I may be angry in moment, that anger will pass and will shift- nothing is permanent.

Another way that Tantric Practice has helped me to deal with emotions such as Anger or Sadness is to actually feel those emotions and breath with them. The first this we usually do when we feel these emotions (and pleasure, I might add) is that we hold our breath. Holding our breath keeps us from feeling and helps us to hold the emotion in. If you can breathe and let yourself fully feel the emotion then it can shift. If you stuff a perceived negative emotion then it may bury itself only to emerge stronger later on. Sometime emotion also effect your posture and can result in physical pain or lack of sensation due to shutting down.

So when I feel angry or sad, I try to take big deep breaths and to get "present" with what is happening in my body, mind and environment. I let myself feel the emotion- sometimes I just cry, sometime I beat a pillow. The important thing is that I don't direct it at anyone, including myself. I just let it flow out of me... just like I would allow Joy or Pleasure flow out of me...

There was a period of time when I had a conscious practice around emotion clearing. Dynamic Meditation by Osho is a wonderful way to use breath, movement, sexual energy and catharsis to clear out "stuck" emotions. I have also found Erotic Trance Dancing to be another way to help me move through emotions. I actually filmed myself going through this process in February. So far it is my favorite video. I am going to learn to edit, just so that I can edit it myself. It will be the second volume of my Female Self Pleasure series. In it I set an intention to find my "sexy" after becoming a mom. I put on a blindfold and breathe intensely for a few minutes. I move big emotions through me- tears, laughter, sexuality- I even ejaculate 7 times without much physical touch (ejaculation for women can be another way to release emotion). By the end I felt amazing, I felt so clear. I hope to find time to get back to some of these practices now that I am new mom.

First of all, Thank you Jaiya for this interview! I think you are the most unique sex educator today!

Here goes the question: For those who would like to choose Tantra as a life path where would you recommend starting? Should one find himself a guru or a mentor? What books can help?


There are some Tantric Paths that require a guru, others that say that you are your own guru and there is no guru needed.

I started out with the Ipsalu Tantra Kriya Yoga path, which is very much about you being your own guru, however there are still teachers or facilitators to guide you. I have kept myself away from paths that require gurus, although I am big on finding mentors or "coaches" to help me on my path.

I think that ultimately you have to find what works best for you. If you feel called to have a guru then that might be better than having a teacher.

I do recommend finding classes in your area and trying them out to see if you like them. Try different paths and teachers to see what resonates best with you. Don't give up if you don't like one particular style. There are many different types of Tantra out there. And stay away from teachers that claim that you have to have sex with them or involve yourself in anything that you don't want to do.

You can start practicing Tantra right now. Just pay attention to your breath. Watch the inhale and the exhale as you it enters and leaves your body. Now add a little squeeze and release to the muscles of your pelvic floor as you breathe You are practicing Tantra. It can be that simple.

Books
The Jewel in the Lotus by Bodhi Avinasha
The Tantra Bliss Formula by Bodhi Avinasha
Tantric Sex for Women by Christa Shulte
Tantric Quest by Daniel Odier

Videos
The Magdalene Unveiled by Kenneth Ray Stubbs
The Art of Female Self Pleasure:Volume One- Tantric Massage and Beyond by New World Sex Education
The Art of Female Self Pleasure: Volume Two- Erotic Trance By New World Sex Education (Released Winter 2010)
The Guide to Tantra and Sensual Massage by Sex Guide Media



Thank you again for answering my question. We live in Ohio. So, LA is sorta out of the question. But after the thyroid situation is taken care of, any recommendations you can make would be greatly appreciated!! I ha ve had a hard time expressing this and most doctors don't want to talk about it. They get flustered, blush, head down and mumble "it'll work itself out"...how exactly? I will explore the suggestions you have given so far, and if there are any more I would be grateful (and so would my husband) for the advice you have. You really are a life-saver!!

I am actually from OHIO!!!

I will check for you to see if there is anyone there that can help you. I know a few people in the community there, but I would need to check to see if they are able to work with scar tissue and other things that you are going through.

Keep in touch.
Jaiya

Thank you for discussing this interesting theme and I have a question relating to this topic. As everybody knows Tantra has a purpose to improve the relationships between the lovers and as you said :Tantra helps people to change their overall lives, not just with a partner, but with themselves. This expression reminded me the problem of my best friend. I have a best friend and she has a boyfriend. They are together for 3 years, they love each other and have a great relationships! But the problem is that she can't relax completely in the bed and she always control herself. This fact detain to enjoy enough the sexual play. I thing that the problem is in her attitude to sex because she is always concentrated. So...... the question is: What spiritual practice or techniques will help my friend to relax and enjoy the sex? May be she should imagine something to abstract? It would be grate to find the answer for this question.
Thank you


Oh, relaxation is so important to our sexuality and pleasure!

For one, most of us don't know this but the nerve that innervates the g-spot is linked into our parasympathetic nervous system. This means that relaxation is vital for vaginal and g-spot orgasms. The clitoris on the other hand is innervated by a nerve that is linked to the sympathetic (fight or flight) part of the nervous system. So I can have a clitoral orgasm with tension, even while thinking about the bills, but I need to relax in order to experience a vaginal orgasm.

So, how do we relax? There are two ways...some people try to still their minds, they focus on the breath, they watch their thoughts, they try to get to "zero" or no thought. This is the way of the meditator, sit, breathe, still the mind and relax. But there is another way... the other way is to overwhelm the system, to activate, to move to breathe, to give lots of sensation and then the mind goes to zero. This is the art of Taoist Erotic Massage or Erotic Trance Dance or some Shamanic Rituals. At the center of a hurricane is complete calm.

On a less Esoteric note, your friend might want to receive massage before entering into sex, or take a nice long hot bath, or whatever helps her to feel relaxation.

Ultimately she has to find what works for her, it it's the route of sitting in stillness and calm or the route of overwhelm there are many different practices. I have listed some below. I wouldn't however have her think about something outside of the sexual sensation or away from her partner. Many women disassociate during sex, in order to feel her pleasure she needs to stay in her body and connected to her partner. I would also recommend her trying these things by herself before trying them with a partner.

Still Relaxation Practices
-Receiving Sensual Massage
-Sitting Meditation
-Watching the Breath
-Hong Sau Mantra
-Long Hot Bath or Shower
-Sauna or Steam
-Aromatherapy (Lavender)
-White Tantra

Activation Relaxation Practices
-Tense and Release
- Taoist Erotic Massage
-Erotic Trance Dance
-Fire-Breath Orgasm
- High Activity Lovemaking with Breathwork

I would also want to ask your friend about her attitudes about sex. Sexual shame is rampant in our bodies and minds. I still even have pieces that come out every now and then. We feel ashamed that we enjoy sex, so we have a hard time relaxing into the pleasure. We feel ashamed of our bodies and our orgasms, so we try to get it over with quickly. If sexual shame is at the root of her inability to relax she may need to work on this first before any other practice will work. Although I can say that practicing Tantra helped me to deal with my shame around my sexuality, because it is a spiritual practice that embraces sexuality and it gave me permission to enjoy myself. It wasn't until about two year ago though that I really allowed myself to just have sex for pleasure (not for spiritual growth or pro-creation or transformation, just for pleasure).

Hi Jaiya,
When did you realize you wanted to pursue a career in sex education? When you were young, who did you want to be?

I was very young when I realized that I wanted to teach people how to have better sex. I don't know how it came to be, but somewhere I must have seen Dr. Ruth on TV. I remember (I must have been in eight grade), saying to my mom that I wanted to be a sex researcher and help people with fertility. This was my cover up for really wanted to teach the juicy tid bits about sex.

I started right then and there. I got books on sex from the library and from book clubs. I was lucky that my mom was very open and supportive. At that time we really didn't have internet like we do now, so I relied a lot on books that I read and from asking questions. I read a lot of romance novels! And I hadn't even had sex yet. I was a bit obsessed with reading every thing that I could, so that when the time came I would be educated and would know what to do.

Fast forward to when I was 19, I had gotten really into holist health. I was studying massage and other holistic modalities. It was at this time that I came across Tantra through a homeopath who recommended that I get my "lower chakras" take care of. I was out of balance. So, I started taking Tantra classes, then I became a teacher. It wasn't until 2006 that moved more into the western idea of a sex educator and I remembered wanting to be like Dr. Ruth.

I find it ironic that the director (Lawrence Lanoff) that I work with now was the same director who did Dr. Ruth's videos in the 80's. My manager recently said that I am a little Dr. Ruth and a little Lady Gaga with a splash of Zen. I don't know about all that, but I do love being a sex educator and hope that I can shift sex in the mainstream like Dr.Ruth did.

i love to have sex every morning before i go to work , and every evening before i go to sleep. i think it is wonderful .i am 50 years old now , my wife is 53, she loves it. is there anything wrong with to much sex?

As long as you and your wife are health and happy, no way!

Too much sex becomes unhealthy when people get hurt physically, when your sexual energy is misdirected or when it interferes with the rest of your life.

Sex is good for us. I think that sex twice a day is really healthy, who doesn't want a day sandwiched between two lovely sexual exchanges? The question is more about how much is too much sex? And I would answer it the same way- too much is when people get hurt physically from too much friction, when you can't function in the rest of your life, or when your sexual energy is misdirected.

You are also talking to a girl with a very high libido who has had 20 hour sex marathons, so I'm pro- sex, as much sex as you want as long as you both feel good about it.

Hello Jaiya! You mention being polyamorous, and that you and your two partners all live together. Do you think that as your son gets older that he might have issues with people being judgmental of his family - such as once he starts school etc? And how will you handle that if it does happen?

Yes, I currently am in a polyamorous (many loves) relationship. I have two partners- Jon, who I have been with for over 8 years, and D.Love who is my son's father. D.Love and I have been together for three years.

We all live together. It originally wasn't meant to be that way. We all like our space and I was very excited about the living arrangement that we had in Venice (I lived across the street from D.Love). But when the baby came and the economic stuff hit, we had to move in together. We have beautiful space out in the canyon. We moved from the city of LA to a larger house out in the country so that the baby could have fresh air and play outside. Jon stays home, while D. Love and I work. It all runs smoothly and beautifully. It's all pretty normal, and I don't know how just two people raise a baby in a nuclear family. It takes a lot of work, especially since we are doing attachment parenting.

We've talked a lot about we will handle explaining all of this to our son. He's so happy and health right now, growing and changing every day. We have talked about home schooling, or alternative schools here in the canyon. Most people are really open here, which helps. I think also that many family structures have changed these days. Many children have step parents, half siblings, or single families. We are just a different form of family, just like there are different people with different colored skin or different ways of being. My partners and I have thought about and I guess, honesty is the best policy. We'll cross issues as the arise, but for now we are enjoying the bliss of our little healthy man.

And, who knows by the time he starts school something might shift again. Jon loves being a father and is really clear that he wants to have a child of his own. My pregnancy was really hard on me and I am fairly certain that I don't want to have any more children. So, Jon may decide to start a family of his own. We are open to all the possibilities and I'm very curious as to how it all will unfold...

Victoria (host): "Thank you for this answer! It seems the core of your family's happiness is in the flexibility you have with each other, and with defining plans. I think that's a real strength!"

You mention Tantric Kegels. How do you do that?

The Tantric Kegel or Mulabandha (Root Lock) is key to many of the exercises and different practices in tantra. One of my teachers said that you can make anything Tantric by adding the Mulabandha!

Most teachers also focus on the "lock" part of the Mulabandha, but I think that they are leaving a vital peice out of the practice by not also teaching the "push out" part.

Here's how you do it:

For women focus on the area high in the vagina on the back wall, for men, focus between the scrotum and the anus. You want to try to isolate the muscles in these areas, but if you have to start by contracting and relaxing the anus that is okay too. First, visualize that you have tree roots extending out of you pelvic floor and into the earth. Take a deep breath and squeeze as you imagine that you are drawing nutrients into your roots and up into your body. Contract and hold the area high in the vagina or between the testicles and anus. Hold your breath. Exhale and release these muscles. As you release imagine that you are giving back to the earth. Push your muscles out and down. Repeat.

*If the roots and earth visualization doesn't work for you, you can also try an elevator. Imagine riding an elevator from the basement to the top floor and then back down to the basement.

*It also helps if you do this with a toy inside of you- I like the Jade Eggs and Smart Balls.

Victoria (host): "Excellent! A new way to do kegels!"

I have been married to my wife for 27 years,I got married at 18 and she was 19.
My wife thinks that it is weird that I only want to love and be loved,for some reason I cant get mad,jealous or hate anybody my wife tries to push my buttons to get me jealous but it doesn't work and then she gets mad at me,and says that I must not love her,but I love her with all of my heart and soul.Should I fake being jealous to make her happy,not sure what to do.
Please help,I really like who I am and dont really want to change,but I will to make her happy.
Thank you for your help

We are taught in our culture that if we don't get jealous then we don't really love someone, or if our partner doesn't get jealous then they must not love us. This is so sad to me. For some reason we have equated jealousy with love. The Jealousy=LOVE equation has never worked for me. I often feel something called Compersion, which is where you feel a greater sense of love and attraction to your partner when they love or are being loved by someone else.

I have a lot of love to give and so do my partners. I would never want to shut that down.

I feel your dilemma and I hear how much you love your wife and want to please her. I do not advise anyone to fake anything. True intimacy is about being transparent and honest. If you like who you are please do not change for the sake of anyone. Your wife must find her own happiness, inside of herself, not from an outside source. Easier said than done, I know, but ultimately it is not your responsibility to make her happy.

There are some great resources out there that may help you. You may see if your wife is open to learning more about jealousy. Look at the work of Osho www.Osho.com- there is an article on the site about Jealousy that I love...look up "darkness-adepts-jealousy". Frank Natale's Mastering Alive Relationships book is one of my all time favorites and I recommend it over and over and over again (www.franknatale.com), and a more modern speaker on relationships, sexuality and jealousy Reid Mihalko (www.reidaboutsex.com )

Hope this helps!

I know you're from Ohio but you left us to move to the big city. I live near Cleveland and would like to find a tantra teacher nearby to work with. Not such an easy task considering this area is not as open minded as the West coast. Having said that, if you know any enlightened ones in your home state-closer to Cleveland than Cincy, I would appreciate a recommendation or two. Thanks...

There are a number a resources to find tantra teachers. I don't know of anyone in your area and it depends on what you are looking for. If you are looking to work one on one with a woman you might find someone at www.sacrederos.com or if you are looking for group classes try www.tantrabliss.com

The important thing is finding a match that works for you. Before you contact a teacher find out what you want in regards to learning tantra. Do you want an experience? Do you want to learn to become a Tantric lover? Are you seeking spiritual growth or possibly enlightenment? Once you know what you want then do your research about the teacher and make sure that you communicate what you want to get out of working with them. I strongly advise working with teachers who claim that you need to have sex with them or break your boundaries in order to attain growth or healing. Look at a teachers credentials and what Tantric Lineage they come from to be sure that they match with where you want to go.

When one practices tantra what happens to one's orgasm? How does it shift?

Does the orgasm change from being merely a brief and fleeting experience to one that lasts for minutes, even hours? Does the quality of the orgasm move from a simple external physical release to something internal - perhaps a spiritual experience? As one progresses on the path, is it true that one no longer experiences orgasm as a genital phenomenon but rather as something deeper...as a whole body expression? If so, what makes the whole body orgasm unique, special, significant? Thank you....




The Tantric Orgasm is usually an expanded orgasm or energetic orgasm, meaning that it lasts longer and is a fuller bodied experience. The quality definitly moves from a simply physical release to something greater. There are number of different types of orgasms that I would categorize as falling into this realm. I will define them below to try to answer your questions.

The Kriyatic Orgasm- A Kriya (action) is the movement of sexual energy or sensation throughout the body that causes a jerk or jolt in the physical body. Kriyas can also cause wavelike movement to undulate the spine as they rise. I would call these energetic orgasms. They are very pleasurable and there are many differnt theories as to why they may happen. If you have ever had "aftershocks" after a powerful orgasm then you may have experienced something similar.

The Kundalini Release- Kundalini is a huge subject, to put it really simply, this is the sexual life force energy rising up the spine like a serpent and bursting out of the top of the head, then showering down over the body. This type of full energetic release often has highly pleasurable and intense sensations as it rises up the spine. Many people report this to be a moment of spiritual awakening.

Full Body Orgasm- This is about becoming orgasmic as opposed to just having a genitally focused orgasm. Most people report tingling all over, extended feeling of orgasm, a feeling of floating and being energized at the same time.

Expanded Orgasm/Becoming Orgasmic- This is more of a genital orgasm that lasts for a longer amount of time than the average few seconds. Sometimes people experience the sensation of orgasm for as long as an hour or more. There is also becoming Orgasmic, where you lead life in an orgasmic state as opposed to just having an orgasm.

*Any of the above orgasms can happen with or without ejaculation.

As you go down the Tantric Rabbit Hole you become more and more at choice about the type of orgasms that you experience and when you experience them. You can choose the deeper experience or the "genital sneeze". For example, you wouldn't want to just eat hot dogs when you can also have a full course organic meal. Sometimes you want a hot dog and sometimes you want decadence.



What advice would you have for a couple in which one partner is more sexually focused (goal/orgasm driven) while the other is more sensually oriented. Can harmony be achieved?

Oh, yes, harmony can definitly be acheived, it just matters how willing the two of you are to work together on this.

Some ideas...the person in the relationship who is orgasm focused has their orgasm, then you play in the after glow doing sensual massage, cuddling, playing in the sensuality, languishing in the post-orgasmic space. Sometimes ones an orgasm is had the space can open up for sensuality and intimacy.

Another option is playing with mutual mastubation- this way you each can get there at your own pace in your own way, while at the same time witnessing the other to see what pleases them the most. You can both learn about each others turn ons this way.

What's really important is communication. If you both can communicate about what you desire and find the places where you both meet. It's the meeting points that you pay attention to. Can you be sensual and move towards orgasm at the same time? Is is possible for the person who is more goal focused to get lost in the moment, to get lost in the journey to the orgasm? What would happen if you both just focused on the pleasure regardless of goals?

There is hope and yes, harmony can happen!

We have a tradition around here...please finish this sentence: "Sex is...."

Sex is...

...the energy of life, the vital essence that we are all created from, a dance between two or more bodies colliding into one, union of body, mind and spirit, a way for me to transcend, relax, heal and grow..

The following is an excerpt from my Sacred Sex for Women course manual...

Now let's look at the definition of sex.

Main Entry: 1sex
Pronunciation: \'seks\
Function: noun
Etymology: Middle English, from Latin sexus
Date: 14th century
1 : either of the two major forms of individuals that occur in many species and that are distinguished respectively as female or male especially on the basis of their reproductive organs and structures
2 : the sum of the structural, functional, and behavioral characteristics of organisms that are involved in reproduction marked by the union of gametes and that distinguish males and females
3 a : sexually motivated phenomena or behavior b : sexual intercourse
4 : genitalia

Okay, so that made me look up "Sexual Intercourse"
Main Entry: sexual intercourse
Function: noun
Date: 1799
1 : heterosexual intercourse involving penetration of the vagina by the penis : coitus
2 : intercourse (as anal or oral intercourse) that does not involve penetration of the vagina by the penis

I find these definitions of sex to be so limited. Don't get me started on the limitations that I feel when reading them. I don't know about you, but for me sex is so much more than someone putting their penis in my vagina. Sex is a way to connect intimately; sex can be flirting, sex can be kissing, sex can be sensual massage, sex can even happen without touching. I would like to take the word "foreplay" out of our vocabulary. I think that it limits our ideas of sex, everything can be sex. I think that a lot of people feel as if they aren't succeeding if they aren't having intercourse. There isn't room to just play, to make out, to go slow and savor what is. And what about same gender partners? Don't these definitions leave them out completely?

I define sex as an exploration of pleasure through the senses, either alone or with a partner, which includes arousal that may culminate in orgasm or an orgasmic state of consciousness.

So my definition of sacred sex is sex that is conscious...sex that has a container built around it (meaning ritual or agreements), sex that is a journey, sex that allows us to feel something greater than ourselves at work. Sacred Sexuality is about seeing the divine in our partner or in our self; it is about embodying the divine essence of our spirits and dancing together in the infinite ocean of orgasmic bliss.

It can also be the moment when we consciously create another being, a child, a spirit that has agreed to become human.

And what about transformational sex? Transformational sex can be life changing...it can open people up in totally unexpected ways...and that brings me to the defining specifically what I mean by each of three areas of sacred sexuality that we will be focusing on in this course...

Victoria (host): "Wonderfully thorough answer! Thank you! (h)"