The line between the mainstream & pornography is blurring. As a crossover sensation, how do you see our attitude about sex and entertainment changing?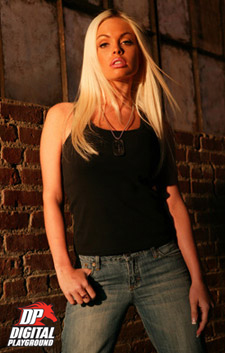 Digital Playground contract star Jesse Jane's career is highlighted by leading roles in Pirates and Pirates II, the biggest adult production in history. However it's her mainstream success in shows like Entourage, movies, music videos, and syndicated radio which made her a true household name. Jesse writes for numerous magazines and is the entertainment editor for CHERI. With her newest DP movie, Atomic Tease releasing this month, she continues to court attention from all sides.
Your latest release from Digital Playground is Jesse Jane Atomic Tease. It has a great "vintage" vibe to it. Do you feel that as adult films evolved you have been allowed to develop more complex characters in your films?

Yes, I think I have gotten to explore a lot of different characters in different time pieces. It's been great to evolve and explore more than just the average pizza delivery or pool boy films.

You work for a really kick ass feminist company- how have they helped guide your carreer?

They made me who I am today. I am very lucky to have them marketing me and backing me.

What do you see being the major changes to come in the adult industry?

It's all going to be the web and live video.

Why do you think that mainstream entertainment is becoming more acceptable for adult actors and actresses to foray into? Have you noticed a change in casting and willingness to be more open-minded about adult film stars?

Because people are finally realizing sex is just sex.

How far into the mainstream are you aiming to go? Would you be interested in taking on mainstream starring roles, like Sasha Grey in Steven Soderbergh's The Girlfriend Experience?

I would love to! I think mainstream is fun. I love getting to talk on different projects and I would love to do more.

Are you planning to do more mainstream acting work? What kind of work most interests you in Hollywood?

I have done some mainstream work, and I would like to do more. It doesn't matter what. I like to do different things.

Where do you see your career going in the future? Any plans to get behind the camera?

I see myself making movies for a few more years and then creating my own toy line. I might direct, but I haven't really decided if that's what I want to do.

Once you decide to retire from performing in the adult industry, will you remain active as a writer or director within the industry?

Yes, I will stay in the adult industry. There is so much more to do and learn in this business besides performing.

Is there a certain age that you want to retire from acting at?

Do you feel there are less opportunities for women as they get older in the adult industry?

What is your favorite part of being in the porn industry? Do you have any jobs on the side, or is this solely your career? Also, when did you first get into working in that job, and what made you decide that you wanted to be a porn star?

I love having great sex with people who know what they are doing. It's a full time career that I got into because I wanted to become a sex symbol.

when you first got into the business, what were your expectations if any? did you actually have goals getting into the business? if so what were they? have you accomplished them? where in the business do you see yourself in 5-10 years?

I just wanted to be a known sex symbol, and yes, I have achieved it.

Could you finish the phrase, please: Sex Is__________

How difficult is it for you to maintain your privacy? Do you ever feel overwhelmed by public attention?

It is difficult at times, but I love it. I wanted the fame.

The recent cancellation of the University of Maryland's screening of your movie "Pirates II: Stagnetti's Revenge" has made worldwide headlines. How has that affected your career? And was it in a positive or negative way?

That was the best thing that could ever happen. It got my name and the movie out there even more, and is having a positive effect on the sales of "Pirates II". People are always curious about adult entertainment, so the government saying no to those college students just made them want it more. It's a great chance to talk about issues like sex.

If you could go back in time and change anything in your career or lifetime, would you and what would it be? Do you have any regrets?

I have no regrets. You live and you learn. I don't think I would change anything.

What do you find is your favorite 'job'? (Mainstream acting, porn acting, writing, etc) If you could only pick one, which would it be?

Making movies.

With your enormous crossover success you have had quick leap to stardom. How has the transition affected your work in both industries? Does one have a more positive or negative affect on the other? Do you still encounter old stereotypes about the adult industry?

It is very positive. No negative effects.

With such a wealth t of information available at peoples fingertips because of the net many ideas, behaviors or activities have moved from the fringe and into mainstream societies consciousness. Do you think a more informed society is helping to build a more tolerant society in terms of what is acceptable in media/entertainment?

Who is the greatest porn star of all time?

I love Traci Lords and Ginger Lynn. I think Jenna Jameson helped open doors for girls in the porn business as well.

Who is your greatest role model, living or dead, that you look up to and aspire to?

What is the one item in your closet that makes you feel the sexiest?

What are your passions, if any, outside of the porn industry? Fashion, travel, art? What is it that drives you, makes you wake up everyday with a smile on your face?

I love traveling. I want to see the world.

Is there still a fantasy or particular sex scene you wish to explore?

I have done them all!

How do you stay in shape? What kind of diet and excercise plan are you on?

I love walking. If the weather is nice I walk at least 5 miles a day. I try to eat right, but I have weakness for sweets and Mexican food.

Have you practiced Tantric sex?


Yes I have, but it's not my thing.

What advice would you give someone who is considering going into the adult industry? Do you have any tips for someone who would like to get started but doesn't know where to begin?

Just know what you are getting into and never do anything you don't want to do.

In the Jesse Jane product line, which toy is your personal favorite?

What was it like to have a mold/cast made of your vagina?

Weird. It was heavy and felt funky.

You currently have several Jesse Jane toys on Edenfantasys, however, they're made out of lower quality materials like jelly. Would you or are you considering a new line of toys featuring more body-safe and eco-friendly materials?

This year I will have my own toy line way better than anything out. It will be very body safe and a lot better quality.

What's your favorite sex toy?

What challenges have you faced in your personal/family relationships due to the nature of your work?

Honestly, none. My family knows I treat this as a career and have done very well for myself.

When you first started in the adult industry, how did your family react? Did they approve? Disapprove? How do they feel about it now?

The were very shocked, but eventually got over it.

How does your film career affect your personal sex life?

How have relationship partners fared with the idea of you engaging in sexual activities in your films?

With making so many sexually charged films- have you ever felt like your personal sex life was lackluster, less intense or desirable than the sex you have in your movies?


My personal sex life is crazier than my film sex life. My home sex life never suffers.

Do you think you'd like to eventually settle down and have children (I say eventually because if it were anytime in the near future you'd break a lot of hearts)? Would you stop filming altogether while planning for a family or continue with your career?

I do already have a family. It's the best thing ever!

I can only imagine how many men come up to you and think because you're a porn star that you'd sleep with them. What do you say to these types of guys? Or do you just turn and walk away?

I just laugh. It's funny.

are you single? if so? if you were out with the girls, are you approachable? would you approach a guy you liked?


I'm married, but I'm still very approachable.

I remember seeing you on Shotime's Family Business.
Do you think it's easier to have a relationship with someone in the business or someone who's not? Are you currently in a relationship with anyone?

Yes, because they understand what goes on.

Jesse, given the increase in STD rates in the US, do you think that the adult entertainment industry (in particular films made for het-identified men and women) is doing a disservice by showing penetrative sex without the use of condoms, or do you think that showing condom use would reduce buyer satisfaction (and therefore, lower sales)?

It would reduce buyer satisfaction. I hate to say it, but it's true.

In the adult industry, what is the standard for STD testing of actors?

Along a similar line, are there rules about birth control for actors that must be followed?

No one can tell you anything about birth control, but everyone is always really safe with regular testing before shoots.

Have you ever developed romantic/emotional feelings for a co-star onset or off?

Who is the biggest celebrity (music, porn, politics, etc) that you've ever had sex with? Was it personal or just business?

I've had a few.

Have you ever worked with a partner for a film that you did not particularly care for?

No. I always choose my partners.

What is one of the strangest requests a director has ever had?

If I would pee on someone.

Do you or have you ever faked an orgasm in a film?

What do you do to get ready for a porn scene? Any cool little pre-shoot rituals, snacks, yoga positions, stretches...?

I'm always ready for sex, so I have no routine.

how do you prepare yourself mentally for a daily shoot? are feelings ever involved or is it just a day at the office? Does it all depend on the other partners or it really doesnt matter who you will be working with?

I'm just ready. I'm always ready to have fun. It's so much fun for me, especially since I get to pick who I work with.

johnny romance
what is the average time it takes you to orgasm? does it depend on the position, partner, mood?

3 minutes in reverse cowgirl.

How long does it usually take to film a sex scene?



being in the industry for a while, what have you found that has surprised you the most about your own sexuality?

That I'm a nympho. I have to have it all the time.

How did you come up with your stage name?

We were in the office and my boss said "Jesse". I was being a dork trying to be James Bond, so I was like "Jane. Jesse Jane." LOL.

As a woman in the adult industry, do you come up against negative attitudes and stereotypes when you do work outside of that adult sphere? If so, how do you deal with it?

How did you get on Entourage? Did the show's producers approach you, or did you go to an audition? For those who didn't see that episode, what character did you play? And, for the record, did you get to "hug it out"?

I was approached. That was so much fun! The guys are great. They were so cool. I played myself in the Pussy Patrol.


I would guess that a lot of people in the pornography industry would love to be successful crossover stars like yourself. What do you attribute that success to? What advice might you give some one else who is in the industry and trying to crossover into more mainstream work?

I work my ass off. It's not just about making films. You need to promote yourself on web, radio, magazines, etc. There is so much. Plus, I have the best company backing me. If you want in the business, work for it.

Would you do a reality show about your life, and has anyone approached you with this idea?

I would, and I have been approached so we will see what happens.

Can you recall the moment when you realized that you made it big in the industry?

When I was getting asked for my autograph in Oklahoma where you can't even buy porn.

With all the success you have had in the adult industry so far, and your continued endeavors in going more into the mainstream side of entertainment, which do you prefer? Do you find you like being behind the scenes writing for magazines, or are you happiest when you're in front of the camera?

I love being in front of the camera. It excites me.

How do you think porn influences the modern American family in today's culture, if at all? Do you feel as though it is still perceived as a threat to marriage, monogamy, etc., or do you see it as being more of an outlet which can help couples with problems in their sex lives or serve to inspire them sexually?

I believe it is an outlet to help couples explore new things in their relationship. I feel it makes couples stronger. The better the sex life, the happier the marriage. It's like learning a tool. Porn helps you learn new things.

How much does porn's past influence its present (and future)? As everything else in pop culture has gone 'retro' in recent years, does the porn industry look back to its earlier days (stags, sexploitation cinema, the swinging 70s, etc.) for inspiration?

I hope it doesn't get too retro because no one wants to bring big bushes back! LOL! Directors look back and see ways to make their films prettier and more artistic. Unlike back then, women now create and watch porn, so it's more about looking forward.

Has the internet positively or negatively affected your film career?

Both really. For most stars, it allows free and easy access to their movies. However, Digital Playground is great and closely monitors all pirated content and prevents it. The internet let's me get up close and personal with people on Twitter and Myspace, so it's great for that!

How old were you when you first realized that you wanted to get into pornography and how long did it take before you were starring in your own films?

I was around 19, but I waited until I was 22.