Hi everyone! Sorry I am so late at getting this post up! It's been pretty hectic around here lately.
I want to begin by saying how proud I am of our community! I want to thank everyone who donated points. As corny as this may sound, it touches my heart when I think of how generous and selfless our community members are. I love you all!
I've adopted a family through the Adopt-A-Family program at our local Salvation Army. As some of you may know, I live in Canada. I'm not sure if our rules are any different than yours but I was given very minimal information on the family. What I can tell you though is that the family I had adopted consists of a single mother and a 4 year old daughter. I was given a list of things that the daughter likes. The list was quite simple. The girl likes princess stuff, Barbie stuff, play-dough, puzzles, craft items, and stickers. I had decided to go with the princess theme for all of the items I purchased.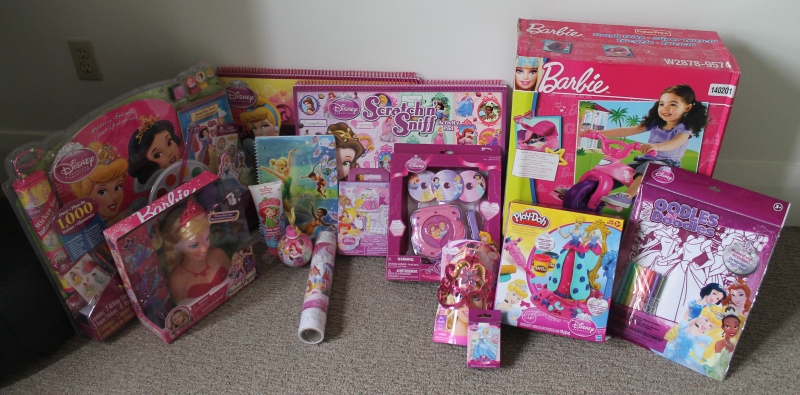 The program coordinator had told me that the volunteers who adopt the families don't typically purchase for the parent(s)- just the children. I asked her if I could purchase a few things for the mom and she said that was fine. Since I have no idea of the age of the mother, I decided to get her a sampler of high-end perfumes that includes a gift certificate for a full bottle of her choice and gift cards.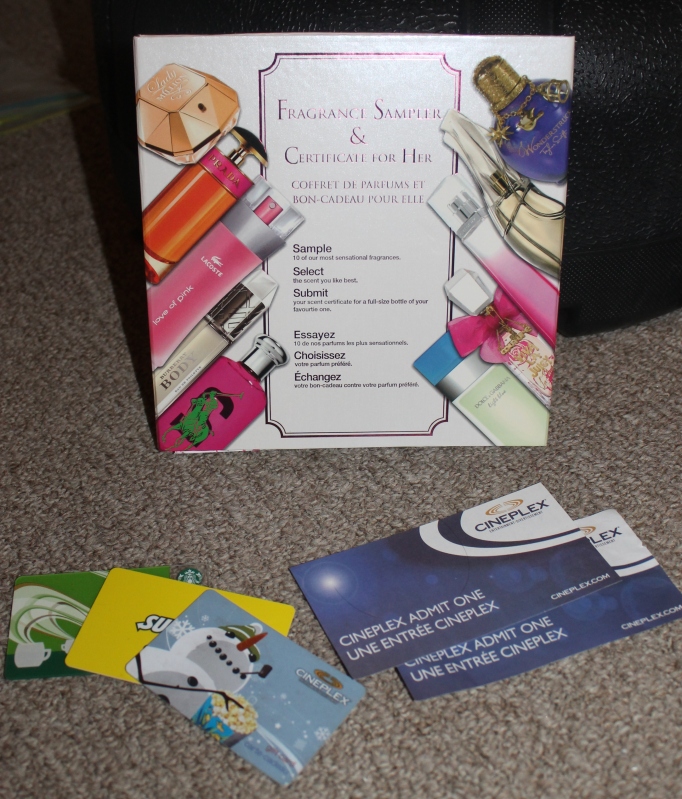 I also called our local outreach program. I had talked with a woman named Stephanie and asked her how I could help this season. She told me that on the 18th and 19th of December, families with low-income can come in on those days and pick a present for their children. She had told me that they really need toys that would be appropriate for children from ages 1-3.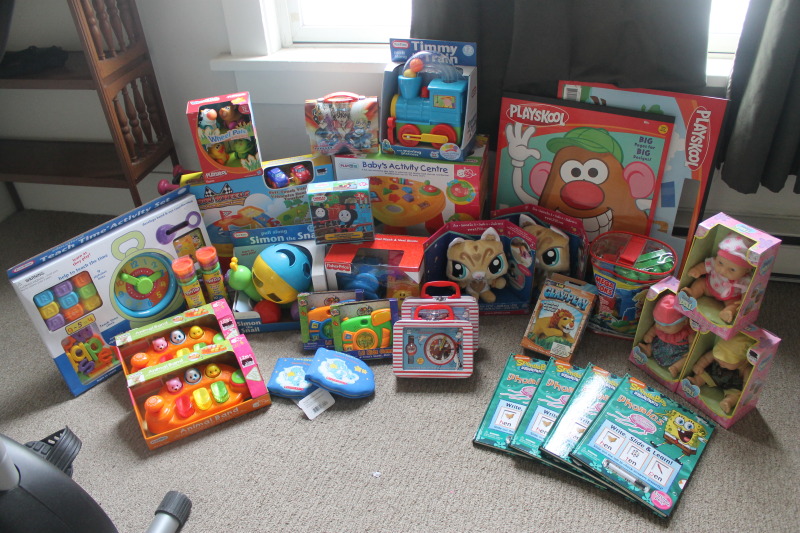 Tomorrow the Salvation Army will pick up the items for the family and on Monday I have to bring the toys over to the outreach centre. I actually haven't received the cheque yet from EF so I used my credit card since the items have to be tomorrow. I assume that since I am Canada and it's the holidays, I won't get it until mid next week at the earliest. I went a bit over budget, but I couldn't help myself!
I wrote out a quick list of all the items in the pictures above for those who prefer to read instead of see photos.
For the mother:
-Fragrance gift set that includes a gift certificate for a full sized bottle
-2x admit one movie tickets to Ciniplex
-Ciniplex $25 GC (can be used on movies or concessions)
-Starbucks $10 GC
-Subway $10 GC
For the Daughter:
-Barbie tricycle
-Disney Princess Oodles of Doodles
-Play-Doh Spin and Style Cinderella
-Disney princess puzzle
-Barbie Tiara
-Disney Princess Walkman
-Disney Princess Activity Kit
-Disney Princess Scratch and Sniff Activity Pad
-Strawberry Shortcake Body Wash
-Disney Princess Bubble Bath
-Disney Princess Colour Roll
-Disney Fairy Notebook
-Barbie Princess Popstar
-Disney Princess Storybook Activities
-Disney Princess My Princess World
For the Outreach Children
-3x baby dolls
-4x Spongebob SquarePants Phonics Books
-2x Carebear plush books
-Clay Play Lion
-Mega Bloks
-2x littlest pet shop animals
-Baby's Activity Centre
-2x Cat in The Hat Tins with Time Teaching Activities
-Timmy The Train
-Thomas and Friends puzzle
-Bakugan lunch tin
-2x Playskool large floor pads
-2x Animal Bands
-2x Play-Doh Party Packs
-Teach Time Activity Set
-Simon the Snail
-Wheel Pals
-2x Lil' Kidz Camera
-Animal Stack and Nest Blocks
-Vehicle Play Set
So thank you so much again to EF and the community! We're going to make a lot of children (and a mom) very happy this year!