Hey there, old friends!
Obviously
, I have some news!
You might have seen
this
: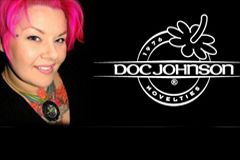 Doc Johnson Taps Victoria Bowman-Steinour as Director of Marketing, PR
Doc Johnson Enterprises has created an in-house marketing department and has named Victoria Bowman-Steinour its director of marketing and public relations.

Bowman-Steinour joins the Doc Johnson team after four years in the adult industry and a decade prior in marketing, development and community outreach in the mainstream market. Prior to moving marketing and public relations in-house, Doc Johnson was a former longtime client of the Fifteen Minutes agency.

"We've had a very successful partnership with Fifteen Minutes over the last few years and have greatly enjoyed working with the agency," said Chad Braverman, Doc Johnson's director of product development and licensing. "As we focus more on strengthening our internal resources, creating an in-house marketing team was a natural progression for us. We are excited to have Victoria on board to lead this new department. We're making great strides to increase the company's drive and efficiency."

Bowman-Steinour was formerly the marketing director at EdenFantasys, where she spent three years growing the brand visibility, consumer interaction and hiring a sizable outreach staff. She specializes in targeted marketing, consumer outreach and brand cohesion, the company said.
To say that I am excited about this new job is a huge understatement! I am into my third week here at Doc and loving it. It's a busy busy place and I know I'll never run out of serious work! And... I have been doing some behind the scenes blogging and development here already – some of the biggest things I've worked on so far are the company website (we're still working out the changes), the
company blog
which is totally my baby and that's coming along nicely, getting Doc's
social
media
up to speed and creating a
Tumblr
for more behind the scenes sharing, and creating a campaign for our 35th anniversary! BUSY! But awesome!
Didya see that we have a
35th anniversary contest
going on? 35 prizes for the '35 Days of Doc'.
And I have a whole 'nother post coming about…ahem.. an iPad2 contest!
Anyway... sorry I got quiet for a while there, guys.
I really have missed you!
I just had to figure out some things and deal with misgivings...and get into a better place that I think is a great fit for me. So, here I am! Ready to kickass with y'all and share the good stuff from inside the walls of the world's biggest sex toy maker! Now...how cool is
that
?