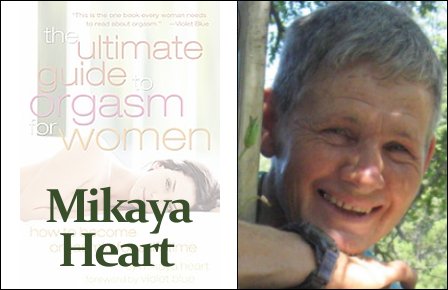 Let's welcome Author and Coach, Mikaya Heart, to Community Interview!
Mikaya Heart grew up in Scotland and lived in California until her thirties when her life changed. She
had an epiphany, sold her house, and started traveling. She hasn't stopped traveling since! Her travels have taken her to Brazil, New Zealand, Alaska, the Caribbean and many other places. Even while travelling, Mikaya Heart still finds time to write, and she has released six books with a seventh book due for release in August of this year. When Mikaya is not writing, she enjoys kitesurfing, partner dancing, and horseback riding.
Mikaya Heart's books include
My Sweet Wild Dance
which came out in September 2009 and won a Golden Crown Literary Award. She also wrote an introductory book about shamanism called
With the Sun in my Eyes
. Her new book,
The Ultimate Guide to Orgasm for Women
is coming out from Cleis Press in August and features a foreword by Violet Blue! Along with these great accomplishments, Mikaya has been a guest on 16 radio shows and has written many short stories and articles.
Do you have some
questions
to ask Mikaya Heart? We're giving you an opportunity to ask them!
Where does she get inspiration for her books? What tips would she give aspiring writers? What is she in the process of writing? What types of dance does she enjoy? Where would she like to visit in the future?
You are free to ask as many questions as you'd like, and if you want to blog about the interview, we'd love to hear your thoughts about it!
We are providing some great prizes during this interview!
Mikaya will be giving away three prizes for her top favorite three questions. These prizes will be announced on this thread after the interview is completed.
The prizes are...
1st
The beautiful
FunFactory Magnum
!
2nd
The Tantus
Infinity Plug
!
3rd
The beginner-perfect, yet powerful,
Intimate Basics Siena
!
The
interview
is open today,
July 12th through July 19th (at midnight)
for your questions!
Let's give Mikaya Heart a very warm welcome for joining us here on Community Interview!