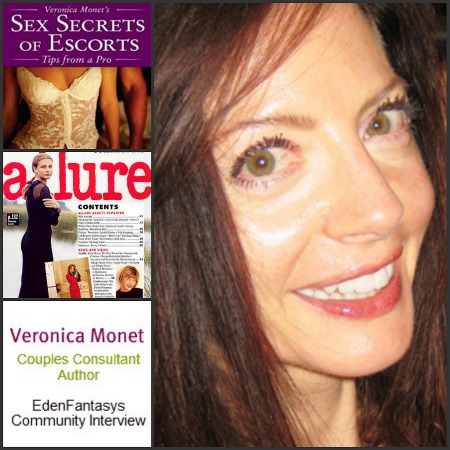 Welcome Couples Consultant and Author, Veronica Monet, to the
Eden Community Interview
!
Once a high-end escort with 15 years experience, Veronica Monet now is a couples consultant, public speaker, author, sexologist, anger management specialist and radio personality. How has her past made her a better couples consultant?
In her practice, what issues does she tend to focus on? How did her life lead her to becoming a couples consultant? How did her spiritual beliefs help change her as a person?
You may recognize Veronica from EdenFantasys. After all, she has a column on SexIs Magazine called
The Shame-Free Zone
. In her column, she focuses on the education of how to have sex without shame. Some of her past topics have included building a bridge between the genders and sex and anger.
Veronica Monet spends her time spreading her message about
sex without shame
. She has been on over 15 television interviews, has written a book and has another coming up for publication, has spoken at over 10 major universities including Yale and Stanford, and has done over 25 different in-print interviews for various books, magazines, and newspapers including Penthouse, MSNBC, and Suicide Girls. She's famous for the message she spreads, and that message is a good one:
That no one should be ashamed of their sexual selves.
Do you have
questions
for Veronica? Now is your chance to ask them!
You can ask as many questions as you'd like to; feel free to post about and link to the interview on your blog if you'd like. We'd love to hear your thoughts.
Of course, there are prizes!
Veronica will be giving away amazing prizes for her three favorite questions. We'll be announcing the winners on this thread on March 28th.
The prizes are...
1st
The
Fleshlight Lady
OR the
Couture Collection Inspire
!
2nd
The
Bswish Bgee
and
Sliquid Organics Lubricant
!
3rd
A $25 EdenFantasys Giftcard!
The
interview
is open for questions from today (March 17) through March 23rd at midnight.
Eden Community, please join us in giving a warm welcome to Veronica Monet!