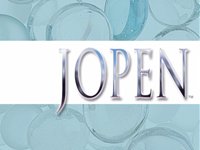 Hello EdenFantasys Community!
Have you seen the new addition that we have to EdenLink? Yes! It's
Jopen
! Let's give a very friendly welcome to Nichole, Al, and Susan for joining us here on EdenFantasys! While you're there, make sure to give Jopen a "follow" to keep up on all of their news and updates!
Jopen
makes a lot of luxury toys here on EdenFantasys. Jopen, created by the great folks at California Exotics, has toys that come in a beautiful, luxurious purple color, and there are a ton of
different shapes
to find the toy that best suits you!
Let's give
Jopen
a
very warm welcome
as they join us on EdenLink!