Just curious what kind of cameras everyone else uses or likes. What kind of camera do you have and do you love it? Or is there another camera you want?
What do you love about the camera?
Sorry. Just curious what you guys like and what you look for in a camera.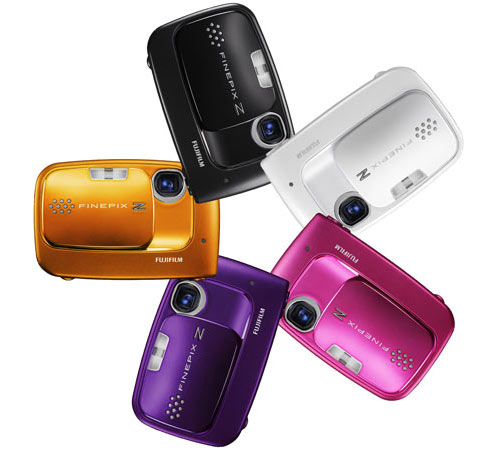 I had a FujiFilm FinePix z30 (the purple one in the picture above) that I picked out for my birthday (gift from my mom) and I'd used that thing about every day since I got it (reviewing, family pics, pets, etc). It was a great camera in terms of durability and I loved that it had the slidey door that covered the lens (I'm destructive with cameras and need that). But a month or two ago, I was taking picures of something I was reviewing and bam! My camera died. I went to charge it and it was not working. It acted like the port was loose or something because I could jiggle the charger in there and it'd blink red and charge for a second.
Anyways, I had dropped that camera a million times! I'd drop it or accidentally send it flying across the room more than one time while taking photos! Poor little thing sure did withstand a lot of abuse from me. I loved that it would hold up to my damage, but it wasn't a camera for high quality images, which was sufficient for my needs a year ago. These days though, I need good quality photos of the finger nails I design for work and I've been wanting to do videos and my FinePix did not work worth a crap for that. I considered buying a new one, just like the old one because I liked the slidey cover over the lens. It's no longer sold though. Fuji upgraded to a different, but similar model and I just decided I needed quality over damage-proof. I can learn to be careful with my camera if it means quality. I then got really interested in another Fuji I think it's the X series because it's like waterproof and sand and slightly safer to drop!
So, I'd been shopping around, reading reviews and asking advice from other people, even people on EF who use photos in their reviews. I decided a Canon seemed like a good option, but was not sure.
Lastnight, my lovie and I went out to eat and done some shopping. We stopped by Best Buy and there were 2 cameras I had my eyes on until two of the employees told me they were awful cameras! And these two were very expensive, so I wasn't taking a chance on that. We done some more looking and went with the Canon PowerShot SX500IS, which was recommended by the employee and he seemed very trustworthy since he could've sold us a $600 camera and instead led us to a $500 (actually $270 on sale).
Anyways, so this camera is my Christmas gift from my lovie. I haven't got to use it yet because the battery's charging. So I thought I'd ask you guys what you all like in a camera and what you use. I'm anxious to use mine!
Does anyone else have this same camera and if so, tell me what you think about it! Strangely enough, I can't even find online reviews on this guy! Any specific brands you love? Can't wait to hear what you guys think on this. Sorry to be so lengthy. I just want to be 100% sure this is the right camera for me before my 30 days are up to take it back. I'm thinking I'll adore it though.