So I've been traveling the last couple of days, and I got a chance to stop at one of the good brick and mortar sex toy shops. Obviously I spent like an hour poking around and feeling everything vibrate, and smiling and asking innocent questions when the staff was saying "so this is VixSkin, which feels realistic because..." (aw! so cute!)
So I figured, first, I could share some of my impressions in a real quick format, because (especially for, like, the Leaf line, there's not a lot of information out, and I probably won't wind up buying all of them so I'll never really put up full-length reviews.) And then, something super exciting happened, that I want to share, and if I were to tell my non-EF friends they'd be like "so, what are you excited about, again?" but I know you guys will squeal with joy with me.
So, first up, some observations:
Leaf line
They had them all up except for Vitality. I felt them all and they all felt pretty powerful, any one would be a winner, but my personal favorite for shape actually turned out to be the Spirit, the heart-shaped one. It seems like it would nestle really nicely. They all have only one motor, except for Bloom, which has one in each end---it was probably just that the store model's was low of charge or something but Bloom didn't seem as strong as the others. Touch, the slender leafy-looking one (like an Iris leaf in my estimation) is super-firm, and I can see it being really successful for people with shallow g-spots who like narrow toys.
Also, the green is exactly as fresh and excellent looking as the website would have you believe. So I'm probably going to get Spirit and Touch, and maybe Vitality depending on what reviews say (since I wasn't able to feel that one personally).
Sqweel
If you need pressure, the answer is no, this won't even have close to enough. Light licks, kind of like a tickle almost, but if you put your hand up to it even halfway through the diameter of a tongue, even at the highest speed, it stops spinning. I'm really sad about this. It felt really awesome on my hand, and I am super envious of you ladies who don't need pressure, because the Sqweel is unbelievably awesome! But not designed for ladies like me.
VixSkin
Outlaw is not really as thick as the pictures would have you believe. It's not really much thicker than Lone Star. It's just very long. Buck, on the other hand, even though the dimensions listed on EF are larger than Lone Star, only the coronal ridge is. The rest of Buck is slimmer. Buck will definitely be my next VixSkin, Miss Voluptuous had me mostly convinced, but seeing it with the other coronal ridge toys (Maverick, Mustang, and Bandit) which all look too smooth for a texture-lover like me, confirmed it.
Fun Factory
Of all the G4's, they only had the Tiger out of its box, but the texture felt really nice---cushy but present. The Calla looks slightly smaller than I had expected, and looks like a very good size. The DeLight looks *way* smaller than I had thought from the product page picture! But that makes it actually probably the right size for insertion---the product page just makes it look huge for some reason. Also, LayaSpot was much louder than many of the other smallish clit vibes (like Siri, Nea, Lily, Better than Chocolate) I tried at the same time.
Nomi Tang
Wow---that touch sensor for the Better than Chocolate (and I think it's the same for the Getaway vibes?) is extremely ergonomic and fun to use.
O2
They only had Adam out, but the soft skin was much less cushy (by which I mean, same level of squishiness of silicone, but much less of it) than the soft skin on Revolution.
Outlaw Leather
Oh my gosh, the Annie-O in burgundy is my perfect harness. I can't wait til EF stocks it.
NobEssence
There are many more wood styles than even appear on their website. There's this incredible tiger-stripe one... suddenly I'm a little grateful about EF's random wood selection. Maybe they'll choose me something I didn't even know existed.
Free Range Silicone
or
Hey Tentacle Lovers!
These guys are super small, and looking at their stuff reminded me of a cross between Whipspider Rubberworks, Bad Dragon, and Jollies. I hope to do a bunch of research tomorrow and suggest them in the EF should carry thread. Importantly, they had one that looked like a chubbier, shorter version of the Jollies Bandito (which I love to pieces)!!! They were all made in custom colors, and a few even had "gummies"---like the sparkles or polka dots from Jollies---inside clear silicone. They looked cute, like bubble teas with the flavored gelatin cubes. They also had some semi-realistic animalish shapes (Bad Dragon style), and one that was like the NobEssence Smooth S Shape but much softer, and one that was kind of a cross between the body of a seahorse and dragon. I almost bought the seahorse-looking one, until I found this one in green (the floor model was black and copper):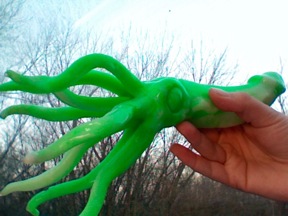 It's called the Squildo! It's like a French Tickler condom in reverse! And with beautiful coronal ridge! I'm excited!
Even then, it was kind of expensive so I wasn't going to buy it immediately. But then I saw these two huge baskets, with just a few toys in them, and the label "retired floor models, give them a quick boil and they'll be good as new!"
I asked if the ones in the baskets were for sale---apparently they had all been taken up from the stockroom and sorted into a $25 pile and a $15 pile for some expo they had recently held. They all got mixed around between the baskets so the lady told me that any one I wanted would be $20.
This was amazing, because the baskets had an FF Cavalier, an Ophoria Beyond 6, a CalEx Couture dildo, and
ENORMOUS STROKE OF LUCK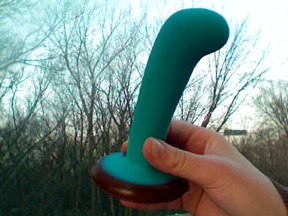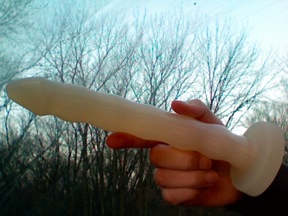 Orbit
and
Wave
!
So I snatched'em both, and got the squildo too so I wasn't completely ripping them off. Poor Orbit has some fingernail marks and you can tell it was in floor model service for several years, but Wave is just like new!
I haven't gotten a chance to bleach them or try them out yet---but oh my gosh, guys! I am so excited!
If you have any questions about anything I saw/felt, ask! I will be glad to share info---I know for a lot of people it can be really difficult to get to one of the (like, 6 in the entire US) good brick and mortar stores.