A Beautiful Formula!
Blonde Bombshells features very attractive women that feature two things in common, the have big breasts and blonde hair. The scenes are sexy but can are a bit formulaic and the same positions are used in each of the scenes without adding or subtracting one or two. The overall quality of the film is high, the talent is great, the picture quality is superb. If you are a fan of big boobs and blondes you'll love this film, if you're a causal adult film fan you may find this to be average.
Published:
Pros:
Beautiful women, big breasts, and awesome quality.
Cons:
Lacks chemistry and formulaic scenes.
Covers & Presentation
The front cover features all the lovely ladies that are in the film, five in total and all are blondes with rather large breasts (Hence the title Blonde Bombs). The background on the front cover appears to be a landing pad at an airport. The color scheme gives off a summertime feel, which is great because the women on the front are toppless.
The back cover is a typical gonzo style dvd back cover, with several bang shots from the film. The cover
Film overview
The first scene features Brooke Haven and Mick Blue. The scene starts off with Brooke strutting and dancing poolside before moving indoors where Mick Blue awaits. Brooke starts off with by giving oral sex to Mick then moves into vaginal sex in the spooning position. The two have vaginal sex in the reverse cowgirl, doggy, and cowgirl position before the scene ends with a cumover.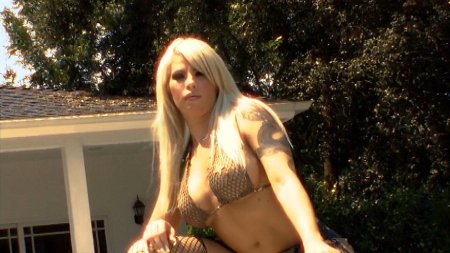 The next scene starts off very similar to the previous scene, this time with Kagney Linn Karter posing outside a gorgeous mansion. She shakes her tits for awhile before moving indoors where a guy is waiting for her. This sex scene also starts off with a blow job before moving onto vaginal sex. The same sexual positions that were in the previous scene are featured in this scene as well, just in a different order.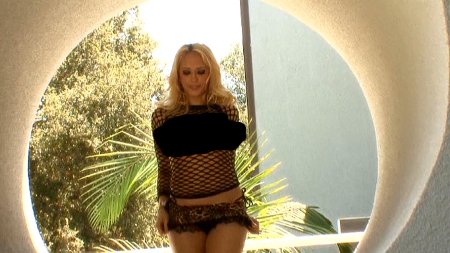 The next scene starts off with Krissy Lynn dancing and shaking her tits in a very large and elegant looking bathroom. This scene as well starts off with a blow job before moving onto vaginal sex. Just as the previous two scenes this scene also features the same exact positions; however this scene does make use of the rather large bath tub and shower and does break up the monotony. The scene ends with a cumover.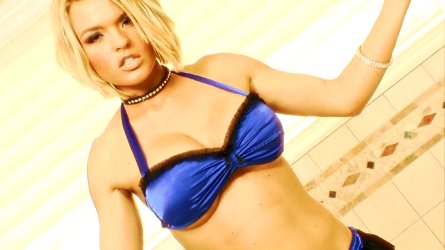 The fourth scene starts off very reminiscent of the first, this time with Nikki Benz posing poolside. Nikki shows off her breasts and pours water over them and they glisten in the sun. Unlike the previous three scenes some of the sex takes place out side, near and in the pool. Nikki starts off by giving the guy a blowjob before the two decide to move inside and have vaginal sex on a couch. Just as the previous three scenes, this scene also features the same sex positions. The scene end like the previous three with a cumover.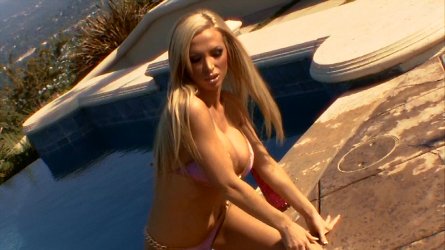 The final scene starts off very similar to the second scene, this time with Angel Vain. Angel is posing and showing off in skimpy clothing outside a large residence. This scene also starts off with a blow job, and like the previous scene it is out doors. After the blow job the two head indoors and find a bed. There they have vaginal sex in all the positions that were in the previous scene with that added position of "Missionary".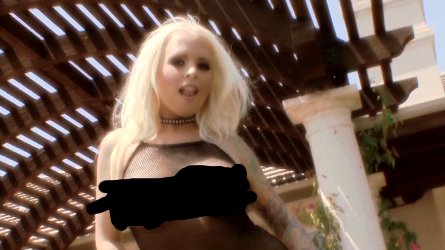 Camera/Picture Quality & Sound:
The picture quality was up to modern day standards and all the action was very clear and never blurry. The camera angles were also very good and captured all of the sex expertly.
There were no issues with the sound, all the sex noises and performers were very easy to hear and understand.
Bonus Features:
Behind the Scenes
Photo Gallery
Cumshot Recap
Experience
Personal Comments:
This is a good film if you are just looking for a film with some good looking chicks having sex. This is an even better film if you like very big tits and blondes. The quality is standard with most modern day Zero Tolerance films. While it was a bit formulaic at times, it still was an enjoyable film, and there was enough little things to break the monotony (For example the location, bathtub, shower, pool, and etc.).

If I had to pick my favorite scene, it would be an easy decision which is not necessarily a good thing. I would choose Krissy Lynn's bathtub scene. I loved her style, and I found her to be very beautiful. I was surprised myself when she seemed to out perform Kagney Linn Karter. The sex was very good, and on a personal preference note, I just digged her hair.

Kagney Linn Karter had the second best scene in my opinion, but it was not a close second. I like Kagney, I find her to be very sexy, but her scene in this just did not seem to have something that really made it standout, besides her looks. Perhaps it was a lack of chemistry between her and her partner, then again none of the scenes had a lot of chemistry.

Besides the formulaic scenes, if you are not into big boobs or prefer to have some variety of different women (hair colors) then you may feel out of place watching this film. That being said this film is geared for a certain audience, and that audience will most likely enjoy it. The casual adult viewer may only find this to be average. I am going to cut int down the middle and give this a four star rating.
This product was provided free of charge to the reviewer. This review is in compliance with the FTC guidelines.

Thank you for viewing
Blonde Bombs
review page!