Devon: Erotique? How about Devon: Ennui instead?
Awesome photography and pretty girls is not enough to warrant the price on this one. This film is as likely to put you to sleep as to arouse you. The cast is good-looking — with the exception of two bad boob-jobs — but they don't really do anything exciting. I spent more time admiring end-tables than rear-ends. I'd say only get it if you're a fan of the stars, or willing to watch on mute.
Published:
Pros:
+ Robby D's photography
+ Variety of scenes (solos, B/G, G/G/G)
+ No moaning or wet-sounds
Cons:
- Music often out of rhythmic sync with the action
- Formulaic sex scenes
- No location sound
Devon: Erotique
is a Digital Playground movie produced in 2005, and released to DVD in 2006.
Celeste
is credited as the Director, but give a round of applause to Robby Dallas, Director of Photography for the best visuals in the business. The DVD comes with a double-sided wrapper, but what's the point? Both versions feature a completely naked Devon on the front cover.
The movie was shot in
HD
in 2004 and is presented in a
16:9 aspect ratio
. There is
one audio track
but
no subtitles
, and it has a
run-time
of
88 minutes
. There are over a dozen trailers, an 8-minute
Behind the Scenes
, a photo gallery and two written bios for Jesse & Devon — but neither of my computer's movie programs would play the extras. Both programs automatically started the movie, and behaved as though there was no menu for the disc. However, the DVD worked perfectly in a stand-alone player.
Devon: Erotique
, like all Celeste films, consists solely of one-off vignettes set to music. The theme in this collection is
vintage & jazz
.
The disc starts with a brief FBI warning, and then something I've never seen in an adult movie before: a warning that the sexual activities shown can be medically harmful —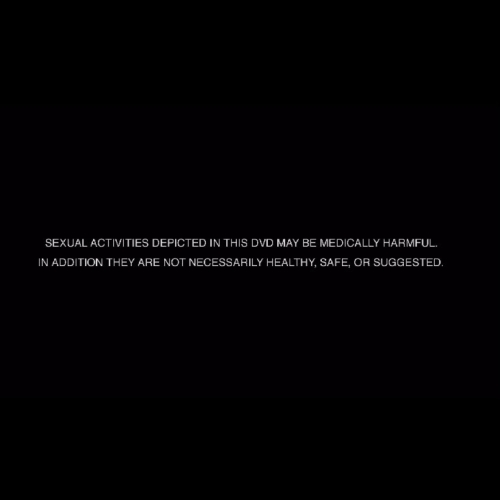 I laughed at first, but after the movie it occurred to me it was included because all the scenes are condom-free. It's followed by the usual logos and company website promos, then the movie starts. First is a lengthy opening-credits sequence showcasing the ladies in G-strings, bowties and top hats, then we move on to a...
~*Prelude*~ Jesse Jane, Nautica Thorn, Teagan Presley, Devon
Jesse Jane
,
Nautica Thorn
and
Teagan Presley (cameo)
strike a pose poolside in pink swim caps that would do Esther Williams proud. They enjoy each other's company until
Devon
comes stalking out on stripper heels. The three ladies swim away, but
Christian
swims over to investigate…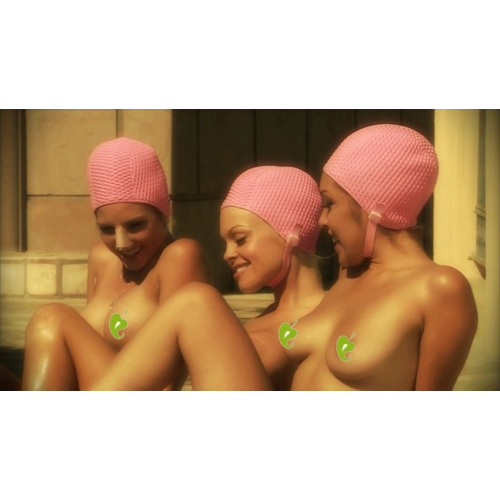 ~*Scene 1*~ Devon & Christian XXX
Devon, looking mighty pretty, vamps in the water for a few moments before climbing out on the edge and opening her legs for Christian. They take turns giving each other oral on the side of the pool, and then leave the water for some reverse-cowgirl PIV. The scene finishes with him lying on his back while he cums on her face.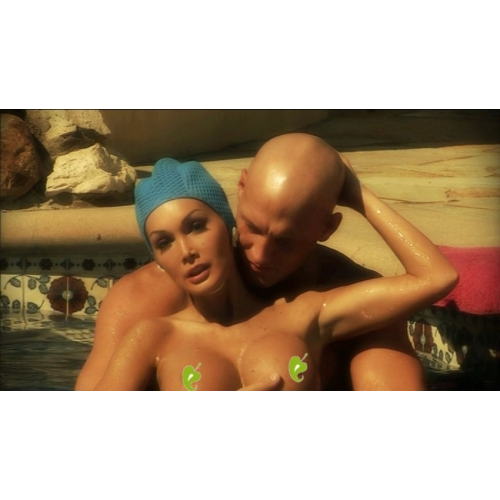 ~*Scene 2*~ Jesse Jane & Jean Val Jean
Jesse Jane, slightly overdressed for the classic Chevy she's driving, removes her engagement ring as
Jean Val Jean
parks his Ford Fairlane on the hilltop. She joins him over by his car, and it's not long before they take turns giving each other oral, then move on to a couple of PIV positions. For the finale, he cums on her face. Jesse puts her ring on as she drives away, and Jean replaces his own wedding band before driving off.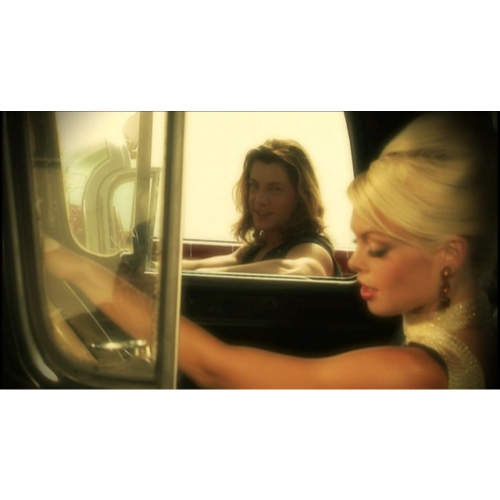 ~*Scene 3*~ Rachel Rotten
In this very odd and short scene,
Rachel Rotten
licks a giant lollypop while riding a wooden rocking horse with a giant glittery dildo in place of a saddle. The music is something you would expect from a little girl's jewelry box, though Rachel is an edgy addition to the cast with her pierced nipples. The editing implies there is a hidden camera watching her.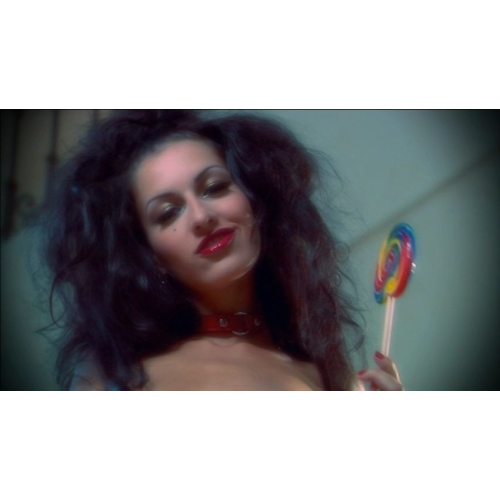 ~*Scene 4*~ Roxanne Hall, Marco Banderas
This is a B/G scene with light pony-play. While
Marco Banderas (credited in this movie as Marco Duato)
reclines on the couch,
Roxanne Hall
enters the room on all fours with a bit in her mouth and a blonde horse tail plugging her rear. Marco plays with the plug before and while giving her oral, then removes the bit so she can fellate him. Parts of her costume come and go as they move on to PIV and anal sex.
~*Scene 5*~ Jesse Jane
Jesse enjoys a little something to take the edge off, while reclining in lingerie on a lush settee. The more she drinks, the less inhibited she becomes, leading up to some vaginal play with a glass toy.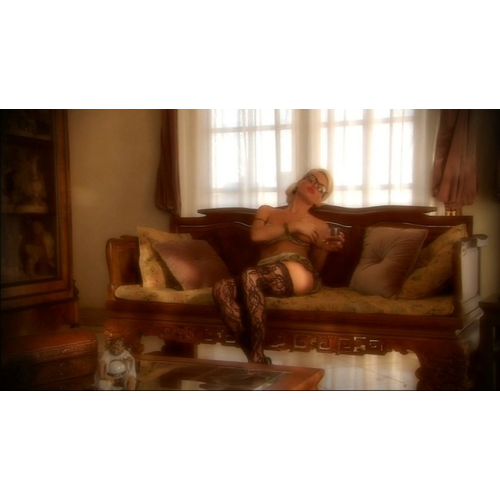 ~*Scene 6*~ Nautica Thorn, Scott Nails
The two students should be studying, but naughty Nautica has other intentions. When
Scott Nails
decides he's had enough, he takes her over his knee and gives her a few disciplinary whacks. She's the only female on this DVD who doesn't get oral attention, but that's because he does interesting things with the paddle instead. Otherwise, this scene follows the same script as the other B/G ones.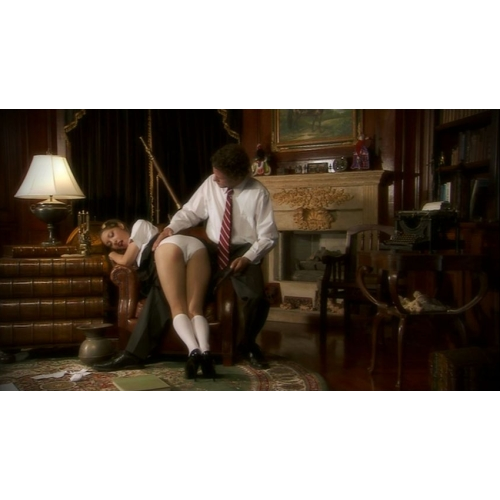 ~*Scene 7*~ Devon, Marco Banderas
Marco leads Devon in on a leash, and has a seat while she sucks on his toes. Once he's had enough foot worship, the usual B/G sex acts follow.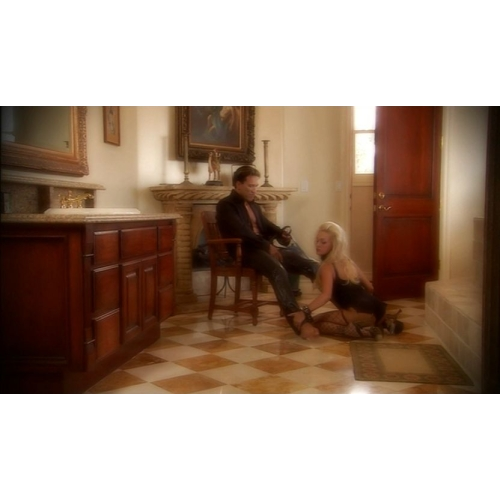 (
continued below
)
Experience
~*Scene 8*~ Jesse Jane, Jana Mrazkova, & Nikki Benz
Jesse,
Jana Mrazkova (credited in this movie as Tereza Ilova)
and
Nikki Benz
are out on a terrace enjoying drinks when they inexplicably start throwing them at one another. Naturally this leads to the removal of all their clothing as they take turns pouring the pink champagne on one another, and licking it off.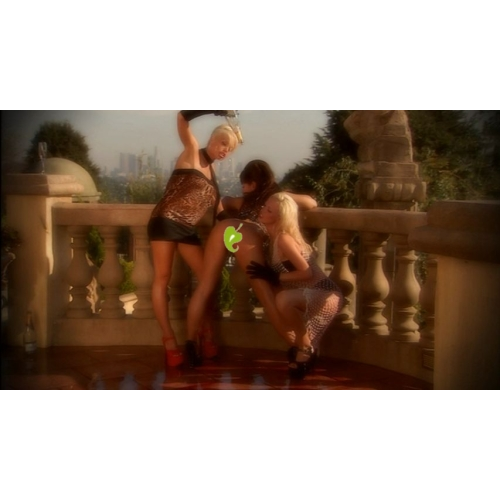 ~*Scene 9*~ Devon
We find Devon alone in a corner, caressing herself. She works her way out of the fuzzy-muppet jacket she's wearing, and down to the floor where she proceeds to play with her underwear, and then a glass toy.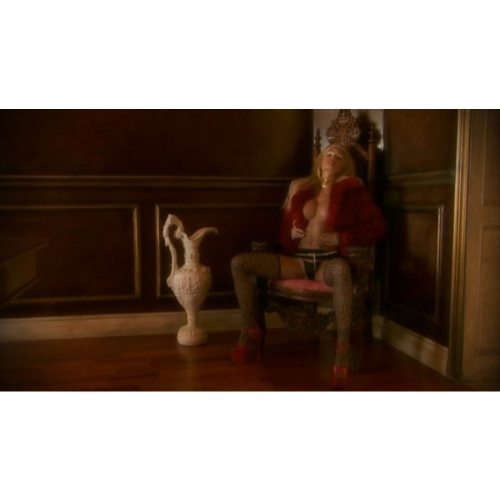 ~*Finis*~
Celeste's vignettes are hit and miss for me. I've seen a few here and there that are really hot, but the majority on
Devon: Erotique
don't appeal to me. I did like the scene with the Mr. Clean of the porn world, Christian XXX, but not the other B/G encounters. I wanted to like the "student" scene, but I couldn't overcome my dislike of Scott Nails, even with Nautica Thorn's really great turn as a brat. Unfortunately, all the B/G scenes played out like the director was giving out instructions from a checklist:
oral for her, oral for him, some sort of PIV, pop-shot. Next. Repeat.
The sex is super-scripted.
Outside of the pool scene, I found the star, Devon, lackluster. The solo scene had me rolling my eyes since her play with her underwear resembled a self-wedgie — definitely not my definition of
erotique
, and I didn't like the choking in her scene with Marco.
I did like Jesse's solo, though my husband accuses me of bias towards her eyewear and lingerie.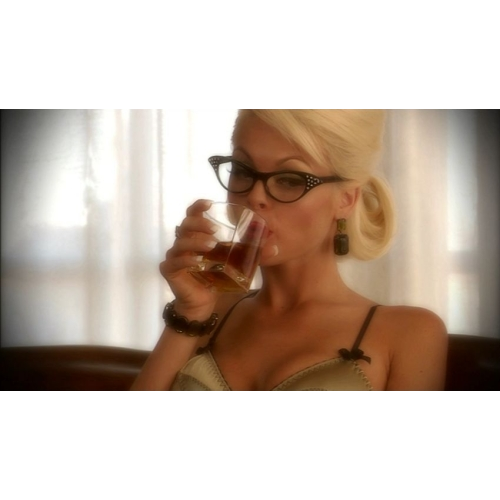 He's one to talk since he has a bias of his own for Devon's impressive sweater pumpkins, especially when she puts on her vampy-cutesy face.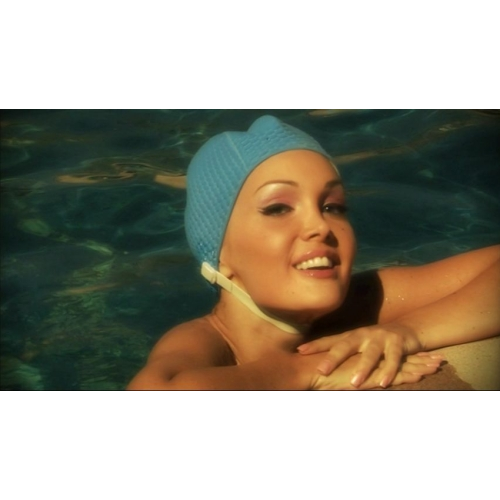 One bias we agree on: French manicures must go. Who in their right mind would want
long nails in their va-jay-jay?
The
music
was another issue. The big band ballads and traditional jazz were downers, and the '50s-style Jackie Gleason-lite muzak made me sleepy. Rachel's music box score was interesting, but very creepy. I liked the 19th century string quartet piece for the G/G/G scene, but like all the other scenes, the music didn't match the on-screen action at all.
As I mentioned above, there was a technical glitch which did not allow me to view (or screencap) the
BtS
on my computer. An unexpected plus was that I could skip past the warnings and logos, which was not the case on my set-top DVD player. The
BtS
spends a lot of time with Jesse but you get a good look at Teagan Presley during her recovery from a nose-and-boob job (which is why her nose is taped in the pool cameo).
Unless you're a huge fan of Devon or Jesse, I'm going to say skip this title. It is beautifully shot, with gorgeous backdrops (I'm a woman, I notice décor), and hot guys (Christian, Jean, & Marco), but the music is a mood-killer and the sex is uninspired.
This product was provided free of charge to the reviewer. This review is in compliance with the FTC guidelines.

Thank you for viewing
Devon: Erotique
review page!