Double the guilty pleasure..
With 6 scenes that cover one-on-one scenes to threesomes and foursomes, the only thing lacking here was more girl on girl interaction. The trash and sleaze factor was enjoyable throughout. Porn meets trashy gossip reporting for this doubly guilty pleasure.
Published:
Pros:
Trashy, sleazy, lots of references, genuinely humorous and entertaining. Well shot.
Cons:
Lacking in girl on girl, stories can be too distracting at times.
At the time that I ordered TMSleaze (a XXX parody of the television show, TMZ) I actually wasn't too familiar with what it is spoofing, but in seeing how cheesy it looks and seeing as James Deen is in it, I decided that I needed to have this in my porno parody collection.
First Impression:
TMSleaze arrives not just in its dvd box, but has a sleeve cover and unusually enough, a gossipy mini magazine! This came as a surprise to me and is a pretty sweet extra to find with a porno spoof if you are as obsessed with cheesy porn as I am. Done in a similar style to the cover, the magazine is only six pages long and in the style of a trashy celebrity gossip magazine; very in fitting with the spoof itself.
Across these six pages the scenes of the dvd are covered in a gloriously trashtastic style that had me laughing all the way though. To give an example:
-Not Spencer Pratt and Heidi Montag-
In what can only be considered the next step in Speiny-mania, TMSleaze spotted reality "stars" Spender and Heiny at Holly-Wood hot spot STD and the attention grabbing whores were at it again.....While this reporter thought that Heiny looked incredible spread eagle on a cheap Hollywood couch, Spender could frankly use a touch up in the facial hair department..'
Studio: Third Degree
Running Time: 2 hours 34 mins
Scene Cast:
Francesca Le, Tori Black, Ben English, Anthony Rosano, Faye Reagan, Mr. Pete, Dane Cross, Brynn Tyler, James Deen, Kagney Linn Karter, Chris Johnson, Ann Marie Rios, Randy Spears, Andi Anderson, Mark Wood, Rocco Reed
Non-Sex Scene Cast:
Ron Jeremy, Lisa Ann, Joanna Angel, Mike Quasar, Spock Buckton, Brian Bangs, Darryl Hanah.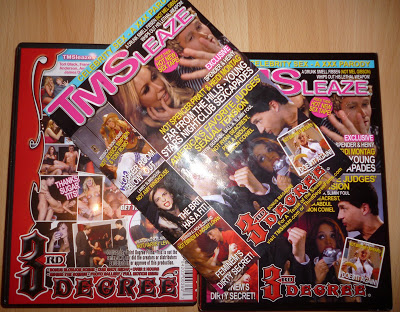 -Scene 1:
The first scene is a foursome (two male, two female) starring Tori Black and Francesca Le with Ben English and Anthony Rosano; Playing Ryan Seacrest and the judges of American Idol. When referred to in the included mini magazine it reads 'Americas favourite judges have gone too far, Lets bang this out'... and indeed they do.
Side by side fucking with little attention paid between the women, this is most predominantly a male on female scene with hard fucking and an ending of facial cumshots. There is no lack of humour throughout the scene with quotes that relate to the characters. The lack of girl on girl on this scene was something that I found disappointing.
Includes:
Cunnilingus and Blowjobs. Two MF couples fucking side by side.
Sex Positions:
Missionary, Cowgirl/Reverse Cowgirl, Doggy Style – (Standing) Doggy Style
Length:
29 mins
-Scene 2:
The second scene is a MMF threesome which stars Dane Cross, Faye Reagan and Mr. Pete. Featuring 'not Eminem and not Lindsey Lohan' or 'Feminem and Linda Blowhand' it includes tit fucking, anal and 'Linda Blowhand' hungrily deep throating both Dane Cross and Mr. Pete in turns.
Includes:
MMF, deep throating, fingering, open mouth facial.
Sex Positions:
Missionary Position, FingerCuffing, Cowgirl/Rev and Cowgirl.
Length:
31 mins
-Scene 3:
Scene three stars Chris Johnson and Kagney Lynn Karter for some locker-room sex. Playing 'not Jessica Simpson and not Tony Romo' or 'Messica and Bony Homo' Kagney Lynn Karter is of course playing the part by wearing quite an oversized cowboy hat which actually stays put for much of the scene.
She basically jumps Bony Homo, hat on and all, and they fuck with her bent over a locker bench with her even displaying her red cowboy boots at times. Apart from a blowjob this scene is a little lacking in, well anything other than fucking over a bench.
Includes:
Blowjob, open mouth facial
Sex Positions:
Missionary, Doggy Style – (Standing) Cowgirl/Reverse Cowgirl
Length:
20 mins
-Scene 4:
Starring Ann Marie Rios and Randy Spears, scene four features some good old 'up against the bonnet of a car' sex. When Ann Marie Rios playing a cop, pulls over the drunk "Smell Fibsen" Randy Spears she then has to listen to a tirade from drunken self (being 'not Mel Gibson' you can imagine what this tirade is about) Ann Marie Rios then strips off and gives old "Smell Fibsen" a blowjob, this is followed by sex in various positions against and on the car.
Includes:
Blowjob, Facial
Sex Positions:
Missionary Position, Doggy Style – (Standing) and various other ' up against a car' positions
Length:
19 mins
-Scene 5:
Another MMF threesome; Andi Anderson, Mark Wood and Rocco Reed star together in scene five. Andi Anderson or "Titney Shears" is shown hanging out by a pool when Mark Wood and Rocco Reed join her for some sex toy play, slipping a vibrator under her schoolgirl skirt and into her red panties. This is followed by blowjobs and fucking and well... both simultaneously.
..
Experience
Includes:

Blowjobs, Sex toy play, MMF, double penetration

Sex Positions:

Cowgirl/Reverse Cowgirl, FingerCuffing, Doggy Style with simultaneous blowjob, double penetration

Length:

26 mins


-Scene 6:

The sixth and final scene of TMSleaze is the one I had been waiting for, Brynn Tyler and James Deen star together playing 'Spender and Heiny' who of course are not at all based on Heidi Montag and Spencer Pratt. Having seen James Deen in alot of XXX parodies I was most looking forward to his performance as 'not Spencer Pratt' as he is called in the accompanying mini magazine.

Spender and Heiny basically decide (not at all for attention) to suddenly start fucking while surrounded by people in a club. James 'Spender' Deen spends plenty of time eating out Heiny while she loudly speaks of how much he loves her pussy. With James Deen wearing a hilariously cheap blonde wig he doesn't need to try too hard to add extra humour to the scene.

In the middle of the busy club, they then fuck in various positions on a couch, with a growing number of viewers gathering around to watch the spectacle.

Includes:

Cunnilingus, Blowjob, Open mouth Facial

Sex Positions:

Missionary Position, Cowgirl/Reverse Cowgirl, Doggy Style and Spooning/Reverse Spooning; all taking part on a clubs couch.

Length:

24 mins


Overall Impression:

With its fill of trash and humour, TMSleaze doesn't disappoint as far as Porn parodies go. Featuring six roughly thirty minute scenes portraying characters 'similar to' various tabloid celebrities, it entertains from beginning to end. While it may be hard to really get into a scene that so reminds you of a gossip chased celeb, it certainly won't fail to have you grinning and appreciating the humour behind it all.

Seeing James Deen playing a 'Pratt' made the ending a treat. Mixing it up with threesome and foursomes worked well although a girl on girl scene would have been nice. Overall a great trashy piece of Porno Parody for casual watching, some decent porn scenes but don't be surprised if the parody distracts from the scenes a times.
This product was provided free of charge to the reviewer. This review is in compliance with the FTC guidelines.

Thank you for viewing
TMSleaze
review page!