Hot and Horny Crime Fighting Angels
With a good mix of threesomes, a range of characters that don't all look the same, some toy play and a variety of threesomes; Joanna's Angels is a pretty decent porno even without the added storyline, factor in all the bizarre story clips in between scenes and you have a pretty fun and entertaining parody too.
Published:
Pros:
James and Joanna's chemistry, Toy play included, variety of FFF,MMF and FFM threesomes.
Cons:
Stiff or lacking in chemistry in parts.
The front of the dvd box Joanna's Angels arrives in is closely based on the recognisable Charlie's Angels image still etched in my mind from years ago, with the back of the box as equally true to the theme, reading:
" Joanna's Angels are on a mission to protect new Yorkers. They take crime fighting seriously, but their raging sex drive always gets in the way. Can the Angels stop having sex for long enough to save New York? "
Having bought the DVD thinking that the title was purely a play on Joanna Angels name, It was an added bonus to find out that it's actually a parody of sorts.
Joanna's Angels starts out showing Joanna's night out at a bar being cut short with the ringing of her red light-up phone. After rushing out of the bar, the scene then cuts to her in her car speaking to the 'Charlie of the Joanna's Angels' about her arch nemesis who she says "spends most of her time jerking off to her own photos on BurningAngel-DotCom"
'Charlie' then starts to describe a flashback of their last mission when he walked in on the Angels cavorting.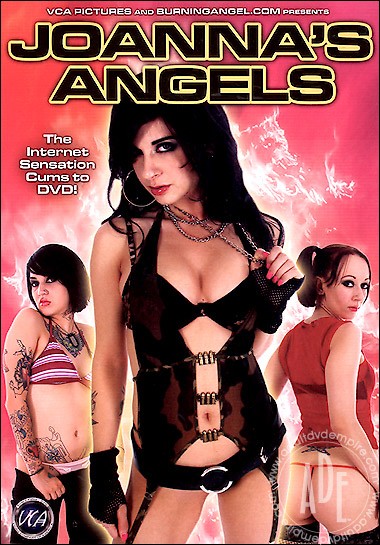 Studio:
VCA
Total length:
177 Min
Extras:
Behind the scenes, Movie Previews, Photo slide show, Animated chapter index, Continuous play, Playable worldwide.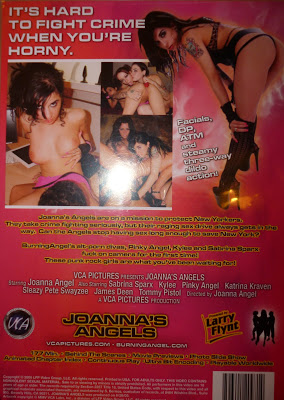 - Scene 1:
Scene one shows Joanna and two other women (Kylee Kross and Sabrina Sparx) getting hot and heavy in a living room. With lots of breast sucking, pussy licking, the pierced and tattooed trio swap positions and all take turns sucking on and being on the receiving end of a selection of dildos.
One thing that impressed me was the Vixen Creations sparkly Leo dildo showing up during the toy play, no cheap jelly dildos here I thought, however it does go on to show a Jelly anal toy being used later in the scene and this along with the surprise appearance of the camera mans foot from time to time took slightly from the scene for me.
Length:
30 mins
Stars:
Joanna Angel, Kylee Kross, Sabrina Sparx
Includes:
FFF Mutual Masturbation, Breast Sucking and Fondling , Anal Play, Cunnilingus, Dildo/Vibrator play, Dildo sucking.
- Scene 2:
Scene two appears to get to the action quick with Sabrina Sparx walking into a room, grabbing a double dildo and propping one foot up on a desk. It's not long before Sleazy Pete walks in on this and is told not to just stand there.
After an impressively flexible blow job position, things move to a nearby couch where Sabrina is licked out and fucked Doggy style and Cowgirl/Rev Cowgirl by Sleazy Pete Swayzee. For the finish it cuts to Sabrina kneeling in front of Pete. Pete is then told to go clean Joanna's butt plugs and we are shown a shot of Pete sitting in the bath happily singing into some butt plugs as if they are mics!
Length:
22 mins
Stars:
Sabrina Sparx, Sleazy Pete Swayzee
Includes:
Blowjob, Cunnilingus, Cumshot (face with open mouth)
Sex Positions:
Sex while standing, Cowgirl/Reverse Cowgirl, 69 (Standing) Doggy Style (Standing)
- Scene 3:
Back at the office Joanna is bent over in a short skirt typing away when a dumb James (Deen) comes in to ask her what her 'encoded message' of "I want you to f-ck the sh-t out of me" means. A decent amount of pussy licking ensues with Joanna whimpering with pleasure while she lays back on her office desk. Then, kneeling in front of James wearing just her stripper heels, hitched up skirt and fingerless fishnet gloves she deep throats James, all the while appearing to love the challenge.
After a few minutes of rough couch sex with a few changes of position, anal and lots of chemistry, Tommy Pistol seems to appear from nowhere and turning this scene into a threesome. With a few changes of positions and some switching there is still a good fluid feel to the scene with Joanna relishing the attention and no awkward manoeuvring as you often get with threesomes.
James finishes in her open mouth with Tommy following soon afterwards. James then comically ends the scene by asking who the hell the other guy is, nobody particularly knows and Tommy flees with his trousers still around his ankles.
Only lasting 23 minutes long it feels like a longer scene as so many positions are fitted in without it feeling rushed. The chemistry between Joanna and James and Joanna's enthusiasm really make the scene work and the comedy factor of Tommy's appearance and disappearance from the scene isn't a bad touch either!
Length:
23 mins
Stars:
James Deen, Joanna Angel, Tommy Pistol
Includes:
Cunnilingus, deep throating, anal, double penetration MMF threesome, cumshots (open mouth)
...
Experience
Sex Positions:
Missionary, Cowgirl/Reverse Cowgirl, Doggy Style, Spooning and Reverse Spooning
- Scene 4:
After running around the streets of L.A singing of how much he likes the place, Tommy comes across angel Kylee and soon has her captured and tied up. It then cuts to her untied giving Pistol a blow job with lots of spitting but not alot of chemistry. The scene is quiet and a little stiff to start out with. Pistol plays rough but with little dialogue or sense of connection between the two, it drags on.
Things pick up when Pistol starts licking, fingering and playing with Kylee and when Pinky is brought in to join them. There is a sudden pick up in energy wit Pinky's arrival and a decent variety of action then ensues. After each taking turns 'on the Pistol' the scene ends with Tommy cumming in Kylee's open mouth.
Length:
27 mins
Stars:
Kylee Kross, Pinky Lee, Tommy Pistol.
Includes:
Cunnilingus, blow job, ball sucking, FFM threesome
Sex Positions:
Cowgirl/Reverse Cowgirl, Doggy Style.
- Scene 5:
Having been kidnapped by the evil Tommy Pistol, Joanna puts up a fight, knocks him out and goes to confront Evil Katrina herself. After a few minutes of torturously good pussy licking from Katrina and some fingering/anal fingering and butt plug play, James (Deen) enters the scene to rescue Joanna by, well, choking Evil Katrina with his dick. With Joanna and Katrina taking turns on the Deen peen and Joanna's butt plug still in place for part of the scene, the trio have a good chemistry and make for a heated and raw feeling scene.
It ends with James swapping back and forth between taking each anally before then cumming into his hand and wiping it all over Evil Kats face.
Length:
39 mins
Stars:
James Deen, Joanna Angel, Katrina Kraven.
Includes:
Blowjob, Cunnilingus, Gagging, Anal Play, ATM, FFM Threesome - FFM Masturbation, Finger Fucking, Toy Play: Butt Plug, Anal Beads.
Sex Positions:
Missionary, 69, Cowgirl/Reverse Cowgirl, Doggy Style.
Ah Yes, and after catching up with the angels, Tommy Pistols defeat comes when he is given a magic hand job which somehow cures him of his evil.
-Shown with the James Deen Silicone vibrating Cock-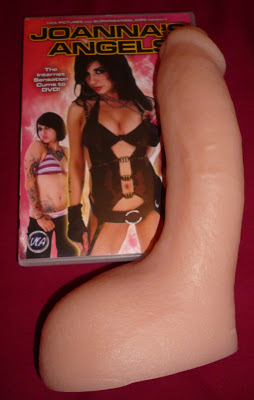 This product was provided free of charge to the reviewer. This review is in compliance with the FTC guidelines.

Thank you for viewing
Joanna's Angels
review page!