Knights and Dragons and Maidens! Oh My!
Forbidden Tales is a great title, but ten years on it's showing its age. If you're willing to overlook occasionally obscured action and corny special effects, it's still a great addition to the "couples" section of your adult library. If you're a fan of back-in-the-day-all-natural Tera Patrick, definitely grab this before it goes out of stock.
Published:
Pros:
+ Tera, when she was more natural
+ Hard-bodied male talent
+ Awesome commentary track
Cons:
- Hard to see sometimes
- CGI effects are aging badly
Forbidden Tales
is a 2001 Digital Playground production, written and directed by Joone, who later went on to direct
Pirates
and
Pirates II: Stagnetti's Revenge
.
Tera Patrick
is the draw for this film, shot back when her beauty was
au naturale
, that is, before her implants, blonde dye-job and brazilian wax.
The
running time
of the movie is
85 minutes
. The
bonus content
includes a five-minute
Behind-the-Scenes
feature, a feature-length commentary track from the producer (Samantha Lewis) and main star (Tera Patrick), and a
Behind-the-Scenes
photo album which you can navigate through using your remote or run as a slideshow. The DVD has only
one audio track, English
, and there are
no subtitles
. Both the movie and extras are presented in
4:3 aspect ratio
.
The disc starts with a brief FBI warning and some age-related legalese, then the (now old) DP logo. I don't know why, but the audio for the logo is always 5x louder than the actual feature, so be prepared to adjust the volume.
Forbidden Tales
takes a page out of the book
One Thousand and One Nights
. The setting is Medieval, not Middle Eastern, but like Scheherazade in
1,001
, the partly cyborg storyteller of
Forbidden Tales
shares lascivious tales — "dirty old tales for a dirty old man" — this time with a wheelchair bound patient.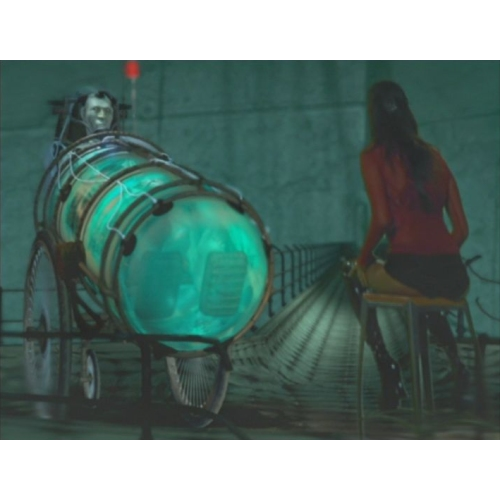 The storyteller's narration leads us into each scene, and then new-age music begins to play as the characters come together coitally.
~*Scene 1*~ "Julian & the Queen"
The first tale is about a general who claims his reward of the queen after winning a battle. It stars Tera, and... some guy. (
One of the sad things about this movie is that the male cast is not properly credited, so there is no telling who-is-who, unless you speak Czech or Hungarian and happen to catch the information in the BtS
.) Julian works the Queen out of her dress, with lots of kisses and caresses, and then they take turns giving each other oral. We are treated to three positions: cowgirl, missionary and doggy, before the scene ends.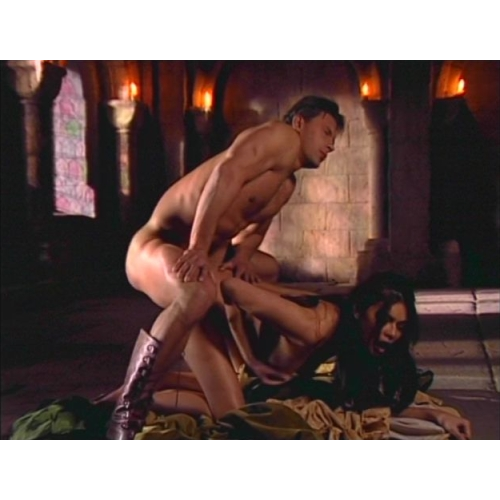 ~*Scene 2*~ "Thomas & Adriana"
The next tale is of the illicit affair between a scholar, Thomas, and the wife of a masochist, Adriana (Aria Debreaux). It takes place in a stone hallway, at night. Like the previous scene, the couple begins to caress each other out of their clothes, and then they move on to oral, followed by a few standing positions, including anal. This is the only scene where condoms are not used. Ms. Debreaux is very flexible, but her eyes keep rolling back in her head giving her a possessed look.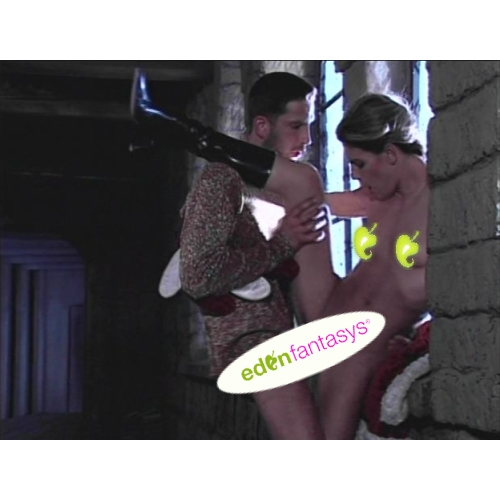 ~*Scene 3*~ "Jezebel & Jailer"
Tera returns for the third tale where she plays the naughty "Jezebel" who has been imprisoned for her indiscretions. The jailer takes pity — or takes advantage, your call — and they have a very enjoyable encounter outside of her cell. There is lots of kissing, breast-play, oral and PIV.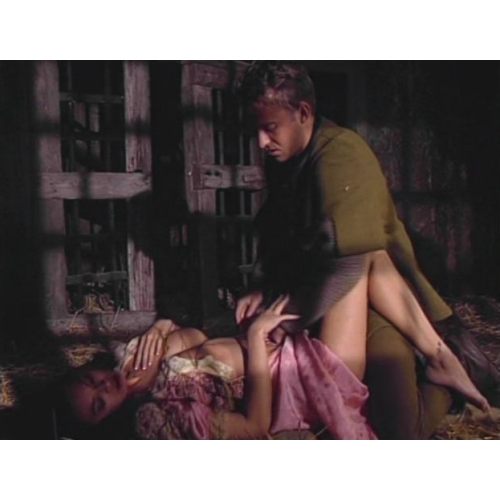 ~*Scene 4*~ "Jezebel in the Stocks"
Jezebel's story continues with the fourth tale. She is on public display in stocks, when one of her guards decides there's a better way for her to pass the time. There is some teasing, while she is immobilized, and then he releases her to enjoy some PIV sex. (Side note: this was the first scene that was shot for the movie.)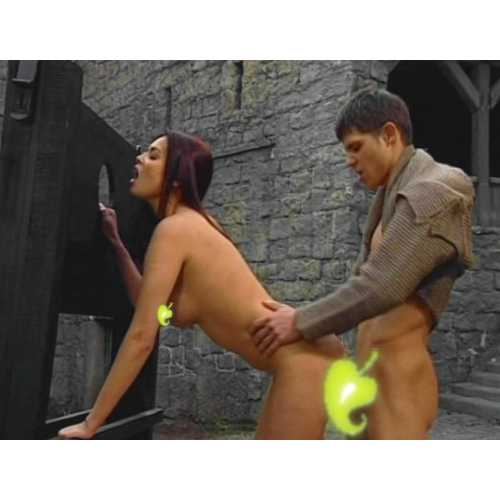 ~*Scene 5*~ "Jacob & Lida"
After two scenes with jailers and guards, we get a romantic husband and wife tale featuring Pilar Versac as "Lida." Like the other scenes, there is kissing, oral and PIV, but unlike the European couple from "Thomas & Adriana," these two do not engage in anal.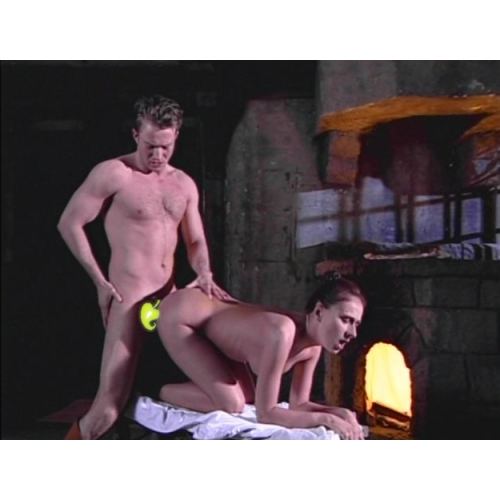 ~*Scene 6*~ "Tanya & Victor"
The last story is about a daughter that sneaks out to meet her lover when her father isn't paying attention. The costumes are the silliest of the entire production, but once they're naked it's a visual feast. The male — who had just completed modeling for a local Calvin Klein ad campaign — has a great body, and since this was shot outdoors on a sunny day, everything is easy to see. There's kissing, there's oral, and of course, PIV.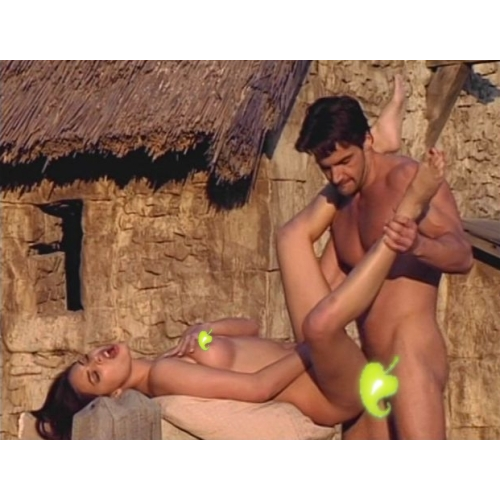 Experience
The first thing you must remember when watching
Forbidden Tales
is that it was made in 2001. That's a little more than a decade ago, but from a technological standpoint, it might as well have been a century. The DVD format was still new at the time, and the words Blu-ray hadn't even entered the research & development vocabulary. For its day, this movie was big-budget and on the cutting edge of CGI.
By today's standards, the CGI is laughable. If you are unimpressed with the special effects of Digital Playground's
Pirates
movies, you will be horror-struck by the barely visible dragons and castles in this title. However, the attention to costuming and the authentic old-world setting in Budapest are still a plus.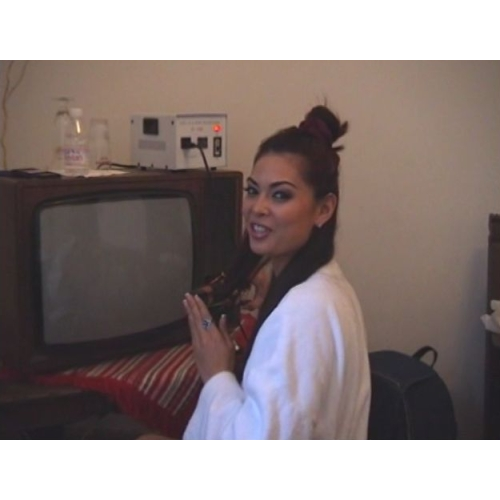 "I really liked all the guys I was working with," Tera says in the commentary track. I think it shows because she looks turned on and committed in every scene, and delivers a solid performance. Her cyborg storytelling is a bit of a weak link, but the chapter stops — multiple ones per scene — make it easy to skip if you can't stand her green-screen acting.
What I didn't like:
* The atmospheric lighting was too dark in the CGI, and some of the sex scenes too.
* Tera's storytelling is poorly directed and edited.
* The male cast was poorly credited, I have no idea who-is-who.
The best parts:
* Tera Patrick is smoking hot in all of her scenes.
* The sexual action is very couples-friendly, with lots of kissing & foreplay.
* The male cast has exceptionally beautiful bodies.
* The
Enigma
-like music.
The short
Behind-the-Scenes
feature is fun, but the bonus feature that makes this DVD worth owning is the commentary track. Tera & Samantha are frank and open about the shoot, and the adult industry in general, and it's incredibly interesting to listen to even 10+ years after it was originally recorded.
I think this title would be a great candidate for Digital Playground to re-do the special effects on and release on Blu-ray, but I don't see that happening any time soon.
Final thoughts:
*
If you're a Tera Patrick fan
, this is a
definite must
for your collection.
*
If you like natural bodies
, you will probably be
very happy
with this title.
*
If you like more-romantic, less-gonzo movies
, this is a
good investment
.
*
If you insist on Avatar-level special effects
,
stay away
.
This content is the opinion of the submitting contributor and is not endorsed by EdenFantasys.com

Thank you for viewing
Forbidden Tales
review page!