Knights of the 90's
Knight Gallery is a male-on-male pornographic film from the mid-90's. Although the film had a lot of potential, the quality was sub par and it failed to entertain.
Published:
Pros:
attractive cast, variety of sexual acts, DVD includes picture gallery
Cons:
poor quality, hard to hear voices, odd music, awkward commentary
Background Information:
Knight Gallery is an all male homosexual pornographic film directed by Jim Steeland and distributed by Vivid Man. The production date is listed as prior to 7/3/1995. The actors include: Josh Powell, Devyn Foster, Scott Baldwin, Casey Williams, Cort Stevens, and Marco Rossi. This feature is a little over 60 minutes in length and broken up into various segments.
Summary:
The film opens with a commentator who briefly describes the scene; he reappears after each segment to introduce the next part. The setting varies each time; they include, but are not limited to, a construction site, a bedroom, and a gym. In each location, there are two men, usually a brunette and a blonde. The men engage in various sexual acts: masturbation, hand jobs, oral sex, rimming, and anal sex.
Review:
As soon as this film first started, it was clear that it was produced in the 90's. The quality of the picture and sound were quite poor, which was pretty disappointing. I could deal with the picture, but the sound is what really bothered me. I know music in pornographic films tends to be cheesy. However, the music in Knight Gallery was beyond weird; it was like amateur 90's techno. It was also so loud that you could barely hear what the actors were saying.
On the subject of the script, I'm not sure if I would have even preferred to hear what they were saying. The script was a bit awkward and it seemed like the actors were ill at ease. Due to the nature of the film, it's understandable that they would be nervous; however, it was extremely uncomfortable to watch.
Despite all of this, what bothered me most was the commentator. It just seemed awkward and out of place to me. Each time the man introduced the next seen, my mood was killed; I do not find an unattractive man smoking a cigarette to be alluring. I ended up just fast forwarding through the commentary so that I could get to the next scene.
Overall, it seemed like a very low budget film. I was disappointed; I expected a bit more from Jim Steel and Vivid Man.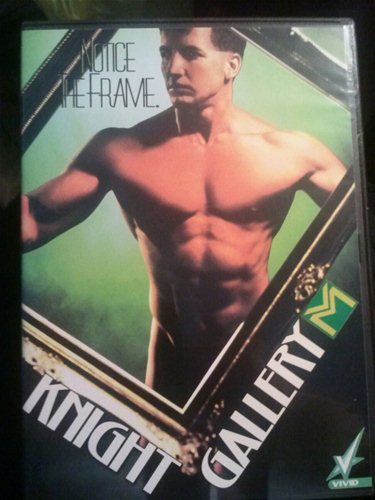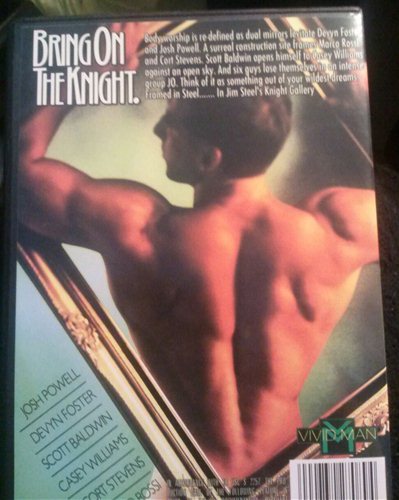 Follow-up commentary
3 months after original review
Knight Gallery is such a low quality pornographic film. It sat in my dresser for about two months before I finally got rid of it. I kept telling myself that I should give it another shot, but I kept finding excuses as to why I shouldn't watch it. When I finally did watch the film again, I realized why I had made so many excuses: it's just not good.

I do stick by my original comment that the men are good looking. Of course, beauty is in the eye of the beholder. For me though, it was definitely not a chore to stare at these men. I decided that I would much rather just view the picture gallery than watch the film.

In the long run, I didn't really feel the need to hold onto this DVD any longer. Yes, the photo gallery was nice, but I'm not going to pop in a DVD just to see a picture of an attractive man. Instead of throwing the movie away, I gave it to a friend of mine who is head over heels in love with Josh Powell. She was willing to overlook the negative aspects of the film and simply focus on the scenes where Josh was present. At least someone was able to enjoy it!
This product was provided free of charge to the reviewer. This review is in compliance with the FTC guidelines.

Thank you for viewing
Knight Gallery
review page!