Muff Buff anyone?
If you like cars and babes check this movie out. The storyline and cut scenes between and during the sex acts are equally entertaining. Many sex scenes are short, so a great video for people with a short attention span.
Published:
Pros:
Humorous
Lots of girls
Music is actually pretty good
Cons:
A bit dated
A couple scenes seem poorly spliced together
- Movie Information
Produced and Directed by: Jim Holiday
Runtime: 139 minutes
Digitally Remastered
Bonus Scenes
Directors Bio
Movie Previews
-Menu screen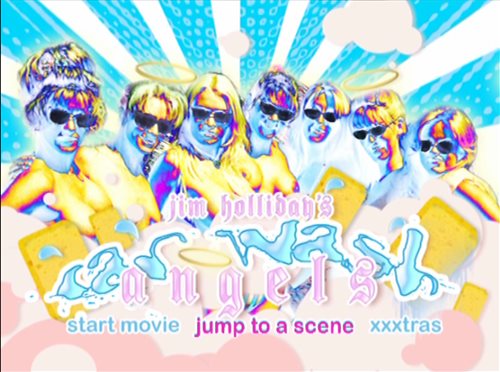 -Cast
Staring:
Juli Ashton
Jill Kelly
Sid Deuce
Kylie Ireland
Shayla Laveaux
Bionca
Crystal Breeze
Jordan Lee
Paisley Hunter
Sindee Coxx
Micky Lynn
Caressa Savage
Missy
Sydney St. James
Tammi Ann
Shelby Stevens
Emily
Careena Collins
T.T. boy
Joey Silvera
Tom Byron
Peter North
Bobby Vitale
Jake Steed
-Before viewing the film
There are a few reasons why I selected this movie. The first is that it stars 18 women and 6 guys. It is my personal preference to see more women than men get it on. I figured more women in a movie the more women will outnumber the men in the majority of the scenes. Second is Peter North, one of my all time favorite male porn stars is in it. For anyone who is not familiar with him, this guy is a legend for his massive loads of cum. The other reason why I chose this dvd is that girls and cars together are sexy.
-Premise
Car Wash Angels takes Place here: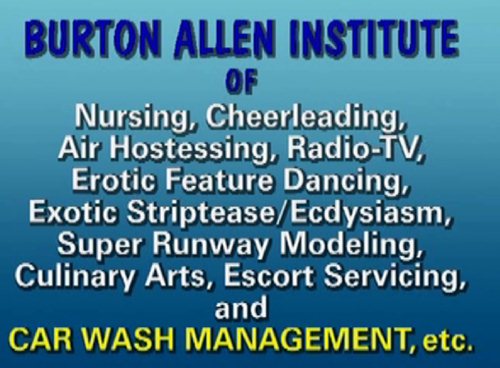 Apparently they are having contest with a local rival called Mark's Car Wash College. It was set up by some guy named Chancellor Sandbag. Whoever wins the most charity money gets some kind of athletic scholarship fund. They are told to "do whatever it takes" to win the contest.
All the students are named Mary-something. For example: Mary Allison, Mary Caroline, Mary Caroleen, ect. The one exception is Juli Ashton who plays "Just plain old Mary".
***If I make a reference to a particular star, they will be called by their film-star name.***
-The Movie
The dvd states that there are 13 sex scenes, however in the scene selection there are only 12 to choose from. There are a variety of types of scenes in this movie. These include: one-on-one, three-some, orgies and lesbian.
Scene one cuts to Peter North and Jake Steed both getting head from Emily. They DP her and both cum on her face. This scene was disappointing to me. I don't enjoy watching two guys nut slap. At least the scene was less than 5 minutes long. My biggest complaint is that this was the only time Peter North appeared in the movie.
Scene two is a short scene that takes place in a car parked in a car-wash bay. It Features T.T. boy getting head and "doing" one of the Marys doggystyle.
Scene three was a two guy two girl foursome. It was really hard to follow which actor was who and who they were having sex with. I would say it was poorly filmed and pieced together.
Scene four was a cute little lesbian threesome. It had nice closeups was very sensual. This was refreshing as most of this movie is pretty hardcore.
The scene I enjoyed the most in this undertaking was five. This involved T.T boy in the girls bedroom where apparently all the girls sleep. There are six beds, twelve girls, one guy and three loads of cum. Probably the longest from the movie, this scene involves T.T boy making his rounds eventually having sex with every girl, and ejaculating more than once. They are preoccupying each other as they wait for T.T boy to satisfy them. My favorite part was when there were two girls on each leg guiding one of the Marys who was riding The male star of the scene.
Scene six involves the spy from the other car wash gets a quick blow job. At just over two minutes including the dialog, it was the shortest one at. It's another scene that takes place in a car wash port.
Scene seven was a pretty cool one that takes place right out front the car wash. It starts out with T.T. boy performing oral sex on Jill Kelly on the hood of a car while two of the Marys are drying the car next to them. Also in the background are three random guys sitting on the porch watching.
There is a portion of the movie I would like to include even though it's not in the scene selection. It takes place between scene seven and eight. The infamous "Muff Buff" occurs here, followed by a nice little ass-licking scene.
Experience
-Movie (continued)

Scene eight was a very nice lesbian orgy. Lots of girls, oil and toys in this one.

Scene nine started out with two girls starting slow and building up to something very sensual. Then the head teacher guy sneaks in and and starts masturbating. He does this about a third of the way through then joins in. He ejaculates twice, once for each of them. What struck me the most about this scene was the music. It did not resemble porn music I've ever heard in any way, shape or form. Imagine a failed 80's hair band tribute love ballet drowning out the usual moaning and groaning of your typical sex scene.

Scene ten involves two guys and a girl in holey jeans that get ripped off of her and torn to shreds. This is definitely the most hardcore scene in the movie.

Scene eleven involves four girls in the back of a pickup truck. It is suppose to be night time but you can tell they have the truck parked in a studio with black walls. The one girl had a full on bush. You don't see too many of those around these days.

The twelfth and final scene involves a woman and a man. It contains some nice closeups of them performing oral sex on each other. This is followed up by vaginal and anal sex.


-Bonus Features

There are 7 production stills. There are also three bonus scenes. I actually stumbled upon them by accident. You have to click on XXXtras on the title menu and from there select the Holliday legacy. Once in it, a brief biography of the director will start playing. On the bottom displays Bonus Scenes. Click on it and there are three scenes from various movies by this director.

One of them is with Peter North and looked like it was from the 80's It's from Sex Kittens 1. Unfortunately for me it is another DP scene where he shoots a load that gets on some guy with a mullet. I did laugh at the guy jumping out of the way though. The second bonus scene is from L.A. Fashion Girls. This is a fairly unimpressive threesome with two women. The last scene is called Cheerleader Nurses. This is a mediocre lesbian orgy.



-After viewing the film

I really tried to follow the storyline for review purposes and not just skip the the sex scenes like usual. One thing that stuck in my mind is the amount of times someone said "where's so and so" or "paging so and so" which lead directly into a sex scene involving that person. This slightly humorous paging also occurs a few times during a couple sex scenes.

favorite lines:

I got 18 holes this afternoon but I never played 13 holes so fast in my life.

I'm P.C.-Pussy chaser first class.
Follow-up commentary
16 months after original review
I must say this old video is still a classic. I found it the other day when rummaging through one of my drawers for something. I had to pop it in and watch a couple of scenes. It's definitely worth holding on to.
This product was provided free of charge to the reviewer. This review is in compliance with the FTC guidelines.

Thank you for viewing
Car Wash Angels
review page!