One out of Five (good scenes that is)
With three mediocre scenes, one cringe worthy scene and James Deen rescuing the day with a final scene full of chemistry, overall I was disappointed to find just one hot scene out of five. Gracie and James make sure it ends on a good note but only after you've endured two hours of boredom.
Published:
Pros:
True to the title with Cheerleaders and Creampies, final scene.
Cons:
Only one particularly enjoyable scene.
-Thanks to my wife as the following review is written completely from her perspective and opinion (especially the part about being into James Deen, all her)-
Scene 1:
Creampied Cheerleaders starts out with a scene of a lone cheerleader knocking on someones door looking to sell candy bars to raise money for cheer camp. When the homeowner isn't too interested in buying candy bars she starts to barter a different deal with him, performing leg kicks and showing him what she calls her 'best candy'.
After showing him her assets in her tiny cheer uniform they soon end up making their way upstairs where the first sex scene of the movie includes a blowjob, ball sucking, cunnilingus, fingering, anal fingering and fucking, 69ing, rimming and even more fucking. All the while Rebecca Blue plays a convincing young cheerleader. Though Rebecca seems genuine in the role and in enjoying herself, I felt the scene dragged on in places with too many position changes. Sure enough it eventually ends with a creampied Rebecca fingering herself.
Scene 2:
Scene two starts out with a cheerleader (Breanne Benson) being filmed by her male friend. She explains to him that she needs him to make a ten minute clip of her cheering. Once he starts filming her 'cheer movie' her male friend then starts instructing her to do leg kicks, he then suggests that they make a dirty movie. With some persuading from her filmmaking friend she lifts her cheerleader skirt and approaches an admirer who has been watching her from across the park.
All three end up heading to her place where the sex scene then starts. She plays with herself and talks about how slutty the cheerleader uniform makes her act. Her filming friend the encourages the stranger from the park to play with her on film and this is followed by cunnilingus, 69ing and fucking with several changes of position before he finishes inside her, the filmmaker then watches and comments on the cum dripping out of her pussy. Being shorter than the first scene, it benefitted from this by not dragging on like the first.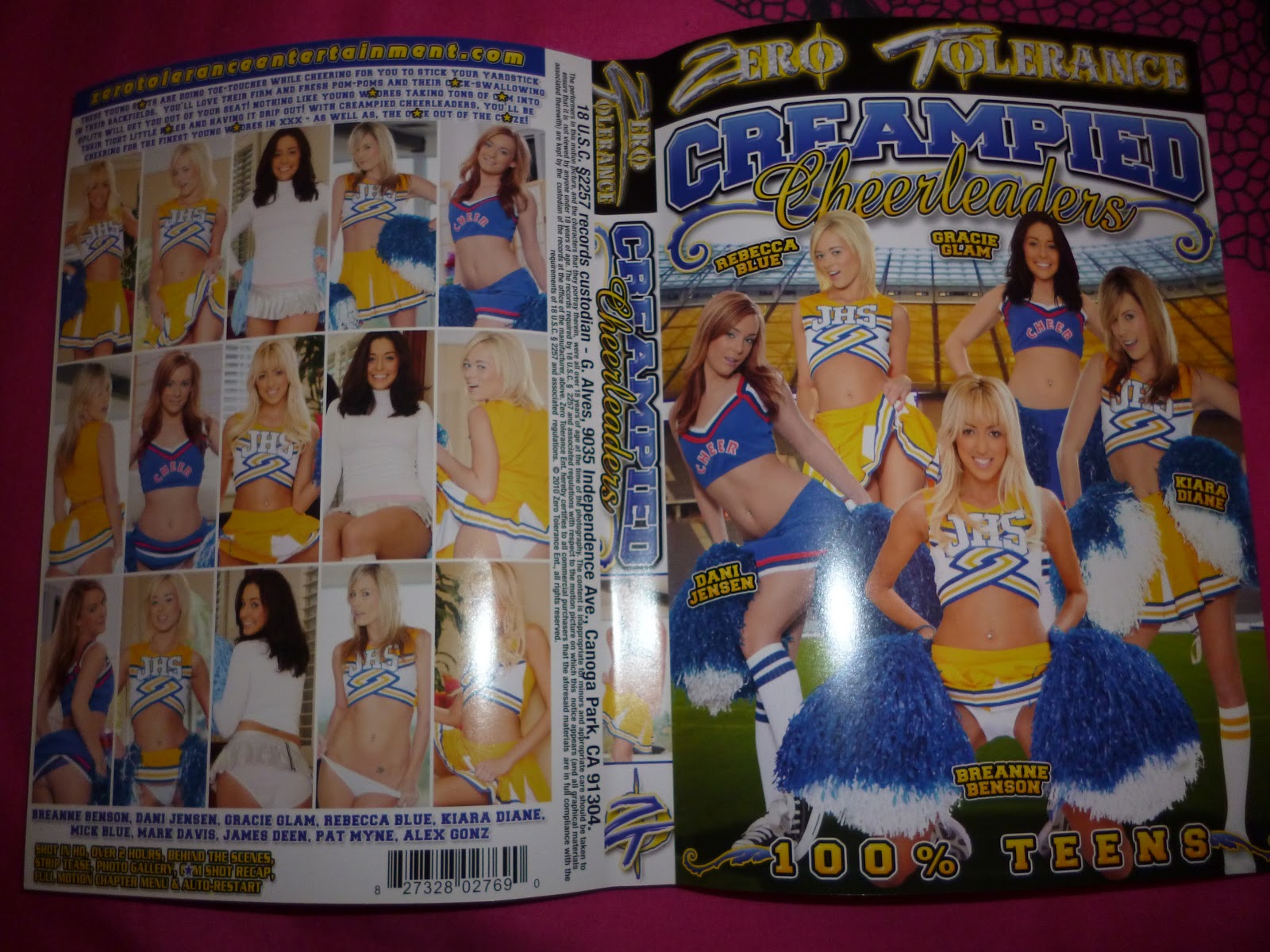 Scene 3:
The third scene starts with a cheerleader on the phone with her friend talking about how she needs to film a 'cheer video' all by herself. Her cheer video which she appears to be filming actually turns out to be a video of her teasing and stripping while –really- over doing the whole cheer act. When there is suddenly a knock at the door she quickly gets dressed and opens the door to a man who is looking to see her mother who she explains is gone out for the day. Seeing as it is raining heavily out and he is soaked through, he is brought inside. We then cut to him on the couch wearing a towel.
The cheerleader (Dani Jenson) dances around in front of him singing about how his clothes are in the dryer so he is now stuck watching her cheer. She strips off for 'Mark' while singing the most nonsensical, made up on the spot songs in an annoyingly childish and high pitched voice. I almost cannot imagine anything turning me off quicker than this performance. She brags to Mark about her skills like how she can "take a thick cock down her tiny throat" before she then gags, splutters and struggles horribly at what she has just boasted she can do so well. It's funny and cringe-worthy at the same time. I re-watched the scene of her struggling and grimacing her way through the blow job just because I couldn't believe they left that part in! This wasn't your usual fighting of a gag reflex, it was enough to make me recoil in squeamishness.
This is followed by some rimming and cunnilingus with the cheerleader still putting on a childish voice and talking what can only be described as utter nonsense as if just to fill a silence. At one point she asks Mark if her pussy looks and tastes like her mothers pussy, now this may be my personal taste but that there has to be high on the list of phrases that I don't want to just be surprised with when watching non milf themed porn. She even delivers this line (and every line) in such a squeaky voice that I couldn't help but be reminded of Aqua's song 'Barbie Girl'.
There is lots of fucking and talking and then, as promised by the title, its ends with the cheerleader fingering herself making cum drip out of her pussy. This was by far my least favourite scene of the film; with such bad acting that it really stood just for being so bad.
Experience
Scene 4:

Scene four begins with another blonde cheerleader (Kiara Diane) shown cheering with pom poms. In the backround she is distracted by a man swimming laps in the indoor pool behind her, annoyed by this distraction she starts to complain but then quickly opts to distract the man away from his swimming by flashing him. She lifts her skirt to reveal that she is wearing nothing underneath. This leads to some fingering, a blowjob and ball sucking and then cunnilingus. It then cuts to them fucking, not about to start fucking, already fucking...No other scene cut straight to mid sex like this so it seemed strange to suddenly find them mid-fuck.

While the lack of talk was almost refreshing after having just endured the last scene, it also added to how mechanical the scene felt. With a lack of chemistry between the two and with so many oddly timed cuts I just couldn't get into this scene and found it all quite underwhelming.

The scene ends shortly after another cut, with her sitting up showing cum dripping from her pussy before she suddenly stands up and shoves her lover into the pool behind them. There is then a minute or so of footage where people behind the camera are heard laughing at this.

Scene 5:

The fifth and final scene stars Gracie Glam and James Deen. Being a fan of James Deen I had high hopes that this would end the film on its best scene. Its starts out showing a brunette cheerleader (the first and only brunette cheerleader of the film) wearing a particularly skimpy silver and white cheer outfit and practicing/teasing the camera. It then cuts to her opening a front door to James Deen, immediately they start kissing and groping. There is an obvious chemistry between the two and an enthusiasm that by comparison shows what the last few scenes were missing.

Still standing by the front door, they strip frantically before Gracie Glam starts giving James a blowjob, with her only stopping to talk dirty back to him. The dialogue between them feels natural and un-acted. They fuck up against the wall still talking dirty and sharing that chemistry. It then cuts to them fucking on a couch with Gracie on top and lots of tit slapping and pussy spanking.

After a change of position, Gracie is now on her back with James both fucking her and anally fingering her. The scene has a genuine and raw feel to it and ends with James cumming inside Gracie's pussy, mid orgasm James even pops out showing him cum. As you may expect he last shot is of Gracie dripping.

Extras Include:

Behind the scenes (16 Minutes of footage)

A Photo Gallery of the Cheerleaders

Cum Shots (6 Minutes Long)
This product was provided free of charge to the reviewer. This review is in compliance with the FTC guidelines.

Thank you for viewing
Creampied Cheerleaders
review page!