Rushing to eject this from my DVD player…
It's hard to believe that the same studio that gave the porn world the Pirates franchise produced this crap. One good scene (Avy's poolside romp) and a fun "Making of" and "Blooper Reel" do not make up for the lack of great sex and overabundance of bad acting in Rush. If you're seeking porn-with-a-plot keep looking. Nic Andrews was aiming high with this action style adult film, but crashed and burned.
Published:
Pros:
+ Audio Commentary
+ Avy Scott
+ Behind the scenes stuff
Cons:
- Bad acting
- Relatively little sex
Shot in 2002 "in MINI35mm" (which is a fancy way of saying "we stuck 35mm lenses on a video camera"),
Rush
was released on DVD in
2003
, but has all the technical advancement of a VHS tape. The movie was shot widescreen (1.85:1), but this is
a non-anamorphic DVD
. You can read a technical explanation of what that means on
The Digital Bits
, but to sum it up:
on a widescreen television, you get a box-in-a-box unless you're willing to zoom in which degrades the image
.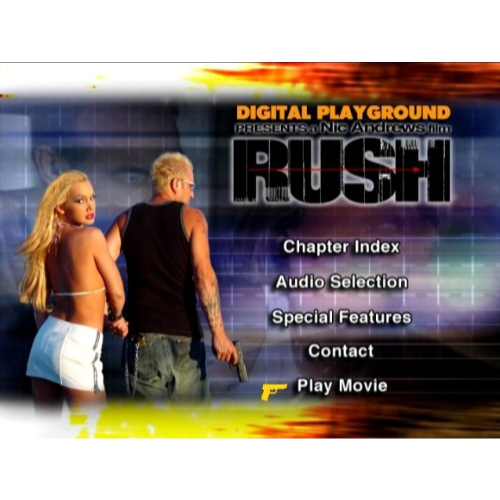 The movie runs for
100 minutes
(time you will never get back). There are
2.0 and 5.1 audio
mixes, along with a
commentary track
featuring
Nic Andrews
, Devon & Barrett Blade and
an isolated musical score
. The music is actually good, but Derik Andrews, who "wrote" it won't be getting any applause from me — more on that in the
Experience
section. The menus on the DVD are your standard animated types — a small scene loops for each of the 42 chapters. The are plenty of special features (please see the screenshot for details).
Moving on to the story…
~*Overview*~
Carter Hayes breaks out of prison to retrieve a million dollars he hid before being ratted out by one partner, Frisco Bob, and now the other partner, Victor, wants him dead. Carter has plans to pick up the cash and run for the border, but a late night transaction brings Sera (Devon), a call girl, into his world, and now they're both running for a second chance at life.
~*Scene 1*~ Alexa & Mike Horner
Carter (
Barrett Blade
) shows up at the garage of a greasy car mechanic, Hal (
Mike Horner
), and produces a several years faded claim ticket for his 1976 Pontiac Trans Am. When finding the keys proves to be problematic, Hal hollers for his lollipop sucking assistant, Cindy (
Alexa
). Instead of searching for keys, they start searching each other. She receives oral, then returns the favor before they move on to missionary and a few other positions (with condom). There is location sound, however the music drowns out a lot of it. Eventually, Cindy emerges with the keys and brings Carter to his car.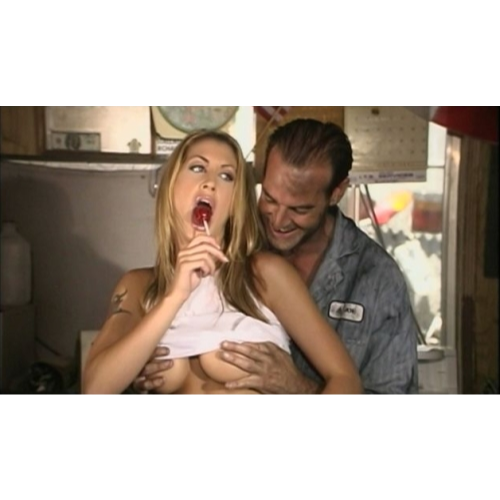 ~*Scene 1b*~ Pontiac Trans Am circa '78
For no explicable reason, we get a 2 minute 45 second montage of Carter washing his car with Cindy's help. The only one that gets made love to is the car (
Pontiac
), 'cause Carter & Cindy never touch each other.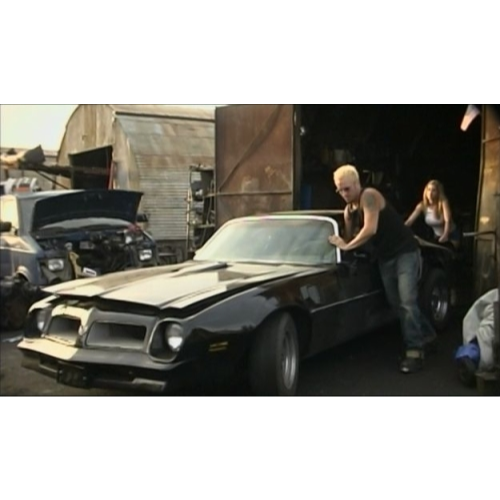 ~*Scene 2*~ Devon & Barrett Blade
Next, Carter holes up at the Pink Motel and calls his former partner, Victor (Omar Montana), then orders up some female companionship from a flyer he finds under the phone. Sera (
Devon
) comes to his door, and after quoting him the rate list — "$200 for head, $400 for sex, for $600 you can pretty much do whatever you want with me" — gets down to business (sans condom). She gives him a blow job, a corkscrew handjob, then they move on to reverse cowgirl, followed by doggy-style, with a grand finale on her massive sweater pumpkins.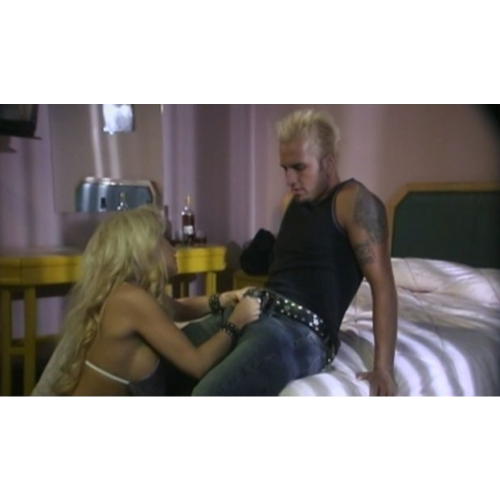 After a happy transaction, they put their clothes back on just in time to escape from a group of Victor's thugs who come armed with assault weapons. Sera is pissed that she now has a target painted on her, but as Carter points out, going back to town — where the hitmen are — is not an option. They drive through the night, then make a morning pit stop at a diner somewhere in the California desert. They settle into a booth and Sera tells Carter her history, but the conversation breaks down, and she storms out.
~*Scene 3*~ Devon & Cheyne Collins
She stumbles onto a motorcycle mechanic, Brett (
Cheyne Collins
), and offers to trade services: he can ride her, if he gives her a ride back to Bakersfield. The scene starts with extended oral for both participants, then they move to a variety of standing PIV positions (with condom). He pops on her stomach for the finale.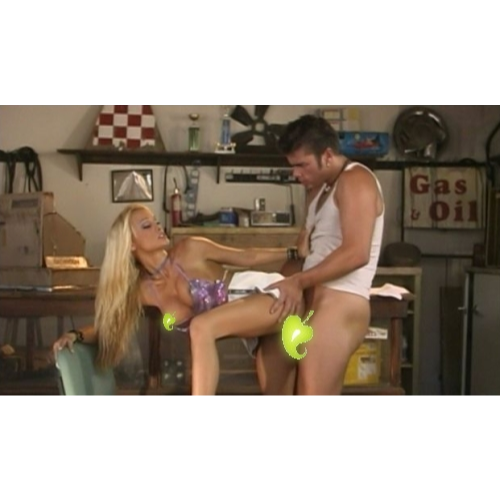 Unfortunately, Brett is a greedy
S.O.B.
and tries to take more than his due. In a scene reminiscent of the near-rape in
Thelma & Louise
, Carter comes to her rescue, but then shoots Brett for his lack of remorse. Sera freaks out, and they make a getaway in the Trans Am.
Out in the desert, Carter tells Sera his history (
anyone else thinking 48 Hrs.?
) — most importantly about the million dollars — and asks her to go to Mexico with him. They hole up at another motel while she thinks it over and he makes a supply a run.
(
continued below
)
Experience
~*Scene 4*~ Avy Scott & Jezebelle Bond
After a shower, Sera decides to catch some rays by the pool. The annoying splashing of Pool Girls
Avy Scott
and
Jezebelle Bond
send her back to her room, but the girl-on-girl action heats up between the all-natural beauties. There is plenty of breast-worship, oral attention and manual stimulation as the two work their way out of their bikinis.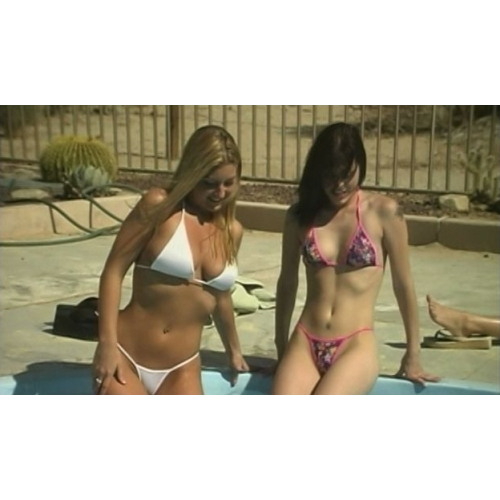 Carter returns (he misses the lesbian poolside antics) and after a nap he and Sera go looking for the loot.
~*Scene 5*~ Devon & Barrett Blade (Encore)
Sera thanks him for not abandoning her to Brett, and after Carter digs up the money, they have a passionate (non-condom) celebration scene. There's
His & Her's
oral, PIV positions, and plenty of kissing too.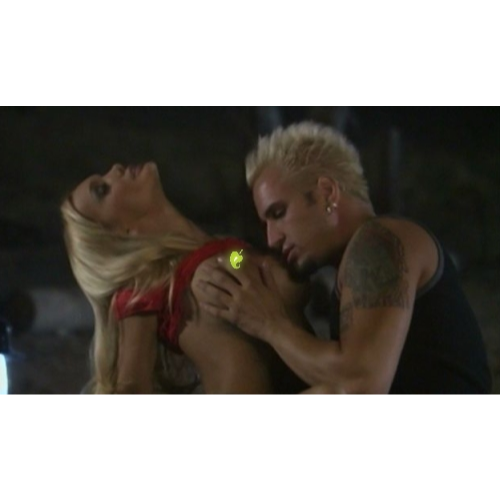 Do they make it to Mexico? I won't say, though I will tell you there is a massive shootout and an epic car chase before the movie ends.
~*Finis*~
I fell asleep watching this.
Do I need to say more?
Since I've been lukewarm on a number of DP titles, all I asked of this one is that it keep me awake and not turn me off. It failed. Miserably. My husband and I sat down to watch this together, and within five minutes we were
MST3K'ing
it, and
I fell asleep
right after Barret & Devon's first scene. By the director's own admission, there's a lot of borrowing going on in this movie (see any Enrique Iglesias video and the aforementioned films in the description above) but originality wasn't the issue. Bad acting is what made this unwatchable, coupled with a lead-off sex scene that is revolting on many levels: it's grimy, gross, and all I could think was, "
that's not sanitary!
"
Then there is the matter of the music. Nic Andrews gives a lot of lip service to Derik Andrews (no relation) for his "original" compositions, but my husband noticed right away that the main-title track is a piece of stock production music by Zack Tempest called "
Loaded
" that the WWE tag team the Hardy Boyz used for years. It's from the
Extreme Music collection "Heavy Metal" (XCD012)
. Yet according to the
Rush
credit roll, "Loaded" was written by Derik Andrews & Nic Andrews. People in the porn world use fake names all the time, but this doesn't seem kosher, especially since the director acknowledges other stock pieces were used.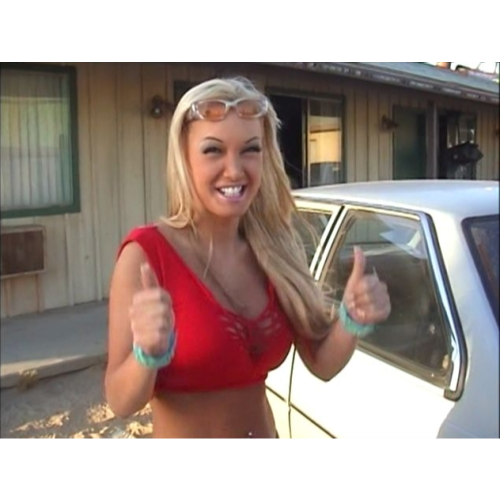 The one bright spot in all of this the audio commentary track. Devon & Barrett were engaged at the time this was made, and they have great chemistry on the commentary. Nic Andrews does his part to keep it interesting. The
Making of
and
Blooper Reel
are also time well spent — but who buys an adult movie for the special features?
Final thoughts:
*
If you like Avy Scott,
she has a website and a twitter feed,
do not buy this
.
*
If you love Devon,
she made almost 100 movies during her career,
do not buy this one
.
*
If you like porn with a plot,
you still won't like this,
don't buy it
.
This product was provided free of charge to the reviewer. This review is in compliance with the FTC guidelines.

Thank you for viewing
Rush
review page!