The service at this château is comme ci, comme ça.
La Soubrette is not too bad, not too good. It's a middle of the road adult movie, which will probably strike a chord with lingerie and heel fetishists, but has overtones of D/s that are unlikely to impress hardcore practitioners, yet might offend more vanilla viewers. I'd give it 2½-stars, but Eden doesn't allow for fractions in their ratings.
Published:
Pros:
+ A treat for fans of garters, stockings & stilettos
+ Sex is hardcore but not jackhammer-y
Cons:
- Poor lighting
- No English subtitles
- Not directed by Marc Dorcel
At Your Service
is a 2005 Marc Dorcel production, distributed by Wicked Pictures here in the states. Directed by Toni del Duomo, the cast is European, though most American viewers will recognize the Slovakian natural beauty on the cover,
Angel Dark
.
The original title,
La Soubrette
translates to "The Maid," and the cover is a good indication of what this DVD features: stockings, stilettos and subservience. Angel Dark is the featured performer, and it's a testament to her beauty that she's fully clothed on both sides of the wrapper (DVD wrappers are often double-sided: one hardcore, the other a
clean
version for display in stores).
If you're watching this disc on a stand-alone player, you might be confused when you first press play. The DVD menu mimics a flash website, right down to a loading bar displaying a percentage. This
might
have been hip in 2005, but it's silly by today's standards.
The first, skippable part is a promo for Dorcel's website, the second is the actual menu. It still heavily promotes the URL, but the original title is in large letters on the left hand side, and the navigation menu is at the bottom. It's easy to get around with a remote, however using a mouse on a computer is slightly glitchy — selecting a sub-menu sometimes takes several clicks and if you're not in exactly the right place, it takes you to the wrong scene.
The
running time
of the movie is
118 minutes
. There is a thirty-minute
Making of
, six trailers, and two humorous commercials promoting safe sex. The DVD offers seven
audio tracks
: French, English, Italian, German, Spanish, Polish & Czech; and four
subtitle languages
: Portuguese, Greek, Romanian & Croatian. Note that the audio and subtitles are for the narration only. There is a little audible French dialogue during the movie, and it is never translated.
At Your Service
is the
story
of Hervé (played by the well-endowed
Titof
) as told by Nadia (Angel Dark), the house maid of Tenár Duval (
Roberto Malone
), lord of the manor and voyeur supreme. The story begins with a car accident in the dead of night on a twisty Parisian road...
~*Scene 1*~
We learn from our narrator that Hervé spent his evening celebrating a successful business deal with a friend (
Horst Baron
) and two beautiful companions (
Cindy Lords
&
Cynthia Lavigne
) and has had far too much to drink...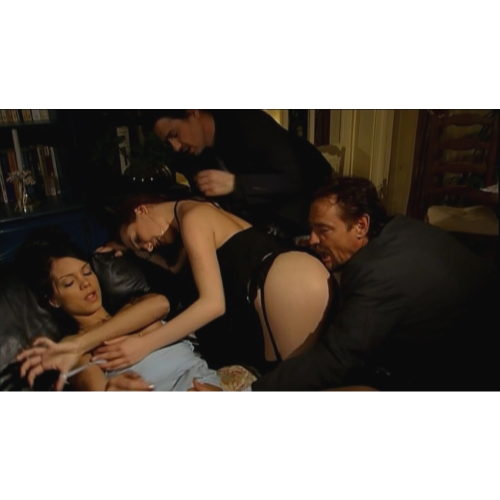 After an intense foursome which includes genuine double-penetration and a foot-job, the clearly drunk Hervé insists on driving home. Drinking + driving = car crash, but Hervé is fortunate and the inhabitants of the nearby château rescue him from the wreck. He regains consciousness the next morning and stumbles upon Nadia, the maid, dusting more than the mantelpiece...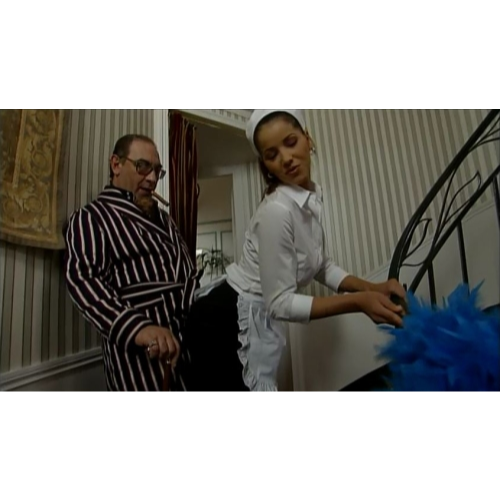 ~*Scene 2*~
Nadia happily gives "the patriarch" some oral attention, and even though she catches Hervé watching she continues about her duties. Hervé is intrigued, and that evening attends dinner where he meets the other guests of the château. He's not quite comfortable with the atmosphere, but he is clearly interested in Nadia. Lucky him, the next morning she seduces him in his room while Duval watches on a hidden camera...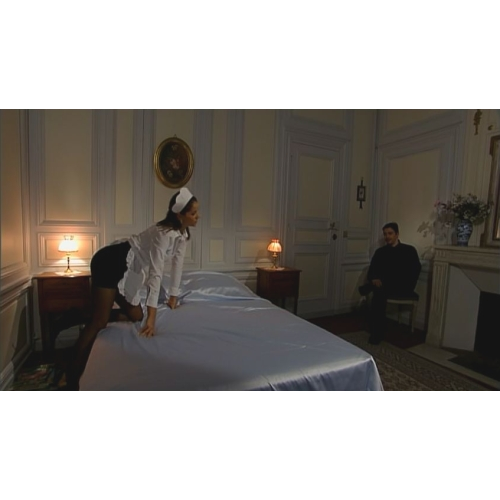 ~*Scene 3*~
It's quite the show as Hervé and Nadia engage in multiple forms of PIV, anal, and oral to finish. Hervé enjoys himself and doesn't require too much arm twisting from Duval to delay his departure. He can't take a vehicle anyway since the garage is currently occupied by the amorous Sophie (
Angelina Bella
) and the groundskeeper (
Philippe Dean
)...
~*Scene 4*~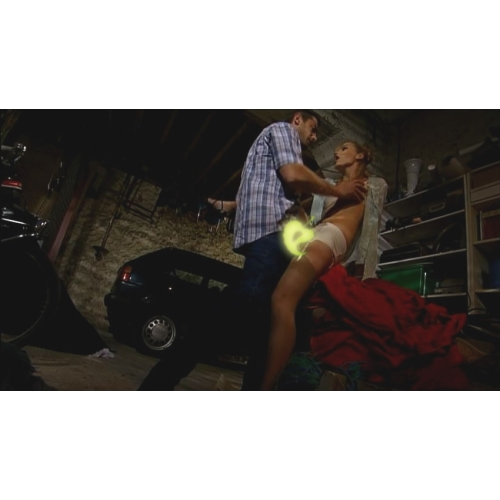 Hervé spies on the couple for a little while, then wanders off towards the garden where he meets curvaceous Anabel (
Alyson Ray
) & her husband (
J.P.X.
). While Duval watches from a window above, the three get to know each other better...
~*Scene 5*~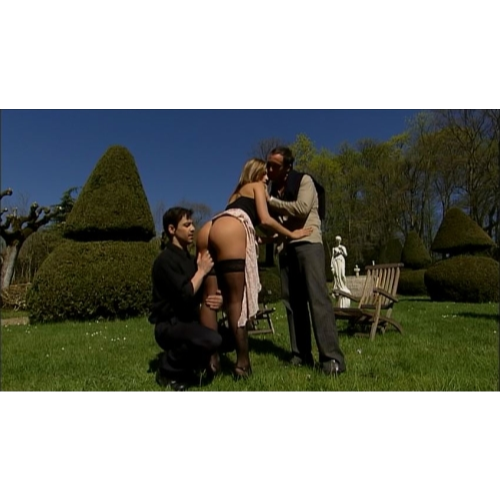 The lovely lady allows Hervé to enjoy her
chatte et cul
while lavishing oral attention on her husband. Duval then makes his way to a secret room where he & Nadia watch Sophie & her husband (
Phil Holliday
) go at it through a two-way mirror.
~*Scene 6*~
The patriarch finds the couple too mundane and sends in Nadia to spice things up...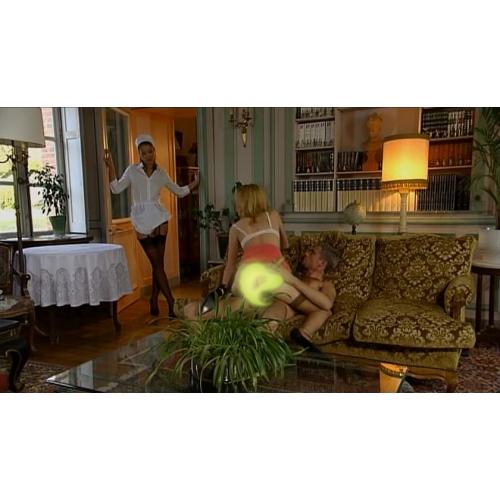 Hervé finds the secret room just in time to see the action on the other side of the mirror come to a finish. Nadia is not free to attend him though, since Duval summons his wife (
Marie Lynne
) and the maid to the bedroom...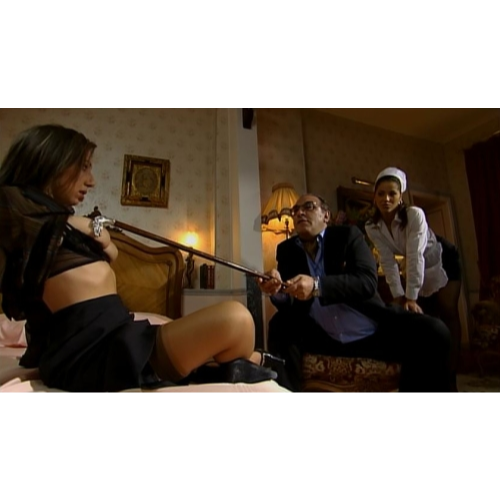 ~*Scene 7*~
The wife changes panties at her husband's command and is toyed with, literally, by Nadia. However, the master is unimpressed and Nadia races to get the groundskeeper to take over.
Does Hervé go? Does Hervé stay? You'll need to watch it to find out.
Experience
I'm a little tired of American adult entertainment which seems to prize
force and stamina
over
sensuality and sexiness
, so I was eager to view this European import.
Marc Dorcel
(née Marcel Herskovitz) is an adult movie institution in France, and even though he didn't direct
At Your Service
, his name is on it and I expected a certain level of quality.
Let's get the things I didn't like out of the way:
* Most scenes are dark, i.e. not enough lighting.
* The music sounds like four measures looped.
* Angelina Bella is one of the worst porn actresses ever.
* The english narration is melodramatic, and there are no english subtitles.
* The poorly-acted dinner scene is
too long
and there's no sex.
* Actions that are supposed to be sinister (D/s) are inadvertently funny.
Now, for the DVD's redeeming qualities:
* It had an actual story.
* Many of the actresses have natural breasts.
* There is a cornucopia of sexy french lingerie and high heels.
* Less sexual jackhammering, more sexual creativity.
* The very leggy and exotic Angel Dark.
* Good-looking (
and well-hung!
) actors Titof and Philippe Dean.
The
Making of
was also fun, though it isn't subtitled and the majority of it is in French. The funniest parts are the actresses faking orgasm on command and the pooch wandering in and out of the garden scene (see picture below). The interview with Angel Dark (in English) reveals that she spends most of her time at home doing laundry, not quite the glamorous life a fan expects. Another bonus on the disc is two really great commercials that promote safe-sex. They're funny and worth the two minutes it takes to watch them.
Final thoughts:
*
If stilettos and stockings turn you on
,
add
this to your collection.
*
If you're an Angel Dark fan
,
add
this to your collection.
*
If you're curious about European porn
, you
may want
to add this to your collection.
*
If you're budget conscientious
,
it's reasonably priced
.
*
If you like hardcore pounding + California blondes
, I recommend you
buy something else
.
*
If you're into hardcore D/s
, you will laugh.
Skip it
.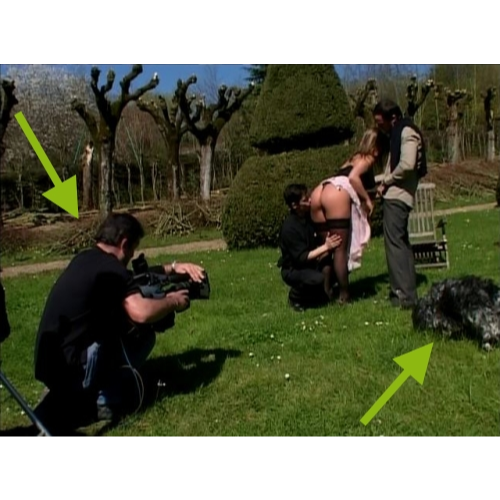 This product was provided free of charge to the reviewer. This review is in compliance with the FTC guidelines.

Thank you for viewing
At Your Service
review page!