Triple X Latexxx
Whips and chains excite you? What about all-girl action? And latex? This film has plenty of all four, and more. Hot actresses, bondage, nipple torture, spanking, and some great BDSM gear make up this unique, odd film.
Published:
Pros:
Hot actresses
Naudia Nice is a great actress
Kinky
Cons:
Bad production quality
Dialogue cheesy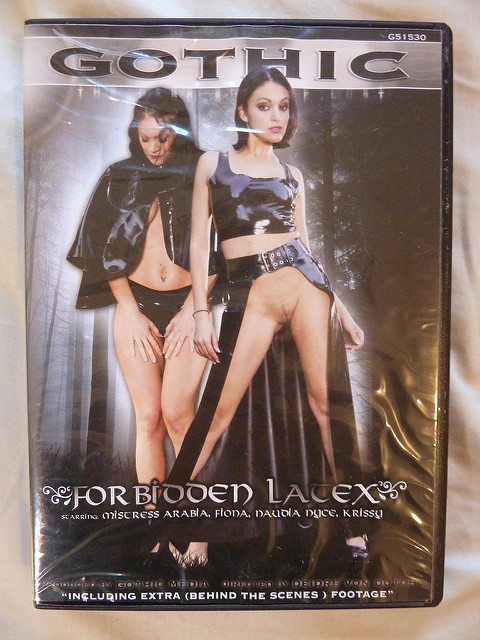 Who knew latex could be so dirty? The sluts in Forbidden Latex by Gothic media did, and they'll teach you just how dirty it can be! Lovely ladies Naudia Nice, Mistress Aradia, Fiona and Krissy star in this fetish flick, complete with bondage, torture, toys, and all around all-girl fun.
The single-disc DVD runs about 90 minutes, and comes in a standard case. The case seemed a bit ragged, the plastic casing on it wrinkled as if water damaged, but it was new. Fifteen photos on the back displayed stills of the leading ladies in action, and were off-putting, really. The typical porno cunt-shot and dildo-in-the-cunt shots were dominant, and reminiscent of straight porn. I sighed.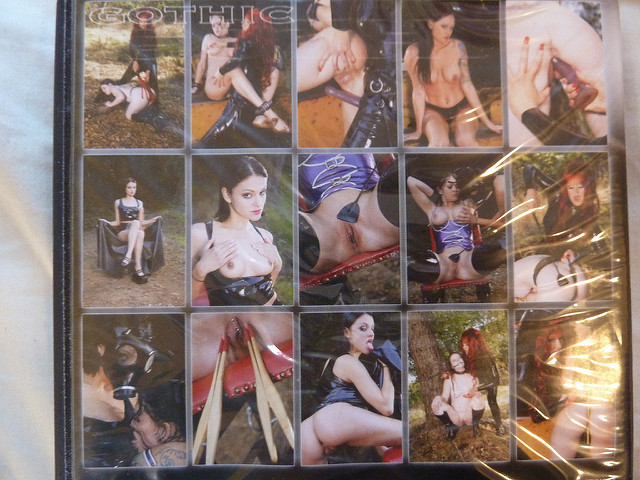 The intro trailer for Gothic Media flashed clips of some hardcore BDSM acts such as piercing, suspension play and gas mask roleplaying. After seeing the intro with the 'Gothic Media' logo flashed inexpertly on the screen, I was wondering what the fuck I'd gotten myself into. I was excited for all-girl play, as hetero porn to me is too rough, too male-dominated, and certainly too predictable. The looping video on the main DVD screen confirmed my suspicions about this all-girl straight porn, disguised as something new. It was a clip of a scene with Naudia Nice and Fiona. Fiona is standing above Naudia who is kneeling in what appears to be mulch, in a woodland setting. Squeaking latex moans under Nadia's tongue as she moves it over her domme's chest. Fiona rather stiffly quips, 'Just don't touch the latex; feel the latex... Touch my ass.' Over and over again. Until one tires of the shitty rock music in the background and the fact that Fiona should've said '
Don't just
touch the latex...' as what she really said didn't make any damn sense. Then the play button snaps the behind-the-scenes hour-long video. In a way I wanted to save this for after the feature presentation, but seeing the DVD menu and smelling its stench of amateur pretending to be professional, I wanted to see just what I was getting myself into.
The 25-minute behind-the-scenes video begins with a handheld consumer-quality camera in a car on a bumpy ride down the mountain. It's Fiona, Krissy and an unknown girl in the back of a car, being videotaped by who I guessed was their manager. She turned out to be the stills photographer. The girls are laughing and joking about the trip down the hill and how they hate the scary car ride. It's always interesting to me to get this behind-the-scenes look at the actors. They arrive safely at the shoot site, and I'm shocked to see they're really going to shoot outdoors, in this plain, boring wood setting. The trees are neither exotic nor beautiful. It's not fall. The time of day appears to be mid, so lighting is horrid! Any photographer or videographer knows to not shoot outside midday. The most flattering light is at sunset, or rise. Anyway.
The rest of the scene shows the videographer shooting the opening scene. Mistress Aradia dominates Krissy, forcing her to lick her latex-laden legs, fucking her with a thick dildo, and choosing just when she will come. The scene to me was really, really awkward. Dialogue seemed forced and honestly, lame. I wasn't excited for what was in store. However, it included some interesting aspects of BDSM, such as latex licking, whipping, restraints, hair-pulling, and some good fat silicone toys.
This scene, viewed as part of the feature presentation, after editing and music, wasn't really much better. The cheesy metal on a 3-minute loop was almost unbearable, but did fill in awkward silences. It reminded me of MIDI files that would pop up on websites and play continuously. In the nineties. The production quality was almost unbearably low. Sound quality was pretty damn bad. The girls would speak and you couldn't make out a word of it, due to the blaring heavy metal or their mumbling, or the lack of proper microphones altogether. The shots were really long, and only one camera used for each of them. Just one more camera would've made for much interesting visuals, and better views of the action.
Experience
There is honestly no plot at all. And at some point you've gotta ask yourself, what the hell are these latexed up chicks doing chaining eachother up in the woods? I mean. Really. The fact that the camera color and clarity appears to have come from 1995 as well doesn't help. The actresses would've been done more justice with a high-quality camera, some soft lighting.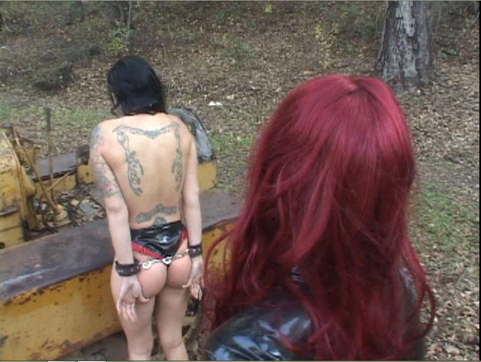 Whips and chains excite her!
Still, Naudia nice performs so well in the second scene. It opens with her chained to a Caterpillar. Not the fuzzy kind either. She's clothed only in latex panties and a cape, open at the front. Her makeup is done incredibly poorly, and her dye-job is at best trashy. But wow, she has an incredible body. And piercings. And she's just so sexy. You can tell she loves it when mistress pulls and flicks her lip and nipple rings. Mistress slaps her in the face. And Naudia's gasps and moans make it clear: this really hurts, and she's really enjoying it. It's exciting to watch.
The 3rd scene brings Fiona in her gas mask to Naudia's side. Fiona has a table full of torture devices with which to tantalize Naudia. This scene differs in that there is alot of mutual masturbation. Fiona forces Naudia to fuck herself with a dildo until Fiona comes by watching her and touching herself. All this BDSM stuff is completely new to me. It's pretty crazy to watch, but I'm intrigued.
All in all, with production quality being so shitty, and dialogue at times forced, I'll knock off two stars. The actresses were gorgeous though, and the film was, if nothing else, quite unique. I'll give it a solid 3 stars.
Follow-up commentary
4 months after original review
I am so incredibly picky when it comes to porn, that I just wasn't going to watch this again. A friend of mine got it as a present. I'm sure plenty of porn fans, BDSM fans, hot trashy lesbian fans would be so into this, but it just wasn't that perfect porn I was looking for. What can I say? I know what I like, and I like what I like.
This content is the opinion of the submitting contributor and is not endorsed by EdenFantasys.com

Thank you for viewing
Forbidden latex
review page!