A Nice Deck of Cards, But The "Games" Are More Useful For Beginners
So I thought this product was a game... It's not. It's just a deck of cards. Each card has a suggestion on it to spice up your sexual life. If you are just beginning exploring new sexual activities for you and your partner, you will benefit from this product. If you have already done a bit of exploring like us, then most of these cards will not bring anything new to your sex life.
Published:
Pros:
good quality, price, great tips for beginners
Cons:
geared more towards heterosexual couples, suggestions are mild in creativity
I was really excited to try out the "52 Alluring Sex Games For Lovers" because I thought it would add some extra fun to our sexual activities and for $8.99; I figured it'd be totally worth it… It really was not what I had expected. I had assumed that the cards would come with a set of rules, but it doesn't. So really, what you'll be getting is a deck of cards that each has an "idea" of how to be creative in your sex life.
The deck of cards is a "jumbo" set of playing cards. They are packaged in a box which keeps them snug when they are not being used (the type of packaging most decks of cards come in). The box is pink white and black. On the front of the package, there is a background image of a female and male about to kiss, and the title of the product. The back of the packaging has the product name, brand, a sample photo of a couple of the playing cards, and some extra, unimportant information.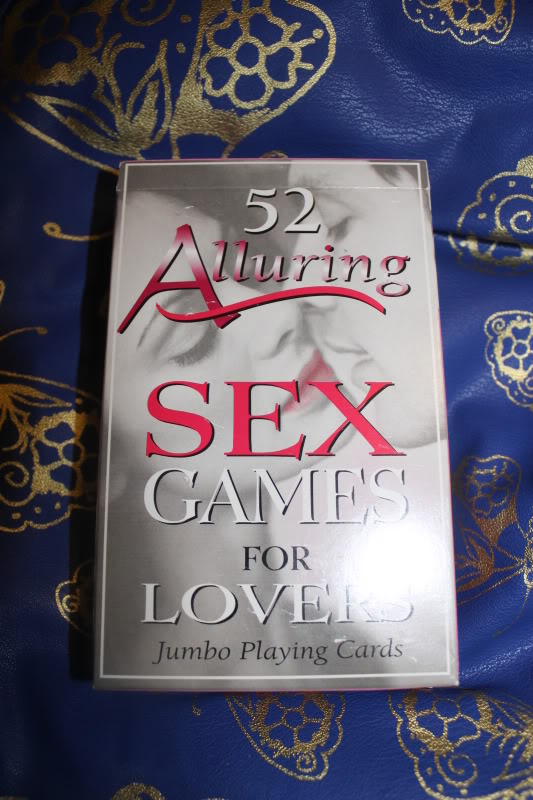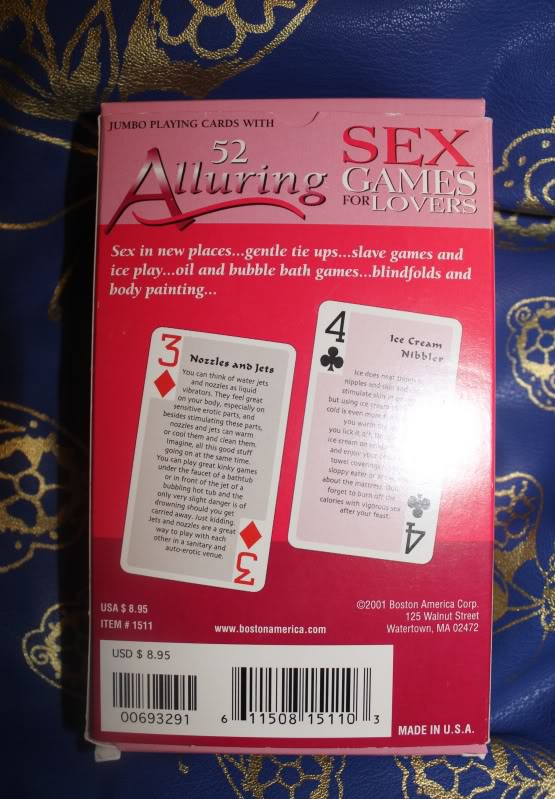 The deck of cards inside the box is a regular deck of cards: 4 suits, Ace-King. They also include 2 Joker cards that are labelled "Lover" cards. There is one extra card in the box that is just an advertisement for the brand, mentioning other products they have available. You can keep this card or throw it out; it is not needed to play. The card quality is the same as a regular deck of cards; thick and have a bit of gloss to them. They will not rip any easier or any less than a regular set.
The cards are "jumbo". The approximate measurements of the cards are as follows:
Height: 6 inches
Width: 3 ½ inches
The background image on the front of the packaging is the photo on the top of each of the cards. The black and white (and pink lips) photo of the female and male about to kiss reminds me of an old romance movie. I find it quite romantic, but this may turn others off. Your relationship does not need to be heterosexual in order to benefit from most of these ideas, although the ideas do seem to be directed towards heterosexual couples. There are a few ideas that will not work, depending on your relationship. For instance, there is a card that gives a tip on blowjobs. If there is no penis in the relationship, this card will be of no use. The suggestions are in English only.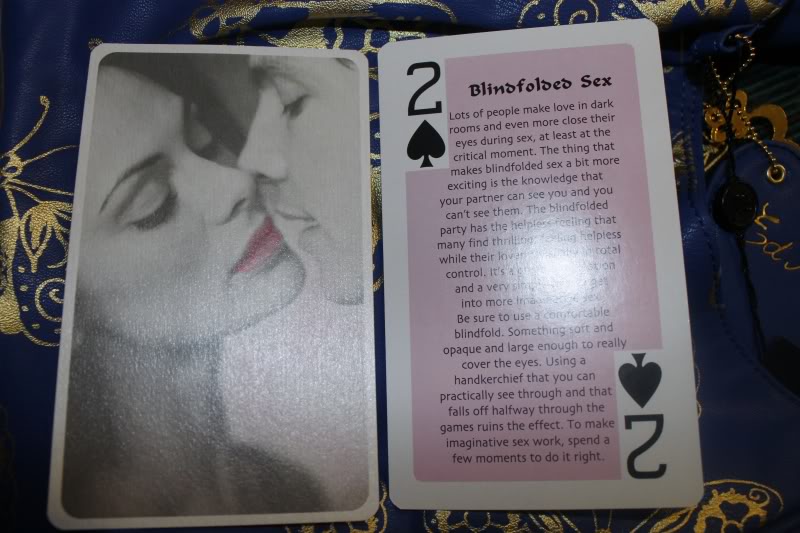 The card ideas are quite mild. Here is an example of a card tip that I feel most people could know own their own without purchasing this set… "Changing Room Sex". Yes, that is one of the ideas, and yes, it's basically just telling you to change it up from always having sex in the bedroom.
The majority of these cards would be most useful for new (or old) couples, just beginning to explore new ideas in the bedroom. The cards are not intimidating, and the ideas on the cards are just ideas since there are no set of rules. That means that if the couple feels they are not ready for one of the ideas, they can move on to the next card. For those of us who have already begun exploring, and have tried different activities in the bedroom, the cards may not blow your mind or change your life. There are a few exceptions, but the majority of suggestions are mild in creativity.
With these cards, there are different ideas that require materials/foods/products that you may not have in your home. One example of this is a vibrator. You can always improvise, but I felt that it was important to note.
Like I had previously mentioned, there are no rules to the deck of cards. This means that you must incorporate the ideas into a card game that you already know how to play, or, just read the tips as soon as you receive them, and use the deck of cards for regular, non-sexual game play.
Experience
...continued

The easiest game I can think of to incorporate the tips with is "pick a card, any card!", which I guess is not even really a game… Your partner can choose a card, and that is the activity you both will try together. Another idea is the "matching game". Lay all of the cards out, face down, and try matching pairs (king with king, etc). The person with the most matches at the end of the game wins, and can choose any activity for you both to try, from any of the matches that they have. These are just a few of my ideas, you can be creative and use the cards however you'd like!

I've given this deck of cards a 3 out of 5, simply because most of the suggestions on the cards are nothing new to us, but I feel they could be somewhat useful for couples just beginning to explore different sexual activities. Though the tips are not very useful for us, we needed a new deck of playing cards anyway!
Follow-up commentary
2 months after original review
We actually haven't used these cards since my review. We figured we would use the deck as a regular deck of cards since we didn't find any of the tips on the cards very useful for us... but when we go for a regular deck of cards, we tend to grab the regular-sized, regular deck over these ones. Right now they are just collecting dust in the closet.


This content is the opinion of the submitting contributor and is not endorsed by EdenFantasys.com

Thank you for viewing
52 alluring sex games for lovers
– adult game review page!