Dipping your toes into the pond of (mild) kink
If you have been looking for a way to start exploring the world of kink, this is it. Lots of ideas, easy to understand, and fun, the Fetish Seductions Kit is a great way to dip your toes into the pond of kink.
Published:
Pros:
Easy to understand, multiple ways to play.
Cons:
Not for advanced, everything smells like plastic.
Fetish Seductions is certainly not geared for the most advanced of the kink community. It is, however, a great way for beginners, or those looking to explore into this area, to get some ideas.

It does talk about the importance of safe words and gestures to ensure that no one gets hurt or is doing something out of their comfort zone.

It is certainly a couple's kit, and it is designed to be enjoyed as a single couple. Although, because the cards all have suggestions, they could easily be incorporated into a group setting if you have a spare blindfold kicking around.
There are 2 ways to play the game. One is to simply find a card of your liking and read from it. The other way is to roll the dice that are in the box. After rolling, use them in the red-black sequence to find your number and find the equivalent number on the card and go.

For example: 1-1 is the "Hot Wax Nipple Torture" card, in which they tell you to "Light the candle and then undress her. Enjoy touching the rest of her body and blindfold her when it becomes appropriate. Now it is time for the wax. Place a drop on her navel from the burning candle. Did that feel good? Keep going and work your way up towards those delightful orbs and their nipples. Make love to her but keep that hot wax close by for when she begs for it."

There is no winner, because it is not so much a game as it is suggestions and a fun way of finding them. The instructions and cards are clear, to the point, and are available in 4 languages (English, French, Spanish, and German).
The contents are placed in a rather small box, approximately 6X6 inches. There is a plastic molding inside that holds all the parts. I believe this plastic is the reason for the nasty smell that comes out of the box and off of everything in it. If you ditch the molding and let everything air, it should be fine. The contents are even small enough that you could toss the box also and just keep everything in a large Ziploc bag.
The kit includes:
1 Instruction Card: Easy to read, in 4 languages.
36 Fetish Seduction cards: The cards are a decent thickness and have a bit of a shine to them. This tells me they are laminated to some extent and could easily be wiped off with a damp cloth if need be.
1 Blindfold: The blindfold is pretty well made, actually. There are 2 pieces of elastic to hold it well to your head. It has a lot of give, so just about anyone can wear it comfortably, and the mask is padded. The material it is made from is very soft, like a satin of sorts, so it is comfortable against the face (air it out because it smells like plastic).
2 Dice: One black, one red (in the instructions they call it pink, but mine is most definitely red). Typical 6 sided dice.
1 Candle: In the picture of the items included on the box, they show a votive candle. In the box is actually a small tea light. It is unscented (other than the smell of the plastic).
2 Ropes: More like 2 thick shoelaces. They wont hurt the skin much, but can also come undone easily. They have metal aglets on the end to keep them from fraying. They are 37 inches long, black, and smell of plastic.
1 Feather Tickler: This is actually just a single white feather with a plastic bit on the stem to make it sturdier. It is fluffy and lovely, but also smells of plastic.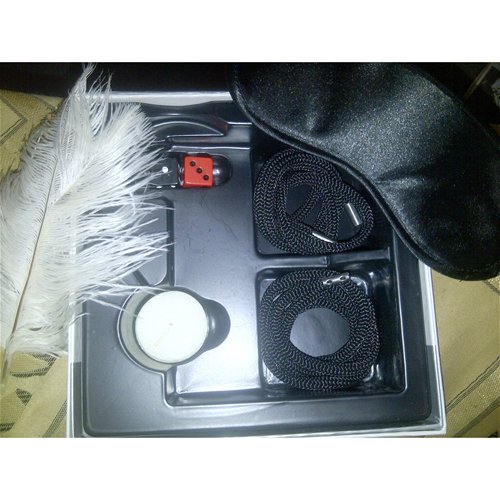 This product was provided free of charge to the reviewer. This review is in compliance with the FTC guidelines.

Thank you for viewing
Fetish seductions
– adult game review page!