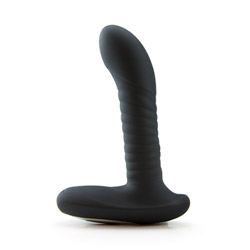 Catalyst rimming p-spot massager
Vibrating prostate massager by EdenFantasys
It's a Catalyst for your P and G-spots
Whether you have a P-spot or a G-spot, let the Catalyst take you for a ride of pure pleasure. Its vibes and beads will have you cumming in no time.
Published:
Pros:
Multiple functions, vibes and rotating beads, Rechargeable, easy to clean
Cons:
Can't think of any
I was very excited when the Catalyst got assigned to me for a review. I enjoy a prostate play, but most of all that toys like the Catalyst can also be used for G-spot play as well, so I can share the pleasure with my wife. The Catalyst has loads of features, 12 vibes patterns and 3 speeds, 4 rows of rotating beads in the bottom of the shaft with 3 speeds, it's USB rechargeable, waterproof, and made from high-quality non-porous silicone, making it easy to clean with hot water and soap or toy cleaner. Remember, with silicone toys only use water-based lubes. The Catalyst is a little longer than most of the prostate toys I have, and the tip doesn't hit my prostate directly. At first, I thought the tip was angled to hit my prostate, but after lubing it up and slipping it into my ass, it went in very easily. Once completely inserted, I noticed that the curved part of the tip cradled my prostate, and when the vibes were turned on, I became very stimulated. Add in the rotating beads rimming my tight ass, and it was a hands-free pleasure. Yes, lying on the bed with the Catalyst inserted, it stayed put. My wife found that using it on her G-spot was more pleasurable when she manipulated it with her hands. The controls in the Catalyst base are clearly marked and easy to use. As with most rechargeable toys, I plugged the Catalyst in for a couple of hours before we used it.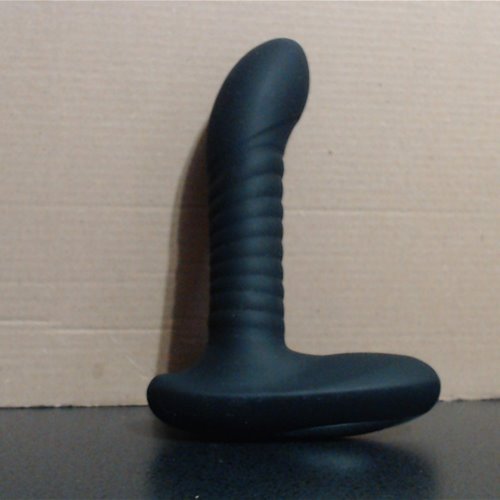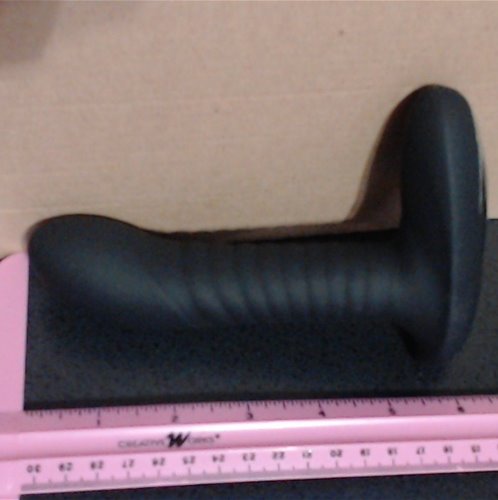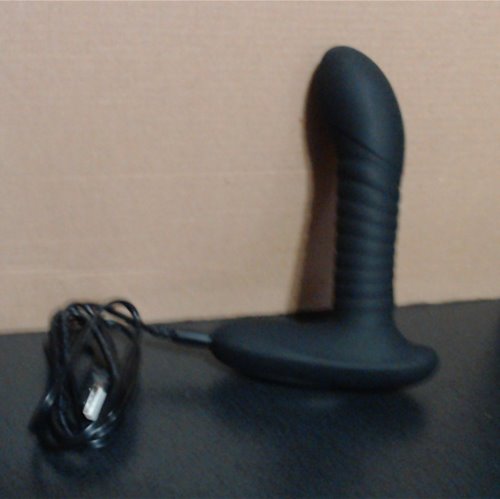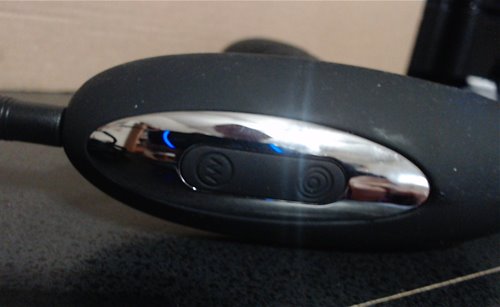 Experience
When the Catalyst p-spot (G-spot) massager arrived, I did my usual routine and washed it good with hot water and soap, then plugged it in for a couple of hours to make sure it was well charged. Nothing worse than a sex toy dying in the middle of using it. I knew my wife would be home soon from work, but I couldn't wait to try the Catalyst. I got undressed, put our waterproof throe on the bed, laid back, lubed the Catalyst up and slipped it into my tight little ass. MMMMMM, it felt great with the curved tip cradling my excited prostate. I turned on the vibes, selected a nice escalating pattern, turned on the rotating beads, selected their high setting, and proceeded to enjoy. In no time, my cock was standing tall and hard. The rotating beads felt great, something new for me. I heard my wife came home and she walked into the bedroom, took one look and said: "I see the new toy came. Need any help". I told her, of course, I do. Soon her clothes were in a pile on the floor, naked she climbed on the bed. Grasping my hard, throbbing cock, which was already covered with lots of sweet precum from my prostate being stimulated. She then proceeded to wrap her wet, hot, lips around my swollen cock head and swallowed almost every inch of my hardness. With the vibes, rotating beads, and my wife's talented mouth, I was ready to cum in no time. She felt my cock head swell, and knowing I was going to cum started sucking harder, I exploded and emptied my balls in her mouth. After sucking the last drops of cum from my cock, she pulled the Catalyst from my ass, smiled and said: "My turn". I had put a condom on the Catalyst because I knew we would both be using it. She removed the condom, wiped the Catalyst off with an antibacterial wipe and laid back on a pile off pillows. I handed her the lube, she smiled and said: "No thanks, I don't think I'll need that". She parted her ample thighs revealing her dripping wet pussy. The Catalyst slipped right in. She used it like a dildo at first, rubbing the tip over her swollen G-spot, then pushed it all the way in and turned on the vibes and beads. The beads she said kind of felt like her Rabbit. Her reaction, back-arching, moaning, and her pussy clamping down tight on the Catalyst told me she liked it. I knelt between her open legs and started trying to revive my spent cock. It's a good thing the Catalyst is waterproof because she let out a scream and gushed pussy cum everywhere. I reached for the Catalyst, and she pushed my hand away. After a couple more orgasms, she was begging for my cock. I leaned forward, my hardness sliding into her wetness, her body still trembling from her orgasms beneath me as I f***ed her to a final orgasm. She licked her sweet juices from the Catalyst and placed it on the headboard with our other fave toys. I said: "I assume you like it"? She just nodded yes, and we cuddled to enjoy our pleasure.
Follow-up commentary
4 days after original review
Came home last night to find my wife lying on the bed, watching an erotic movie and pounding her G-spot with the Catalyst. I stripped and climbed on the bed and fed her hungry mouth my semi-hard cock. In no time I was hard and throat f***ing her and she was ramming the Catalyst into her wet pussy. I could feel my cock head swelling and my balls pulling up and new her and the Catalyst had me so excited I was going to explode. Muffled screams came from her cock filled mouth and her pussy gushed cum like a fountain. She got everything wet and I couldn't hold back any longer. I pulled my cock from her mouth and shot a huge load of white, gooey cum all over her mouth, face, and tits. She pulled the Catalyst from her still dripping pussy and licked it clean. We both still love playing with it
This product was provided free of charge to the reviewer. This review is in compliance with the FTC guidelines.

Thank you for viewing
Catalyst rimming p-spot massager
– vibrating prostate massager review page!