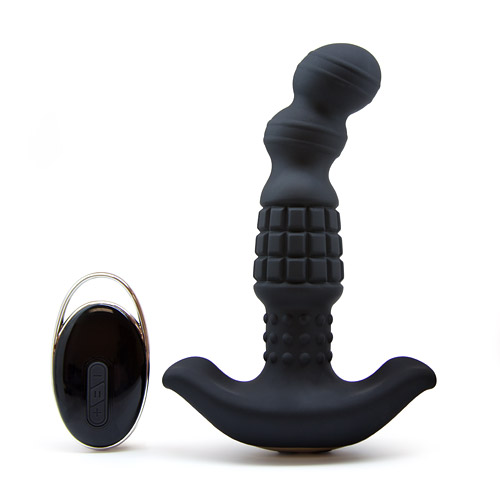 Rimming P-spot pleaser
Rimming P-spot vibrator
by EdenFantasys
P-spot pleaser? Rimming too? Yes!
This toy is not meant for backside beginners, but if you're looking to take the next step in your backdoor adventure, I absolutely recommend the Rimming P-spot Pleaser. It will challenge you, but the rewards are worth it. You can't beat the price for what you get; intense vibrations, 12 patterns, and a rotating base. The lights on the controls that change colors with each different vibration pattern and the included remote control add extra value.
Published:
Pros
Incredibly powerful vibrations
Many amazing patterns to choose from
Waterproof
Cons
The texture on the shaft is not ideal
Clean up takes a little extra effort
When I first saw the package that the Rimming P-Spot Pleaser came in, I was a bit confused. It's designed for a man's backdoor but comes in a box that can only be described as "pretty." Don't get me wrong; I don't believe that only men will enjoy this toy; I'm an equal backdoor opportunity kind of guy, but the jury is still out on whether my thinking is old school or the manufacturer is behind the times. In my opinion, you don't have to be a straight man to want a product designed with prostates in mind to be in a somewhat masculine package. I'll leave it at that.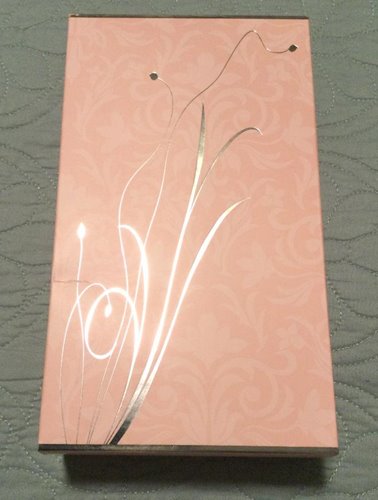 When I opened the package, I noticed that the contents were in a resealable bag. It's nothing fancy, but it seems quite durable, and it is great for storing everything in to keep the charging cable, remote, and toy together. If your toy box is anything like mine, you'll appreciate not having to hunt around to find the remote and charging cable.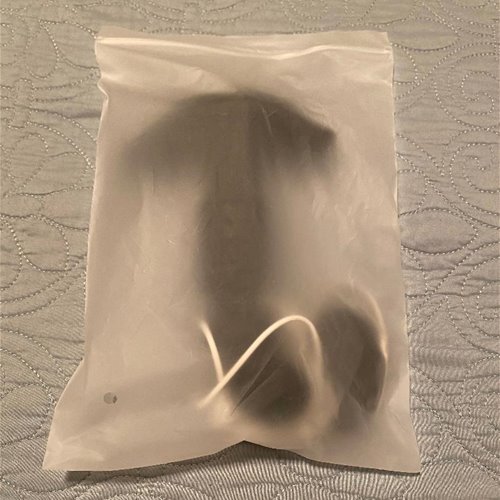 When I saw the toy, I said out loud, "that's never going to fit." My wife just giggled and said, "I disagree." Oh, boy. This is one intimidating beast of P-spot pleaser, and I don't recommend it for beginners. It is made of a quality, velvety soft, body-safe silicone, as we have come to expect from EdenFantasys. I immediately started playing with the buttons and got more excited as things started rotating and vibrating. I love that as you scroll through the vibration patterns, the lights on the buttons change color with each different pattern. It's not super helpful if you're playing solo as you can't really see it, but it's a nice touch. Some of the patterns start out similarly, so it's nice to have a visual confirmation that you actually selected the next one. The vibrations are incredibly powerful, ranging from very fast and intense to a nice, low, thunderous rumble. And the wide range of patterns means that there is something for everyone. With 3 speeds of rotating "rimming" to choose from, you can really customize the sensations you're receiving. Here it is next to an iPhone 8 for a size reference.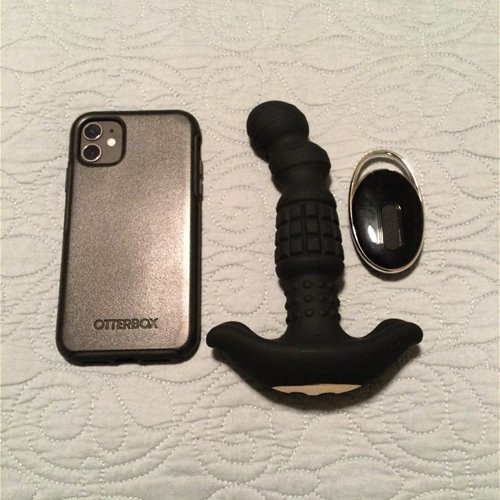 As I was washing up the Rimming P-spot Pleaser for the first time, it struck me how many cracks and crevices this thing has in it. Suddenly I was feeling it very necessary to hit the shower and "clean the pipes" before we used it so as to avoid anything that might kill the mood later. I'm not sure that the checkerboard design on the shaft of this item is the best for a backdoor toy, purely from a sanitary standpoint, but maybe it will clean up easier than I think. Onto the charger, it goes…
Experience
I came back to the toy after it had been on the charger for an hour or so, and the light had stopped flashing. I assumed this meant it was fully charged. I picked it up to disconnect the cord, but before I did, the light started flashing again. Confused, I let it sit for a couple of minutes, and the light just kept flashing. I disconnected it anyway, and I'll see what it does next time I charge it up. If I have an issue, I'll mention it in my follow-up review.

Ok, I admit, I was scared and excited at the same time. This thing is massive and intimidating, but I'm interested in moving toward bigger toys, so I was determined to see what this thing could do. With A LOT of lube and some patience, I started my journey. I love the first couple of "bulbs" on this toy. They don't go in really easy but feel amazing once they get in there. The middle section is where I ran into problems. On my first go-round with the Rimming P-spot Pleaser, I just wasn't able to take the whole thing. I tried. My wife tried. It was just too uncomfortable, and I didn't want to force anything. I will tell you that this beauty hits my P-spot in a way that I love, and it doesn't have to be all the way in to do it. And the vibrations…wow! I had to go through all 12 settings twice just to get acquainted with some patterns I'd never seen before. Outstanding! The power is unbelievable for how quiet this toy is.

About a week later, I tried again, this time solo. Again, I was struggling to go full bore (pun intended). After a few attempts, I decided that I needed to find another toy that was just a little smaller to help work up to this one and not give up on it. I was just enjoying it for what it was when suddenly, without really trying, it hit home. The feeling was incredible! Suddenly I was hands-free and getting lost in the moment. The rimming action was on full throttle, and it is a unique feeling that definitely adds to the experience. I finished faster than I wanted to, but with all those sensations going on, it's a wonder I lasted as long as I had. Definitely worth the effort of getting it in. I haven't tried it yet, but my guess is that this toy is not going to stay in place really well during sex. If your partner hops on top, then you would likely be fine, but if you're moving around a lot, I don't think it's going to stay put.

Clean up with the Rimming P-spot Pleaser does take a bit of extra effort. I am very careful about how well my toys are cleaned, and the design of this toy presents many dark corners that require careful scrutiny. It's not going to take an hour, but longer than something smooth. And I recommend a good toy cleaner as well. Not to worry, the extra effort is definitely worth having this one in the toy box!
Follow-up commentary
18 months after original review
The super strong vibrations of this toy are just incredible. When this bad boy is rotating against your p-spot, vibrating and rimming your hole, there is really nothing else to ask for as far as backdoor pleasure goes. It hits me in all the right spots and that's what earned it the "I still like it" designation.

To be perfectly honest there are a few negatives to this item as well - it can be difficult to insert and requires copious amounts of lube to get the checkerboard center of the shaft in comfortably, it will not stay put hands free unless you are sitting or lying face up, and clean up is a bit of a chore with all the grooves. That being said, this one is still a winner in my book and worth a try.
This product was provided free of charge to the reviewer. This review is in compliance with the FTC guidelines.
Thank you for viewing
Rimming P-spot pleaser
– rimming p-spot vibrator review page!