Fifty Shades of Grey Sweet Sting Crop
I love this crop. I was really afraid that it was going to be as bad as the books, and clearly constructed from someone who has no idea how this type of play works, but I was very pleasantly surprised. Although this is a little pricey, I personally think it's definitely worth the investment. This is a lovely crop that I think everyone would love if they gave it a chance like we did.
Published:
Pros:
well made
feels great
nice packaging
pricey
Cons:
50 Shades of Grey
leather (may be a con for some)
Like most respectable kinksters, when I saw that EF had added items from the 50 Shades line, I sighed heavilt and shook my head in disappointment. "Why is it so much to ask for REAL fetish items?" I wined. And then I decided to take the plunge in my need for a nice crop and ordered this thing.

It was, quite surpringly, one of the greatest purchases I've ever made in my EF history. From the moment I opened the box, I was totally in love. The box has quite a bit of sex appeal, and although it's not super fancy and is simply cardboard and plastic, it still manages to look amazing. It says "Sweet Sting" in a lovely, pink cursive font on the front of the navy packaging, with the ever so infamous "50 Shades of Grey" shimmering font near the opening. In the same font in the bottom, it tells you exactly what is in the box- a (beautiful) riding crop. Inside is the actual crop, nestled in a plastic case molded to fit it just perfectly. It also came with a small booklet giving beginner's advice to using a crop, which really just included being open with your partner, suggesting to tease with the crop by rubbing the areas before you start to spank, and suggesting spanking areas you wouldn't normally think of. Really great advice considering the source, if you ask me. And although it's not the best packaging to keep around and use for storage, we still keep it in a drawer, where it fits perfectly and never disturbs a thing.

This crop is so extremely aesthetically pleasing, from the tip to the handle to the super comfortable leather band meant for looping over your wrist while in use or for hanging when it's not exactly playtime. This is definitely a toy I would hang on my wall if I could! The tip is a lovely silver, the rest is all black except for the silver accents keeping the crop together. The box says it is made from leather, pvc, nylon, and plastic. Because of the sensitive materials, I would not suggest using this with any type of lubricant or getting it near water. If you happen to need to clean it, just make sure to wipe it down with warm water and if you absolutely need some sort of solution, use a gentle soap. Leather just doesn't play well with liquids! Anyway, this crop definitely packs quite a sting and can also be as gentle as cotton, depending on who the wielder may be. I can definitely see this thing lasting for awhile, thankfully. The stitching on it is perfect- not a thread out of place. I really honestly thought there would be a flaw with this crop, but fortunately, I haven't found it yet. And hopefully, I will be continued to be proven wrong use after use.

It is 23" from end to end, but don't let it's size scare you away. That's really not as big as you would think, even. Regardless, it could still fit in a drawer (like us), or under the mattress, behind the headboard, in the tippy top of shelf of the closet- you get it. It has a great weight and feel to it, as well. I love holding it, even though I rarely use it (I am usually the one it is getting used on~). I love this crop. I love it so much. I would definitely recommend it to anyone who is not only looking for a great feeling toy to be spanked with, but one that is good looking, as well.

Trust me- I truly didn't want to associate myself with 50 Shades. But I also didn't want to pass up a good crop just because it may have stemmed from some horrible series.
Experience
This is the front of the box.

The inside~

The handle and tag, which could easily be cut off~
I personally adore the print on the handle. It really adds to the look of the crop and makes you realize it really is worth the extra cash. There are so many little details that make this thing nicer than the average spanking instrument.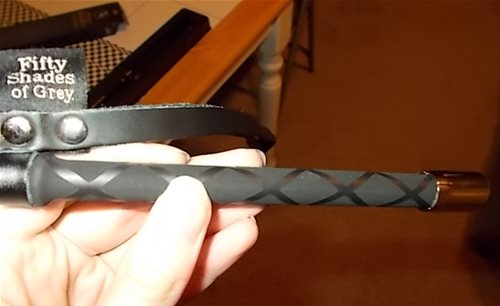 The tip~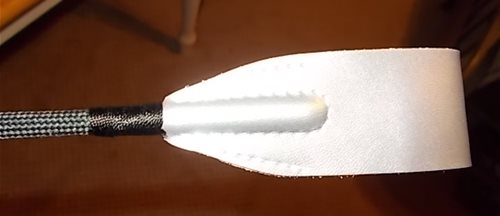 Follow-up commentary
10 months after original review
Still loving this crop! It really does pack quite the sweet sting, I have been swatted this thing on every imaginable body part and it feels amazing every single time. Everything has held up well, it is still just as beautiful and elegant as ever.
This product was provided at a discounted price in exchange for an unbiased review. This review is in compliance with the FTC guidelines.

Thank you for viewing
Fifty Shades of Grey Sweet sting
– crop review page!