I have come from lightyears away, and I am here to flog you.
This is a fabulous and unique flogger for anyone who doesn't desire too much pain. Fantastic for beginner to advance players, it is easy to wield and comfortable to hold. Just beware of using this with a partner who has metal allergies and/or could be a vegan.
Published:
Pros:
Comfortable handle that can also be a massager, "thuddy", well-made, beautiful, sounds great.
Cons:
Only pink, shed a bit, cannot be sterilized, metal allergies beware, not painful enough for some.
My new, glorious flogger came to me nearly naked aside from a rubber band to keep the tails together and a black cord around the handle with a tag. The tag reads on the front "Ruff-Lust in leather" and "Pinstripe", there is a mostly nude woman, pictured from the back, holding the flogger. On the back of the tag it says, "Hand made leather tails backed in suede are wrapped for the night in a protruding metal jacket." Aside from that and where it was made (India), Ruff Doggie Styles gives us no care information and no clue as to what kind of metal this is. I would say that people with metal allergies might want to contact the company before ordering this flogger.
No one panic about a lack of care instructions, I happen to be here to help! Leather cannot be sanitized and therefore should only be used with multiple partners with caution. The falls are soft so it would be rather difficult to break skin, but still share at your own discretion. You can wipe the whole thing down with a damp wash cloth or leather soap (on the leather bits), but please be sure to let it dry completely before storing; leather can mold and metal can rust and then you would be sad.
This beauty is about 27.5 inches in total length,

with 21 of those inches being tails and 6.5 inches of uniquely shaped, chrome handle, the on top is 1.5 inches across. The handle makes a really great massager, too.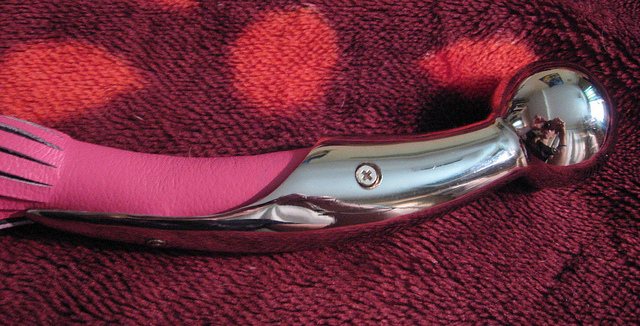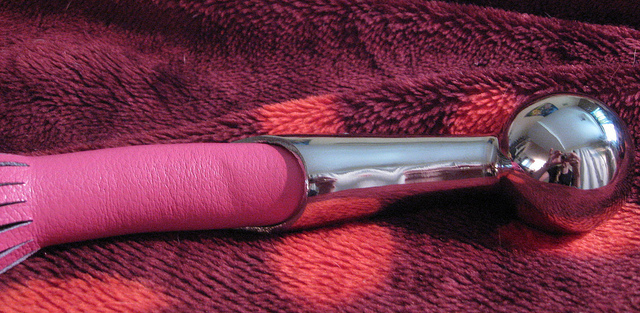 There are 36 tails which are supple, pink leather on one side and soft, black suede on the other.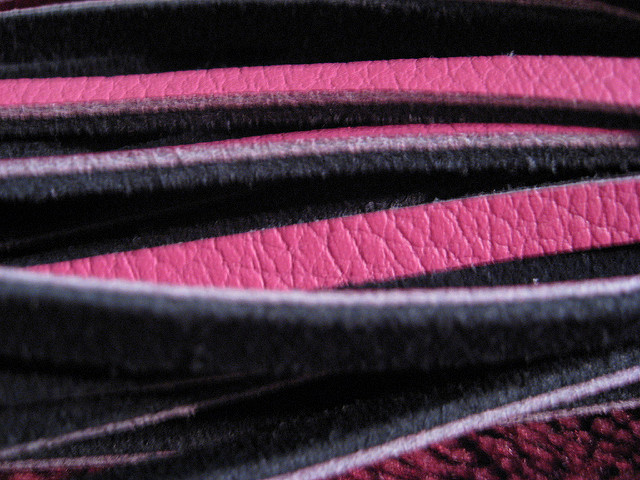 The whole flogger seems very well crafted and aside from a bit of suede dandruff (which should diminish over time), and the screws not all being totally flush:
it's a wonderful and sleek piece.
Though travel friendly I would not be surprised if mistaken for a weapon or recognized a sex toy, as it could crack a skull or two and is not terribly discreet. Easy to store, it can hang in a closet or be folded up in a drawer, just make sure to keep it in a cool dry place, out of direct sunlight. If you don't it could lose some of it's color and get too dry.
Experience
The Pinstripe Flog-her seems to only come in pink, which I'm not entirely stoked on, but in the dark who can tell? It looks very futuristic to me for some reason, which goes well with several excellent roll plays (like alien come to Earth to learn about the human race...through domination and sex). The handle is extremely comfortable and obviously heavy. The falls are soft enough to be used as a tickler and a sensory tease but when whacked against the skin they produce a lovely, deep thuddy sound and on the way down some great whipping-through-the-air sounds. This may not be the ideal toy for those that desire tons of pain, but for the average person (into flogging, that is), it will be enough. You can really hit hard with a flogger like this without causing too much pain, just a nice little sting followed by a rosy glow.
This product was provided free of charge to the reviewer. This review is in compliance with the FTC guidelines.

Thank you for viewing
Pin stripe flog-her
– whip review page!