Intimidating Badass Of A Paddle
The Ultimate Bondage Spanker made by NMD Ltd Company is erotically painful. This paddle is completely made for some real pain. It looks like a badass and it feels even worse, in a good way. It is intimidating and you should be scared. I am completely in love with this paddle and the wire rings. It leaves beautiful welts and stings like no other. Before you get hit with this paddle, you hear the rings clink and know it is going to get you good. It is complete bliss.
Published:
Pros:
Great for Pain/Pleasure Play, Stings, Sturdy, Smells Delicious, Causes Welts
Cons:
Smaller then the average paddle, Not for beginners
A New Paddle On Eden?!
The Ultimate Bondage Spanker made by NMD Ltd Company is one of the newest paddles on Eden. I am really impressed by the amount of sting that this paddle can give. It looks like it got into a brawl with a couple big wire notebooks.. but the paddle won. With 29 rings of metal surrounding the paddle, it will seriously be the ultimate paddle in your collection. The handle has 10 little metal rounded studs to make the paddle look more badass then it normally would. I have to tell you, this paddle does the job if you like some pain in the bedroom. It left some wicked marks on my ass when my Master and I finally tried it out.. which was only for experimental purposes, right?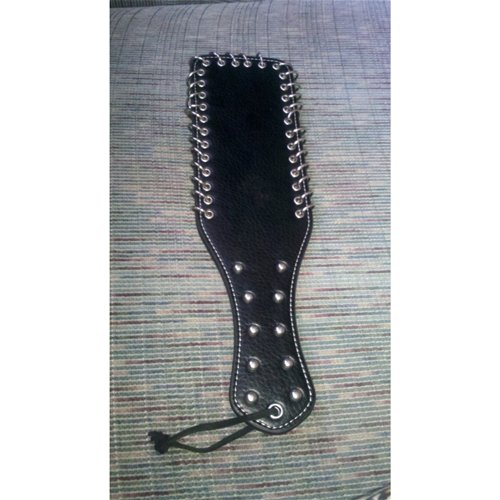 It looks intense! I'm scared!
You should be scared! The Ultimate Bondage Spanker really lives up to the name. I know it looks intimidating, but if you like pain like I do.. you are going to want to pick up one of these. If you are in any way into S/M or in a D/s relationship, you should really add this to your collection. I honestly didn't think that this paddle was going to hold up on their end of the pain scale when I first saw it. It was only half the size of my favorite studded paddle. We honestly didn't even give it a second thought for two days because we were kind of disappointed in the size and look of the paddle that was suppose to be so "ultimate". Well, we finally used it. And it held up their end of the pain spectrum that I am so accustomed to. It leaves marks of rings anywhere that you are hit with it. You can be paddled basically anywhere on your body. My favorite places to be paddled are on my ass, breast, genital area, thighs, and back area. This is not for the faint of heart, you really need to know your pain tolerance if you get this paddle to play with. I would only recommend this paddle for someone who is a moderately to advanced pain and BDSM lover. Proceed with caution!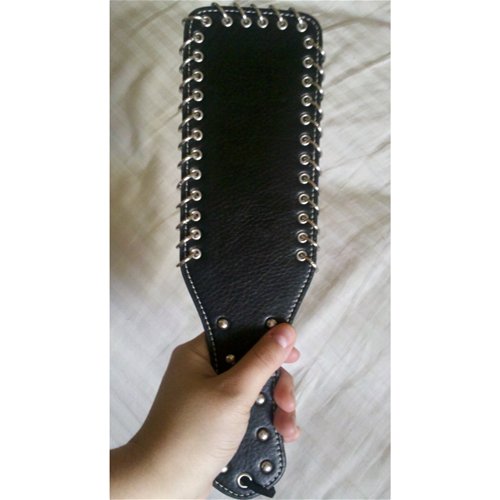 ..What is it made out of?
It is actually made of plastic, metal, and covered in some delicious smelling leather (that I am assuming is faux leather because it just feels differently). With the paddle being made of plastic, I was sure that once it hit across my ass or my back.. this paddle would break in half. I was sure that Master was going to just snap it in half but that wasn't the case. The plastic held up very nicely and I was extremely happy. It leaves a nice thuddy feeling once you get hit with it. The 29 metal rings are actually very stinging like. It leaves many ring-prints on my ass and breasts. Some people may have a metal allergy, so please know that this product has metal on it. The faux leather smells so amazing. I honestly thought it was real leather but then I felt my other leather products and sadly.. it is not. It feels very fabricy smooth and shiny, if that makes sense. I am just happy about the smell of it. This paddle is made out of Food-grade material, Latex free, Non-porous, and Phthalates free. It is 12" long and 3 and 1/4" wide.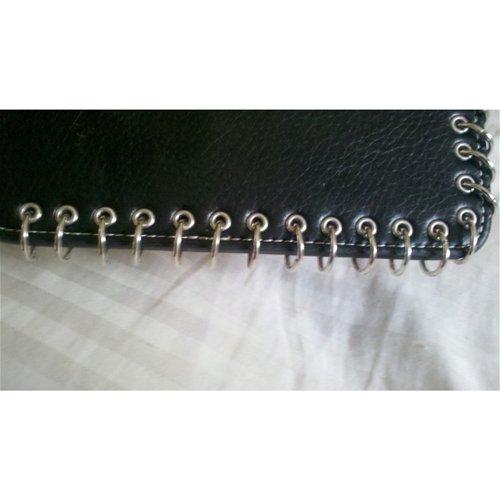 It looks smaller then normal paddles..
It does! That is because it is half the size of normal paddles. If you keep reading/looking, you will see a comparison picture with a normal sized paddle and this paddle. I am not totally upset that this paddle is small, but it feels small. It is very lightweight and doesn't have any swing. I know most BDSM people like their paddles with no swing at all, but we like the swing. We like how paddles sometimes bend because it adds to the painful sensation. He gets more of a hit with it that way. This paddle doesn't bend and has no give. You can bend it a little but I wouldn't since it is made of plastic. We are not worried that this will break because we did put it through.. well.. I WAS PUT THROUGH the "breakable" test. It doesn't break. Believe me. Ask my ass.. she knows.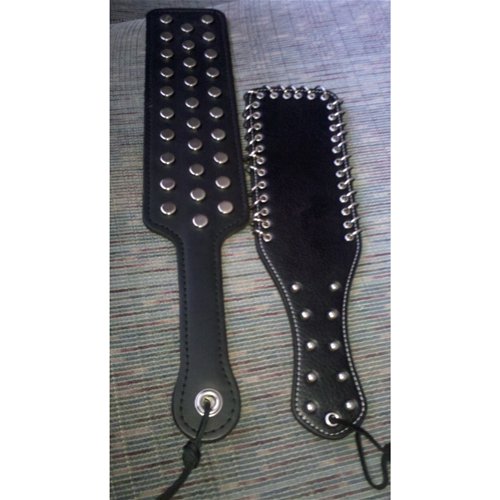 Experience
continued..
Can you show me a picture of it being used on you..? Please!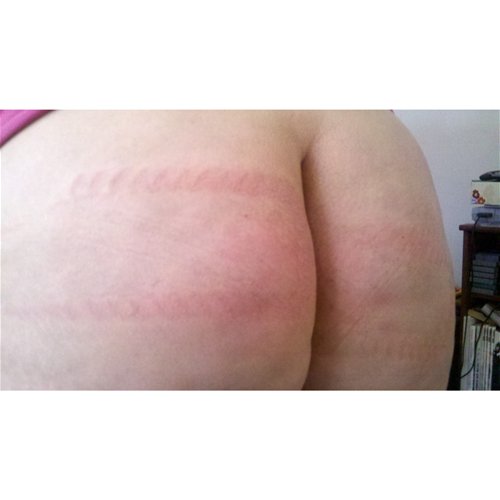 How can I clean that?
If for whatever reason you need to clean the ultimate spanker paddle, you can wipe it down with an antibacterial wipe/spray. You can also wipe it down with warm water and soap. I would definitely make sure that you allow this paddle to completely dry so the faux leather doesn't get tarnished or breaks for some type of reason.
How did you like the Ultimate Bondage Paddle?
I really enjoyed it. I didn't think I was going to at first, but hearing the clink of the metal pieces before it hit my ass for the first time.. such bliss. I didn't know what to expect from this paddle because it was small in size and made of plastic. I usually like my paddles a little better made but now my perspective of "well made" paddles has changed. This paddle is plenty "well made" and is very durable. Master has put this paddle through hell all over my body and it still lives to see another day. My body still lives to tell the tale. It is tied for my favorite studded paddle. They are very different paddles that do very different things. The Ultimate Bondage Spanker Paddle is more for the sting in small doses of madness in welt form. It leaves marks that look like a college ruled notebook. It does leave welts that are skinny and precise. It almost looks and feels like a crop that is super thin.. in multiple doses of pain. The Studded Paddle leaves circles of welts that is thuddy and gives a lot of impact.
Want to share any personal experiences with all of us.. now that you got most of us pretty hyped up on paddles!
Overall, I really enjoyed and admire the Ultimate Bondage Spanker Paddle. It is truly a work of art and a very sexy design. It hangs on my wall and all I want to do is get spanked with it, all over my body. The welts may not have faded, but I crave more. I crave to be spanked with this paddle and crave hearing that clinking metal right before it hits me. I highly recommend this paddle to people who are very much categorized as moderate to advanced pain lovers.
This product was provided free of charge to the reviewer. This review is in compliance with the FTC guidelines.

Thank you for viewing
Ultimate bondage spanker
– paddle review page!