Little Tease!
This is a great, inexpensive toy to introduce you into the world of BDSM or as an excellent sensory toy to add to your collection. It's light weigh, easy to hold, store, and travel with. Couples who are used to using whips during play won't find this to be anything special and may actually be disappointed in it. But the average user still might enjoy using it for sensory play as a lighter toy.
Published:
Pros:
Inexpensive
Beginner Friendly
Non-intimidating
Compact
Cons:
Too light for some
Use
Rubber Whip Junior by Sportsheets is a very non-intimidating introduction into the world of whips. This makes a great first toy if you're unsure about whether or not you're interested in BDSM., and aren't sure if you could handle the pain of getting whipped.
This toy works wonderfully when used as a sensory tool as well. Blindfold your partner and lightly drag the thin rubber strands over their body, the most sensitive areas, and where they least expect it.
This toy works best with couples since it really lacks the fun and suspense when used on your own.
Material / Texture
Rubber Whip Junior is made from, you guessed it, rubber. It rates a 3/10 on Eden's material safety scale since it is a porous material that can't easily be cleaned. Since this toy is meant to be used externally, that shouldn't be a big deal. This can be exposed to silicone and water based lubricants, but lube does not need to be applied to this toy. With proper care, rubber holds up very well and will last a long time.
The handle is smooth as well as the two black balls. The strands are very stretchy and are very smooth.
Design / Shape / Size
This whip is a wonderful, compact size and comes in your choice of four different colors! It fits nicely in your hand and will tuck nicely just about anywhere!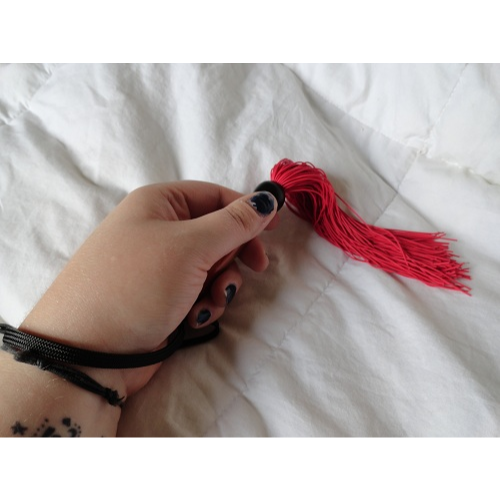 The whip consists of three parts; the strands, the handle, and the wrist cord. There's a total of 80 strands that are doubled by going around the wrist cord and back down through the handle. This makes the whip nice and full. The clear handle has a black ball on either end of it which helps keep everything in place. The handle is very comfortable to hold and will bend slightly if you push on it. For some reason, my clear handle turned a little bit yellow, but I don't mind. The wrist cord on the end is very large and will fit anyone. You could easily untie the knot and make it smaller if necessary as well.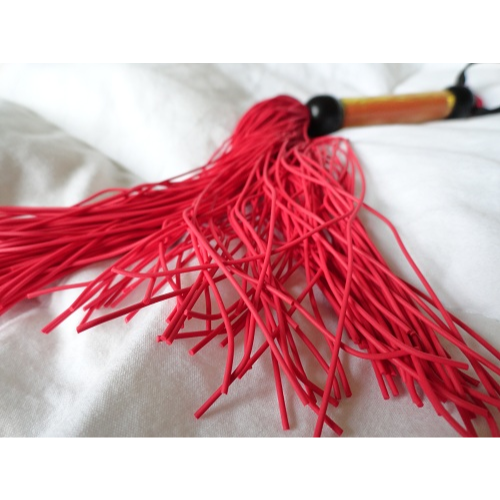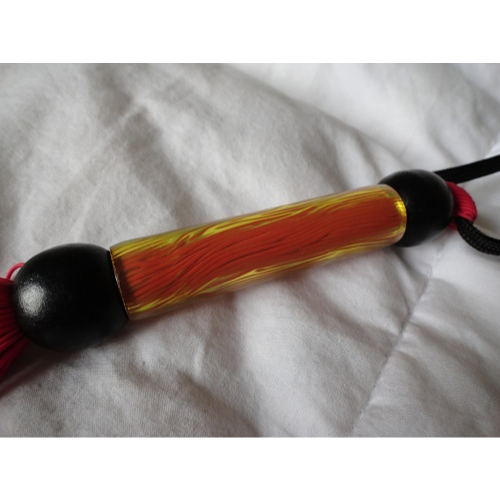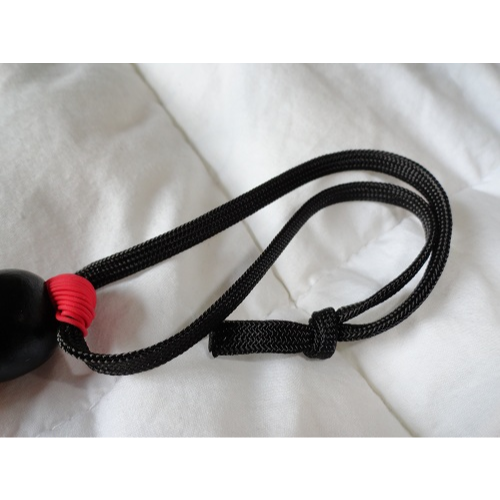 Total Length: 16 1/2"
Strands and Handle: 10"
Handle: 4"
Strands: 6"
Handle Circumference: 2"
Performance
This whip is not intended to cause a great deal of pain. When used as fiercely as possible, it only gives a little sting, but that's all my partner likes so it works perfectly for us. If you're looking for a toy that really going to hurt, this isn't going to do it for you. I would consider this more of a beginner toy or made for someone who enjoys light play.
It works wonderfully when used as a sensory toy. The strands give the perfect little tickle to really get your partner squirming under your control.
I gave myself 10 hard whacks on my arm with this toy and 5-10 seconds later a slight bit of red showed up.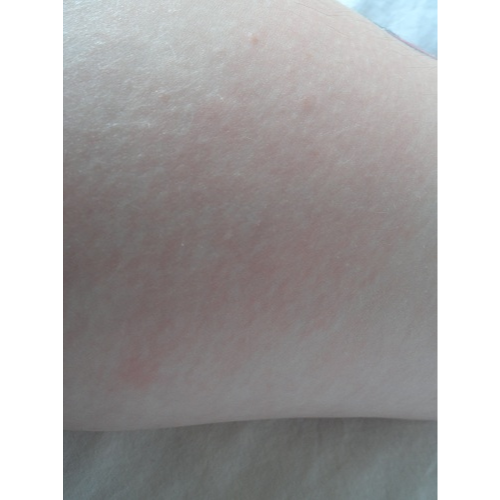 You care barely see it, it wasn't painful, and it didn't last for long. So if you're scared about leaving a mark on your partner, you're not going to with this toy. I hit myself harder than I would ever hit my partner, and while it left a nice sting, it didn't last long.
You can hear a slap when the whip comes in contact with your skin, but it's not very loud and wouldn't be heard well through a closed door.
Care and Maintenance
If you need to wash, use an antibacterial soap and warm water and make sure that it's fully dry before putting it somewhere enclosed.
There's no need to worry about special storage for your toy. Tuck it away in your nightstand, toss it into your toy box, even hang it from a hook on your wall.
This toy is very travel friendly and will easily fit inside a purse, brief case, or backpack.
Packaging
When I received this whip it had no packaging and only had a small card that was attached to the wrist cord that said what the product was. I tore it off and threw away.
Follow-up commentary
2 months after original review
Though my original review for this whip was written only a month ago, I've had this toy for over a year. It's held up very well and the only 'wear' that I've noticed is that the clear rubber handle has turned yellow (which I wrote about above). The rest of the toy looks just like it did when I first received it! I highly recommend this item and am very pleased with how well it's held up over the past year!
This content is the opinion of the submitting contributor and is not endorsed by EdenFantasys.com

Thank you for viewing
Rubber whip junior
– sex toy review page!