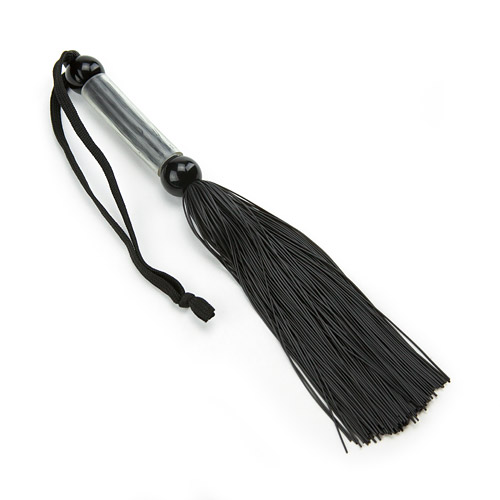 Silicone mini flogger
Short-tail whip
by EdenFantasys
When the Bee Stings...these are a few of my Favorite things :D
This was put on sale for less than $10.00 USD, that is absolutely worth it! It is good for those looking to try out the idea as well as those who know they want to turn up play they like a little more. So for the price point, I would say that it is absolutely worth the investment.
Published:
Pros
Silicone falls make for genital safe play, an easy to use toy alone or with a partner
Cons
Someone who likes a lot of "pain" might only get a tease
I received my little toy in a plain brown box which felt very secure in the sense that it didn't call any attention to itself. It was a very light box that contained packaging and a small clear plastic bag containing my toy. When I pulled it out, I noticed first how light and easy to swing it was. Many floggers are heavy and can require a lot of space to wield, this would be perfect for a small play space. The handle is a clear plastic sheath. Which leads to its light weight. The falls are only 18 centimeters of play space and very very thin. This could make static an issue, so you may find that you will need to mind that when you store it.

Since it is made of silicone you will want to follow all your basic silicone rules:
Do not store it touching other silicone toys. It was nice that it came in a plastic bag for storage.
Do not use silicone lubes with it. Since it is body safe silicone, light, and has bite, it is perfect for genital flogging, just be sure not to be using silicone lube on said genitals while flogging.
Do not clean with soap. Again if you are utilizing that body-safe silicone, do make sure to clean it up with toy cleaner designed for silicone products.

However, do not let the light weight full you. Silicone has a lot of bite to it. So although it's small and easy to wield it is a lot of sensation. So it could be good for people looking to explore sensations as well as those who know they want some intense feeling in sensitive areas. The play area is pretty small though, so for those who like a lot of impact, they will get a fun tease out of this but not much more. The falls being silicone and tightly bound together make it easy to get the skin to pink up and become sensitive. So I have found it a fantastic nipple and genital flogger, but this could also be good for exploring bottom spanking or even places with more uncomfortable or painful expectations like the bottoms of the feet for a more extreme feeling.

Overall, since it is Light, Body Safe, and Easy to use, I would say this is a good toy to have in the toy chest for beginners or BDSM veterans alike.
Experience
So with this, I found that I really wanted to use it on places that I wanted to have a lot of sensation but might have some concern about being too heavy-handed, like pussy flogging, and nipple torment. This will be a bite when used with a snap but is a very silky feel to the stroke of it. Making the welts feel that silky tickle after is a great way to intensify a session.
This product was provided free of charge to the reviewer. This review is in compliance with the FTC guidelines.
Thank you for viewing
Silicone mini flogger
– flogging toy review page!