Blow It Up
The Contempo Wet n' Wild was anything but. At best it was a slightly greasy balloon. The awkward fit and lack of adequate lubrication left us feeling everything but wet and wild.
Published:
Pros:
Affordable
Cons:
Special "wet" lubrication
Not Fitted
Use
The Contempo Wet n' Wild is a rubber latex prophylactic; like other condoms it is designed to help prevent STDs and pregnancies during sexual intercourse. It is lubricated in the attempt to add additional lubrication to prevent painful friction that may result from the latex. The Contempo is used like any condom; it is rolled down from the tip of the penis to the base making sure to leave the tip air free to prevent busting and leakage of seminal fluids.
Packaging
The condoms came in individually wrapped little square wraps, similar to most condoms.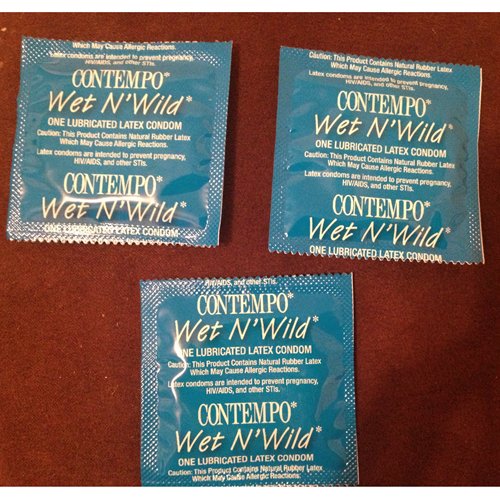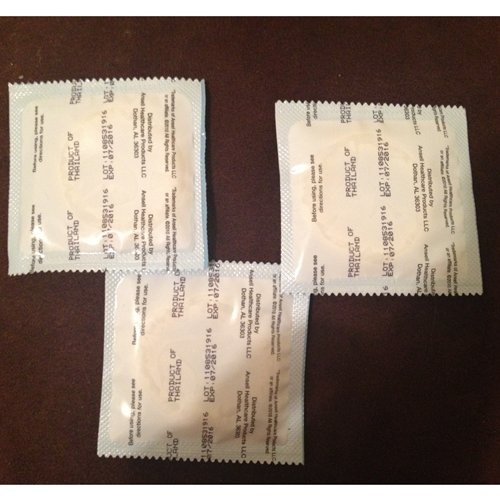 It came in a small box of 3 condoms along with directions and warnings about STDs and latex.
Material/Texture
The Contempo wet n' wild is made of latex. Latex can cause a bad reaction to either party who may be allergic. The material of the Wet n' Wild condom is thin but not comparable to a Kimono condom or a Lifestyles Skyn condom. It is also texture free. The condom is also "lubricated" but not very well. When you open it your fingers will feel a teensy bit greasy, but the lubrication is not enough to give you penetration. Extra lubrication will be necessary for use.
Size
The Wet n' wild is a regular sized condom so it should be standard sized. However, in our case it was largely shaped. To show you how large and roomy it was, I've compared a large flashlight to the size of a large dildo wrapped in the Contempo condom to show the sizing and extra latex that was left. As you can hopefully tell, the dildo is pretty big and still has too much room left, resulting in an uncomfortable texture.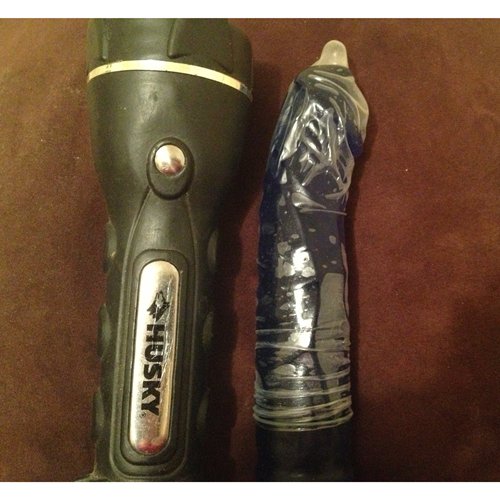 Here is a closer look at all of the extra room. It felt like he'd wrapped his penis in saran wrap or something comparable. It definitely was not comfortable.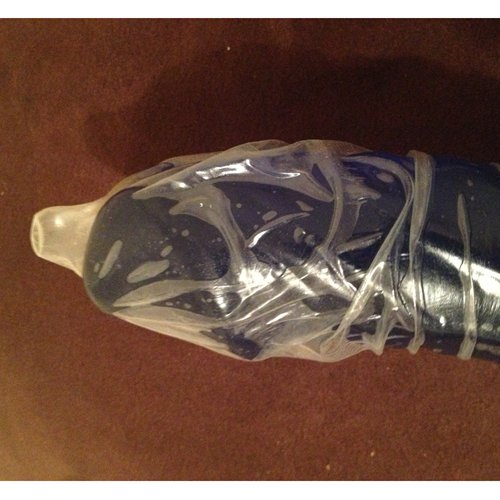 Experience
Unfortunately, I grabbed these condoms as a last minute buy at my own expense by not reading the reviews for it. I just thought, hey look, condoms. Never again. I didn't learn until later that other people were experiencing issues with it tearing and being dry. When we took it out of the package we realized how dry it was and that we would have to apply lube to it. When I put it on his penis we had trouble getting it all the down to the base. It wanted to stick to itself, not from the "lubrication" but from it being so dry. If it was lubricated better it would have glided down quickly. We also soon realized how unfitted it was. He's not a small guy but the condom was loose at the top and wrinkled like balled up saran wrap. We applied lubricant to it and he made his entry. We stopped about 20 seconds later. It was just too uncomfortable for me and he couldn't feel anything. Not that it had a numbing agent in it, but that it was so wrinkly he was getting no sensations at all. We gave up and it put a damper on our mood. This Luckylady did not get lucky that night. So all in all, this condom was a total bust (without the busting, thankfully!) for us.
Maybe in its next life it'll be a balloon.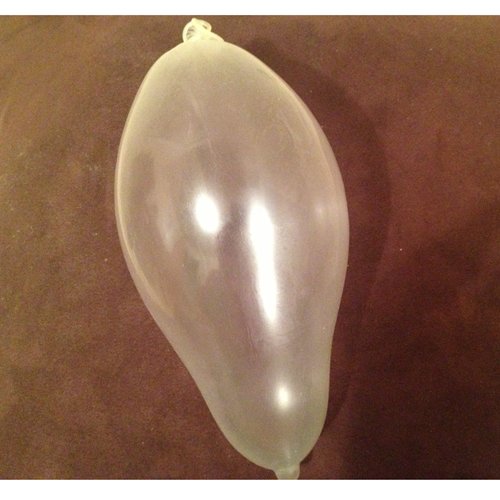 Follow-up commentary
6 days after original review
We've tried all 3 condoms in the box with the same unsuccessful results. When I purchased the Contempo I bought a couple of boxes. I have since thrown out the other set. They just didn't work for us; it felt too much like saran wrap than it did a condom. What makes me sad is on the back of the box it says it was made by Lifestyles. So I guess Contempo is one of their mistakes. It should have never made it off of the assembly line. Lifestyles makes great condoms; except for the Contempo.
This content is the opinion of the submitting contributor and is not endorsed by EdenFantasys.com

Thank you for viewing
Contempo wet and wild
– male condom review page!