Great toy, but definitely not for beginners.
Overall, for anal masturbation, as long as you are not a beginner, this is a great toy for the price. It is relatively cheap, large, smooth, and well designed, you just need to be a bit careful with it.
Published:
Pros:
Easy insert, cheap, easy to clean.
Cons:
Not for beginners, unsafe material, needs lube, can't be sterilized
When using the Pink Jellie Prober, I didn't explore the vac-u-lock features. My experience with this toy is from the male solo point of view, so basically on how good this toy was for anal masturbation. The first thing that I noticed about the prober when I opened it up is that the jelly definitely has a rubbery odor. This was both good and bad. It was good because the odor isn't too powerful, and I found it slightly pleasant. The odor wont be overpowered after repeated uses. The downside is that the toy will always have this odor, so if you despise that plastic smell, then you will hate this toy.
This toy has a few features that make it great for anal. First of all, the pointed tip is really ideal for insertion. It allows the toy to easily slip right in. The toy is moderately wide and, when I measured it, i is just a bit over 7 and a half inches long. The jelly is a smooth material, which also helps for insertion, but jelly also occasionally has some very unwanted traction. This is why this material is not the safest. When you are using this toy, you definitely need to use a decent amount of lubrication. Fortunately, jelly can be used with both water and silicone based lubes. I found that either one works fine. You may be able to get by using the toy in the shower or bath and using water, but with the material being unsafe, you should always have lube on hand.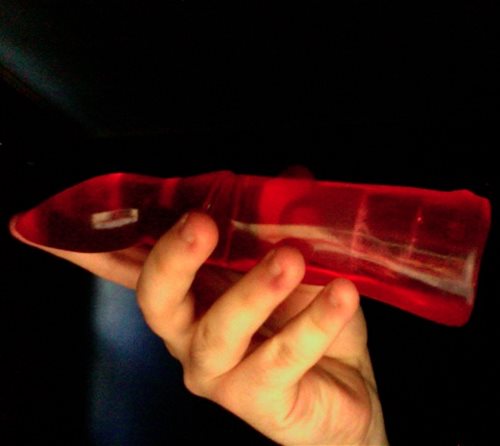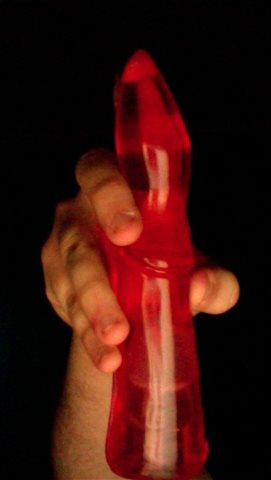 Being that you are able to easily insert the toy, the width and length that can be inserted feel great. There is a small, bumped ridge in the middle of the shaft, which also adds some sensation. Overall, the only problem with the sensation this toy provides is that, if you aren't too experienced, the pointed tip can poke you in a very uncomfortable way. That is why, even though I was using this toy solo, I can imagine it would be a bit painful if you were using this toy with a partner and they didn't thrust at the right pace.
Cleaning the toy is relatively easy, just use some warm water. Don't use strong soaps, because it is not good for the material, and store the toy in a cool, dark place. Unfortunately, jelly cannot be sterilized by boiling like silicone, so you shouldn't share this toy.
This toy definitely has its downsides, but from the perspective of an anal masturbation toy, as long as you are not a beginner and have plenty of lube, I think this toy is great for its price.
This product was provided free of charge to the reviewer. This review is in compliance with the FTC guidelines.

Thank you for viewing
Pink jellie prober
review page!