Then out of the box came Thing 2 and Thing 1.
Other than the size being a bit smaller than I would have preferred (and really, anyone purchasing a toy should check the measurements), and wishing this was a higher quality and less porous material, I quite enjoyed the vibrating Double Penetrator, especially as it is the first toy of the double penetration variety I have tried. It hit all the right spots comfortably and despite the fact that it has two heads, it's modest size made it not at all intimidating to me.
Published:
Pros:
Realistic cocks, TWO cocks are better than one (for some), vibrates
Cons:
Vibrations are only in the larger shaft, a bit small, strong odor initially
In this box are two things I will show to you now. You will like these two things,' said the cat with a bow. 'These things will not bite you, they want to have fun.' Then out of the box came Thing 2 and Thing 1.
I don't really know why I thought of Thing 1 and Thing 2 over anything else when I opened the box for Doc Johnson's Natural Double Penetrator, but I did. :)
The Natural Double Penetrator has two shafts connected to a base. Measuring in at approximately 6" including the base, there is about 4"-5" of insertion. I would recommend this to anyone who is open to experimenting with double penetration, or those who know they enjoy it but do not mind it's modest size. When I first saw the package I was concerned that this is on the small side. While I would prefer it slightly longer and thicker on both shafts, it gets the job done. Quite enjoyably so at that. It is compatible with Doc Johnson's Vac-U-Lock systems and labeled as an attachment piece (there is a hole on the bottom of the base). It is not necessary to use it that way, it works just fine on it's own. I cannot comment on it's use with the Vac-U-Lock as I do not own any.
The thicker of the shafts contains a multi-speed vibrator and they can only be felt there. There is a battery pack that connect to the vibrator with a long thin wire, and it takes two AA batteries. I wouldn't say it is super loud, but there is obviously some noise, and the stronger the vibrations, the louder it gets. It could be hidden with music and a closed door, but it can definitely be heard through a closed door without.
This is made to appear as close as possible to a real cock, and has a lot of incredibly realistic details. I had to snicker as I opened the box and saw two pink heads that made it appear that the box contained severed penises (ouch!). Luckily I knew the box came from EdenFantasys and not Lorena Bobbitt. :) According to the package, the double penetrator was molded from an actual cock and you will notice bulging veins and ridges. The coloring is a bit off to me. The shaft meant for anal penetration is a bit thin. Overall, I think the details are great. I did find that it is very soft. The vibrator gives a bit of added hardness to the thicker cock, but the other is quite flexible. I did not mind, and still found it easy to insert, but I can see how some might prefer less give. It is very versatile, you can choose which cock goes where or insert only one and perhaps use the other on your clit.
There is a strong odor when you first open this toy. This subsided after washing a few times for me.
The material is listed as rubber on the product info page, which is a 3 on EdenFantasys Material Safety scale. Rubber is porous and can be difficult to thoroughly clean. However, Doc Johnson states on the box of this product that it is made from Sil-A-Gel (PVC), and touts that it is anti-bacterial, non-toxic, latex free, cadmium free, and non-phthalte. Sil-A-Gel has a higher safety rating, at 5. Not ideal, but better than a 3. Sil-A-Gel is semi-porous, and can attract dust and lint and all of that not so fun debris, so it is still recommended that you use a condom with this product and to clean it before and after each use with warm water and a mild soap. Doc Johnson recommends that you clean this vibrator carefully (especially with the realistic design of these, quite a few hiding places that you need to be sure to clean well) with alcohol or your preferred toy cleaner after every use and that you store it in a cool and dry place. Sil-A-Gel is compatible with silicone and water based lubricants. You should be sure to store the vibrator on it's own and not directly against other toys as they could cause chemical reactions and break down the material. It is recommend that you remove the batteries before storing as well to prevent corrosion that may occur if the battery unit become damp and to preserve the life of the batteries.
Also, I have to mention that on the box there is a warning that states: Do Not Place Item in a conventional oven or microwave oven. Um. Really? I know I'm still learning about sex toys, but it never occurred to me to put them in the microwave. Is this common?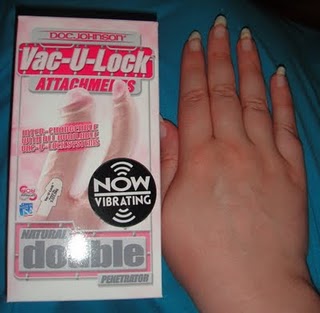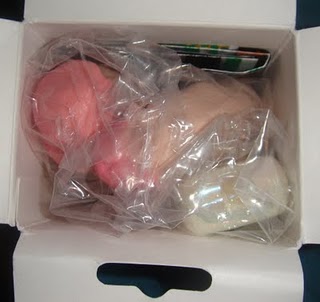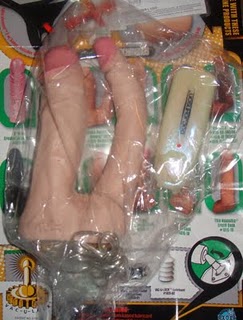 Follow-up commentary
3 months after original review
I'm not sure why exactly...but this toy is boring me lately. It's just not one of my favorites, though it does have it's time and place. I would love, love, love to find something very similar in silicone.
This product was provided free of charge to the reviewer. This review is in compliance with the FTC guidelines.

Thank you for viewing
Double penetrator vibrating
– dildo harness review page!