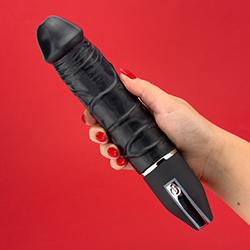 Big boy
Flexible realistic vibrator by EdenFantasys
A Big Toy For Big Fun
The Big Boy's name is very straight to the point in describing this toy - it's very big! Its girth is what sets it apart from other toys, being much thicker than your average dildo or vibrator. Insertion may be difficult for beginners not used to taking such a large toy but with plenty of practice, and possibly plenty of lube, you'll get the hang of it - and it's definitely worth getting accustomed to if you enjoy feeling "full" or stretched!
Published:
Pros:
Long and Girthy for a Sense of "Fullness"
Cons:
Hard-to-Clean Grooves, Not Beginner Friendly
Packaging and First Impression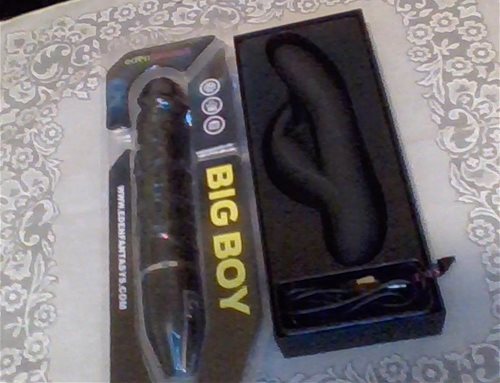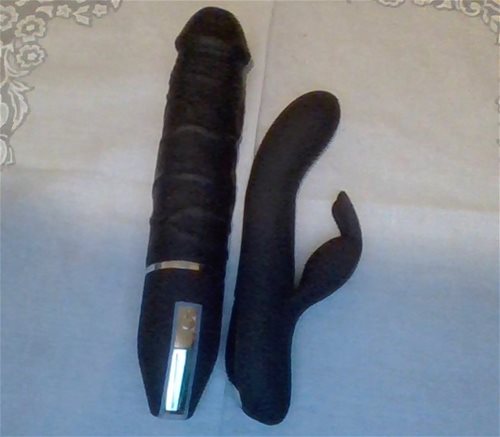 Above you can see two pictures I took of my Big Boy after it arrived, one in its packaging and one out, next to my Sway toy for a size comparison demonstrating how much larger it is than the Sway. The shape of the Big Boy's plastic casing doesn't make it easy to stack for easy storage, but it does open easily and can be closed and reopened so you can put your toy back in the plastic between uses.
It's easy to see just how much bigger the Big Boy is compared to the Sway, making it a daunting challenge for beginners to try who haven't taken on a large toy before. With 7 insertable inches and a 2 inch diameter, it's not your average toy! While one of my other vibrators also has nearly 7 inches of insertable length, its diameter is much smaller making it far less girthy, so I was somewhat nervous before using my Big Boy for the first time. But I was eager for the challenge!
My Experience Using The Big Boy
Before getting out the Big Boy I made sure I was good and ready by warming myself up with my Nathaniel Wand Vibrator; I know it's what works best for me to "get my juices flowing," and I knew I'd need to have plenty of natural lubricant if I wanted my first experience with the Big Boy to be a comfortable one. If you're familiar with your body and know how to get yourself nice and wet, you should be good to go, but if not you may want to use a generous amount of lube when prepping for the Big Boy.
I found initial insertion worked best with me bracing the toy upright and slowly lowering myself on top of it. In other positions it was much harder to maneuver the toy in, but after the Big Boy was inserted I could change positions as much as I liked when using the toy.
For me, the vibrations of the Big Boy left a little something to be desired. They were present, but not strong enough for my liking.
Final Thoughts
Once I managed to find a comfortable way to insert the Big Boy and handle it, I fell in love! Large toys offer an amount of internal stimulation that smaller toys just can't match. Smaller toys can also have their strong points, but for me I enjoyed the fullness offered by the Big Boy.
Something that is important to note with the Big Boy is that you need to be careful when closing the battery compartment. There are two grooved notches on opposite sides of the cap you need to align properly with the toy in order to get the seal to close correctly to protect your batteries and make the toy waterproof. I have yet to use the Big Boy in the tub, but I'm sure it'd make a big splash!
This product was provided free of charge to the reviewer. This review is in compliance with the FTC guidelines.

Thank you for viewing
Big boy
– sex toy review page!