A monster of a cock
If you want a challenge, and aren't easily frightened, this is the perfect toy for you. I would use a condom over it for sure because it is semi-porous but this monster just might be worth the effort. The vibrations are shockingly strong for what I expected and I like that you can remove the controller. I'd recommend this toy to any size queen.
Published:
Pros:
Strong vibrations, controller can be used with other toys
Cons:
HUUUUGE, Sil-a-gel worries me, not waterproof
The monster who lives under my bed keeps me awake at night. I worry what it'd do to me if it ever got a hold of my small body. I once got a look at him and he was 8 inches long, which isn't scary by itself but it was his head, his head was terrifying. His head was 2" in diameter and his body followed suit. There were veins all over its body; heavy and pronounced. He had a set of testicles but they kind of looked like little feet to be honest, which left me very confused on the matter. The monster was this light purple color which was more like a lilac and less like lavender.

It has a distinct smell, even when it hides in plastic boxes---it smells like rubber. After some research it turns out to be Sil-a-Gel, something I have never heard of. I guess Sil-a-Gel is in the family of PVC, and semi-porous, so if I ever catch it, I will have to protect myself from him and wrap it up. I have a feeling it'd burn my sensitive skin like other monsters have in the past. He'd have to be kept hydrated with some sort of lubricant, its turns out they are not that picky silicone or water would work fine. It must be taking baths in my sink; I wake up to find a sink of soapy water. Because of its skin I am sure hygiene is important.

It is incredibly flexible; I have seen it coil itself up like a snake easily. But I don't think it has an access amount of give density wise, it falls a bit more on the firm side. There is a cord attached to bottom like entrails, I've seen it plug itself into a small white controller a few times. The white controller gives it strong electric currents that make him bzzzz in the best way. It gives off 7 different patterns, which leads me believe that it's a mating call of sorts. They travel through all of the purple body but sound more focused towards its head. The vibrations are shockingly strong, each with its different pattern, but most certainly noisy. I don't think the noise can be heard from outside my room though, no others have caught on.

I asked others about him and they told me that Doc Johnson had an accident at their nuclear plant and all their toys were getting bigger by the second. But only few minded because all the size queens around the world rejoiced at the beasts popping up in bedrooms.
Experience
To be honest when I first opened the package I thought it was some sort of a joke. "Eden wants me to do a review on this beast?!" I asked my boyfriend whose shock was voiced by a stream of laughter. I don't know if I will ever be able to take this fella vaginally, it really does scare me. I think with some work I can take it anally but even than I am not quite ready. This would be a perfect toy for those who can take it and love the feeling of being full. Also if you want to give someone a fright you can hide this somewhere and I'm sure it'll do the job. But overall everything on the package is quite accurate, softee, ballsy, super cock, and strong vibrations---I agree whole heartedly with all of this.
WARNING THE FOLLOWING IS PICTURES OF THE BEAST. IF YOU HAVE A WEAK HEART LOOK AWAY NOW.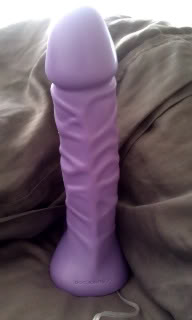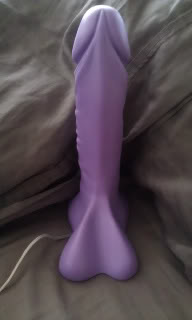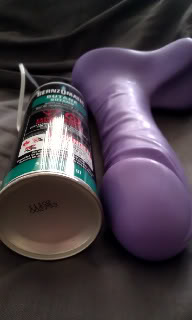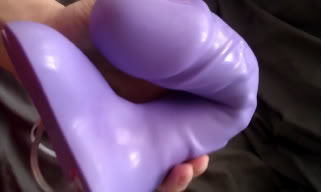 I rated this toy on it's power since I can't use it right now. I do think it was well made, just not the toy for me.
This product was provided free of charge to the reviewer. This review is in compliance with the FTC guidelines.

Thank you for viewing
Softee vibrating ballsy super cock 8"
– realistic vibrator review page!