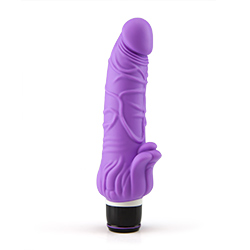 Orgasm enforcer
Flexible realistic vibrator by EdenFantasys
Fat and Fabulous!
Absolutely fabulous. If you close your eyes and warm up the shaft with your hands first, you won't know the difference between this and a real human male's penis.
Published:
Pros:
Thick and realistic-feeling.
Powerful vibrations.
Potential g-spot orgasm.
Cons:
Battery case is hard to open.
Power button is sensitive.
The Orgasm Enforcer (or Alien Enforcer) is magnificent.
While it may look daunting with its veiny exterior and weird little alien-like tentacle "fingers" at the base, I'd encourage you to give it a shot. I was scared at first too! This is by FAR my largest vibrator in my collection thus far -- I couldn't even wrap my fingers all the way around it! -- but it is also one of the most pleasurable.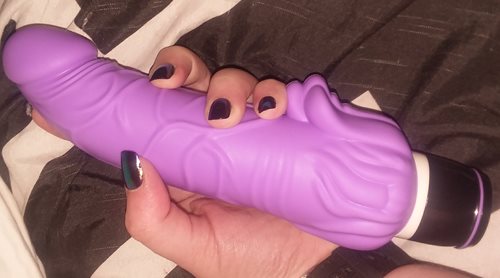 The silky silicone material is a sensual delight. If you've ever felt a real-life human male's erect cock, then you already know what this feels like. It feels incredibly legit/realistic. A firm, but slightly flexible vibe; with a soft, skin-like, texture. Just stroking it with my hand got me aroused.
And while I could only take in half of its full insertable length (and, therefore, couldn't make use of the "clit ticklers" at the base), it hit all the right spots. I squirted several times as it bumped my g-spot with it's slightly tilted head.
This penis-shaped vibrator is FAT and FABULOUS. It's got a lot of girth and is surprisingly heavy. But its heft just adds to the allure.
It's completely waterproof, so feel free to take "him" into the bath, shower, pool, or hot tub with you.
This toy is also very easy to clean with either soap and water or a toy cleaner. Though, since it's silicone, I recommend using a lint-free towel, as the material likes to cling to fuzzies.
Oh, and did I mention the vibrations yet? No? Well, they are AWESOME. There are seven different modes of vibration, and they all rocked my world. From steady vibrations to waves, to pulsations -- they were all excellent. Most of the vibrations are around four "vrooms," but there's also one gentle three "vroom" setting and a five "vroom" ("THIS CAR IS OUTTA CONTROL!!") setting. It covers all the bases -- from just warming up to earth-shattering orgasm -- all while being surprisingly quiet.
My ONLY complaint is the battery case and power button. The battery case, at least on mine, is VERY difficult to open to insert or replace the batteries. I actually had to use pliers to get it open because it was screwed on so tightly (which scuffed up the end a little bit).
The power button is also a bit trigger happy. Unlike most vibrators, where you have to hold down on the power button to get it going, this one clicks on with a short tap of your finger. Which is lovely when you're ready to get down to business, but a little less desirable when it sets itself off while in storage. If you can manage to get the battery case open, I would recommend turning the batteries upside-down while it's in your vibrator storage chest/bag/whatever so that it doesn't set itself off if it shifts.
Overall, this vibrator has got it going on. Definitely one of the jewels in the Eden Fantasys' collection. Give it a shot! I think you'll be impressed.
Experience
My boyfriend is in love with this toy. As a bisexual male, he appreciated the realistic feel of this fat purple cock. It got him aroused really quickly, even though the toy was only being used on me at the time.

He helped me lube it up and worked it inside me, thrusting it in and out to the time of the vibrations; penetrating me in an intercourse-like fashion. Toward the end, when I was fully loosened up, he started really pounding me -- increasing his speed along with my pleasure -- pumping it in and out in a steady rhythm, while aiming upward to continually make me squirt via my g-spot.

We also got our side boyfriends in on the action! My boyfriend and I have two online "boyfriends" that we masturbate with via pictures and videos. My boyfriend filmed me as he penetrated me with the Orgasm Enforcer and sent it to our men on the side. They were immediately erect and ready to masturbate. They were in awe that I was able to take in such a large cock-shaped vibrator -- and they loved watching me squirt as I moaned with sexual ecstasy.

Toward the end, my boyfriend could no longer contain his excitement, and he had to touch himself; leaving me to control the Enforcer's actions. As my boyfriend stroked his long cock above me, I removed the Enforcer from within me and put the vibrating cock tip on my clit... and I exploded. The orgasm was one of the most intense I've had in MONTHS. And seeing me rocked with pleasure brought my boyfriend to climax as well.
Follow-up commentary
3 months after original review
Three months later and the Orgasm Enforcer is still running strong. I've found other toys that I like even more (like the perfectly silent G Dancer!), but, when I'm majorly horny and only a HUGE "cock" will do: the Orgasm Enforcer is my go-to "guy." Umf! ;)
This product was provided free of charge to the reviewer. This review is in compliance with the FTC guidelines.

Thank you for viewing
Orgasm enforcer
– realistic dildo vibrator review page!