Mr. Just Ehh...
This vibrator has its good points as well as its bad. While it offers a lot of functions and speeds, it is not made of the greatest material and the suction cup leaves a lot to be desired. It can be hand held and works well like that but if you are looking for a good one to suction to things, this is not the one for you.
Published:
Pros:
Multi-function, multi-speed
Cons:
Made of PVC, suction cup does not hold
The Mr. Just Right Elite Eight is a vibrating dildo that is multi-speed and multi-function. It has a flared suction cup base that if it would suction to anything would be great. I couldn't get it to successfully adhere to anything for more than a few minutes, which greatly took away from this dildo. It will however work great as a hand-held or even in a harness that will accomodate it.
The Mr. Just Right is made of PVC which has a safety rating of 2. It is phthalates-free. There is a slight smell, but it dissipates with a few washes. PVC is compatible with a water-based or silicone lube. Cleaning is easy, just use an anti-bacterial soap with water or a sex toy cleaner. I would be careful of fully submerging this vibrator as to keep the wire dry that connects it to its battery pack.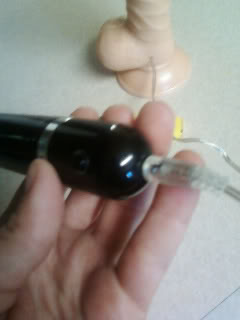 The dildo itself is 8 3/4" long with an insertable length of 6". It has a diameter of 1 1/2". The suction cup base has a diameter of 3 1/4". There is a wire coming out of the side of the ball sack that plugs into a small push-button controller. It is very life-like, boasting veins that are easily felt running the whole length of the shaft as well as the wrinkles on the scrotum.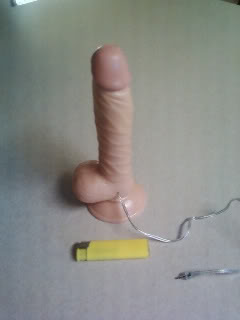 There are 10 functions that it offers:
1) High vibe
2) Medium vibe
3) Low vibe
4) Escalating vibe- High
5) Bumping vibe-Medium
6) Pulse-Medium
7) Pulse-Fast
8) Pulse-Low
9) Pulse-Slow/Deep
10) Pulse-Fast/Low
You turn it off by holding the lighted control button down for about 3 seconds. The control pack is operated with 2-AAA batteries that are placed into the pack and twisted shut inside. It is 4 1/2" long and 1 1/4" in diameter. The light up push button makes it easy to control, even in the dark.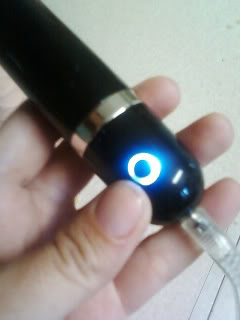 The problem that I had with this is that I cannot get it to adhere to anything and stay there while trying to use it, which greatly takes away from the whole idea of using a suction-cup vibrator. I have large tiles in my bathroom on the wall and tried it there first but after a few strokes with it, it fell off. I tried this a few times, getting it damp and sticking it but it continued to fall off. I moved it to a lacquered table top and stuck it there, but again it just kept popping off. I don't know if I just get a little carried away or what, but even using my hand to stroke it, it continued to just pop off of whatever surface I tried.
This really disappointed me as the variety that it offers in functions had me really excited to use it, even with it being PVC. I was able to use it with my husband with him being able to use the suction part as a hand grip for thrusting, as well as fitting it from the inside into a harness, so it isn't a total failure. I will use this from time to time I am sure just to mix things up, but it won't be one of my go to toys.
This product was provided free of charge to the reviewer. This review is in compliance with the FTC guidelines.

Thank you for viewing
Mr. Just Right elite eight
– realistic dildo vibrator review page!