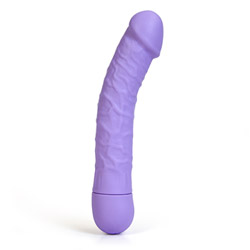 Bio vibe
Flexible realistic vibrator
by EdenFantasys
The Breathtaking Bio Vibe
The Bio Vibe is a beautiful toy that offers a satisfying, pleasurable experience in bed. Be wary of its volume, however, as the toy can be even louder than the moans it will elicit when in use.
Published:
Pros:
Pretty Color
Curved Shaft
Nice Vibrations
Cons:
The Packaging Isn't Good For Storage
Very Noisy Vibrations
First Impression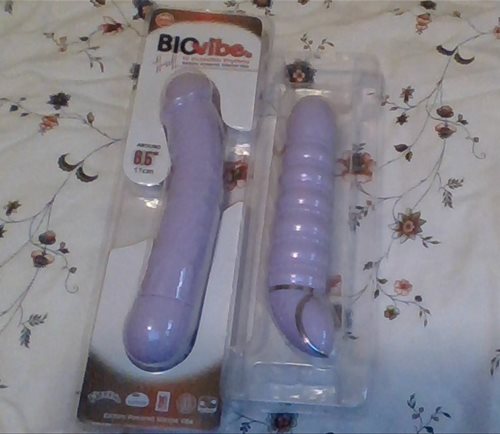 The Bio Vibe arrived in one of Edenfantasys' discreet cardboard boxes along with another toy I had ordered, the Vi-Plush Vibrator. I've taken a picture of the two toys together for a size comparison.
The product's packaging for the Bio Vibe is, unfortunately, not ideal. It comes in a sealed plastic shell that requires you to cut into it with scissors to open it. I much prefer when toys come in nice boxes, resealable plastic packaging, or include a storage bag so that you have something to keep the toy in when it is not in use.
As for my first impression of the toy's design, I simply adore the light lavender color. It's very pretty to look at and helps to offset the realistic vein details of the shaft so it still has a toy-like appearance. There is a gentle curve in the shaft near the head, a feature meant to help the toy bend to reach sensitive spots when inserted, and I was eager to see how well it would work.
For battery-operated toys like this, I tend to use my rechargeable batteries. Normal batteries have a tendency to lose power and die too quickly in sex toys. When first examining my new Bio Vibe, I inserted my batteries in order to test its power of vibration and noise level. I was shocked at how noisy it was! If you're looking for a toy that can be used discreetly, the Bio Vibe may not be the best choice for you as it is fairly loud when the vibrations are on. And, unfortunately, it didn't seem like the vibrations were extra strong to account for the extra noise level. They seemed to have a decent power behind them in each of the vibration pattern settings, but none seemed to be exceptional.
My Experience With The Bio Vibe
With the discovery that the vibrations didn't seem to be anything special, I was having my doubts on how effective the Bio Vibe would be. However, I was completely blown away by its performance!
I absolutely love my Bio Vibe. Its above-average insertable length allows you to achieve a deeper penetration, and its girth is satisfying without being so wide that it becomes uncomfortable to use.
That slight curve in the toy's shaft? It worked wonders for adding pressure to all the right places that straight shafts have trouble reaching. As for the vibrations, they could have been stronger, but they still managed to do the trick.
One thing the Bio Vibe lacks is clit stimulation. The lack of a clitoral attachment makes it easier to use for thrusting penetration, at least, which is a plus. I used my Bio Vibe in tandem with my bullet vibrator for clit stimulation. Since both toys are made from silicone, I was careful to make sure they didn't touch when in use.
Final Thoughts
The strength of the vibrations don't justify their volume, but it's a great toy to use regardless of its noisiness due to the pleasures it can provide. The Bio Vibe has an appealing appearance, a wonderfully efficient design, and has been one of my favorite toys to use thus far.
It'd be nice if it was quieter, and had slightly stronger vibrations. A longer shaft would also have been nice; not for insertion, but to ensure you have enough surface to grip when using the toy. These are just personal preferences, however. The only big change I would have liked would have been for the Bio Vibe to come in some form of packaging that would have been usable for its storage, but this doesn't reflect poorly on the toy's performance at all.
In the end, if you'd like a pretty and effective vibrator, and you don't have to worry about the sound it makes, the Bio Vibe would make for a wonderful toy for you!
This product was provided free of charge to the reviewer. This review is in compliance with the FTC guidelines.
Thank you for viewing
Bio vibe
– flexible realistic vibrator review page!