A good substitute for panties
These finger sleeves are a great solution when you want a bit of variety in your solo sessions. The texture on each on can provide some extra stimulation. They fit a woman's hand well and are easy to use.
Published:
Pros:
Unscented, fit a woman's fingers well
Cons:
none
These finger sleeves are listed here as 'Silicone Finger Teasers' but they contain no silicone. In fact, the packaging has changed since this product was photographed. The word silicone has been removed. They are instead made from TPE, but a wonderful mix of it that is squishy, stretchy and scent free.
I also have the purple
Jelly Finger Stims
. Those, even though they are jelly, only have a faint, not unpleasant scent. But the Jelly sleeves are much larger than these finger teasers. While the Jelly sleeves are far too large for my fingers, these finger sleeves fit my middle finger almost like a glove. They are a little big for my index finger but the bottoms can be folded up easily.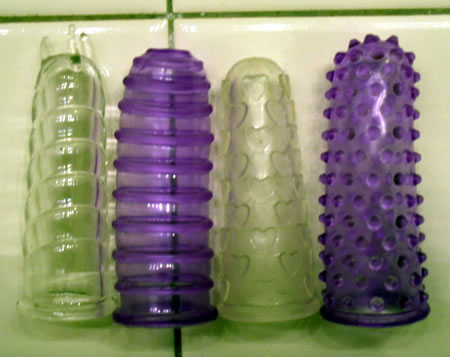 I let my middle finger do all the work so these are a perfect fit for me.
The set contains two sleeves. One is covered with hearts that are a quarter of an inch wide and stick out about a sixteenth of an inch. The other sleeve has subtle swirls spiraling up its length, and three antennae that extend out a quarter of an inch from the top. They resemble snail antennae. If you want to lightly tickle someone's skin, dragging either the hearts or the antennae across the skin will feel pleasant.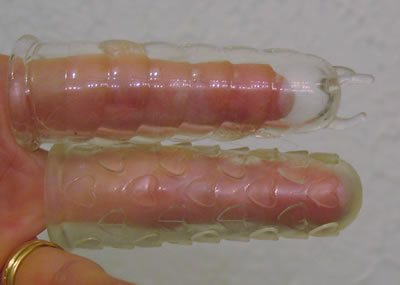 For my purposes, both sleeves work the same. If you intend to rub your finger delicately across skin, then the hearts or the antenna will give added sensation, but I just press and move my clitoris back and forth. I don't actually feel the hearts.
Normally when I rub one out, I keep a layer of underwear between my fingers and myself. It feels better that way for some reason. I know I'm not the only one who who does this. I wanted to try these so I would have a way to experience manual stimulation without rubbing tiny holes in my panties.
While the Jelly stims are a hassle to use, requiring me to keep the first and third fingers pressed tightly against the sides of my middle finger to hold the finger stim in place, these fit well and that hassle is eliminated. They are not difficult to put on or remove. There is just enough room to easily slip them on and remove them without so much extra room that they feel too big.
I believe that the Jelly stims might be designed for a large woman's hand or more likely for a man's fingers. These however, are perfect for a woman. You can see how large the Jelly stims are here.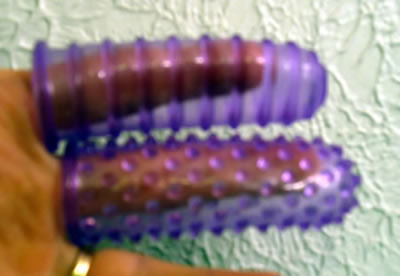 I roll the bottom third of them up when I use them. I don't like them to cover my entire finger. I may cut off the bottom third just to avoid rolling them up.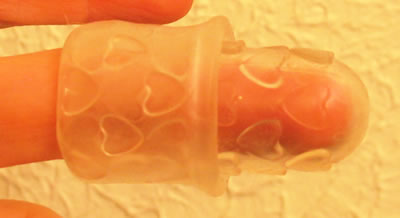 When they are brand new, they are completely shiny, clear and transparent. As you use them, the surface becomes cloudy. The cloudiness doesn't wash off.
They are easily washed with just soap and water. I store them in my toy box without any special container. You could use the clamshell package it comes in for storage if you're concerned about possible effects of them touching other toys. The package recommends using a water based lubricant with them.
You can feel the hearts if a finger with that sleeve is inserted inside you. They also stretch easily to fit over bullets or slim vibes.
Using these sleeves could be a fun, easy way to add variety to your sessions and save your panties. I have enjoyed using them.
This product was provided free of charge to the reviewer. This review is in compliance with the FTC guidelines.

Thank you for viewing
Silicone finger teasers
– clitoral toy review page!