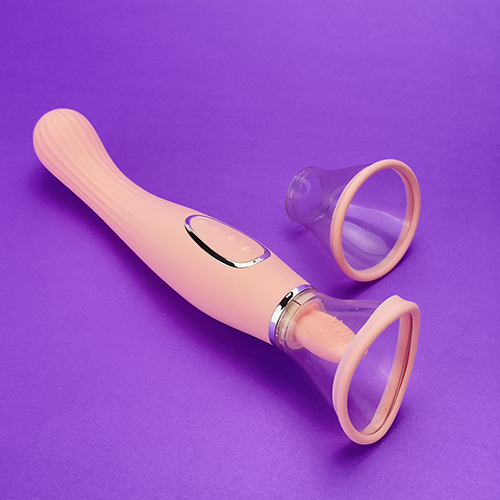 Oro-sensual
Automatic vaginal pump
by EdenFantasys
Buzzy buzzy fun fun!
This is an amazing toy with many options! Use it with the cup/suction, use it without. Stimulate the g-spot, play with the clit. Nipple play, play....with or without suction. So many wonderful things to try and experiment with. Hours of fun await you!
Published:
Pros
An amazing combination of suction and clit stimulation, with the added benefit of a dildo end!
Cons
Controls take a little getting used to.
As a fan of both the Engorgio (a fantastic suction toy) and Schatzi (an amazing oral simulator), the Oro-Sensual was appealing; both functions in the same toy! Fast forward to a week later, and there I was, unboxing this beauty.
Inside the typical nondescript brown box was another white, sealed package. Inside this was the actual toy, along with a magnetic charging cable and two cup-like attachments. I particularly like the magnetic charging devices as you don't have to worry about finding those tiny little holes to plug into, and going through batteries can be expensive.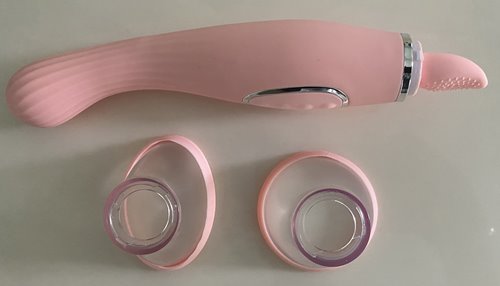 The toy itself fits nicely in your hand and has two "business ends." The texture is smooth and silky, and the color is a soft pink, which I found to be rather sexy. The base is an insertable "dildo" with subtle ridges that are also very smooth. Maybe a bit too large for a newbie, but definitely not intimidating. It is curved slightly, which helps to serve as a handle, but also just enough angle to hit the g-spot.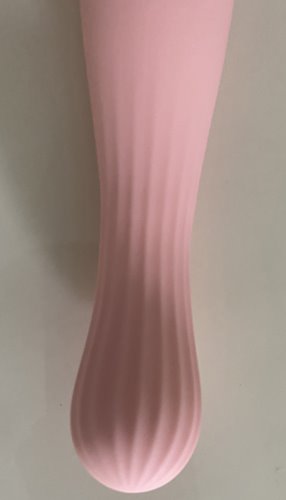 On the other end, there is a nubbly tongue, which is smaller than the average tongue...about the size of your index finger. The nubbies themselves are very soft, and the texture is smooth, but the tongue has to be firm as it moves rapidly up and down.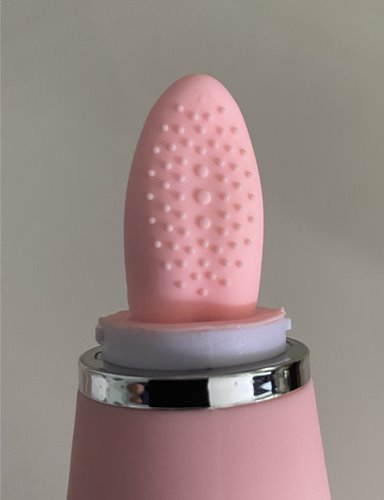 At the base of the tongue, there is a small white ring where the cups attach. These slide easily on, and with a little turn, they attach securely. There are two cups: one is completely round for (presumably) breast play, and one is oblong to fit around the labia. Each of the cups has a rubberized, probably silicon, seal around the part that contacts the skin. This is also smooth and soft; no pinching or digging into sensitive skin!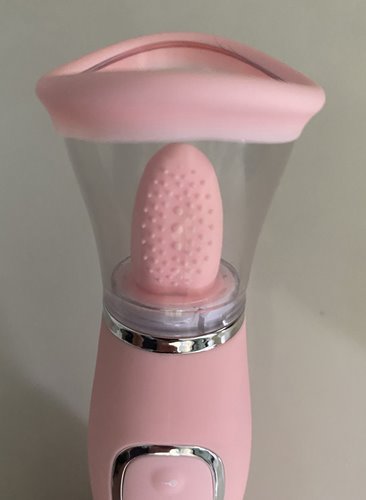 Now for the actual controls...this is where things get a little more complex. There are 4 buttons. The first and third control the suction with the topmost turning it on and the third stopping it/releasing the suction. The second button turns the tongue on and cycles through various patterns. The fourth button turns the dildo end on, with 3 levels of constant vibration and then some other patterns.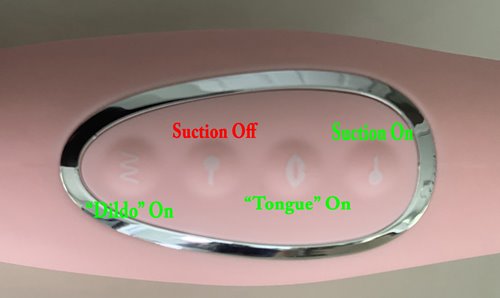 Experience
So...all charged up and ready to go. I wanted to try this one out with my hubby for the first time, not just to get his opinion but also for his help. I am admittedly hesitant with suction-type toys; nobody wants a pussy hickey, and the thought of having something latched on that I can get off kind of worries me! We started with the dildo end. I generally like the constant vibrations rather than patterns, so we cycled between the first three settings. These were definitely strong, although more diffuse rather than a pinpoint, like you would get from a bullet/egg. Definitely more of a g-spot toy than a clit stimulator. It wasn't long before I could slip this inside, and, yes, the vibrations were felt easily and intensely. However, I got this for the other business end, so after only a short while, we turned the dildo side off and flipped it around.

I first tried the suction on my thigh. Surprisingly, rather than simply inflating, this toy sucks in, then releases, then sucks in, then releases...you get the picture. Pushing the first button controls just how much "suck" each of these cycles gives you and pushing the third button results in an immediate release of the suction.

The tongue surprised me as well. This little beauty not only flicks back and forth but also vibrates. I mean, really vibrates...strong!

So, with my hubby's help, we pushed the cup gently around my labia and turned on the suction. Even on the lowest setting, I could feel my labia being sucked gently into the cup. From the look on his face (and the bulge in his pants), it was amazing to watch. However, being nervous, I kept telling him to release, probably just before the toy itself would have cycled through the suck/release cycle. As such, I'm not sure I got the full effect. While doing this, he turned the tongue on..., and it was amazing! Vibrating, flicking my clit, and sucking on everything was incredible!

Despite how great this toy is, there is sooo much going on that it can be hard to relax and enjoy. Also, for a solo play, I'd definitely recommend getting extremely comfortable with the controls first. Having a partner help out with this was great, but I had visions of simply lying back and letting this toy do all the work. I know it can...and will...but it will take a lot of getting used to first. Oh well, I'm willing to put in the time and effort!

Still haven't gotten the chance to use the round cup on the breasts, but for those who like nipple play, I'm sure this is going to be amazing for that too.
This product was provided free of charge to the reviewer. This review is in compliance with the FTC guidelines.
Thank you for viewing
Oro-sensual
– automatic vaginal pump review page!