Devilishly Good, or Devilishly Disastrous?
This vibe is adorable, and has an incredibly smooth texture. It also offers a wide range of 7 settings with different vibrations and pulses. However, despite these exciting qualities, it has some downfalls. The vibrations, while strong, are inconsistent. While switching settings, there is a lag, which makes it disruptive when masturbating or having sex. It might be a good try for a beginner, but overall, I think there are better and more consistent vibes out there.
Published:
Pros:
Cute
Smooth
Small
Lots of patterns
Cons:
Inconsistent changes between settings
Stops and starts randomly
lack of size/width
The extended template isn't available for this toy, so bear with me here!

I'll start with taking this toy out of the box: the box is made of cheap, flimsy and clear plastic. It has little prints on it in color. It is not a discreet packaging and you probably won't re-use it for anything. Upon removal, I did not notice a distinct smell or taste to the toy. It is made out of smooth plastic, is black, and has a cute little heart design.

Now, for when I tried it out: I inserted two AAA batteries, which is what it requires. I pressed the soft silicone button at one end to turn it on. The box came with directions and it said it has seven speeds/pulsating patterns. I clicked through each one. It was kind of hard to distinguish at which point they change, and it seems as though there is a bit of a lag. You also have to click through every setting to turn it back off. It seems that one setting (the first) is a consistent vibration, and the other six are various pulsating vibrations.

This toy could be used for teasing or vaginally, but I would be careful using it anally since it doesn't have a flare. It could be used for light anal insertion most likely if you were being careful or had a condom.

Since it is plastic, you can wash it off with antibacterial soap and hot water, or wipe it down with isopropyl alcohol. It is non-porous, smooth without much drag, and compatible with silicone, water, and oil based lubes. This vibe is not too big and would likely be easy to store. If you are going to use it with a partner or share it, slip a condom over it!
Experience
When I started to use it, I like the strength of the solid vibration. It seemed like it was definitely powerful enough, and the texture was nice. However, pretty soon through using it, it started to somewhat randomly change settings with not much consistency. I couldn't tell if it was triggered by anything because I wasn't pressing the button. When I tried to go back to the consistent setting instead of one of the six different pulsating settings, it would go steadily for about 30 seconds, and then randomly shut off. It was very annoying and inconsistent, as well as disappointing. I did recognize that it could have something to do with the batteries, so I will have to try that. Otherwise, it did not perform very consistently or well.
Additionally, I was not too fond of the length or the width. The width is only 1.5" and the length is 6.5. This would really be no issue if I felt that the vibe performed well otherwise, but since it doesn't so far, it feels like there are not a ton of redeeming qualities. My ultimate hope is that I will change the batteries, or something else will happen, and it will start working more functionally and consistently. This vibe is really cute, smooth, and fun - I could see it becoming a regular part of my collection if it did.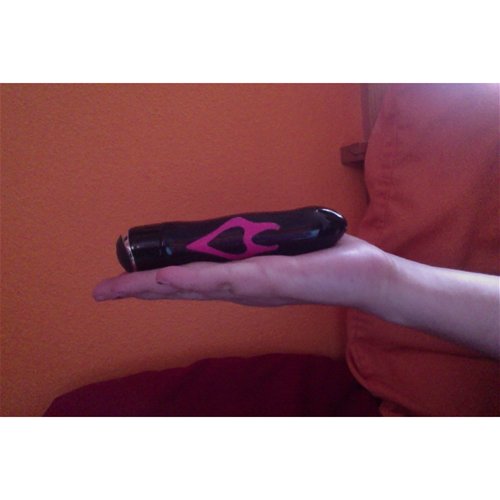 This product was provided free of charge to the reviewer. This review is in compliance with the FTC guidelines.

Thank you for viewing
Senfully sweet i 7
review page!