Different in an amazing way! Great sensations!
These finger sleeves give a unique sensations that you will not soon forget, are portable, and don't make any noise! If they fit right, they will be a great addition to your toy collection! Though be careful, they can't be sanitized and need to be stored properly. I would recommend the texture on these but not the material!
Published:
Pros:
inexpensive, portable, unique sensations, quiet
Cons:
Can't be sanitized, can be to big for some fingers
These finger sleeves give a great and unique feeling. Any time I felt like just using my fingers, these two were right there ready for action. They are better for larger fingers, so if you have small fingers they may be hard for you to use. They are very bendable so you can bend your finger any way you are able to and the finger sleeve will move with your finger.
They both measure about 3 1/8" long, 1 3/4" in diameter where you insert your finger and about 1" in diameter at the tip. They fit all the way to the base of my middle finger comfortably when I'm wearing either one. To help you understand how they fit my middle finger is about 3" long.
Jelly can not be sanitized, the only way to clean these is with water and toy cleaner. You have to be careful storing these too. Don't store them next to other toys, and make sure they are in a dark cool place. There is a chance they can melt to other toys you have.
They have a bit of a sticky feeling, not overbearingly, but noticeably. You should only use water and silicone based lubricants with this toy. They do tend to attract little bits of fuzz and hair, so I would suggest cleaning them before and after use.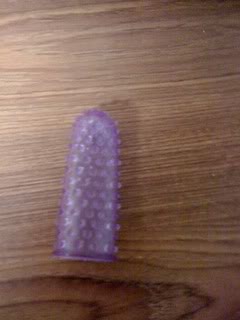 I really preferred the bumped one(as seen above) for clitoral stimulation. Using this one for penetration was actually somewhat painful, even with lubrication.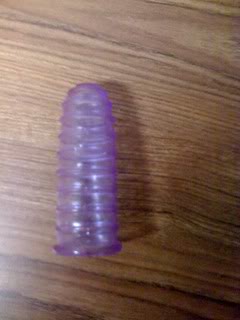 I preferred the ridged one(as seen above) for penetration over clitoral stimulation. Though it still felt wonderful on my clitoris, just had to find the right way of using it to make it feel even better.
They both gave a new interesting feeling that helped me climax faster. They both gave quite a good sensation no matter where on my body I had them. Each gave different sensations to different parts of the body. They both have a slight drag to them. The bumpy one is almost a poking type of sensation where as the ridged one is smooth.
I think these would even be great to use for a back massage or even a foot rub. But if you plan on doing so have a separate set for each use. Them not being able to be sanitized is truly a draw back when wanting to experiment with the finger sleeves.
These two finger sleeves are great for me being in a dorm, away at college. A toy that can give great sensations without adding more noise is always a good thing. I may only share a bathroom and have a room to myself, but with thin walls and doors you need something that can help keep noise down to a minimum.
Here are two lists of the top 3 things that I like and dislike most about these finger sleeves.
Likes:
1) These finger sleeves have great new sensations.
2) The drag they have against skin are just enough to be enjoyable and not need anything to soften the touch.
3) Would be enjoyable if used for a foot/back rub.
Dislikes:
1) The material is not the best.
2) They are a bit to big for my fingers.
3) Can't be sanitized.
Follow-up commentary
10 months after original review
I still like the stimulation it has to offer. I just have decided that the material really isn't a good one for me to be using. I have to spend what seems like just as much time cleaning them as I do when playing with them! That just makes them not worth pulling out all that often.
This content is the opinion of the submitting contributor and is not endorsed by EdenFantasys.com

Thank you for viewing
Jelly finger stim - purple
– clitoral toy review page!