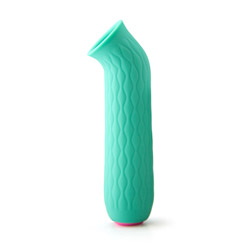 Pocket clit pump
Clitoral pump
by EdenFantasys
Not what was expected but that's ok.
Honestly, this was not what I expected. However, it does not mean it may not work for you. It's a great little sucking stimulator. Know that it does not suck and blow like a Womanizer or Satisfyer, but simply sucks like a nipple sucker. It is a good toy overall, though, and a neat addition to the collection. For us, it turned into a "reasons you should read descriptions" toy.
Published:
Pros:
Strong suction
Rechargeable
Silicone
Cons:
Smallmouth for areas
Doesn't stay suctioned to unsmooth surfaces very well
First Impressions
This little toy is a cute thing. Easy to hold in most sized hands, it is not too small or large. It came in very simple packaging, and the color is quite appealing. The lady certainly likes how blue it is. She enjoys colorful things where I prefer function over fashion.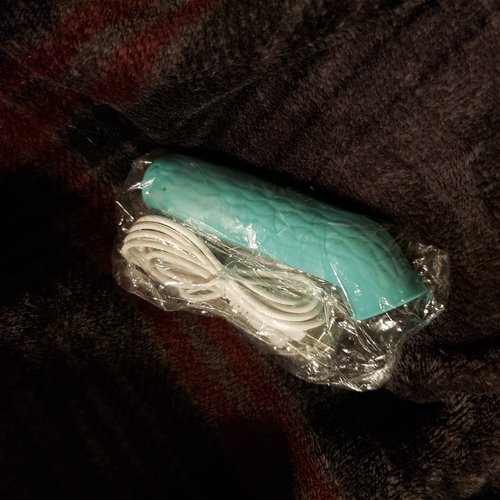 Design and Size
This is a truly petite thing measuring in at just under 5 inches tall, the suction mouth is about 1 inch wide, about as wide as my thumb pad.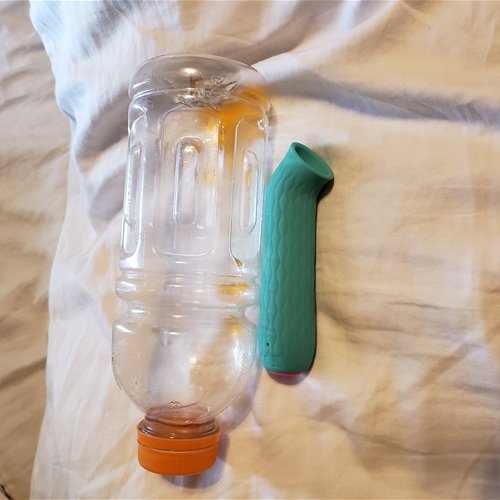 Here's a picture of it compared to a "name brand here" sports drink bottle.
The slight curve in the design makes it so it reaches certain spots just right without being in the way. It can even possibly be used during intercourse if desired; however, we had a hard time getting it to maintain suction.
The blue coloring is very nice and a good change compared to the typical sea of pink and black that we have in our toy chest. The ridged pattern pressed into the silicone makes it easier to grip when slick and adds a bit of artistic flair to it.
The button on the bottom of the toys turns it on as well as controls the patter. This button is also a small LED to show that it is on and in use. Press and hold to turn on, press once to cycle through a single setting at a time and then press and hold again to turn the toy off. Very simple design. It is not a smart toy that remembers the last setting you used.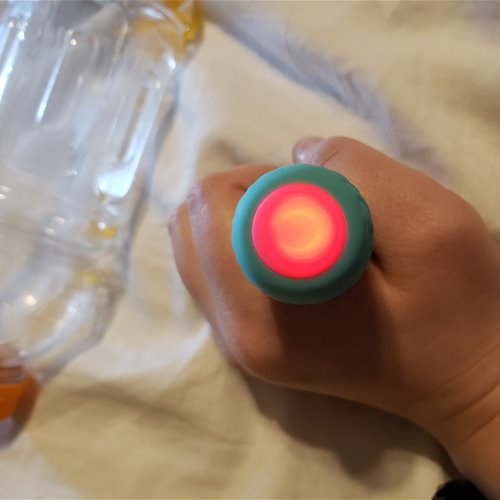 Material and how to Maintain it
This toy is made of a hard shaft containing a motor and battery coated in soft, velvety silicone. Silicone is 100% nonporous and very body-safe.
To maintain properly, shut off the toy and clean thoroughly with toy cleaner and wipe clean with a damp cloth. Due to the internal motor and how the mechanism works, I do not suggest submerging in the water at all, or you could risk ruining the toy completely.
This toy is rechargeable so no need to worry about pesky batteries running low on the go. Simply bring along the USB charger, and it's good to go when you are. Along the side, there is a small hole for the charger port that seems to seal very well when the charger is removed. You cannot use the toy when it is charging.
Personal Experience and Comments
Honestly, we were not the most pleased at first, we were more so expecting something that sucked and blew like the Bliss and Satisfyer toys do. It literally sucks in, slightly releases and sucks in more. It's great if that's what you're interested in; however, it doesn't really hold the best suction, especially on uneven surfaces, so it really has to be held on the clit and nipples. It holds a suction very, very well on a smooth surface (we stuck it to arms, legs, cheeks and it held on perfectly). Overall it's a pretty neat item; it just wasn't what we were expecting. In the end, it ended up being a pretty neat toy. She likes those nipple suckers that pull the skin into them on her back, so we use this alongside with those now. It does leave marks if left on a little longer. Also, know that just because it didn't work as we expected to us does not mean to discourage you from giving it a shot.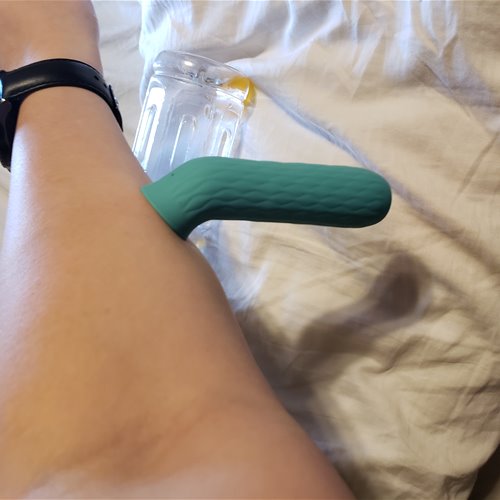 Suctioned to my arm.
This product was provided free of charge to the reviewer. This review is in compliance with the FTC guidelines.

Thank you for viewing
Pocket clit pump
– clitoral pump review page!