OH WOW!!! Housework will never be a drag again!
Makes your household chores a whole lot more fun! Looks like the purple people eaters tongue. I liked wearing this right out of the package while getting ready for work. But, when I popped my purple tongue into a cup of hot water, HOLY SHIT It feels great all warmed up and it literally melded to my body. The vibrations can be felt over your clitoris, Labia, taint and even towards your anal area. For extra fun I added in my ben wa balls and folded some towels!
Published:
Pros:
FEELS GOOD!!
Temperature Play
Conforms to Body
Many Vibe Patterns
Cons:
Too loud for me to wear outside of the house
N Batteries
Play with me!
Panty play is a fun purple people eater's tongue. It is intended for use as an in your panty vibe! It also works great as a soft tongue to lick your intimate parts with and on a mans balls and scrotal area. It works for couples play as the silicone carries the vibrations very well. It is so thin on it's tip you can place this between you and your partner for some extra stimulation with intercourse.
I was able to insert my panty play into my thong panties without any issues, the thong held it in place perfectly. Some of the other reviews mentioned to wear it with tighter clothes but I found that if my panties were a little looser the toy could move a little when I moved around and bent over. This increased the sensations with it's little movements.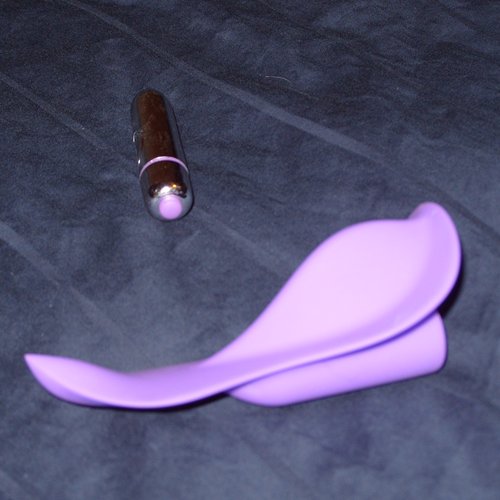 Panty Plays Specs
This is a purple tongue shaped, soft, velvety silicone piece of art! Panty play is silicone, a 10 on the Eden safety scale. Hypoallergenic, nonporous, Latex and phthalates free material. Silicone warms up easily and holds the warmth. It does collect some lint. Panty play does have a slight drag so you may want to lube it up! The silicone is only compatible with water based lubes as silicone lubes can cause your tongue to have some damage. This panty play has no smell or taste to it.
Panty play is powered by a Tantus bullet that is 100% waterproof with an O ring present. It runs on a N battery. The bullet is inserted into the underside of the toy at it's largest area. I was able to place and remove the bullet without any struggling. The bullet is 3 inches long and has a diameter of 2 inches.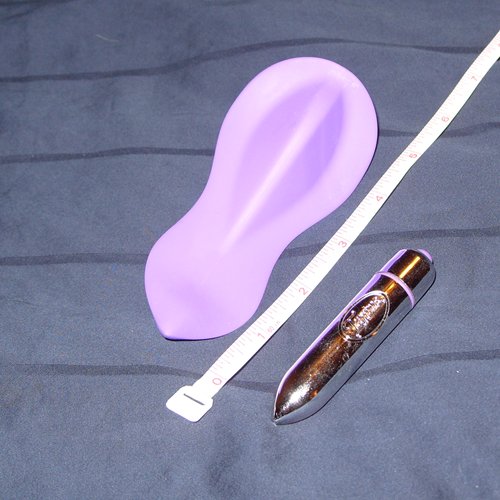 The bullet has 5 different speeds. 3 continual vibrations: low, medium and high. 2 pulsating patterns, one with a pulse-off-pulse-off and the other with a pulse-pulse-pulse. You control the Vibes by pushing in the end tip of the bullet. This is hard to do if you have layers of clothing on. Not to mention that if you did this in public you would be looked at very funny! A run to the ladies room would be called for. To turn the bullet off you need to twist the cap. The only bad news that I can give you about this little bullet, I am sad to say, it is way too loud for me to wear out into public. I honestly would be willing to buy another bullet to place into this toy so that I could wear it out.
The panty play is 5 inches long and 2 inches wide. It has a curved appearance just like your tongue looks when you stick it out. Thicker on one end tapering to the tip. The thickest area is 2 inches where the bullet is housed and tapers down to 2 centimeters. The center of the tongue has a raised ridge present where it sits between your lips. The length and design of this tongue shaped toy fit's a female anatomy perfectly with the largest area nestled between your lips and the thickest part touching your clit, your taint is covered and for some the tip may end near your anus. The silicone carries the vibes throughout the toy nicely.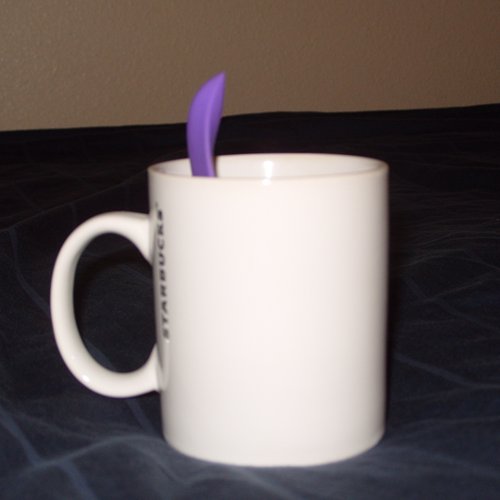 The shape of panty play also lends to the tip of the toy being able to simulate licking and oral gratification on your clitoris and around your anal area. It works this way especially well after heating it up. I found that if I place the panty play tongue into a cup of hot water for a few minutes it heats up nicely and becomes quite pliable.
Taking Care of your Panty Play
I always keep my silicone toys apart from the others! No mating allowed. I store my panty play in the clam shell packaging that it came in. There are some neat bags available for this purpose too. Washing of the silicone is easy with using antibacterial soap and water, toy sprays, Eden wipes. Since it's silicone and the bullet is removable you can throw it in the dishwasher or boil it for sterilization. You can also wash it down with a 10% bleach solution.
Experience
As mentioned earlier, I like my purple people eater but when I heat it up. I love it!!! I can't brag on this toy enough, It makes me feel good. I like to wear it around the house and then when I bend over and make sudden movements it hits me differently than when I am just standing or walking. It's comfortable enough to sit down and get rocking on the chair. I got all excited when I figured that I could add the ben wa balls into the mix. I cannot begin to tell you the sensations. When my husband was sitting on the couch watching TV and ignoring me, I straddled him and he too could feel the sensations through his pants. This led to having to take it to the bedroom. While the toy doesn't give me explosive orgasms it definitely gets me in the mood.
Follow-up commentary
1 month after original review
I still like to use this when I am picking up the house and for short trips. Such as wearing it while driving to pick up my husband from work. He gets a special homecoming on those days! Definitely a great toy to add to your collection!
This product was provided at a discounted price in exchange for an unbiased review. This review is in compliance with the FTC guidelines.

Thank you for viewing
Panty play
– clitoral vibrator review page!