Playful Waving of Materials
This toy is really fun and innovative in a most simple way by having two different types of material on the shaft, and I can only approve by how well it can be used and adapted to your preference. If you think that a traditional does not offer a lot of diversity, you need to try this one.
Published:
Pros:
Combination of material/texture on the shaft and quite strong.
Cons:
Not that whisper-quiet as claimed.
PRESENTATION
When I looked at this toy for the first time, I expected two pieces of plastic together to create the pretty waving piece of color on the shaft. But surprise, it's not the case, the coloring is made from another material entirely, TPR. The white part is made of sleek plastic as well as the battery cap. The TPR part has more drag than the velvet-coating we often find of plastic toys, but the sensation is somewhat similar. I could always appreciate a traditional vibrator, but this one multiplies the fun factor by at least 5. The measurements on the page are accurate with a diameter of 1 1/8" and an insertable length of 4", and I felt like it was a good size, without being too small.
Now think what you can do with a toy that has two textures? Depending on what you want, you can use the smooth side or the drag one, or place it sideways. The difference between the two textures are not that pronounced, but enough that you'll feel where the drag side is if you blindly turn the toy around and thrust a few times more.
MATERIALS
The plastic and TPR of this toy are hypoallergenic, and are free of phthalates and latex. They are not completely non-porous, and should not be shared without a condom, but then if you do it would completely defeat the purpose of having two different materials on the shaft.
It can be easily washed with soap and water. It is compatible with silicone and water-based lubricants (including the hybrid ones), and the package also mention oil-based lubes, but I would not recommend it for vaginal use. But then, you can't really use it for anal play either as it does not have a flared base. One thing important to mention is that there is a small hollow area at the very tip of the toy (where the TPR was probably poured) and that you'll have to wash it carefully, but it's not deep or hard to clean.
FEATURES
As for the features, it has three speeds that go from medium, high and higher vibrations. I would not really call the lowest setting low. The motor is at the very tip of the vibrator and you'll feel the vibrations very well, and this is why I'm giving it a Vroom of 4. It works by pushing a round button at the end of the cap, and there is even the number 3 written on it, just in case you forget it has THREE settings. The button even lights up red when the toy is on. You have to go through the cycle in order to turn it off.
It is powered by 2 AAA batteries, and there is an inner battery holder that can be removed and put back according to a certain orientation. But do not worry, there is an arrow to show what part to insert first, and even if you got it wrong, it will only go in if the orientation is right.
This toy is waterproof, as there is a wide seal that protects the battery cap from the water. I would not really call this vibrator whisper-quiet, as the highest setting could be heard through a toy if a house was really quiet. Although the first two vibrations might not be heard through a door, you still have to consider the highest setting before saying that it is whisper-quiet - as claimed on the packaging.
PACKAGING
I really liked the style of the package and how informative it was. You are given a quick view of the features, the material, the speeds and what batteries are used as well as how it's cleaned and what lubricants you can use. It's like a concise overview or a quick reminder. However, I disagree that the toy has a separate on/off button.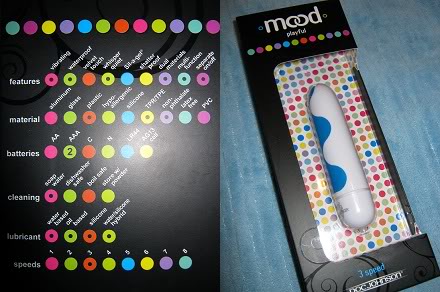 RECOMMENDATION
If you are on the lookout for a first vibrator, stop searching, as it has all the basic features of a traditional vibe with a twist. Not only will you be able to experience vibrations, but you also get an interesting preview of what drag feels like. It's not as pronounced as the one I could get from some silicone dildos, but it's still good.
However, since it is an original toy, I would not limit this toy for women looking to buy one of their first toys and I think everyone can have fun with this one, as long as you can enjoy a toy of that size.
Experience
One of the reasons why I particularly enjoyed with this toy is that I do not appreciate drag equally at the entrance of my vagina, and I prefer it on the g-spot side, not on the back side. So you can understand that I preferred using the smooth side facing my back. Okay, it might have been too much information, but this is why I like it.
This product was provided free of charge to the reviewer. This review is in compliance with the FTC guidelines.

Thank you for viewing
Mood playful
– sex toy review page!