Reflections on One Beauty of a Compact Fluorescent Lightbulb.
Reflections Beauty is a lovely internal vibrator that I enjoy even more than I expected to. The vibrations stay constant no matter how hard your kegels may squeeze. The whimsically designed, body-safe, firm texture and pleasant vibrations make Beauty a perfect first vibrator for solo or coupled use, or a valuable addition to the collection of any glass lover.
Published:
Pros:
Body-safe, firm, pleasant irrepressible vibrations. Frosted texture, whimsical shape.
Cons:
Crappy threads on battery cap, packaging left grime on ridge. Intense removal after orgasm.
USE
Reflections Beauty was designed with one thing in mind---body-safe, fun-textured, vaginal vibration. Beauty has no base for anal play, in fact the base is the narrowest part of the whole vibe. That makes Beauty a great choice for holding inside while your clit is being entertained by tongue, fingers, or another vibe. Thanks to the very pronounced texture and the drag of frosted glass, Beauty is better left in place than thrusted. I've found two favorite ways to hold it in (assume the base of my hand is the opening of the vagina):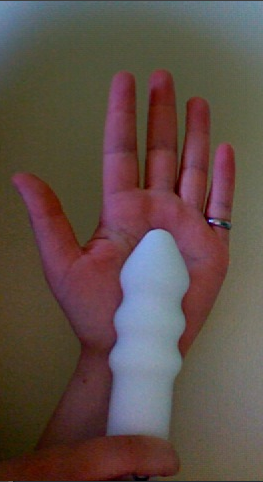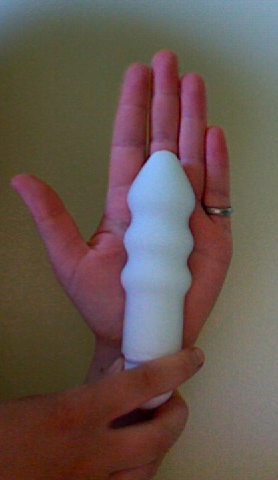 The first way makes kind of a vibration cradle for the very opening of the vagina---the sensitive nerves just at the opening are stimulated from both sides. This is a great feeling for me all on its own, but I can also sort of nudge my clit down and let it bask in the vibrations from the lowest rung of Beauty too. The downside of this position is that if you clench your muscles hard during orgasm, it can be forced out one tier. The second way is deeper, the vibrations are still felt through the entire vagina, and you won't expel the Beauty when you orgasm. This second way is what I'd suggest for partner play.
Thanks to the hygenic material, the nice mellow frequency of the vibrations, low cost, clean whimsical appearance, and the not-overwhelming size, this would be a perfect first vibrator for anyone conscious about material safety. It will also be a great addition to the collection of any glass lover who's interested in something new. Frosted glass has a warmer feel than clear glass, and the vibrations add a lot to the experience. One of the best parts of Beauty is that the vibrations stay strong no matter how hard you squeeze. Personally, I had never found an internal vibrator that was a stunning success---when I'd tighten my kegels around a silicone vibrator, the contraction dampened the vibrations, making a vibrator no better than a dildo. Glass keeps my kegels from ruining their fun by maintaining its integrity so the vibes can keep on coming.
CONSTRUCTION
As a lover of glass and of new experiences, I was really excited to try one of Doc Johnson's frosted glass vibrators. I was concerned about two things, though. My first concern was about the texture---even though frosted glass sounded like it would feel spectacularly draggy while still being non-porous, a reviewer of the Reflections Ecstasy had said the "frosted coating" was coming off of hers. Frosted glass can be acheived by etching with acid or by adding a translucent top coat, and Doc Johnson uses their (trade secret) Velvet Touch in the Reflections line. To be sure it was safe, I scratched the Beauty down near the base as hard as I could with a paperclip, and I was not able to get any coating to flake off. I did manage to make a scratch in the glass, and I still couldn't get any coating to come off(the white color was applied to the inside surface of the glass). I'm quite satisfied that the glass of the Beauty was frosted securely, so I'm happy to use it internally with no fear for my health.
Even though the product description page says this is made of tempered glass, the packaging says the Beauty is made of borosilicate glass. Borosilicate glass is one of my favorite materials: it is studier than pure silica glass, and is resistant to physical and temperature shocks. It's hypoallergenic (safe as a measuring cup!), compatible with any lube, and odor-free. It's firm so it gives you a chance to really feel any texture. Because glass is non-porous, it can be sterilized by dipping a 10% bleach solution (Be sure to dip only the glass tip, as the plastic might be degraded over time. Unlike glass dildos, avoid boiling so you don't harm the vibrator!), or just washed with soap and water between uses. The frosted texture of this glass means it holds on to grime more tenaciously than the usual slick glass. When mine arrived, the lowest ridge had rubbed against the plastic packaging, and had picked up a ring of dirt. I washed most of this away with just my hands, soap, and water, but I had to demote a toothbrush to vibrator duty to get all traces of dirt off. Luckily the Reflections vibrators are easy to clean because they're waterproof, no water had made it past the silicone O-ring during my thorough washing, or during underwater tests while running.
Experience
The second major concern I had was that the vibrator would rattle against the glass, making it too loud to use discreetly. Thankfully, Doc Johnson designed this little Beauty well. Judging by the patterns of light when I wash the Beauty, the glass walls are 3/8 in (just under a centimeter) thick. This is definitely sturdy enough for vaginal use, and I don't think any harm would befall it should it drop on a carpeted floor. The plastic end screws off to accept one AA battery. The threads are on the fragile side, and it's easy to get the cap misaligned, so be careful not to strip your threads. The battery compartment is held in place by very well-fitting plastic, and the vibrator (which can't be seen behind the battery) does not rattle at all. Beauty is not any louder than a non-glass vibrator. The vibrations carry perfectly through all the glass, so when you insert it you'll feel vibrations everywhere. I'm often disappointed with silicone internal vibrators, because when I squeeze my muscles, the vibrations are dampened, and in the squishiest vibes they can be squeezed right out of existence. Because the Beauty's glass is so firm, though, I could squeeze to my heart's delight and the vibrations stayed just as strong as when I was holding the vibe in my hand. At the same time, the plastic base hardly carries the vibrations at all, so your hand won't go numb during use. That, of course, is if you're using your hand to hold it in at all---I rarely needed to.

As you can see from the pictures above, Beauty is modestly sized. The vibe is 15cm tall from tip to button. Its insertable length can be anywhere from 6.5cm to 11cm. The tip is quite small and broadens to a nice shape: all the benefits of a head, but with a pretty whimsical appearance. At the broadest, the three ridges of the Beauty are 4cm in diameter, while the dips between the broad points have a diameter of 3cm.

PERFORMANCE
Pressing Beauty's single button once turns the internal vibrator on in the "low" speed, which has very nice rich vibrations in a frequency that's really good for my body. Press it again to get to "medium," which to me doesn't really feel very much stronger, but is a little faster. A third press takes you to "high," and a final press turns the vibrator off. I'm not very experienced with vibrators, but I would call these 3, 3.33, and 3.66 on Eden's "Bee" scale. The lowest speed is enough to get me off, and high should be enough for the majority of women. Those with nerves of steel will probably need something additional on their clit to help them over the edge. Beauty's button is easy to press but it takes thought to press it, so you won't change intensity by mistake. While you're pressing the button, the vibrations stop for the duration of the button-stroke. It's like a mini instant-off switch, which is handy when you don't want vibrations while you take Beauty out post-orgasm.
This product was provided free of charge to the reviewer. This review is in compliance with the FTC guidelines.

Thank you for viewing
Reflections beauty
– traditional vibrator review page!