Rigid, but Less Durable Than A Licorice Stick.
While the supple silicone texture topping the rigid core of the Xtassie Objet had me very excited, and enjoying firm pressure with pleasant sensations, I was ultimately disappointed by the construction of this vibe. The battery cap threads feel like they'll break with every use, and I don't feel secure that I've created a waterproof seal. Add to that 10 vibration patterns in a non-intuitive order, and a single, too-easy-to-push control button---Objet leaves too much to be desired.
Published:
Pros:
Firm, fun texture, sleeve comes off for easy cleaning, stylish presentation.
Cons:
Threads of cap are weak, can't stand up, 10 vibe patterns in non-intuitive order.
USE
The Xtassie Objet has many elements of an ideal traditional vibrator. Its firm plastic core and its supple silicone skin mean that you can apply pressure anywhere in your body (g-spot, prostate, clitoris, anywhere!) while still having nice soft sensations against your skin. The "licorice twist" texture provides a lovely extra sensation when thrusting or twisting, but it isn't overwhelming. Two AA batteries provide a reasonable amount of power to the vibrator motor, which is controlled by a simple button on the Objet's base.
CONSTRUCTION
I've been attracted to the Objet's design and texture since I first saw pictures of it nearly a year ago. When I received it, I was as impressed with its design as I had expected to be. The very manageable 1.25" diameter, 6" insertable shaft is just as pleasant to the touch as to the eye. I was surprised to find out that the black licorice twist silicone is actually removable, and easily slips off the rigid plastic core. This is actually a nice feature---it allows for easy cleaning (even boiling, if you choose) of the silicone without risking damage to the electronics. It does fit tightly, and I need to twist a bit to remove it---it has not slipped off during use. I also appreciate that Xtassie did not use any glues, because adhesives are not often body-friendly.
Flexibility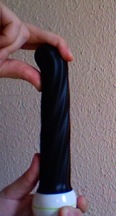 While the removable sleeve is a neat design element, I did not really appreciate the design of the handle. The button is easy to reach and easy to press. It is also easy to press when you don't intend to, which became frustrating because the 10 functions don't progress in an intuitive order, and I had to cycle all the way through nine functions to get back to my preferred one. Even more frustrating is that the threads that secure the battery cap are very shallow, very short, and very difficult to align. Ever since I first opened the compartment to add batteries, I don't feel that I've been able to re-seal it tightly enough to make the vibe waterproof, as it should be. I'm worried that I will ruin the threads, because they seem to be made of a fragile variety of plastic, on top of their short shallow design. Finally, even though the Objet is shown on Xtassie's website displayed in something like a vase, it does not come with a holding stand. The round bottom, of course, means you can't stand your Objet up to keep it from collecting lint while you reach for the lube.
Control Button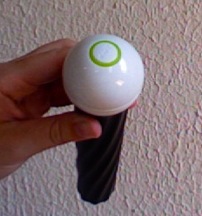 Packaging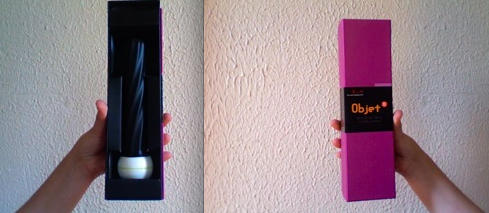 Experience
PERFORMANCE
The Objet has 10 functions. The vibrations are moderately strong, as should be expected from two AA batteries---they are not going to be enough for power queens, but they are enough for many women, including me. They are midway between rumbly and buzzy, and do not numb my body.

The vibrations progress from a moderate steady pace to a very rapid wooowooowooowoo pulse, then to a higher steady pace. There is then an escalation that runs from the first steady pace, through the higher, and to a highest pace yet. Then a shorter escalation from the lowest to the middle speeds follows, and then a seemingly-identical woowooowooo pulse. Finally you get to the highest steady speed. Then there's a medium-speed "OneTwo THREE" pattern, then again another wooowooowooo pulse, maaaaybe a little stronger than the first two. There is then a standard-among-vibrators long pulse pattern, and then another wooowooowoo before you are finally back to the original steady pace. The only way to turn off the vibe is by pressing and holding, and often my Objet advances through a few patterns before it catches on that I want it to turn off. The woowoowoo pulses, and the fact that the strengths don't really go in anything like an ascending order, often really through me off during use, especially when I tapped the button without intending to.

PERSONAL THOUGHTS
I really like the design and thought behind the Xtassie Objet. I much prefer its rigid form to the floppy SinFIVE vibes. Its texture is excellent as well, and the firmness and the licorice twist sensation means the Objet can do just about everything I want in an ideal internal toy.

Sadly, the potential of the Objet was sort of defeated, in my opinion, by the poor construction of the battery cap. A toy that I feel like I'm going to break each time I use it is a toy that won't get much use. With an improvement in the threads of the battery cap, a storage stand or case, and a more natural progression of vibe patterns, I would love to wholeheartedly recommend the Objet to people looking for an insertable vibe. As it is, though, I'd direct people elsewhere.
This product was provided free of charge to the reviewer. This review is in compliance with the FTC guidelines.

Thank you for viewing
Objet
– traditional vibrator review page!