Sorority Screwed Me!
The only really good things are the material features since it is hypo-allergenic, latex free, and phthalates free. It is also waterproof, but it is way to noisy whether underwater or in a bedroom. I couldn't recommend this toy to anyone.
Published:
Pros:
Silicone, Hypo-allergenic, Latex free, Non-porous, Phthalates free, Waterproof
Cons:
LOUD, Uncomfortable, Hard to control vibration dial underwater
Use
I just don't know where to begin on the disappointment this toy is, but I don't think this toy is going to do it for anyone. We tried using the toy in a few different ways. We tried inserting the toy vaginally, we tried stimulating the clit, and we tried stimulating her nipples. None of these did anything for her, except when it was all the way on and I put it on her nipple. It was such a great disappointment. We also tried using the screw in the bathtub, and that was a complete bummer too. The toy is so loud that, when I was in the living room watching tv with the bathroom door closed, I could still hear the toy perfectly underwater and above water. Also, this toy would shouldn't be used anally either since the screw part is just a cover and could slide off.
Material and Texture
The toy says that it made from pure silicone, which is a food-grade material, and I'm not discrediting that, but I am going to clarify what is silicone. The sleeve which is removable is silicone, but the the bullet it is a hard plastic. Neither one contain any smell. The bullet is very smooth and would be easy to use without the sleeve. The sleeve though is made from silicone is smooth, but of course with the ribs there is a little drag going up and down. Even though the sleeve is smooth, running your fingers up and down it, the ribs are still not soft and uncomfortable. My wife was more in pain from the ribs. Silicone isn't porous, which is a great thing, because it means that it doesn't absorb harmful bacteria and store it in the toys material. The material is also
Hypo-allergenic
, and
Phthalates
free.
Design, Shape, and Size
As from the picture, you can see it has the look of a screw, but even though as awesome as it might seem, it is very rough. The idea I believe here was going somewhere, and then I guess they just made it cheaply. It a long bullet with a sleeve in the shape if a screw. This toy would be suitable for beginners or advanced user. It would be easy to put in your purse and go; the only that is going to be hard is find somewhere to use it. It is just way too loud, so the person next door will probably here you i'ts just so bad.
Bullet Size:
5 1/2 Inches Long
4 1/2 Inches Insert-able
Bullet w/ Sleeve:
6 Inches Long
5 Inches Insert-able
1 Inch Diameter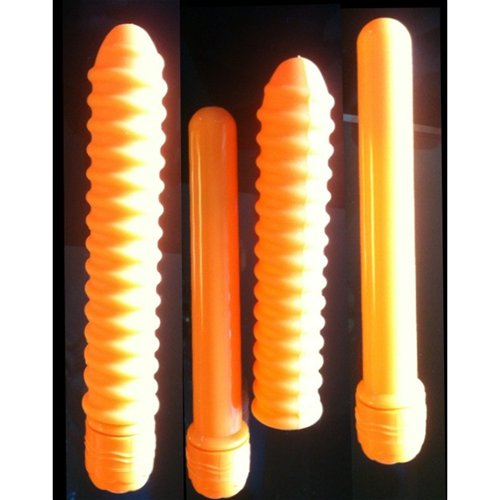 Functions and Performance
As for this section, I can only think of one word to describe them both, DISAPPOINTMENT! It has one function in my opinion, and that is to get your hopes up in the "Oh Wow! This looks awesome" and then let you down. The performance is also another DISAPPOINTMENT it has a knob that you turn to increase the speed of the vibration. It only has that one vibration, and it just goes faster the more you turn the knob. The vibrations didn't do anything for my wife, but I think she was to worried about how uncomfortable it was. The vibrations are very strong though, as we were able to get a little clit stimulation, unfortunately the vibrations still weren't strong enough.
The toy takes two AAA batteries. You just screw of the bottom and drop them right in. This toy is waterproof, but just like using it on the bed, it is still loud. I thought my wife had put a motorboat in the water and was playing with our sons toys. Until I walked in and saw she way playing with the toy. I almost forgot, the dial is difficult to turn especially, if underwater, so you won't be changing any setting. Just so many disappointment,s and I couldn't find a good use for this toy whatsoever.
Care
This is very easy to take care of; you can boil this for 3 minutes or throw in the dishwasher to disinfect with no problems. You could also use the disinfectant wipes or a toy cleaner that is safe for silicone toys. Also, you could just use soap and water. Another important note about this toy, you can only use water based lubes.
For storage, it can easily go back into the package, into a zip-loc bag, or whatever you enjoy storing your toys in. Although, I'm sure you are just going to put this in the bottom of the toy box and never touch it again.
Packaging
The packaging isn't discreet and has no instructions. It does have a sexy sorority girl on it which is the only positive about this toy.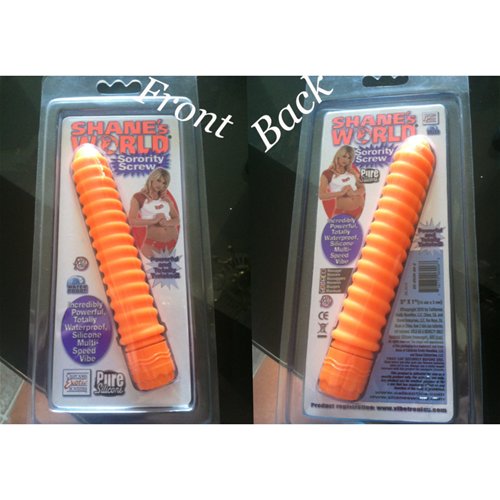 Experience
Very saddened by the experience with this toy. Unfortunately, there isn't anything I can say good about a solo experience or a couple experience.
Follow-up commentary
3 months after original review
This just got thrown in the toy draw and hasn't been used since. We didn't enjoy this dildo at all. It is was to loud and can be hard to use the controls by yourself and underwater. The only pro I see is removing the sleeve and using it on another toy.
This product was provided free of charge to the reviewer. This review is in compliance with the FTC guidelines.

Thank you for viewing
Sorority screw
– traditional vibrator review page!