Spright is not a delight for me
An unimpressive massager: not that powerful, not that large, not that safe (material), not that great. There are better choices out there in the same price range.
Published:
Pros:
Lightweight
Travel size
Waterproof
Cons:
Noisy
Lack of detectable texture
Too small for more experienced users
Fluttery butterflies and a couple of buzz words — soft, sensual, waterproof — adorn the clear plastic packaging of the Spright. Clear packaging is my favorite kind since the toy is clearly visible from all angles. You know exactly what you are getting from top to bottom. It is simple, smart and prevents unwanted surprises.
Sadly, my Fluttering Fantasy Spright (
did it have to be spelled this way?
) got off to a bad start. Quality control was asleep at the wheel when this was boxed: there was dirt in the package and on the toy — talk about an immediate turn off.
I also saw that some of the ridges were slightly warped. The box was not crushed and the Spright was in a form-fitting plastic tray, so my guess is that it was removed from the mold too soon. At least there was no smell.
So much for first impressions. I can overlook smudgy ridges, but I insist that anything headed for my holy-of-holies be CLEAN. Call me prissy if you like. The body of the massager is TPR with a hard ABS cap on the bottom and a silver plated ABS ring, none of which can be sterilized by boiling. So I did the best that I could: lots of hot water and lavish amounts of soap.
Once the Spright was in an acceptable state, I twisted the bottom off to insert two AAA batteries (not included). Easy enough, just be careful to make sure the threads of the cap line up correctly when you close it.
It is a smaller toy, just shy of 7" long (4¾" insertable) and about 1" thick (1¼" thick on the textured areas). It would take up barely any room in a suitcase and it might even fit in a purse. It's straight, but the top half is soft and flexible thanks to being pure TPR. The color is a deep cotton-candy pink. A seam runs along the center of the front and back, however it is imperceptible unless you're actively hunting for it. A single button on the base turns the massager on and controls the steady-buzz, which grows in intensity (low/medium/high) before the toy turns off.
For something categorized as "discreet" it announces its presence audibly. Strangely, I find the lowest setting to be the loudest. Even with a closed door, I'd turn on the radio for camouflage. A running shower might disguise it, though submerging it is a better cure for the noise. It made a perfect pink submarine, buzzing away steadily at a depth of 4". I left the Spright in water for over two minutes with no sign of malfunction.
EF says that TPR should be able to withstand silicone lubricant, but the California Exotic packaging says to "always use a water based lubricant for maximum pleasure." Regardless of your lubricant choice, the Spright requires a condom if you plan to share between partners, just keep in mind that the 'texture' of the toy will be greatly reduced by a barrier.
The nodules on the tip provide pleasing stimulation for the clitoris and the shaft is oh-so-soft when inserted vaginally. The base is tapered and could easily slip from your grasp, so for your own safety
do not
use it for anal play.
If you're keeping the Spright all to yourself, soap and water is enough to clean it up. I also recommend storing it in a bag to reduce dust and lint. Batteries should be removed from toys between uses, however I've found that leaving them in this massager overnight or over a few days doesn't cause problems or prematurely drain them.
Experience
For something so small and running on two-AAAs, the Spright has a decent amount of power. There's not a huge difference between the three 'fluttery' settings, but 'medium' was quite pleasant when pressed against my privates. I enjoyed the vibration, but instead of bringing me to a finish, it just made me numb. I thought the nubs would be that little somethin'-somethin' once inside of me, but they're so soft they barely register internally. Likewise with the ridges further down the shaft.

So a crummy introduction (dirt!) and it failed to get me off. My opinion of the Spright was plummeting by the second. Then it added injury to insult: courtesy of the sometimes sticky nature of TPR, it plucked a few hairs from downstairs. The shower was partially to blame for having rinsed the lube away, but the Spright certainly hadn't won me over in any other regard. At this point it has zero future with my lady parts.
Follow-up commentary
12 months after original review
My first experience with this toy was bad. So was my second. So was my third. Three strikes and it was out of here. I have a case full of toys I enjoy, so keeping this one was unnecessary. However, I did learn a two things once I trashed it.
Lesson #1 — what the inside of the Spright looks like: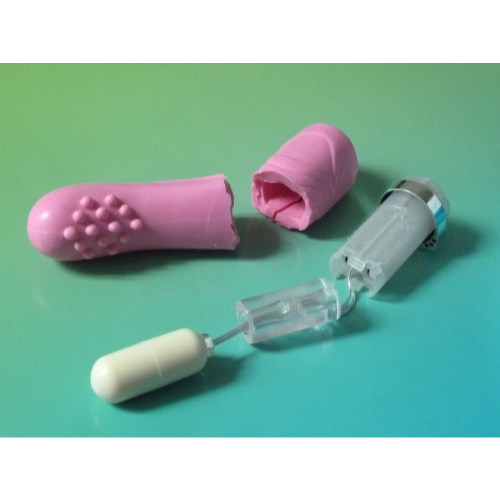 Lesson #2 — melting may not be as big an issue as feared. I placed the Spright in a bag with a silicone blend toy and a plastic toy, and
nothing melted
for the eight weeks (or more) they spent waiting for me to covertly dispose of them.
I never liked this toy, and I would not recommend it, but I'm happy that it taught me something.
This product was provided free of charge to the reviewer. This review is in compliance with the FTC guidelines.

Thank you for viewing
Fluttering fantasy spright
– g-spot vibrator review page!